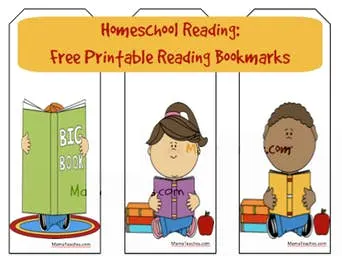 The youngest finished her first Magic Tree House book last week for her homeschool reading program and she was so incredibly excited. I was excited for her as the reading level for the Magic Tree House books is about a 3.0 and she's just starting First Grade. Not bad, kiddo, not bad at all. However, I did realize that we'd skipped over a significant portion of her education when she was amazed that dinosaurs actually lived. Um, yeah. SO, this week we are going to be doing tons of dinosaur activities to fill in that gaping hole little gap in her education.
One of the things I noticed over the course of the week was that she would often lose her place on the pages. She was tracking easily enough, but there was a lot of stopping to ask me questions and express her amazement. I didn't have any bookmarks on hand and while she was okay with the index card I whipped out, I wanted to surprise her with some cute bookmarks this week. Hence the following free printable reading bookmarks below.
I'm a big fan of saving on ink – especially as the school year progresses. So, the download contains two pages – one in black and white and one in color. Since Little Miss loves to color, I'll be printing out the black and white ones on card stock so that she can color her own. I have also indicated where the hole should be punched so that you can string some ribbon or tie some yarn through it. That part is, of course, entirely optional, but it makes it much more fun to have a tassel on your bookmark, doesn't it?
(As purely a side note, did you know that "tassel" is often misspelled "tassle" and gets millions of hits on Google? Words are so intriguing!)
Without further ado, you can download the free printable reading bookmarks below. Both the black and white and the color are in the same file, so just print which page you need. Enjoy!
Homeschool Reading: Free Printable Reading Bookmarks
If you're looking for a reading log to keep track of the books your child reads this homeschool year, here's a free printable reading log for you. Here are other printable bookmarks for you too! If you feel crafty, these bookmarks are fun to make together as an art lesson.