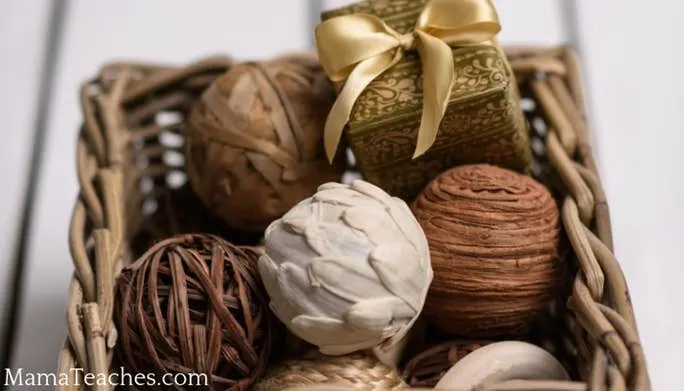 This article contains affiliate links to things that you might like.
Whether you're a little light on cash or just enjoy putting your talents to use, creating DIY Christmas gifts for friends and family can be a lot of fun.
When making DIY Christmas presents, the recipient knows that you have put time and effort into their gift and that often makes it a truly treasured and appreciated item.
Here are some great ideas for easy DIY Christmas gifts whether you have a big materials budget or need to make several gifts with limited funds.
Fun DIY Christmas Gifts Your Whole Family Will Love
DIY Christmas Gifts for Mom
Simple Photo Collage
Stop by the dollar store for a collage frame and print out some favorite photos and put together a thoughtful collage as DIY Christmas gifts for mom.
She'll love a vacation memento, collection of baby pictures, or other family-oriented theme.
​
Homemade Bath Bombs
Let her pamper herself with some homemade bath bombs, made with a few simple ingredients and scented with essential oils, these are simple DIY Christmas presents.
​
Easy Fleece Throw
No-sew fleece throw blankets are easy to make and can be wonderful gifts for mom for the holidays.
Just tie together a couple of layers of fleece and you've got a lovely throw blanket!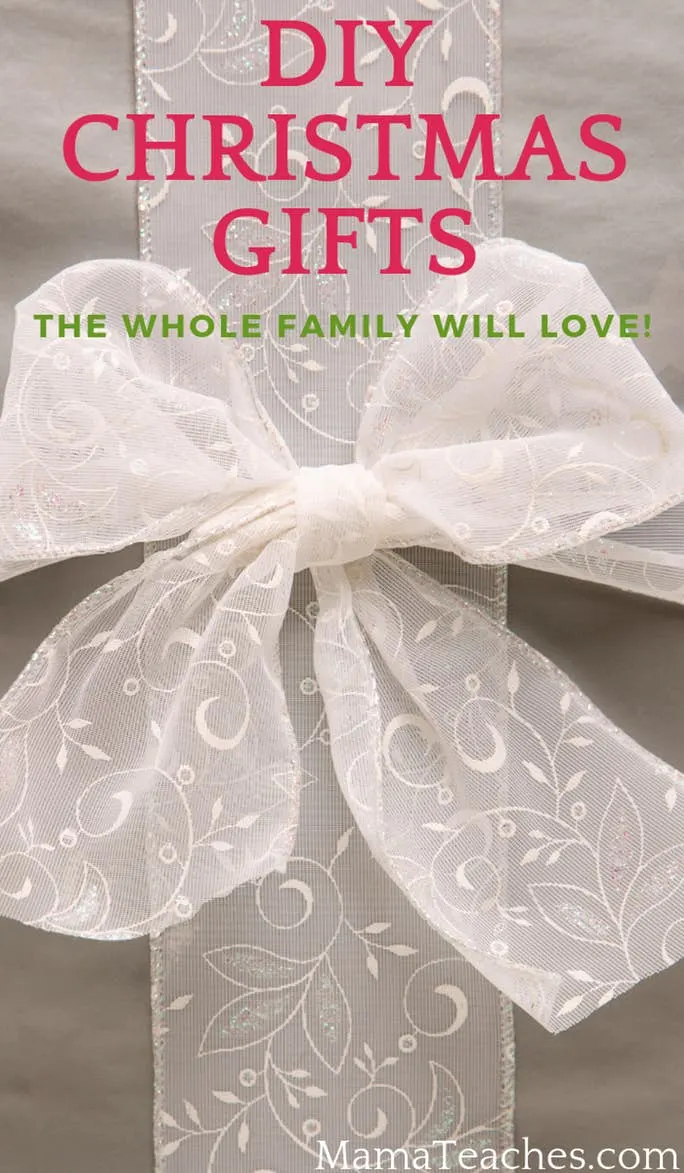 Make Christmas DIY Gifts in the Kitchen
Baking Mix Jars
Fill mason jars with all of the dry ingredients needed to make your favorite baked goods.
Attach a recipe card with the instructions and all they have to do is add the wet ingredients to make a delicious treat.
​
Spice Mix Ornaments
If you've got a favorite spice mix for grilling or simple combination for a dip, use a clean glass ornament and fill it up!
It can do double duty to decorate the tree and then be used later in the kitchen.
​
Flavored Vinegars or Oils
Add peppers, garlic, or herbs to pretty bottles filled with oil or vinegar.
These can be used in cooking, on salads, or to dip breads as well as adding to the décor of the kitchen.
​
DIY Christmas Presents for Kids
Travel Art Kit
While not completely DIY Christmas presents, it can be very affordable to gather up some great art supplies, put them into a tote bag, and give little ones something to do when they are on the go.
​
Homemade Superhero Cape
With some simple scissors skills and a little good fabric glue, anyone can make a personalized cape for their favorite little superhero!
​
Homemade Playdough
DIY playdough can be one of the simplest, cheapest Christmas DIY gifts for kids!
Just a few ingredients and an airtight container for storage and you've given them hours and hours of fun.
​
Easy DIY Christmas Gifts for Last-Minute Giving
DIY Sugar Scrub
Odds are you have just about everything you need for a quick and easy batch of sugar scrub to give as quick DIY Christmas presents.
​
Simple Candy Jar
Keep some holiday candy and cute, inexpensive jars on hand to throw together easy DIY Christmas gifts when you've forgotten to pick up something for a party or get-together.
​
No matter what your talents or budget, there are plenty of Christmas DIY gifts that will make your loved ones happy!
Use this list for ideas and inspiration to create holiday gifts that are full of meaning and love.