Oh Canada! Do you long to learn more about this northerly country? Check out these amazing fun facts about Canada.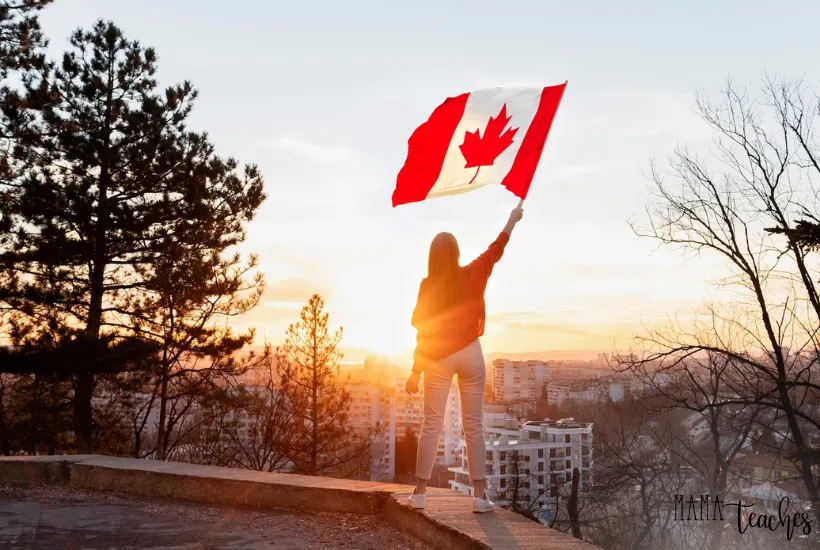 Basic Facts About Canada
Canada is the second largest country in the world (besides Russia).
It is located in the northern part of North America. (Yep, it gets very cold there!)
Its capital is Ottawa, and its government is a federal parliamentary state. The head of the government is the prime minister.
Canada has over 36 million inhabitants.
Canada has two national languages: English and French.
Its flag is very recognizable. It has three vertical bands of color: red, white, and red.
In the center of the white band is a bright red maple leaf.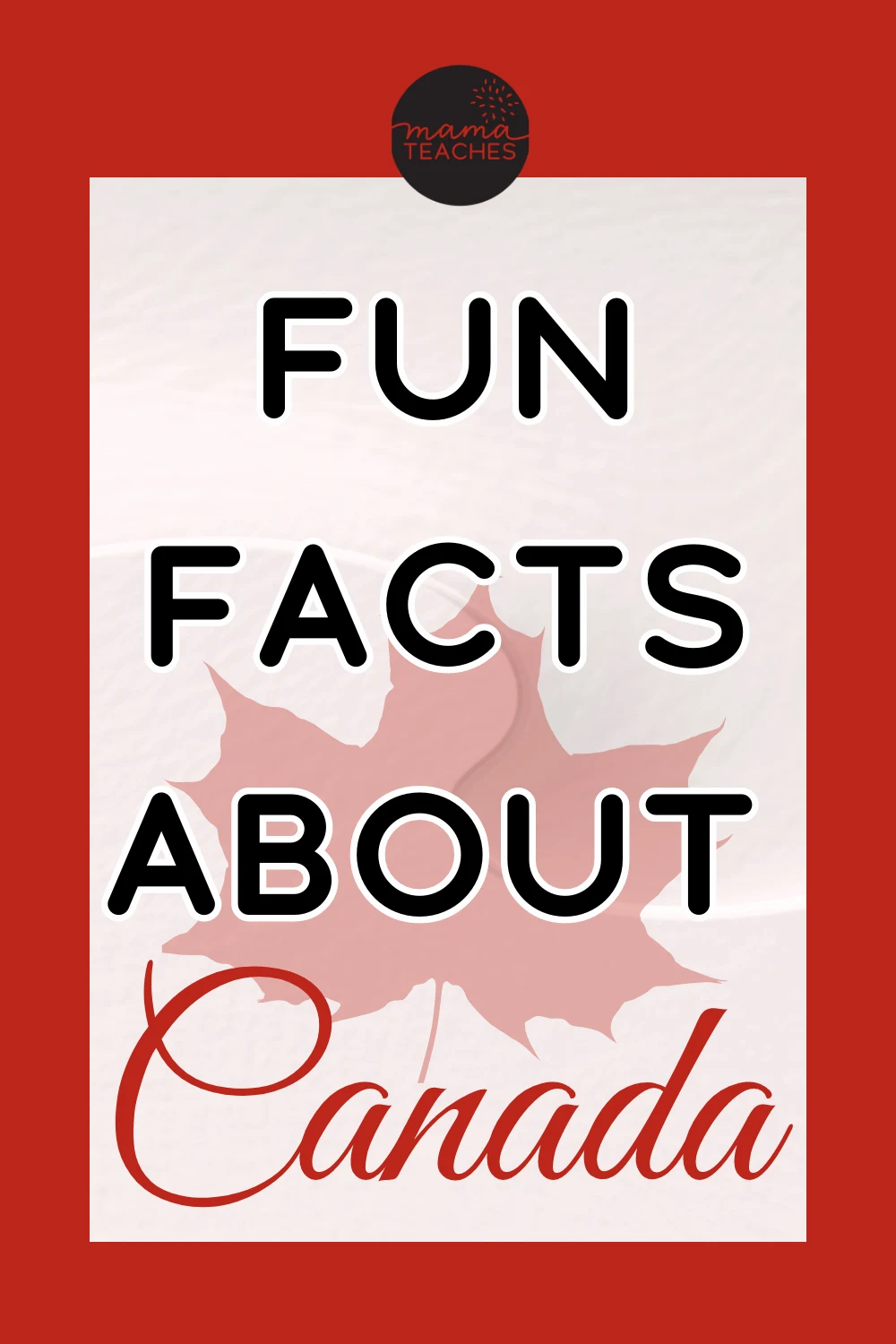 This article contains affiliate links to things that you might like.
Fun Facts About Canada
Canada is an incredible country with lots of fascinating facts!
1. The Maple Leaf Is the Symbol of Canada
The maple leaf is on the Canadian flag…why?
First of all, there are lots of maple trees in Canada.
This means, of course, that their forests turn brilliant colors in the fall and they produce lots of maple syrup. (They produce 71% of the world's maple syrup.)
But the maple leaf is a symbol of Canada for a deeper reason.
Back in the 1700s, French Canadians who lived along the St. Lawrence River adopted the leaf as their emblem.
They saw the maple tree as the "king of our forest."
The red maple leaf became the nation's official symbol after World War I. Canadian soldiers wore the maple leaf as a badge on their uniform.
Today, the national symbol represents courage and unity.
2. Canada Has Wolverines
Even though Canada is a large country in terms of land, it is not overpopulated.
Canadians work hard to preserve the natural beauty of their country. They also protect the many species that live there.
One of the most curious animals is the wolverine.
The wolverine is not really a wolf; it's actually in the weasel family. Some say it resembles a small bear.
Wolverines are omnivores, although they much prefer meat. They eat mice, rabbits, and even caribou!
They are fierce and cunning creatures that can hunt animals twice their size.
For all that, wolverines are very shy of people!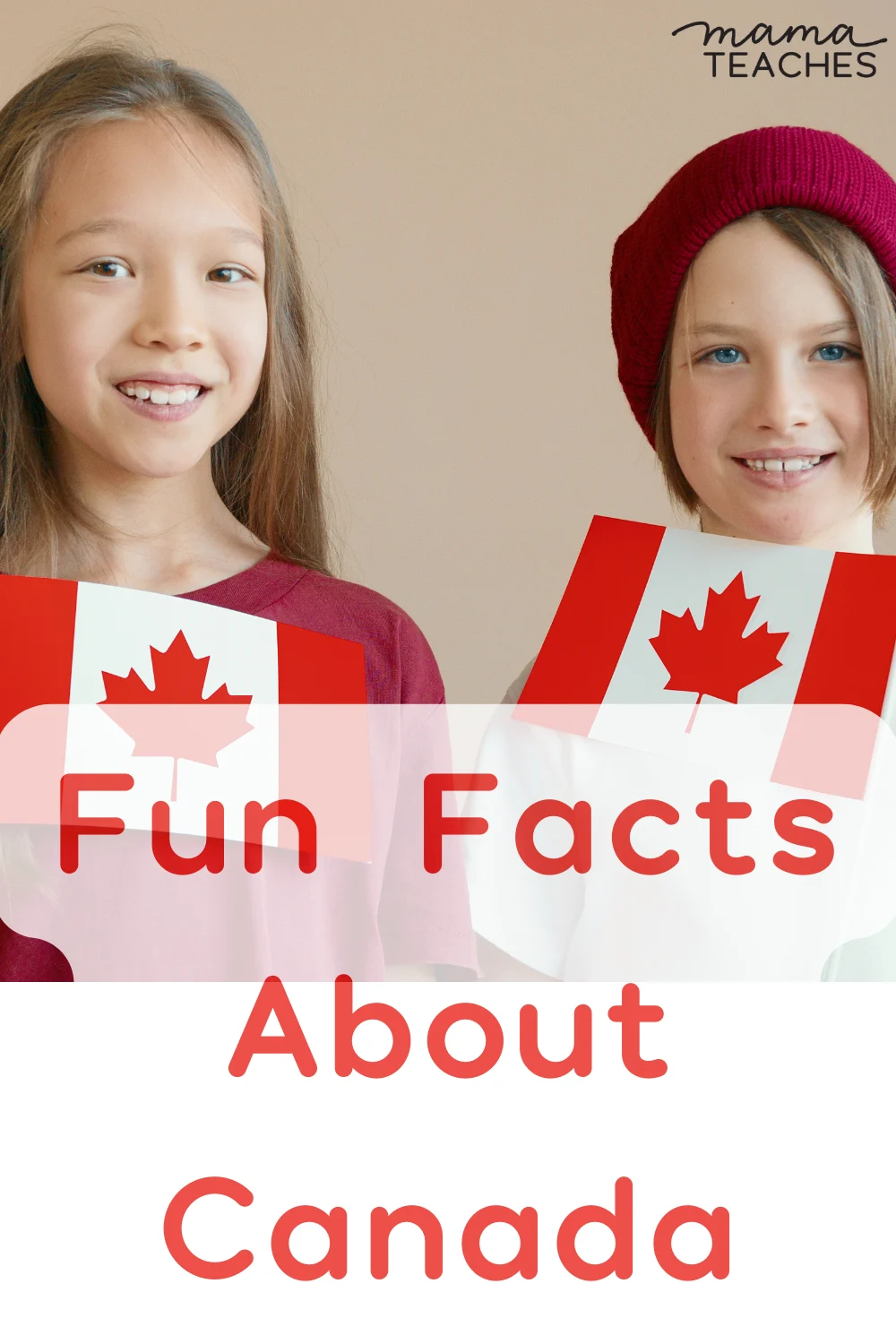 3. Canada Is the Land of Lakes
Canada has more lakes than any other country (around 870,000).
The lakes are constantly changing due to melting glaciers.
The lakes aren't all tiny either.
Over 31,000 of them are bigger than 3 square kilometers (that's about the size of Central Park in New York City).
The 5 largest Canadian lakes are Lake Superior, Lake Huron, Great Bear Lake, Great Slave Lake, and Lake Erie.
4. Canadian Money Is Colorful and Textured
In America, all cash is the same color: green.
Not so in Canada. Every denomination (like $1, $5, $10, etc.) is a different color.
This helps those with impaired eyesight easily distinguish between bills.
The colors range from orange/red all the way to purple.
Another Canada fun fact? Canadian money isn't all smooth.
On the upper left corner of the face side, you will find raised dots.
These dots are Braille, which visually-impaired individuals can read to tell the bill's value.
5. Hawaiian Pizza Was Invented in Canada
Sam Panopoulos was a Greek-born Canadian looking for ways to attract customers to his Ontario restaurant.
The restaurant served burgers, fries, and pizza. They also served some Chinese-inspired dishes, which mix sweet and savory flavors.
Inspired by these dishes, Sam experimented with various pizza toppings that combined the sweet and savory.
One day, he put pineapple and ham on a pizza and served it to customers to try.
Soon people started requesting it when they came in. He added the pizza to the menu.
Sam named it "Hawaiian pizza" because "Hawaiian" was the brand of canned pineapple he used!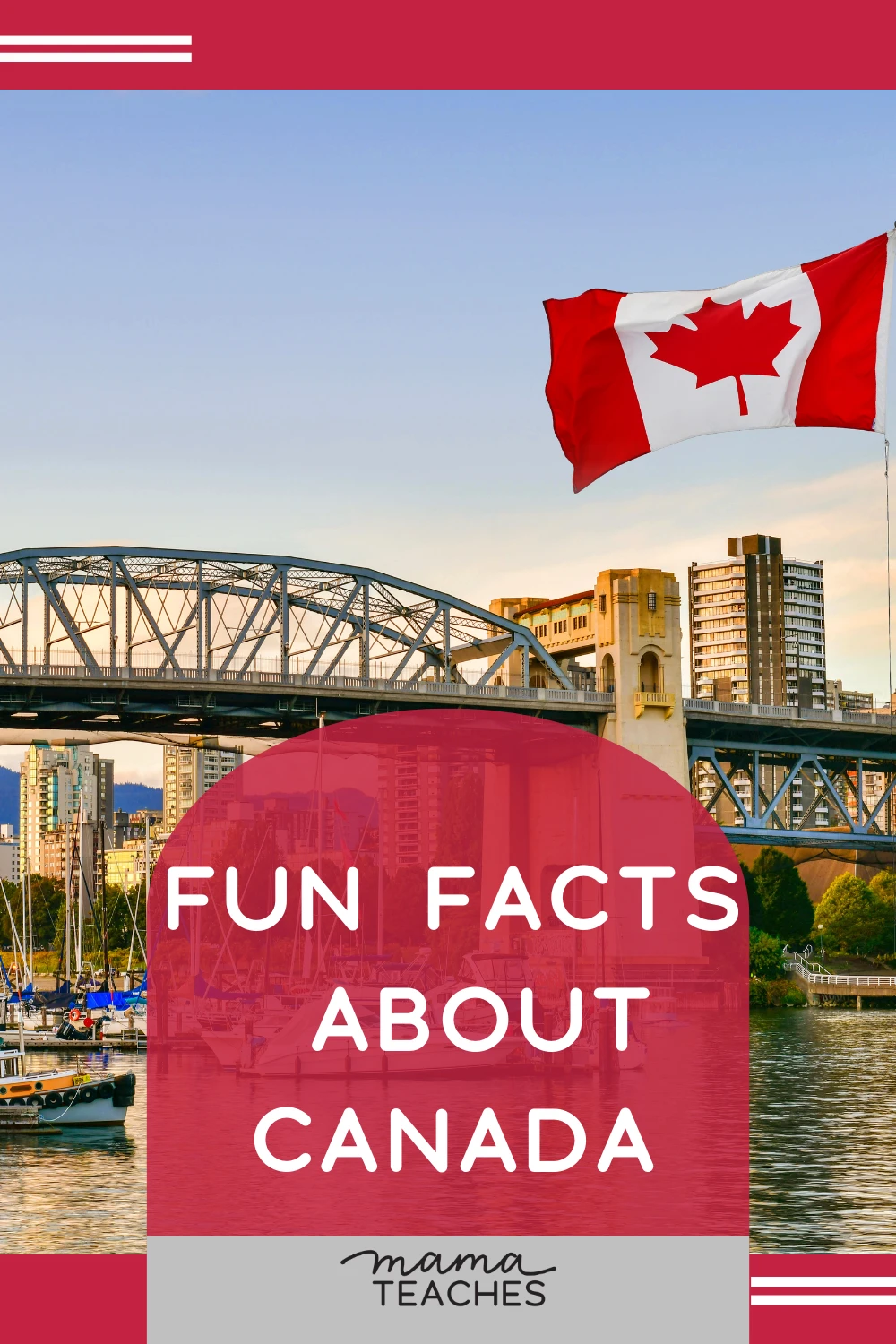 6. Santa Is Officially Canadian
Santa and Mrs. Clause are official Canadians.
The country has issued them passports. They even have tax records.
As a special gift to the Clauses, Canada has given them tax exemptions, so they don't have to pay taxes on the gifts they deliver.
Do Santa and Mrs. Clause live in Canada? Canada made an official claim to the North Pole in 2019.
Santa's postal code is HOH OHO (get it?).
Canada does hold the closest human settlement to the North Pole: Alert, Nunavut (the residents are Santa's closest neighbors).
7. "Eh" Is a Canadian Word
Just look it up in the Canadian dictionary!
"Eh" is a word used when asking a question. You use it when expecting agreement.
In other words, if you are sure someone will agree with you, you end your question with "eh."
For example, "These fun facts about Canada are interesting, eh?"
8. Canada Is Heaven for Ice Skaters
If you love to ice skate, you should go to Canada.
It features the world's largest natural ice rink: the Rideau Canal Skateway in Ottawa.
Every year from January to February or March (depending on the temperatures), the Rideau Canal freezes over.
When the ice is 30 cm thick, the canal is turned into a public ice rink.
The rink is 4.8 miles long!
It's dotted with stands that sell hot chocolate and delicious treats.
9. "The Rock" Is Canadian
Canada is the birthplace of many famous celebrities.
Some famous Canadians include:
Dwayne "The Rock" Johnson
Justin Bieber
Celine Dion
Keanu Reeves
Drake
Ryan Gosling
The Weeknd (real name: Abel Tesfaye)
10. Canadian Thanksgiving Is in October
Thanksgiving has long been a celebration in Canada.
Indigenous people celebrated the completion of the fall harvest.
That tradition continues. Thanksgiving became a national holiday in 1879.
It is celebrated on the 2nd Monday in October.
What do Canadians eat on Thanksgiving? Popular dishes include turkey or ham, stuffing, corn, potatoes, roasted vegetables like Brussels sprouts or green beans, and anything with pecans.
Canadians also love pumpkin pie, but their recipes are spicier (more ginger, cloves, and cinnamon) than the American version.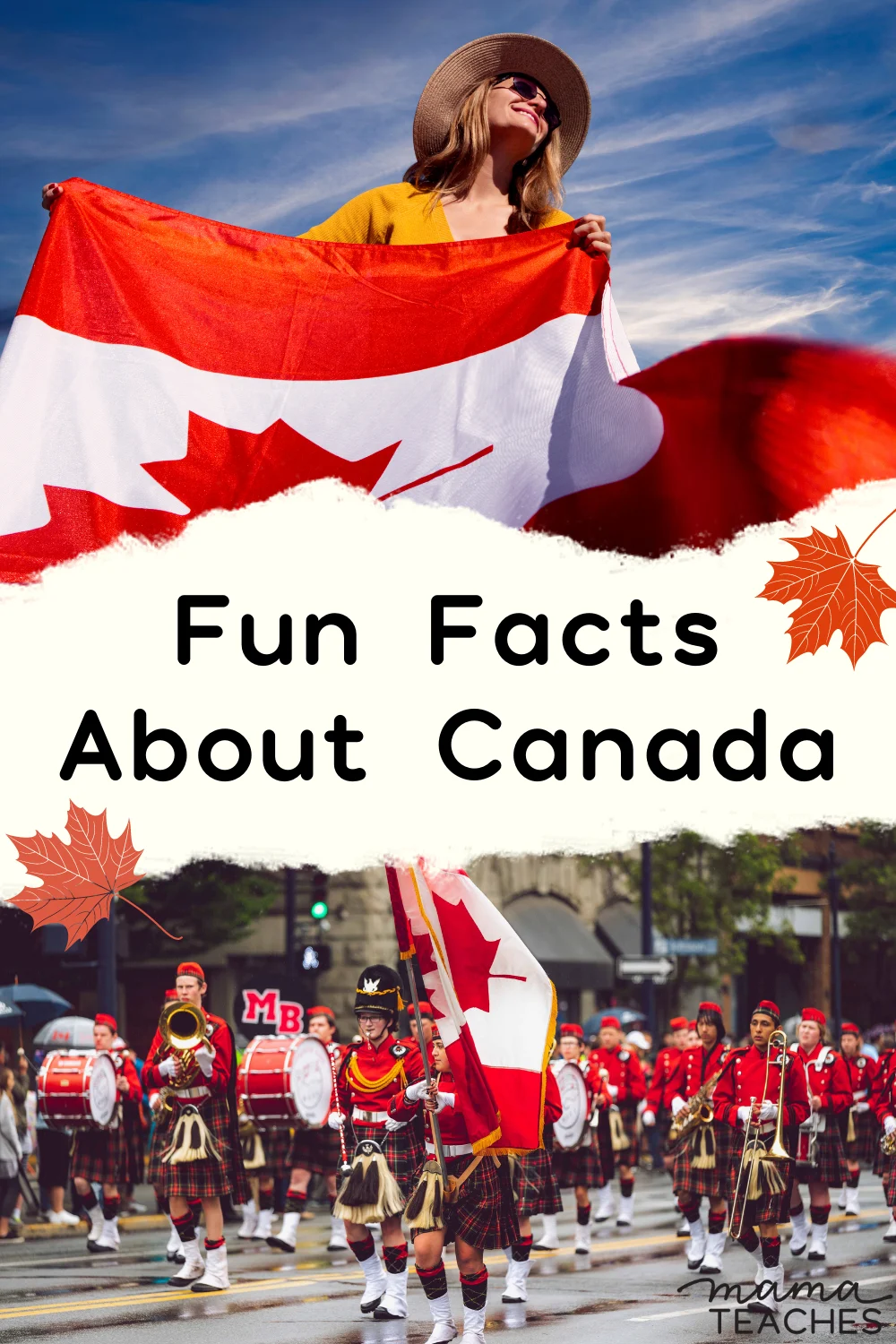 Read More About Canada Fun Facts
Canada is an amazing country; these fun facts are just the tip of the iceberg (and there are icebergs in Canada!).
If you want to learn more, check out these books:
This richly illustrated book is bursting with fun facts about Canada.
This entertaining book has 300 wild and wacky fun facts about Canada.
This book is packed with trivia questions for the whole family.
You May Also Like: