Want to add music to your homeschool curriculum?
Check out these options!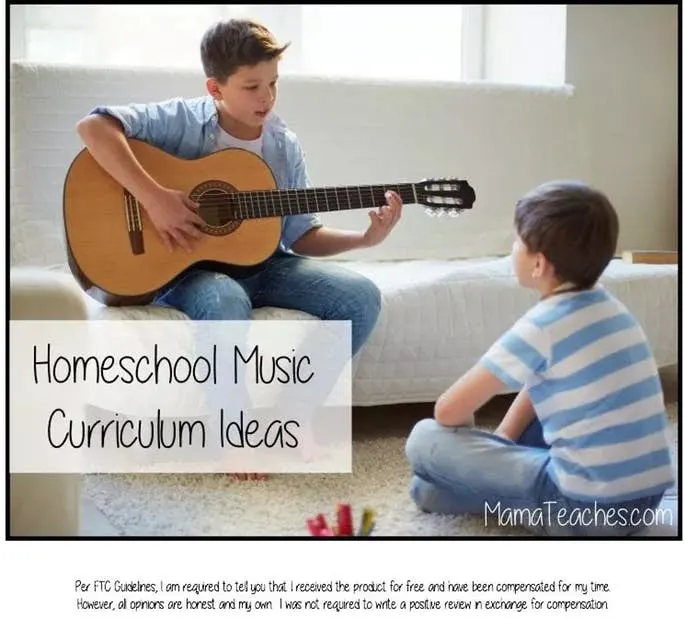 This article contains affiliate links to things that you might like.
I was in choir in high school, but the director's decision to never give me a solo was a solid one.
I took flute and piano lessons as a child (bless my parents for letting me try them), but was never into them enough to continue long-term.
I've just never been that into it.
Fast-forward to the birth of my daughter and I swear she came out singing.
She lives and breathes music like it's air.
So, finding music curriculum ideas for her became paramount as she got older and her desire to learn more blossomed.
If you're wondering how to nurture your musically inclined child, here are some ideas you'll want to check out.
Homeschool Music Curriculum Ideas
GUITAR LESSONS
I was so excited that we found online Skype lessons for kids, because Little Miss had been asking for a long time to take classes.
She has three guitars and we've had no real clue as to how to play them…which has led to a lot of cacophony.
We're also a one car family, so heading out to guitar lessons during the day just isn't feasible.
Since, we're very familiar with online classes, this was a perfect fit.
We decided to go with Gentle Guitar.
While there are online guitar lessons for adults through companies like TrueFire, Gentle Guitar was really the only guitar tuition service or brand that I came across that's designed specifically for children.
I love the fact that they specialize in teaching online, but that, more importantly, they know how to teach children online.
This is not a skill set that a lot of companies have, believe you me!
There are two different programs that Gentle Guitar offers.
PRIVATE SKYPE LESSONS
There are Private Skype Lessons that are designed to give your child (5 1/2 – 12+ years old) individualized instruction.
You can sign up at any time (which I encourage you to do if your child is interested in learning guitar!), but be aware that a parent must be present at all times for the lesson if the child is under 10.
I'll admit that when I first heard that, I was like whaaaaat?!
But here's the thing, if I hadn't sat in on Little Miss' lessons, I would have had no clue as to how to help her practice.
Not only was it a lesson for her, but I was learning, as well.
And quite frankly, that was an awesomebonus!
ONLINE VIDEO COURSE
Gentle Guitar also offers an Online Video Course if you prefer to go that route.
The Online Course is designed for children 5-8 and a parent or caregiver needs to be present during the lesson.
Again, if you don't know how to do the things your child needs to do to practice, it won't go well.
What's so exciting about the Online Video Course is that if your child is totally new to guitar and doesn't even have one yet, he or she can still participate!
The next set of classes begins February 1, 2016 and if yousign-up, you get the first three lessons for free!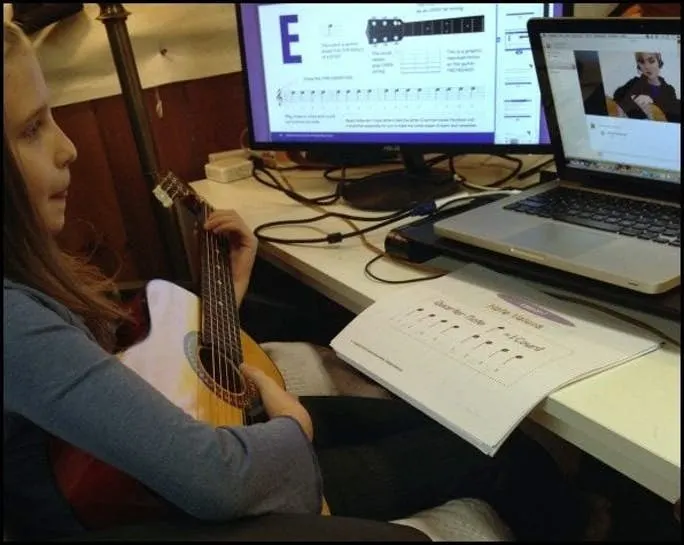 When my daughter saw that I was typing up this article and talking about her music experience, she said, "Tell them Gentle Guitar and Inga are AWESOME!" To say she loved the experience and can't wait for her next lesson is an understatement.
Be sure to check out Gentle Guitar's YouTube page for some example videos, as well as their Pinterest and Google+ pages for more great music ideas!
COMMUNITY MUSIC LESSONS FOR KIDS
In addition to Skype lessons for kids, we've also discovered some amazing classes offered by our local community arts center.
In fact, Little Miss has been taking singing lessons there for about three years now and performed her first solo in May (proud Mama moment for sure!).
While they offer private guitar lessons for kids, their age minimum is still a year older than Little Miss.
Hence, why the Gentle Guitar classes were perfect.
Check out what your town or city's arts center, theater group, or even YMCA or Parks & Rec office offers each semester in terms of music lessons.
Often, there will be private lessons available at different times throughout the week.
SELF-STUDY MUSIC CURRICULUM
If you're not in an area with a community arts center and your child is interested in something other than guitar, try a self-study music curriculum.
Self-study programs range from the relatively easy like Play Piano in a Flash for Kids! to the more in-depth programs like Play Flute Today (The Ultimate Self-Teaching Method) that are not specifically geared toward children.
It's important to evaluate your child's comfort level with the instrument in question before deciding on a program that's right for him.
Whatever program you decide to try, be sure that it's a right-fit for your child.
Every child learns differently and every parent has different expectations about what a music curriculum should include, so do some research and find one that meets both of your requirements.
Above all, remember that any music curriculum that you try should be one that encourages, motivates, and excites your child to learn more about music.
Good luck on your musical journey!