Where do you do seatwork if you homeschool? Check out this list of the best desks for homeschooling.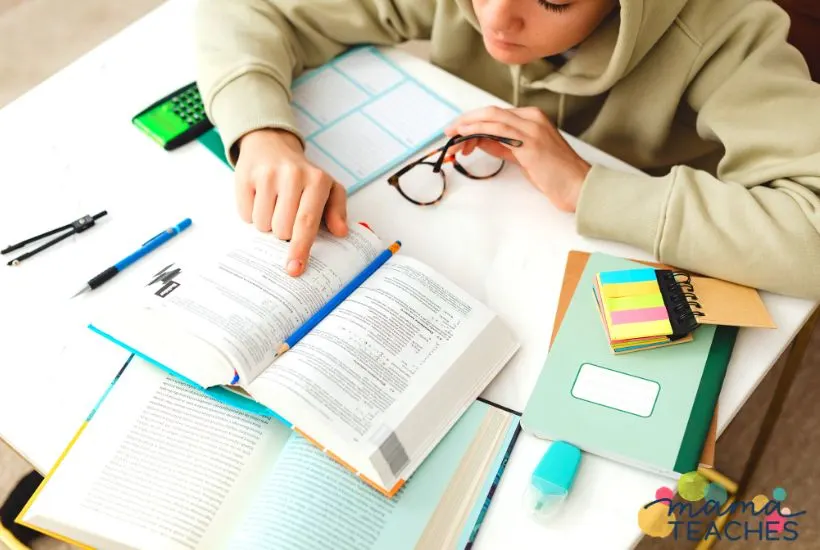 Where in the House to Homeschool
Homeschoolers have a lot of options when it comes to where to do their schoolwork.
Some may have a dedicated schoolroom.
Others may prefer to school in a shared space like the kitchen or dining room.
Still others gravitate toward the comfy seating of the family room.
Students who need quiet may prefer to work in their bedrooms.
Check out these Homeschool Setup Ideas for more inspiration.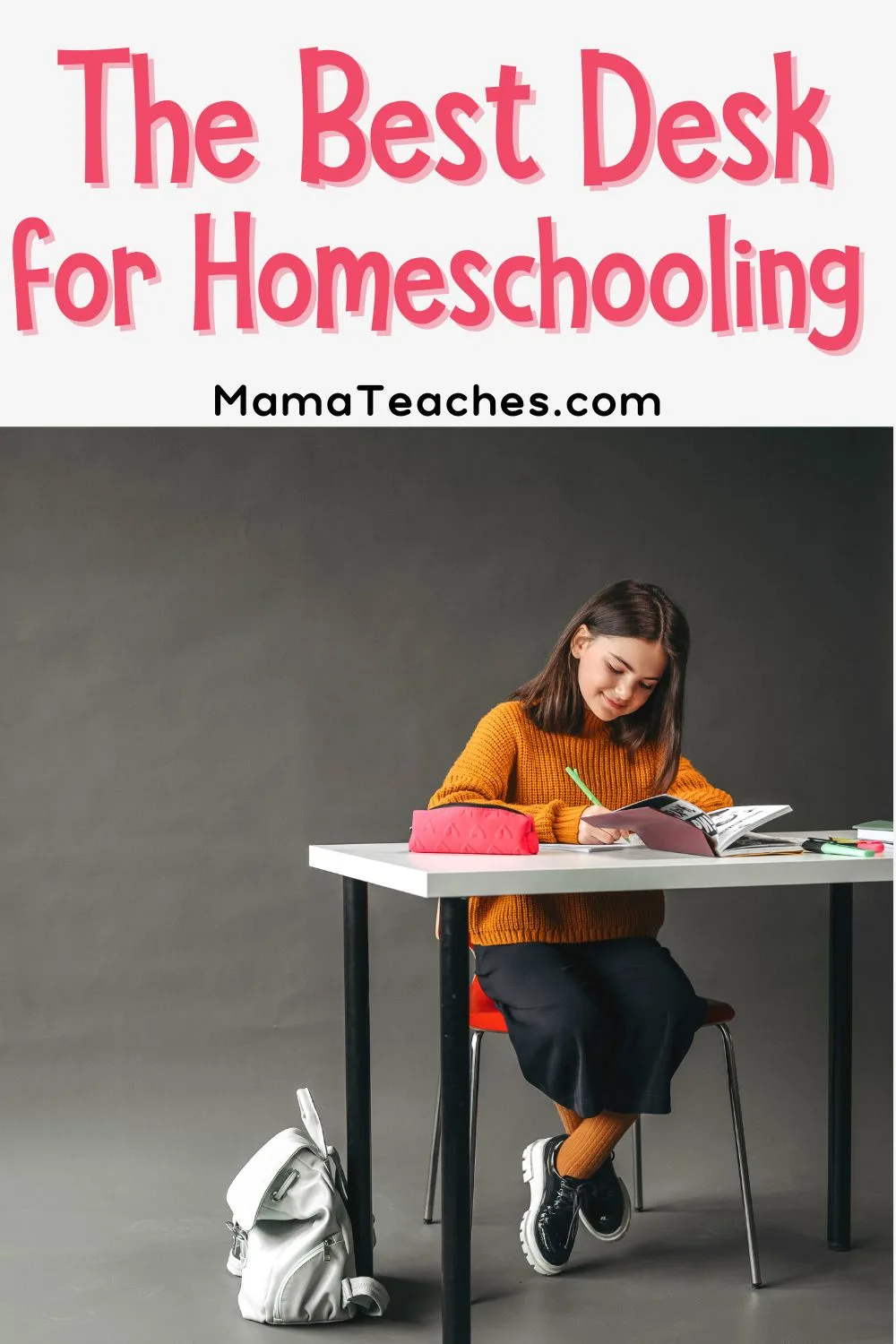 This article contains affiliate links to things that you might like.
Seating Options for Homeschool
Homeschoolers don't have to sit at a desk to do all their schoolwork.
They may prefer to lounge on a sofa or beanbag chair.
Families may prefer to cluster around the kitchen table and do school together.
Some kids choose unconventional options, like homeschooling on the floor or outside.
While many of these places work well for reading, subjects that involve writing may require a desk.
The 10 Best Desks for Homeschool
This list includes a wide variety of desks.
What is the best type of desk for homeschooling? That is up to you to decide.
This list represents the best desks for homeschooling in each category.
Pick the one that suits your student and your space.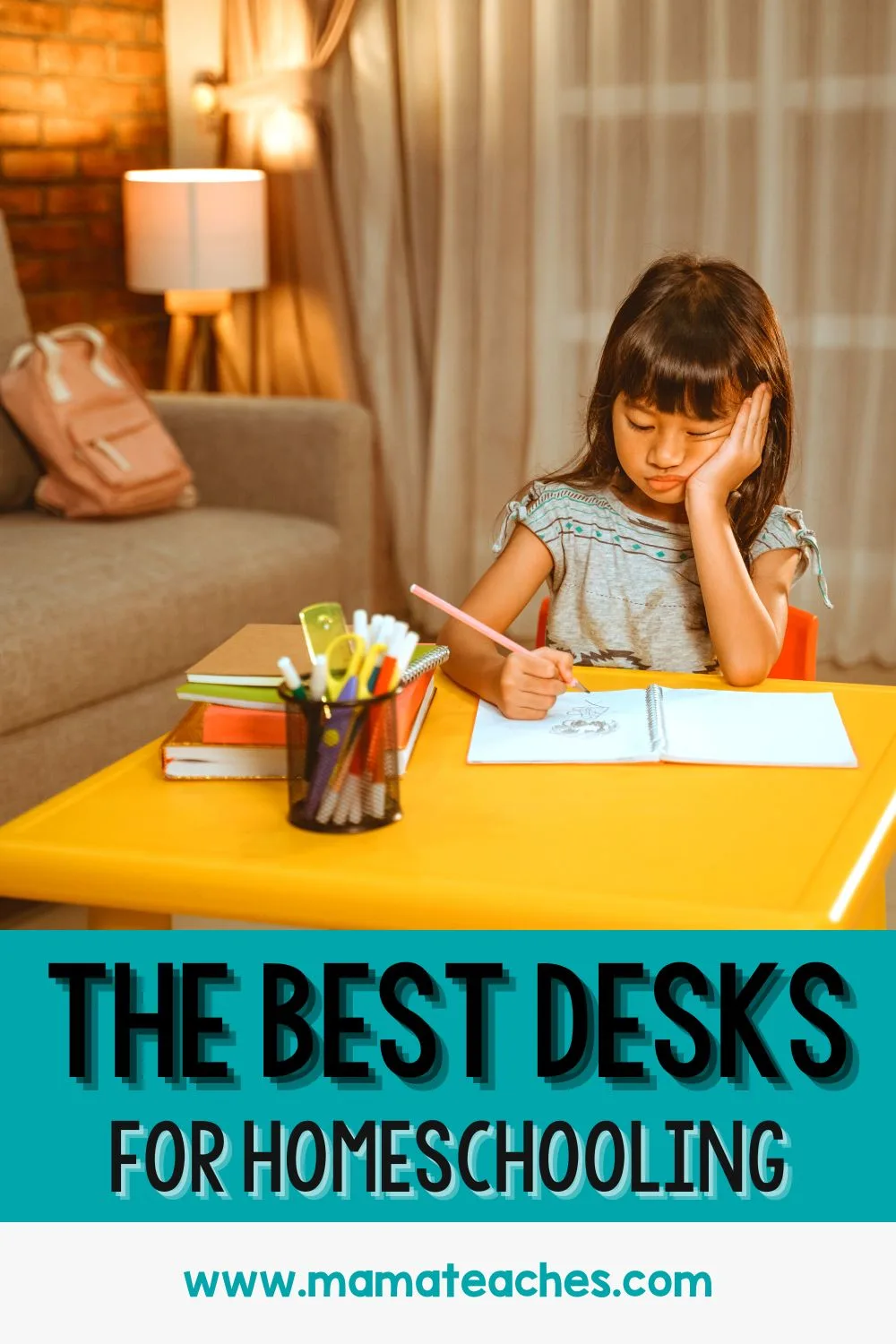 This is not your typical school desk.
It features cushions, a light wood finish, and clean lines, so it blends well with modern living room furniture.
This swivel desk sits low to the ground, so kids ages 3-7 can rest their feet on the floor (this is important for proper posture).
It has a swivel side desk that you can move out of the way in order to get in and out.
It even has a side pocket for books and notebooks.
This desk is ideal for young learners who want a comfy homeschooling space in the common area.
In general, corners are underutilized areas in the home.
This small white corner desk for kids ages 3-8 fits snugly in the corner of the room.
It's ideal for a bedroom or even the corner of the living room.
Corner desks can help kids with ADHD focus on the task at hand because they aren't distracted by any movement in the room.
This desk also has a small hutch with shelving for school supplies.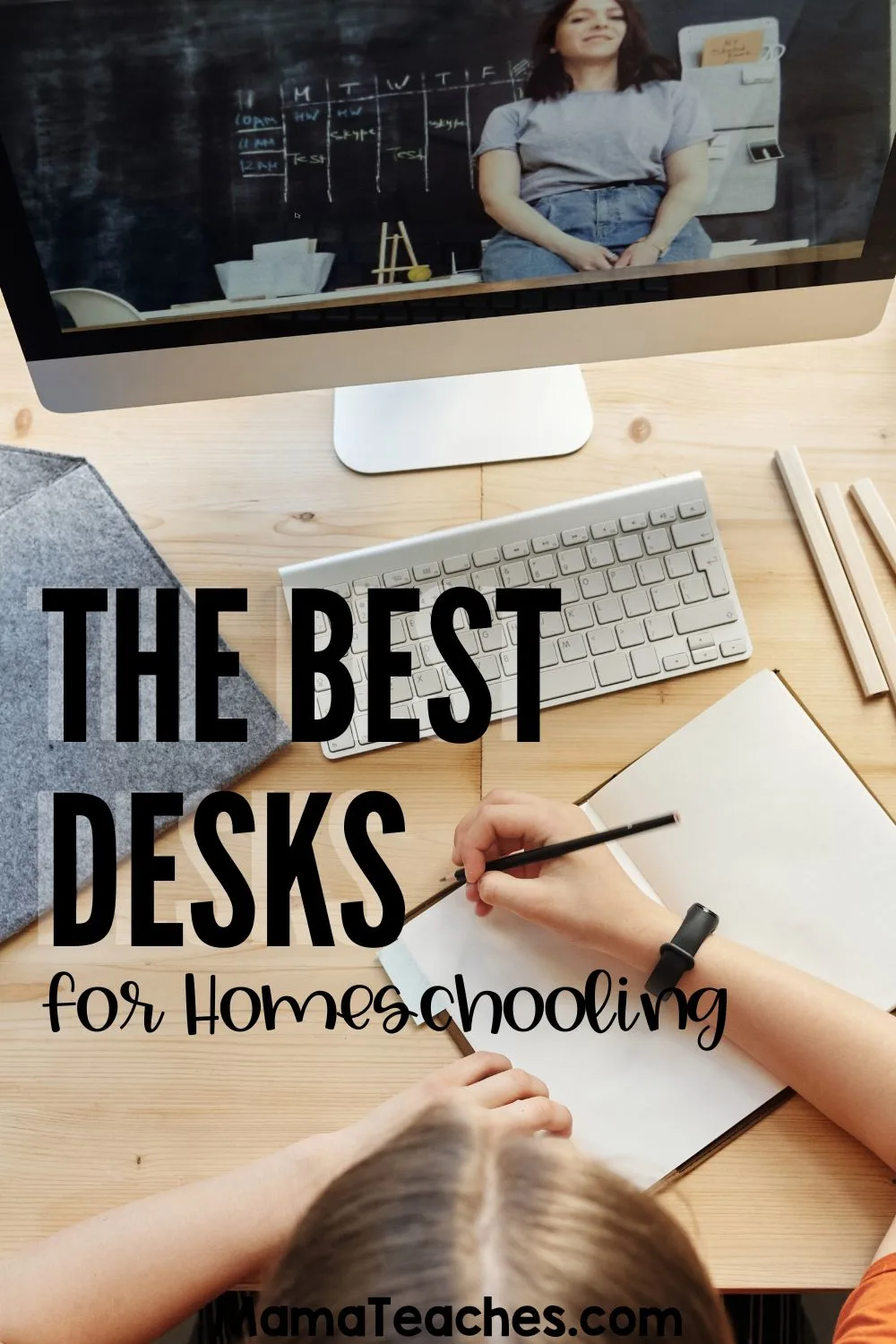 When you think "school desk," this one will spring to mind.
This is the traditional school desk that has a cubby for supplies.
It has several settings in the legs so that you can change the height up or down depending on your child's size.
This desk is an excellent choice if you have a separate school room and your children need their own personal space to work.
This lovely, modern lap desk is perfect for the unconventional schoolwork location.
You can easily sit on the floor and write with this lap desk.
You could even take it outside and homeschool on a picnic blanket.
The desk is so attractive that you can keep it in the main living area (and perhaps find yourself using it!).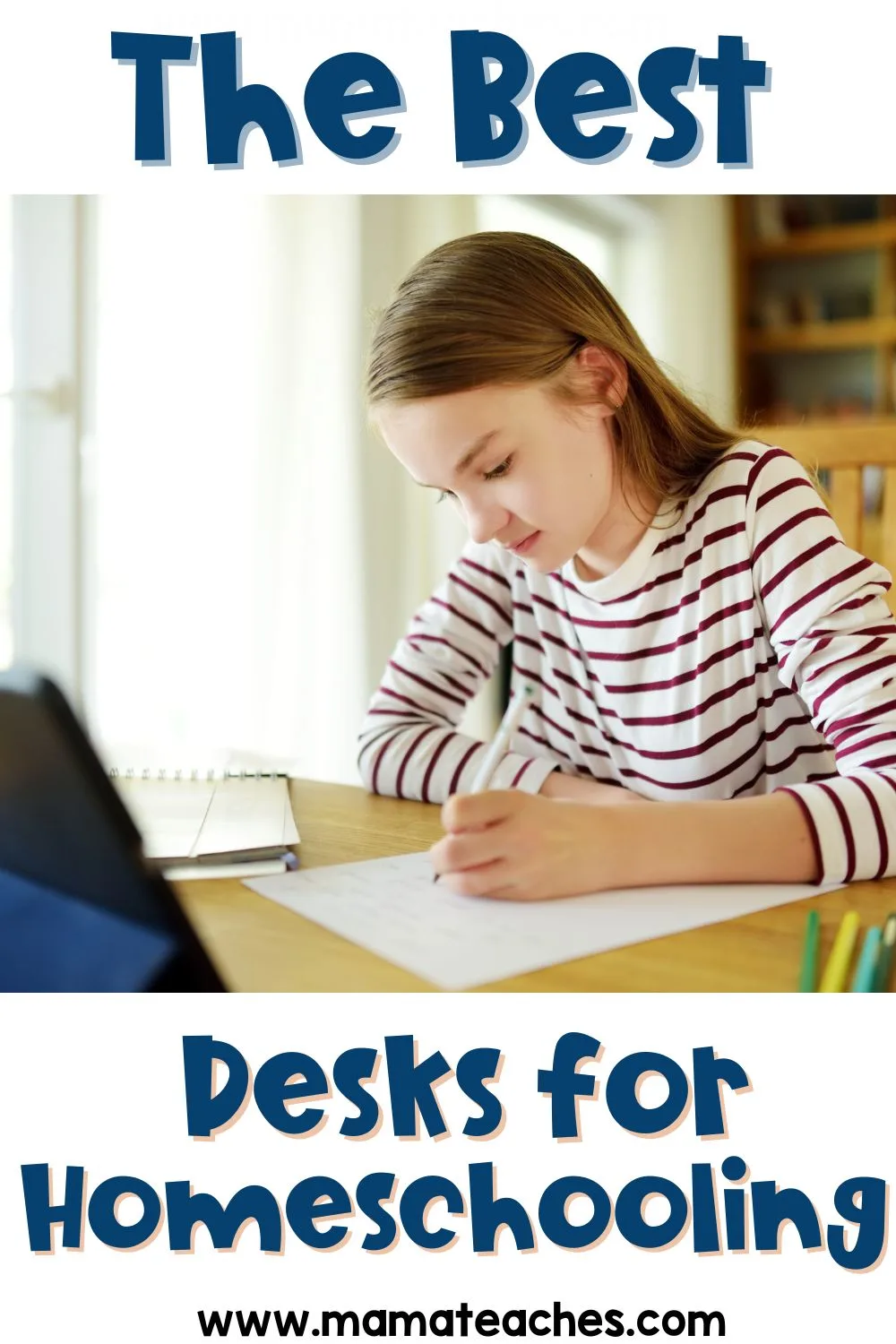 If you want your student to be more organized, this desk has a system.
It has cubbies below the desk for laptops or books.
This desk has side shelves for papers and folders (a great way to organize subjects!)
It even features a corkboard for inspirational quotes or anchor charts.
This is a complete desk set, so it comes with a chair.
You can order this desk in an array of colors, so it is the perfect addition to any room.
If you are schooling more than one preschool or elementary-age child, you may prefer a desk for more than one person.
This is technically an activity table but functions as a multiperson desk.
It features one bench seat and two individual chairs.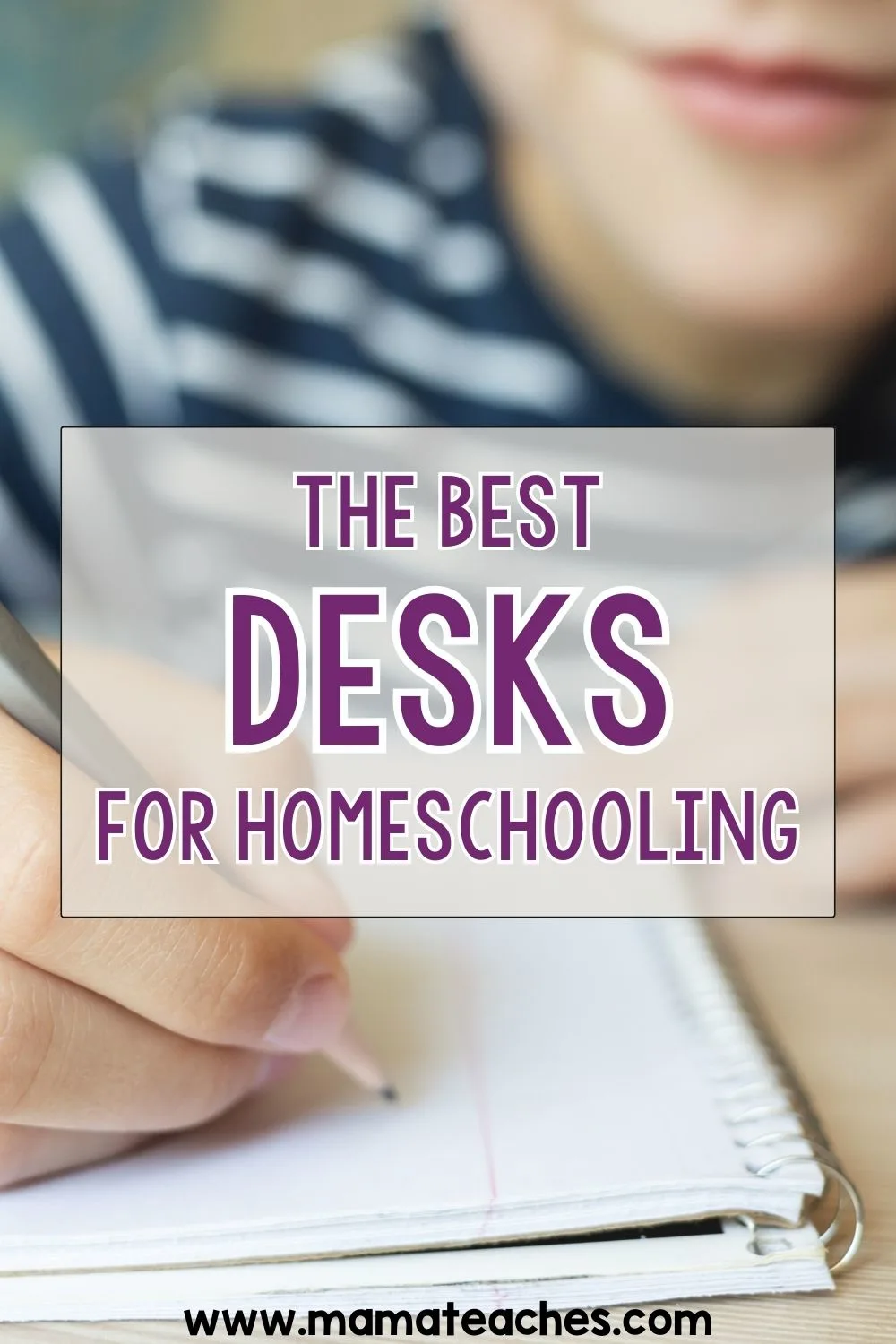 Is space a premium in your home? Try this folding desk.
Best for middle and high schoolers, this desk folds flat so you can slide it into a closet or behind a door or sofa.
It's perfect for schooling in an RV!
The desktop has plenty of room for a laptop, so it works well as a computer or writing desk.
Many of these desks for homeschooling are small, so they don't take up too much space.
But small desks don't work for every student.
Some students need to spread out.
They like to have their laptop open and their books to the side.
They spread out their papers or keep their desktops covered with pens, pencils, and other writing supplies.
This desk is wide but not excessively deep, so it won't take up too much square footage.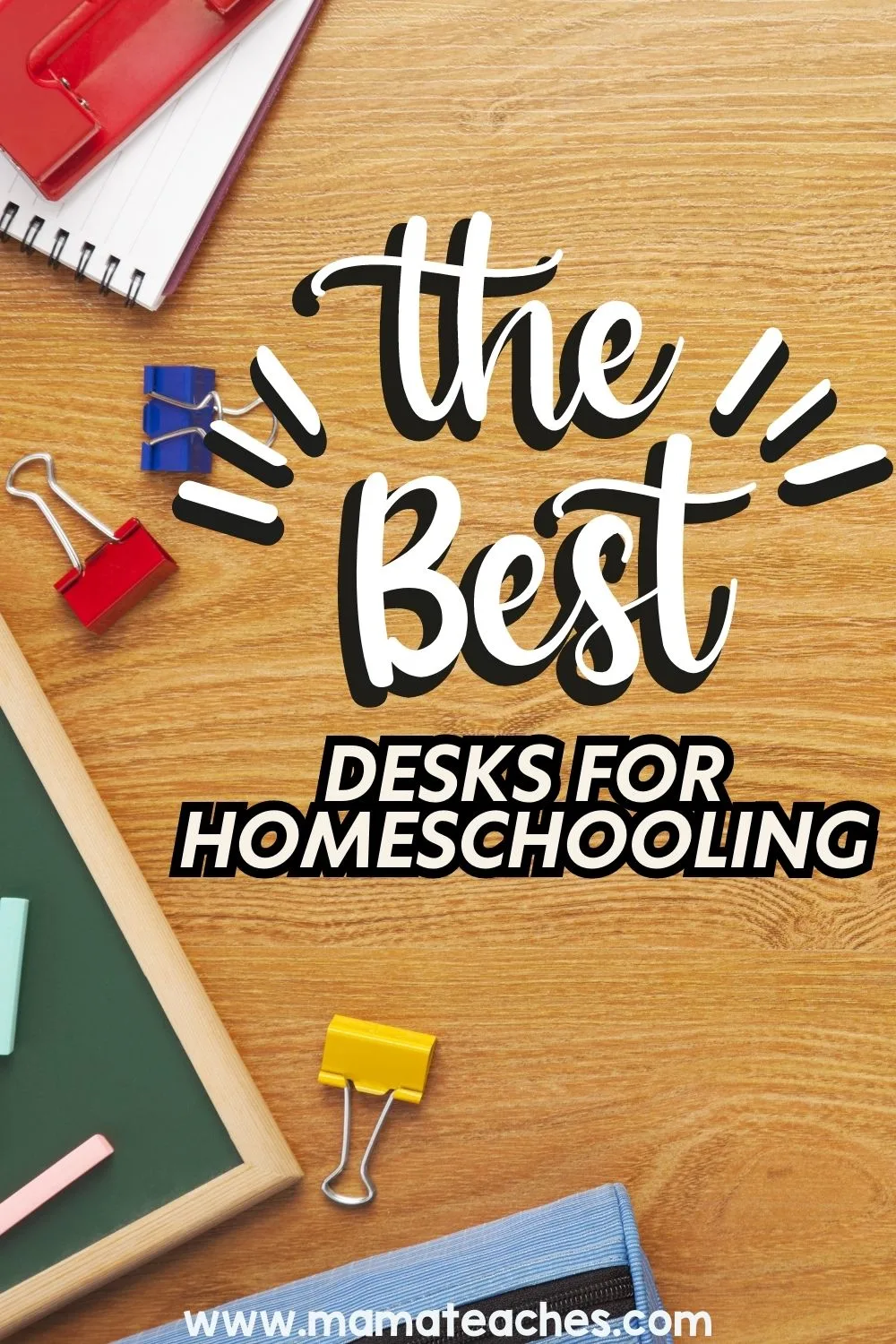 This laptop desk is mounted on wheels to roll it alongside a sofa.
You can even raise its height to become a standing desk!
It has little desktop space, but it easily holds a laptop.
I don't know about you, but I really appreciate places to hide the clutter.
If your child has an "unorthodox organizational system" (yes, that's code for messy), you will like this desk with drawers.
The compact desk has four drawers and a small hutch for supplies.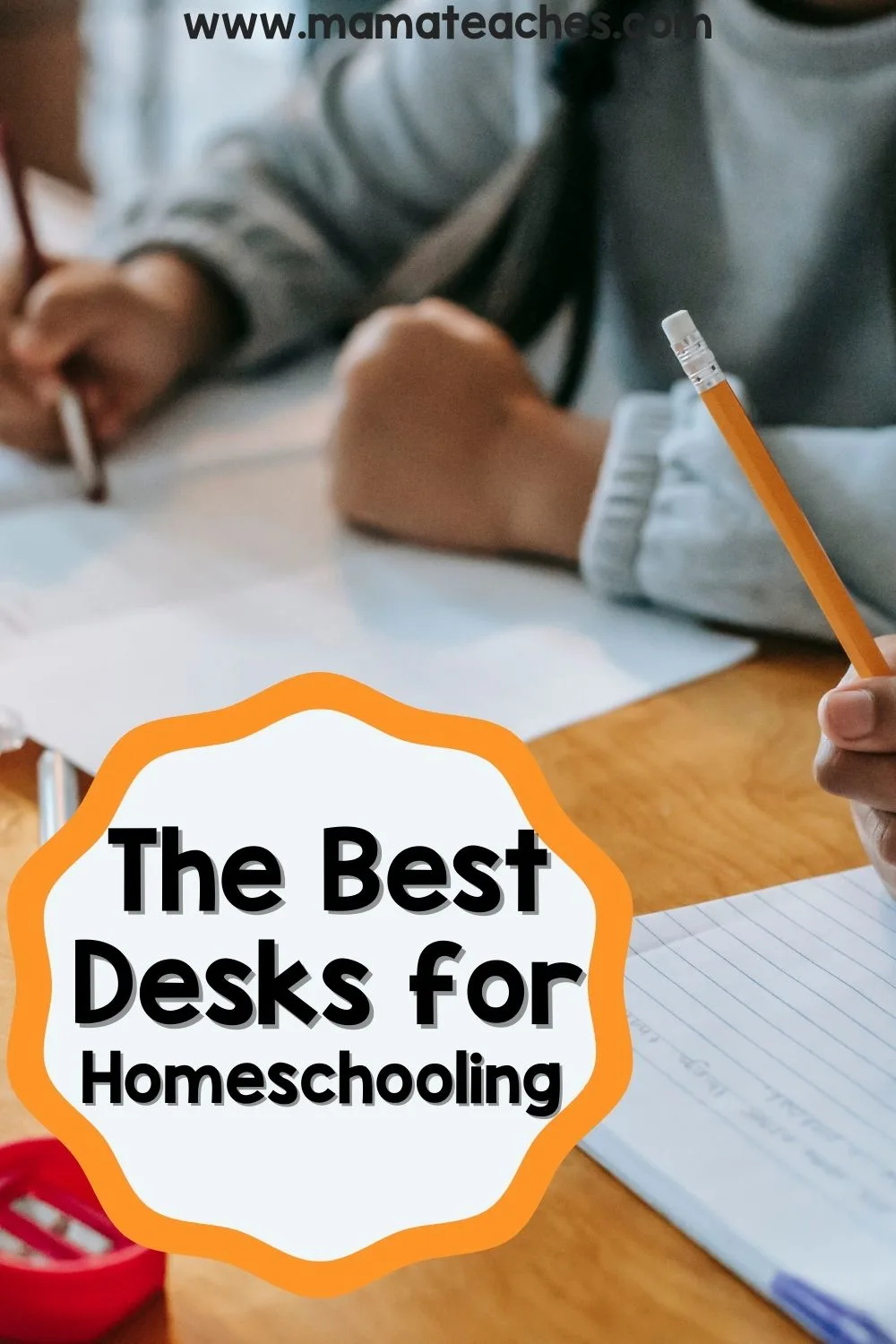 Choosing Desks for Homeschooling
Desks are not one size fits all. This is especially true when considering desks for homeschooling.
You will need to take your child's size into account. Smaller people need smaller desks.
Older students need desks that will work with laptops, as some or all of their schoolwork will involve the computer.
Thankfully, this list includes desks for homeschooling every age.
You May Also Like: