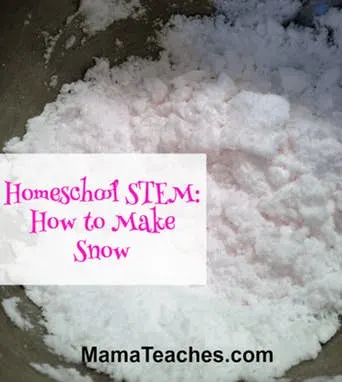 So, it only seemed natural that our science experiment of the week was to make snow. I searched for just the right experiment to showcase during the class, but couldn't find one that was both appropriate to show 4-8 year olds and gave accurate measurements. So, we made our own!
How to Make Snow Science Experiment
My handy assistant and first grader (she's top of her first grade class here at the Jordan Homeschool Academy), helped me out by getting messy with the snow. She's not naturally a messy kind of kid (except for when it comes to her room), so the sensory part of this experiment left her a bit squeamish at first. As the snow began to really take shape though, she was all into it!
Here's the science experiment video we made to accompany the class:
And here are the directions – with measurements! – for how to replicate the experiment on your own. You can also download a printable copy if you don't want to have your electronics near the conditioner and baking soda.
HOW TO MAKE SNOW SCIENCE EXPERIMENT
Materials:
2 cups of baking soda
1/3 cup hair conditioner
large mixing bowl
paper towels
Directions:
Measure out your baking soda and hair conditioner.
Mix them together in the mixing bowl using your hands.
After a few minutes of mixing, your baking soda/conditioner will begin to look and feel like snow.
Use the snow for creative play and have fun!
If you decide to do the experiment, snap a photo and share it with us on our Facebook page. We'd love to see your STEM awesomeness!