This Italian Pasta Salad recipe is just what your picnic ordered!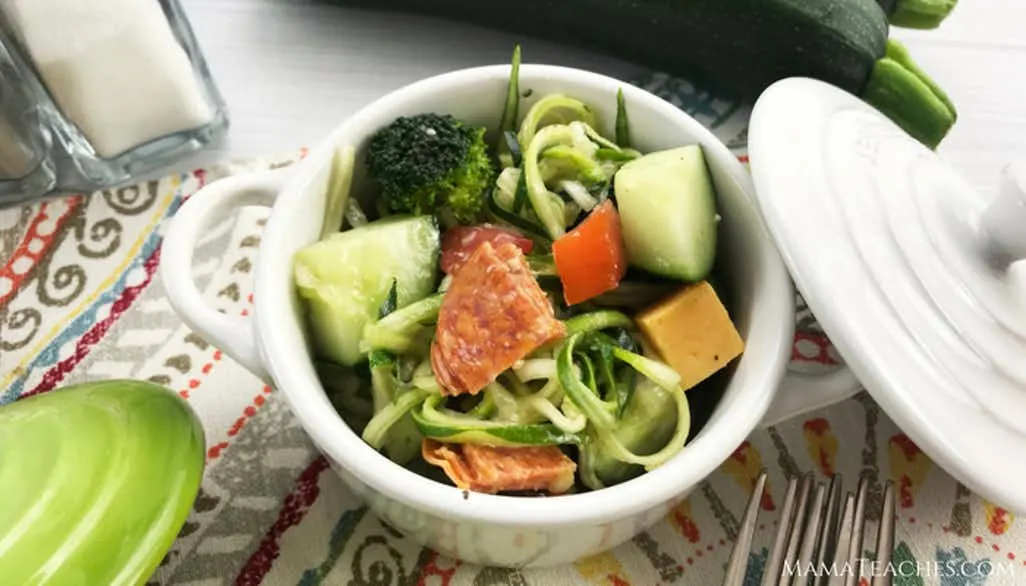 This article contains affiliate links to things that you might like.
When your summer zucchini bounty is overflowing, it's time to put it to good use with a cold Italian Pasta Salad recipe that's sure to be a crowd favorite.
In fact, this recipe is my sneaky mom way of getting my kids to eat more veggies, because really, who can resist zucchini noodles?!
Italian Pasta Salad Your Way
Although this Italian Pasta Salad recipe contains pepperoni and cheese, you could make it all vegetarian by leaving those things out.
Also, feel free to substitute a different type of cheese if your family isn't a fan of Colby Jack.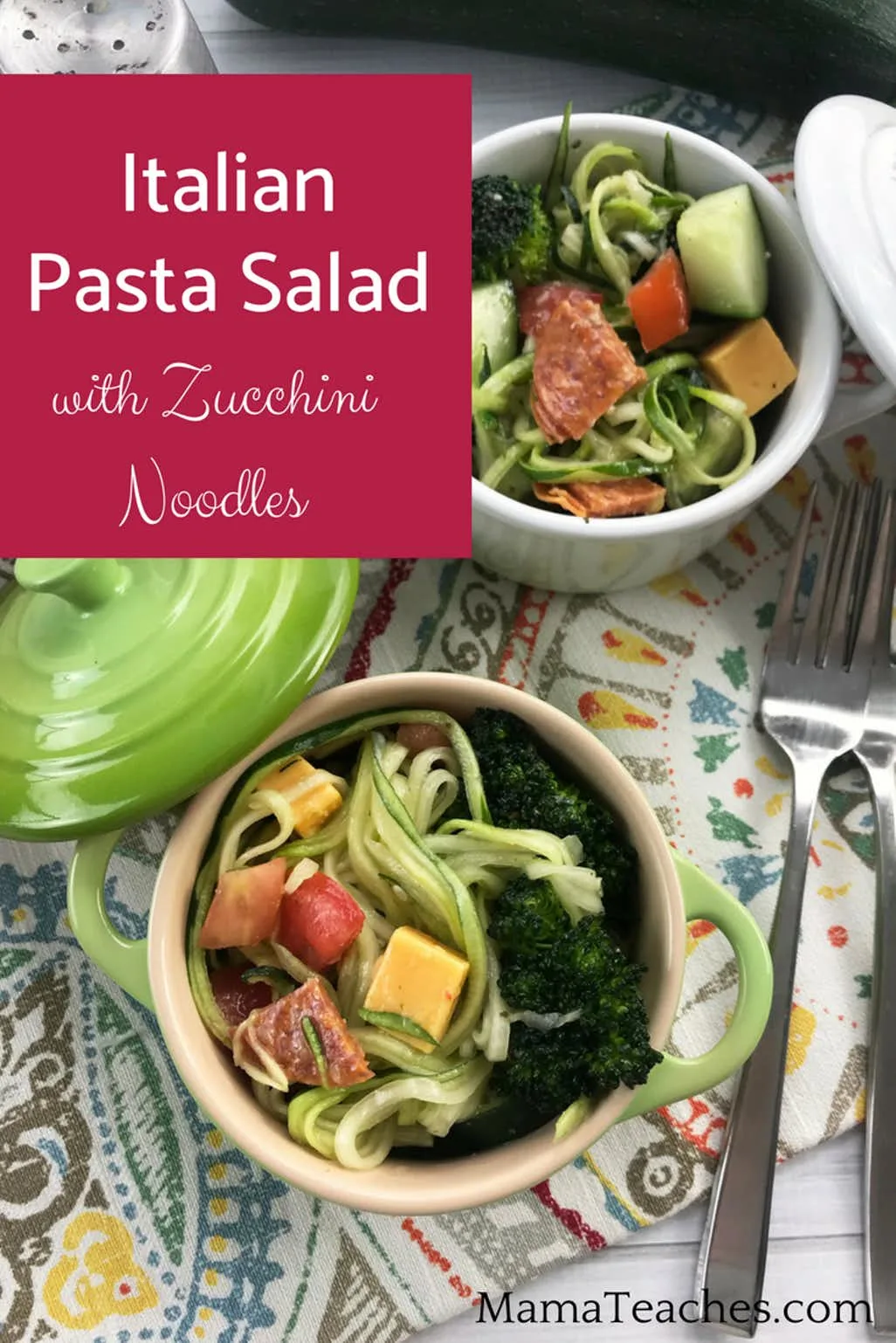 This post contains affiliate links.
Zucchini Noodles for the Win
Never had zucchini noodles?
They're fabulous and super simple to make with a vegetables spiralizer!
There are huge ones that take up more counter space than I have room for, but I like this hand-held version that's also less than $15.
If you're looking for the perfect picnic or barbecue side dish, save this Italian Pasta Salad made with zoodles for the win!
Italian Pasta Salad Recipe
Salad
Ingredients:
3 medium zucchini, spiralized
1 C. colby jack cheese cubes
1 C. broccoli florets
1 large tomato, diced
3/4 C. pepperoni slices, cut into pieces
1 medium cucumber, diced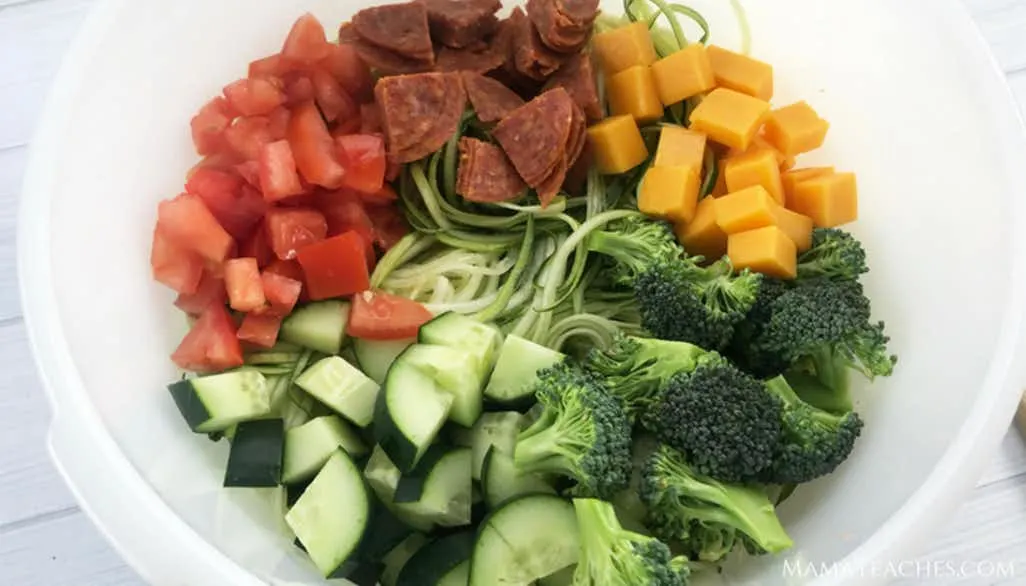 Directions:
Add the spiralized zucchini to a large bowl, cutting the spirals in half.
Add in the cheese cubes, broccoli, diced tomato, pepperoni pieces and cucumber.
Dressing
Ingredients:
2 tbsp. garlic salt
2 tbsp. onion powder
2 tbsp. sugar
4 tbsp. dried Oregano
2 tsp. black pepper
1/4 tsp. thyme
2 tsp. dried basil
2 tsp. dried parsley
1/2 tsp. celery salt
2 tbsp. salt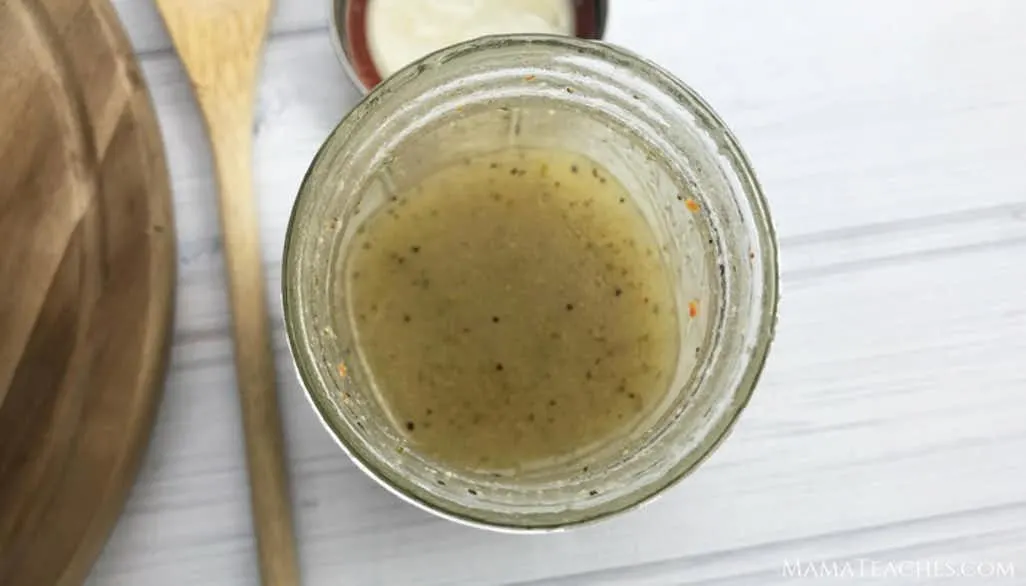 Directions:
Combine and store in an airtight jar.
Making The Dressing:
Shake the Italian seasoning and combine 4 tablespoons of dry mix with:
1/2 C. white vinegar
1 1/3 C. canola oil or extra virgin olive oil
4 tbsp. water
Combine in an airtight jar and pour over the Zoodle Italian Pasta Salad to taste.
Store in the fridge, sealed, for several weeks.
​
Enjoy your Italian Pasta Salad!