This MLK Day, have your students write about equality with the help of this Free MLK Day Acrostic Poem template! It's perfect for grades 2-5!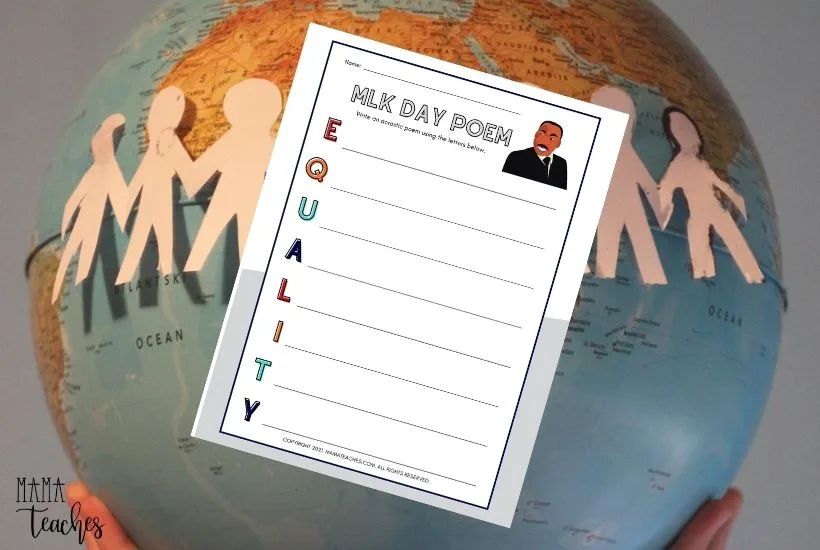 What is an Acrostic Poem?
An acrostic poem is a form of poetry that uses the letters in a word to start sentences or phrases for a poem. For example, if the poem was PEACE, you would write the word peace in all uppercase letters along the left-hand side of the paper.
You would then write a sentence or phrase that begins with each of the letters in the word peace to describe "peace" or something close to it.
Acrostic poems are fun to make and a great introductory way to get students excited about poetry.
How to Use The MLK Day Acrostic Poem
In the days leading up to Martin Luther King Jr. Day (MLK Day), introduce who he was and the important role he played in the Civil Rights movement and US History.
Completing activities, watching videos, and reading books about his impact and his life will help him come alive to your students.
Use the MLK Day acrostic poem template to guide students through writing about all that they learned.
Not only is it an engaging language arts writing assignment, but the poems can also be displayed in the hallway or on a classroom bulletin board.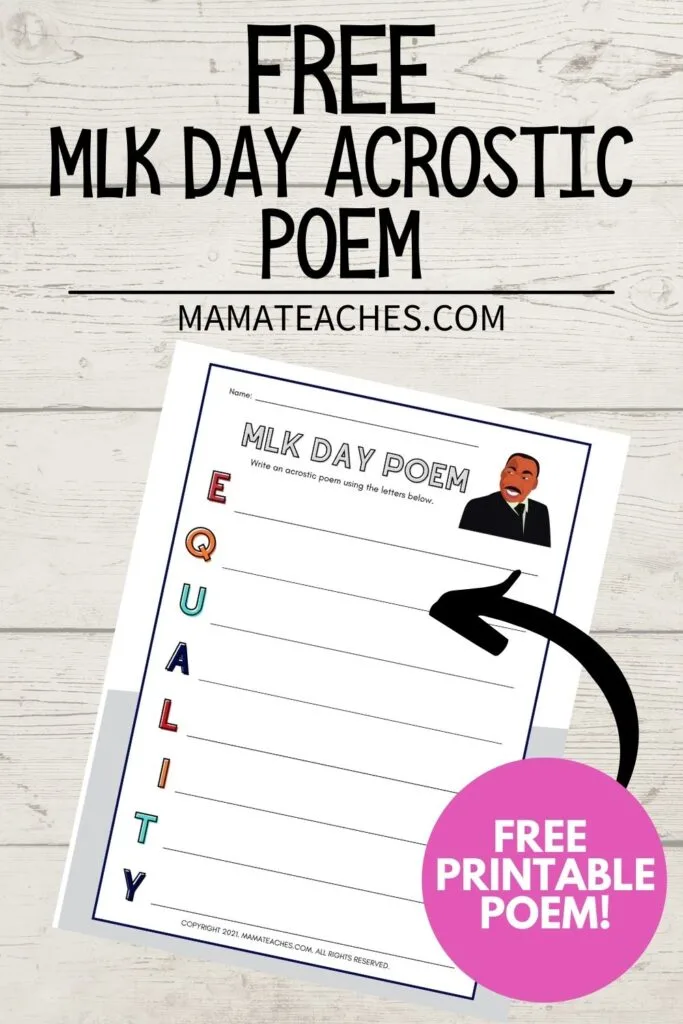 Grab Your Free Copy of the Poem Template
You can grab your free copy of the MLK Day Acrostic Poem template from the Freebies Library here on MamaTeaches.com!
It's available in printable format only and can be used in your classroom or homeschool when studying Martin Luther King Jr.
Already a member of The Freebies Library? Sign-in here! The template is in the "Language Arts" section.
Not a member yet? Join by filling out the form below!
You May Also Like…