Bring languages to life with this online Spanish curriculum that's perfect for homeschoolers.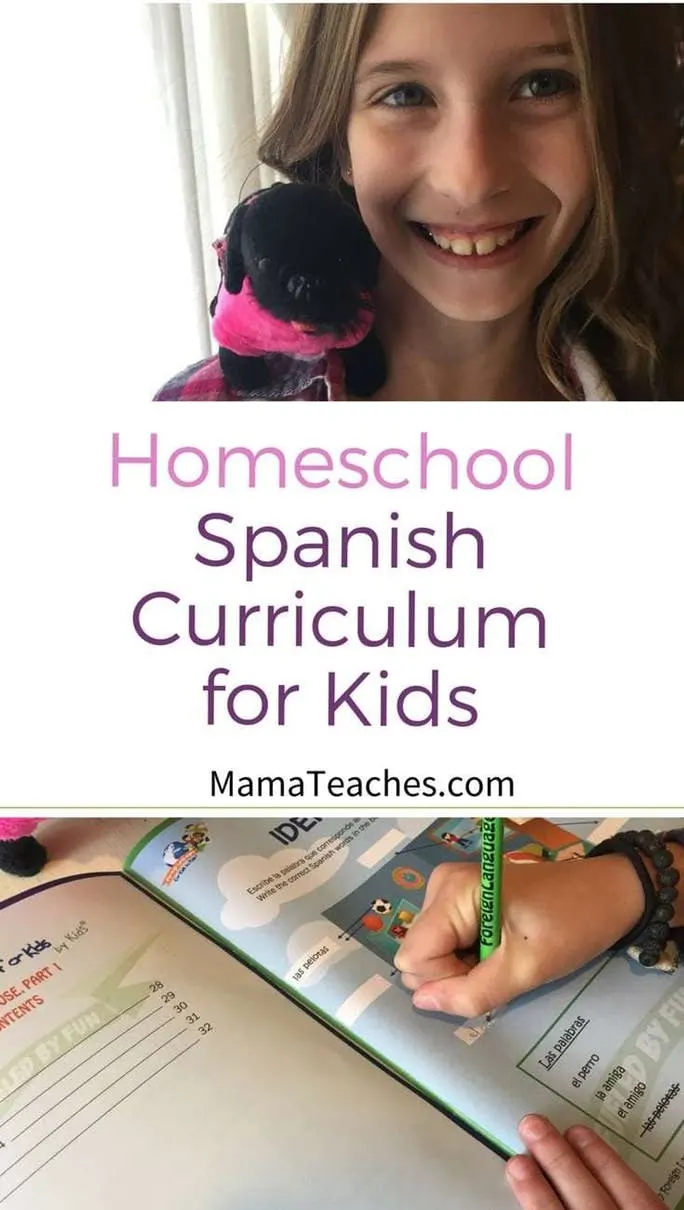 This article contains affiliate links to things that you might like.
Finding a program that would keep her interested and engaged hasn't been easy though.
So, when we heard about Foreign Languages for Kids by Kids® online Spanish curriculum, it seemed like the perfect program to get her excited about learning a a new language.
WHAT MAKES THIS ONLINE SPANISH CURRICULUM UNIQUE
As a teacher of almost 20 years, I'm always on the lookout for curriculums that have three things:
easy of use and are low prep for the teacher
opportunities for different learning styles that are built-in
are easy for kids to relate to at the age they are right now
It's not always easy to find those things in one curriculum, so I'm always skeptical of programs that I don't know a lot about.
Foreign Languages for Kids by Kids® was new to me, so, naturally, I had my doubts.
And then we tried it…and my doubts were gone.
What makes this online Spanish curriculum so unique is that it truly gets to the heart of the learner.
It over-delivers on engagement opportunities, relatability, and pure learning fun through lessons that teach while entertaining.
As a teacher and mom, that's a priceless combination.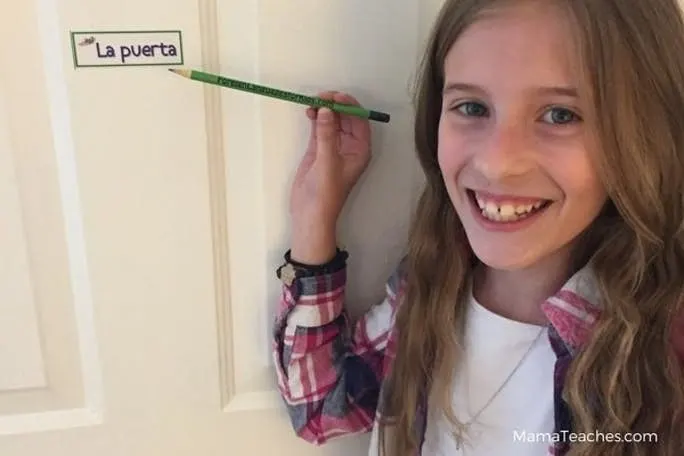 SPANISH FOR KIDS
We used the online version of the Super Set with Levels 1-4 and Levels 5-8.
The differences between the Super Sets and the Complete DVD Sets are that the Super Set has the workbooks, card games, learning cards, and teacher guides included (plus stickers and a stuffed animal!) and the 8-DVD set comes with just the DVDs.
Since we have a strong Internet connection 99.9% of the time, the online version in the Super Set was also a lot more convenient for us, because we could watch it from anywhere.
As I've mentioned before, my kids love workbooks (weird, right?), so anything that has a workbook with it is definitely going to get more buy-in from them than just a visual lesson.
This really plays to the fact that Foreign Languages for Kids by Kids® really recognizes that kids learn differently and that different teaching methods engage different learners.
As the one facilitating the program, I appreciated the fact that my youngest was able to approach learning a foreign language in a way that made it fun for her.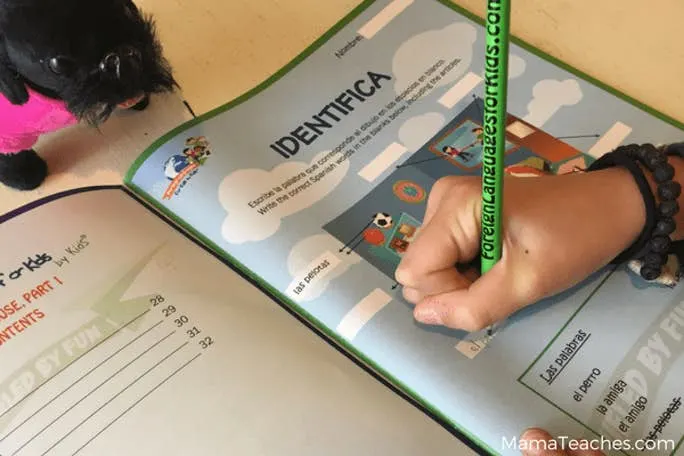 Instead of having a program that just offered one entry point to learning, Foreign Languages for Kids by Kids® Spanish Curriculum offered many different paths for all sorts of learners.
That means the same curriculum can be used by all of your kids – no matter how they learn best – because the program addresses all of their needs.
That saves you time – and money!
TRYING HOMESCHOOL SPANISH CURRICULUM
One of the biggest mistakes I made in trying to get my kids excited about foreign languages was using programs and apps that were free.
I know that sounds crazy, because free homeschool curriculum is usually awesome.
Only, in this case, it wasn't.
At all.
Not a lot of time and effort had gone into making the free versions user-friendly and engaging.
That meant my kids were easily bored and, sadly, turned off to learning Spanish, because they saw it as dull and confusing.
Although we used the Foreign Languages for Kids by Kids® Spanish Curriculum Super Sets, what's really important to remember is that you can start off with just Single Set of Level 1 the to try it out.
You'll get a choice of the Level 1 DVD or a three-month online Spanish membership, plus the hands-on activities and products.
The amount that your kids will learn in those three months alone will be money well spent!
The value is incredible – especially when you factor in their enthusiasm and excitement for doing the lessons and being open to learning a foreign language.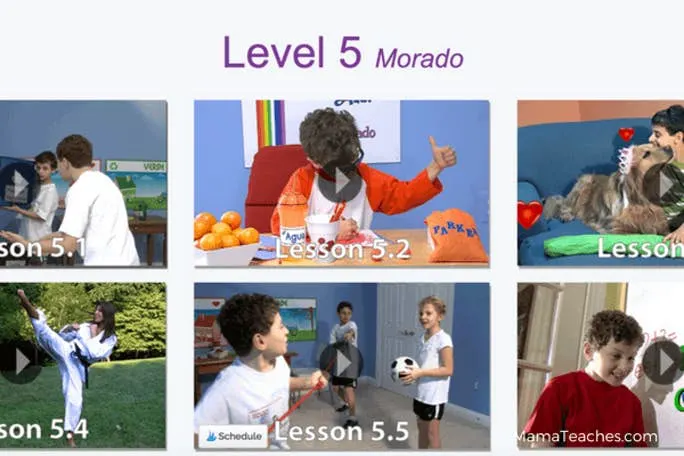 For your little learners, you can also introduce them to the online or DVD lessons in the Early Learner Set that's designed for kids ages 3-6.
While there's no reason they can't watch the older versions with their big brothers and sisters, this set is designed specifically for them.
Remember the whole "being relatable" aspect of a successful homeschool curriculum that I mentioned earlier?
That's what the Early Learner Set has for your preschool and kindergarten learners.
Also, from now until April 30, 2018, you can take 20% off any order with the code 20OFFFORYOU.
If you're thinking ahead to next school year, you may want to consider the DVD sets or choose the DVDs in the Super Set, as the one-year online subscription would run out before the end of next school year.
You can also enter to win the giveaway below and try some of the fun products offered!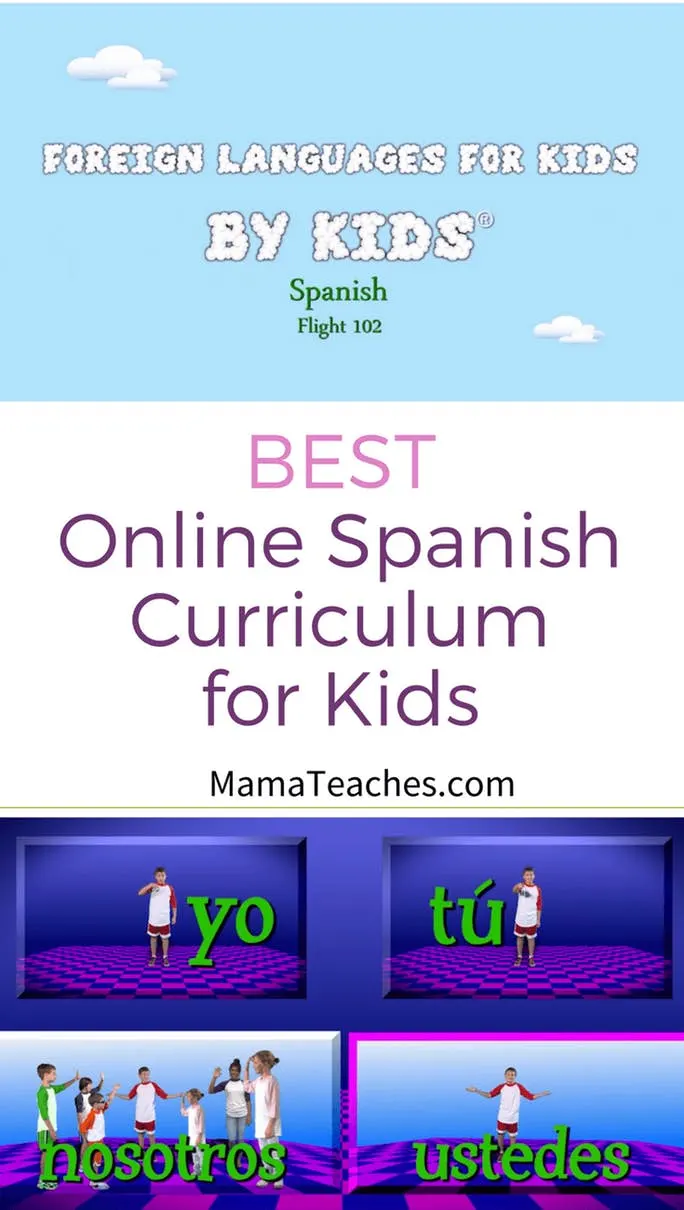 FOREIGN LANGUAGE AND HOMESCHOOL
Introducing your kids to foreign languages at an early age can improve their fluency and understanding, but it can also make it part of their everyday lives.
Instead of yet another subject to add to the week's lessons, Spanish (or whatever language you're learning) is simply woven in as part of your everyday routine.
Foreign Languages for Kids by Kids® can help you achieve that.
Be sure to visit them on Facebook and Twitter to get all of the latest updates on new products and opportunities!