This yummy peppermint cookies recipe is perfect for the holidays – or anytime!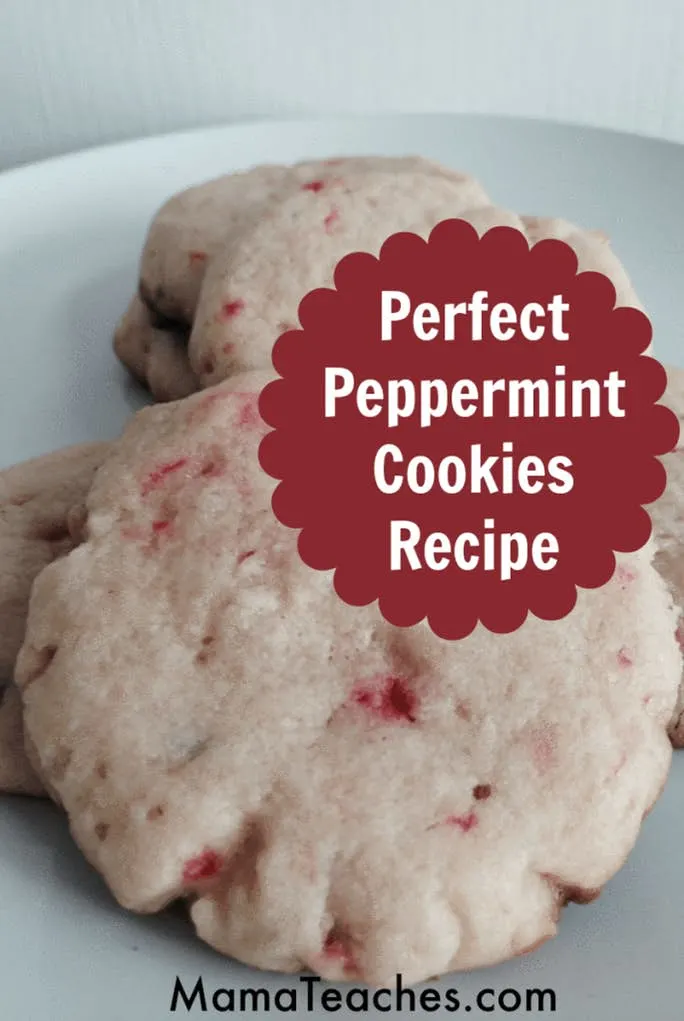 Peppermint candy canes, peppermint bark, peppermint essential oil being diffused in the living room, peppermint toothpaste…okay, maybe not the peppermint toothpaste, but you get the idea. Since we're on a real peppermint kick over here in our home, what better addition to our minty collection than a peppermint cookie.
While my cooking skills are limited and my baking skills can sometimes be sketchy, these Peppermint Cookies are easy enough for even the most culinary challenged of individuals to prepare. For that, my family is very thankful. So if you want to bake, but sometimes doubt your baking abilities, have no fear. This is the recipe you need. You'll be called The Cookie Boss as soon as your family tastes them. A word of caution though…the dough for these cookies does need to chill for about 45 minutes, so your accolades may be delayed.
PEPPERMINT COOKIE RECIPE
Prep Time: 10 minutes
Chill Time: 45 minutes
Bake Time: 6-8 minutes per batch
Ingredients:
1 cup softened butter
2/3 cup white sugar
1 large egg
1 t vanilla extract
1/2 t salt
1 drop Young Living Peppermint Essential Oil* or 1/2 t peppermint flavoring
5 candy canes, crushed
2 1/4 c flour
Directions:
In a large bowl or mixer, combine the first seven ingredients beating at medium speed until the mixture is creamy. On low speed, add in the flour. Scrape the sides of the bowl as you mix to ensure the flour doesn't stick to the sides.
Place the dough on a piece of waxed paper and place it in the refrigerator for 30-45 minutes until it's easy to shape into cookies.
Preheat the oven to 400 degrees Fahrenheit.
Scoop out Tablespoon size drops of cookie dough onto parchment paper lined baking sheets. Place them about 1-inch apart, as the cookies will flatten during baking.
Bake 6-8 minutes. These cook quickly, so when the edges turn slightly brown, remove them immediately.
Cool cookies completely on wire rack.
It's been rumored that Santa is especially fond of these cookies, as well. Might be time to make a batch on Christmas Eve morning!
*All essential oils are not made equally. We only use therapeutic-grade Young Living Essential Oils with the Seed to Seal Guarantee and while we feel comfortable cooking with them, please do your own research about safety and make the decision that will be best for your family.