Quotes for kids about love are a great way to show your kids or students how you feel. You can never tell them you love them too much.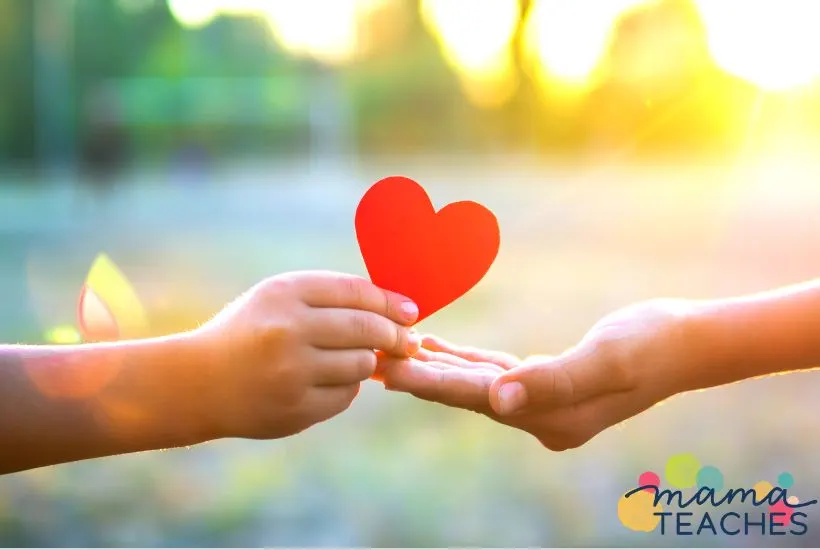 Why Use Quotes with Kids
Trying to describe what love is can be challenging. Quotes help to bring to words some of what you are feeling.
Quotes for kids about love are a great way to show your little ones that you love them.
There are millions of different ways to show them you love them.
Some quotes for kids about love use figurative language.
By introducing your kids or students to quotes, you can talk about figurative language and how it adds to the meaning of the quote.
When to Use Quotes for Kids about Love
You can use quotes for kids about love all year long.
Kids and students need to hear they are loved. It helps to build a stronger bond which in turn facilitates trust.
A strong bond and trust are both important in the classroom and at home.
Kids will work through hard things for you if they know you are there to love and support them along the way.
Put some of these quotes for kids about love on posters, write them on love notes, or say them to your littles before bed.
How you use these quotes is up to you. Your kids or students will appreciate hearing that they are loved.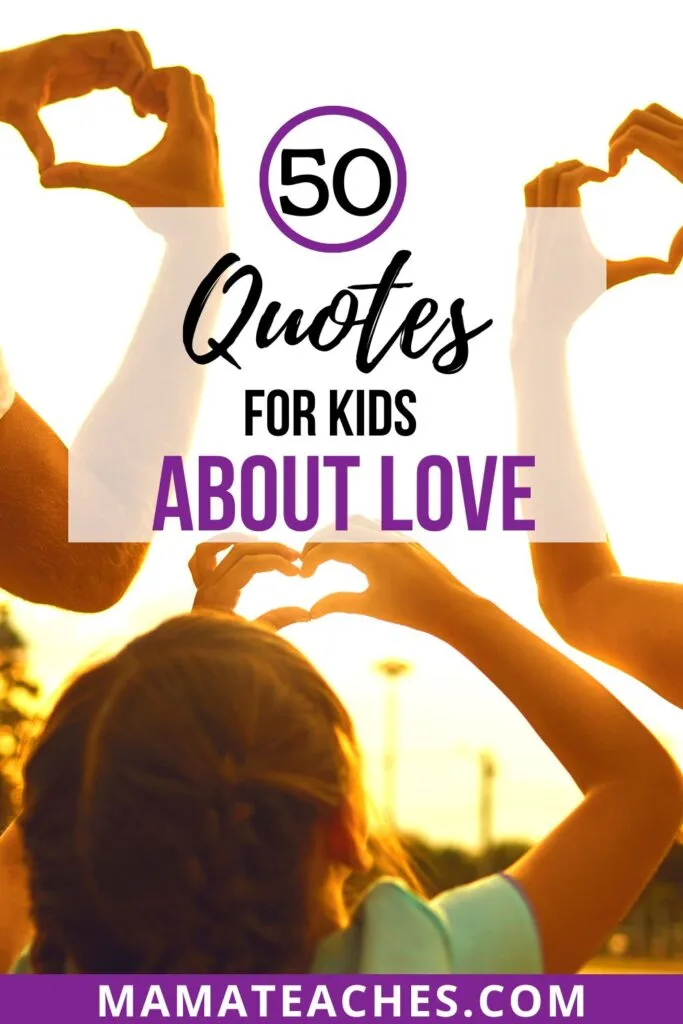 This article contains affiliate links to things that you might like.

50 Quotes for Kids about Love
1. Life without love is like a tree without blossoms or fruit. ~ Khalil Gibran
2. Love is space and time measured by the heart. ~ Marcel Proust
3. Where there is love there is life. ~Mahatma Ghandi
4. Love is not only something you feel, it is something you do. ~ David Wilkerson
5. Love yourself. It is important to stay positive because beauty comes from the inside out. ~Jenn Proske
6. Most of all, I love you just the way you are. ~ Todd Parr, The I Love You Book
7. My love will find you, wherever you are. ~Nancy Tillman, My Love Will Find You
8. I'll love you forever. I'll like you for always. As long as I'm living, my baby you'll be. ~Robert Munsch, Love You Forever
9. One drop of kindness is all it takes to fill a heart with love. ~Jess Kubiak
10. Sometimes the smallest things take up the most room in your heart. ~ A.A. Milne, Winnie the Pooh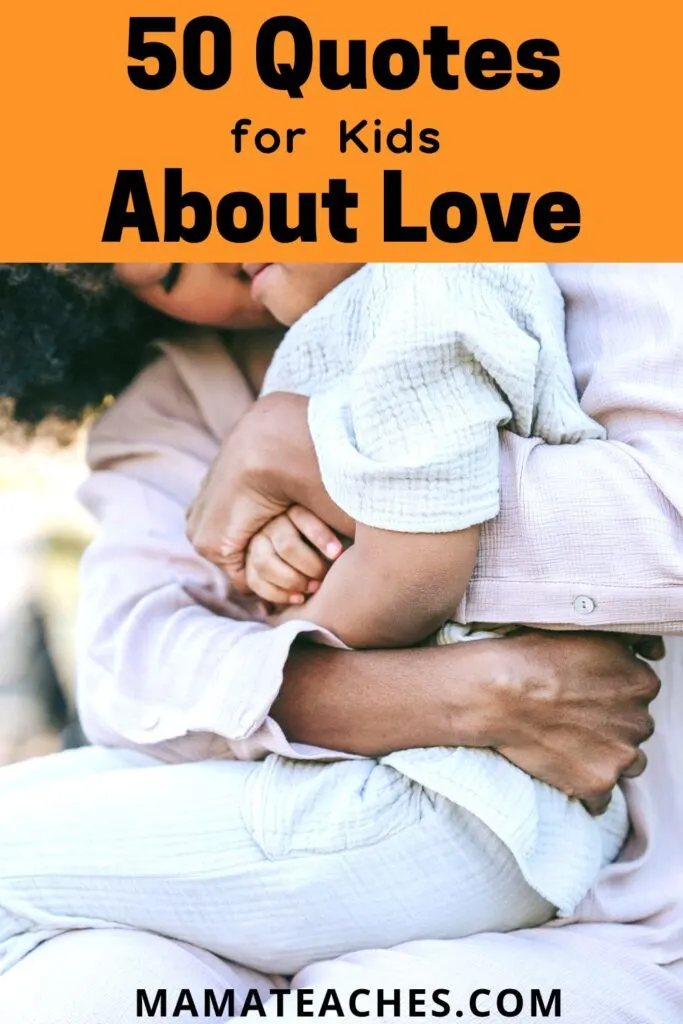 11. Loved you yesterday, love you still, always have, always will. ~Elaine Davis
12. You never lose by loving. You always lose by holding back. ~ Barbara De Angelils
13. I love you not only for what you are, but for what I am when I am with you. ~Roy Croft
14. "How do you spell love?" – Piglet "You don't spell it. You feel it" ~A.A. Milne, Winnie the Pooh
15. I love you right up to the moon– and back. ~ Sam McBratney, Guess How Much I Love You
16. Always remember, you are braver than you believe, stronger than you seem, smarter than you think, and loved more than you know. ~ A.A. Milne, Winnie the Pooh
17. Butterflies have wings, so they can fly. Fish have gills, so they can swim. Bunnies have four legs, so they can run. I have a heart, so I can love you. ~ Unknown
18. The best and most beautiful things in this world cannot be seen or even heard, but must be felt with the heart. ~Helen Keller
19. The giving of love is an education in itself. ~ Eleanor Roosevelt
20. 'Love' is the condition in which happiness of another person is essential to your own. ~ Robert A. Heinlein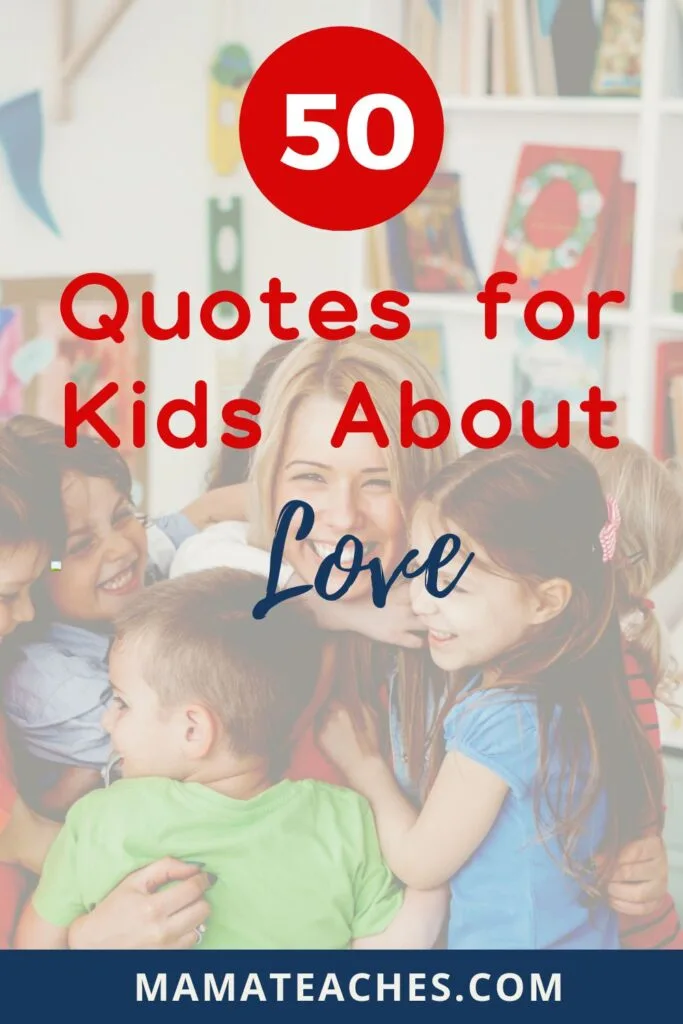 21. I have decided to stick with love. Hate is too great a burden to bear. ~Dr. Martin Luther King, Jr.
22. The more one judges, the less one loves. ~Honore de Balzac
23. When I tell you that I love you ; I don't say it out of habit or to make a conversation. I say it to remind you that you're the best thing that ever happened to me. ~ Unknown
24. When you love someone, you love the whole person, just as he or she is, and not as you would like them to be. ~Leo Tolstoy
25. The most important thing in life is to learn how to give out love, and let it come in. ~Morrie Schwartz
26. I never loved you any more than I do, right this second. And I'll never love you any less than I do, right this second. ~ Kami Garcia
27. If you live to be a hundred, I want to live to be a hundred minus one day so I never have to live without you. ~ A. A. Milne, Winnie the Pooh
28. If you were a big scary ape, I would make your birthday cake out of bananas and I would tell you 'I love you, my big scary ape.' ~ Lisa McCourt, I Love You Stinky Face
29. Here is my secret. It is very simple: It is only with the heart that one can see rightly; what is essential is invisible to the eye. ~ Antoine de Saint-Exupery, The Little Prince
30. Where there is great love there are always miracles. ~Willa Cather
31. Some people are worth melting for. ~Olaf, Frozen
32. I love you stronger than iron and softer than feathers. ~Unknown
33. My love for you is taller than the sky and wider than the galaxy. ~Unknown
34. There is no bad thing you could do that would ever change my love. ~Unknown
35. For all the things my hands have held, the best by far is you. ~Unknown
36. No matter what, no matter when, no matter where, I love you always. ~ Calum Scott
37. You are my sun, my moon, and all my stars. ~E.E. Cummings
38. In my life, you are the sun that never fades and the moon that never wanes. Shine on, my child. ~ Unknown
39. Some things are infinite. There's no biggest number, no farthest star, no end to my love for you. ~Unknown
40. To my child: I love you more than I have ever found a way to say it. ~Unknown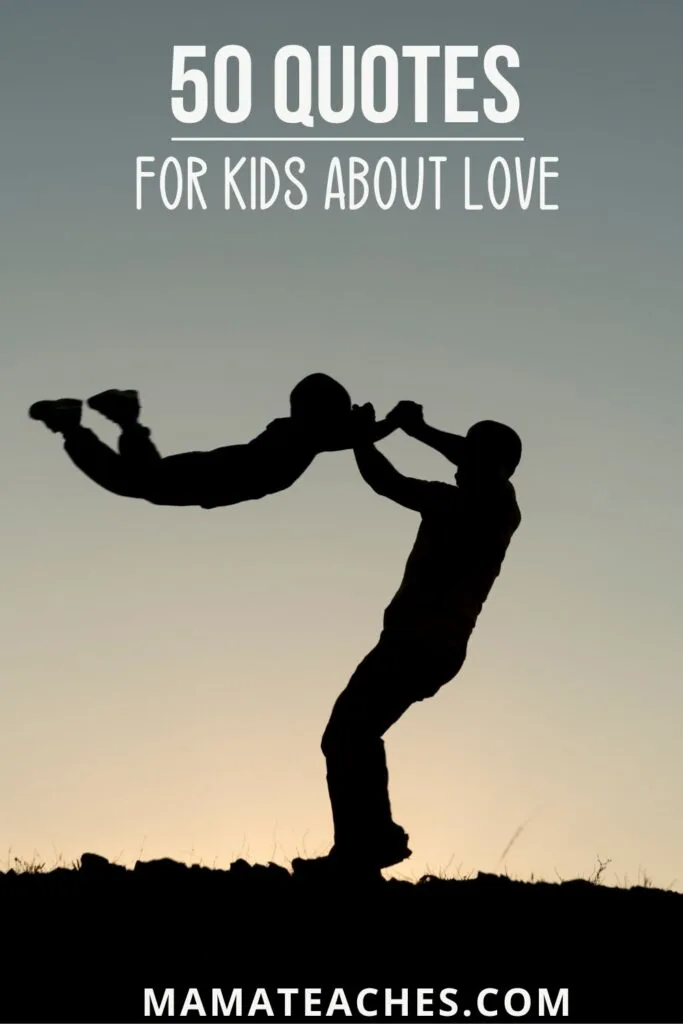 41. My heart will still have enough space for you, even if my lap is too little. ~ Unknown
42. Love is sweet and love is grand. Sometimes love is just holding hands. It's a feeling inside. It's a smile in your heart. It keeps us together when we're apart. ~ Monica Sheehan, Love is You & Me
43. I love your happy side, your sad side, your silly side, your mad side… I love you through and through… yesterday, today, and tomorrow, too. ~ Bernadette Rossetti-Shustak, I Love You Through and Through
44. You know that place between sleep and awake, the place where you still remember dreaming? That's where I'll always love you. That's where I'll be waiting. ~J.M. Barrie, Peter Pan
45. Whenever you feel lonely and need a little loving from home, just press your hand to your cheek and think, 'Mommy loves you. Mommy loves you.' ~ Audrey Penn, The Kissing Hand
46. So she bends down and gives him a great big kiss. Which just goes to show that, even if you are tiny… you are never too little to love. ~Jeanne Willis & Jan Fearnley, Never Too Little To Love
47. The Rainbow Fish shared his scales left and right. And the more he gave away, the more delighted he became. When the water around him filled with glimmering scales, he at last felt at home among the other fish. ~ Marcus Pfister, Rainbow Fish
48.How lucky I am to have something that makes saying goodbye so hard. ~A.A. Milne, Winnie the Pooh
49. 'What if I threw water at our lamp?' 'Then Dear One, I would be very angry. But still, I would still love you.' ~ Barbara M. Joosse, Mama Do You Love Me?
50. You have a place in my heart no one else could ever have. ~ F. Scott Fitzgerald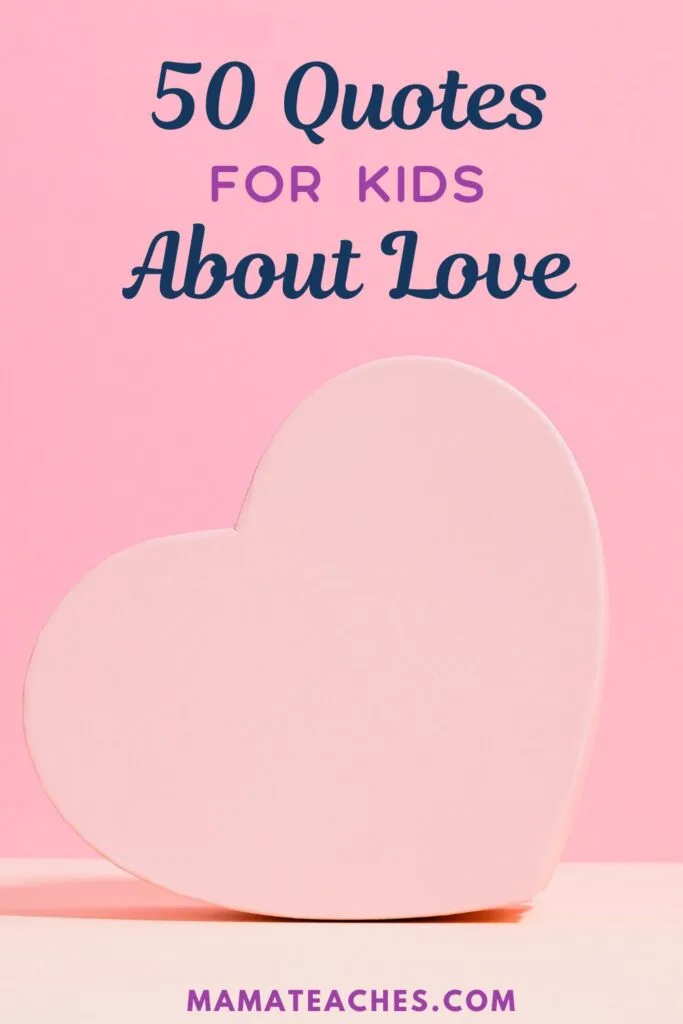 Love Quotes for Kids
With many different quotes for kids about love to choose from, you are sure to find a few that capture what you are feeling for your kids or students.
Say the quotes frequently to help your loved ones to know just how much you care about them.
You May Also Like..