Do you know how to write in cursive?
Do you teach handwriting to your children or classroom students?
Teaching cursive is about more than just nice penmanship; it's teaching learners of all ages to become more fluent writers.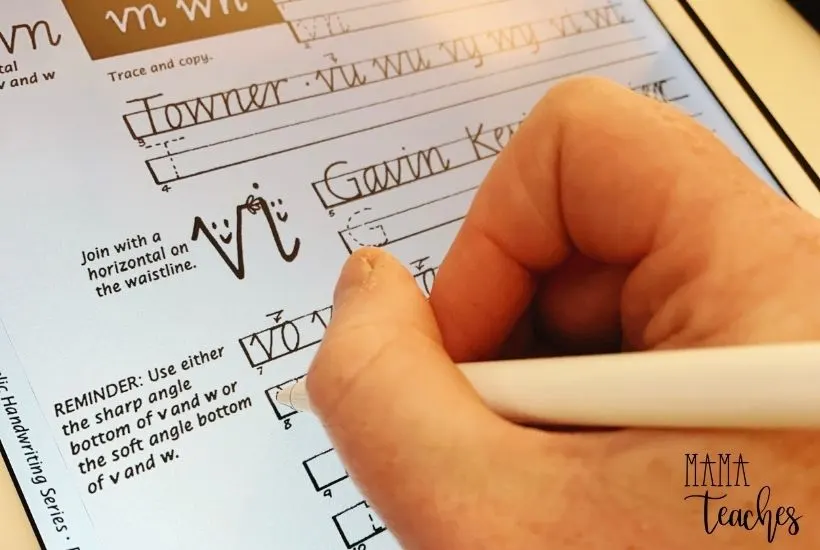 This article contains affiliate links to things that you might like.
I was compensated for my time writing this post.
All opinions are my own.
Ways to Teach Cursive
The Handwriting Success App
For your tech-loving students with iPad or tablet access, The Handwriting Success™ App contains the Getty-Dubay® ebooks that feature Getty-Dubay® Italic Handwriting.
It's a complete handwriting curriculum for kindergarten through 6th grade and beyond.
If you're not familiar with Getty-Dubay®, it's an easy-to-learn cursive italic font that kids quickly take to and can master with relative ease.
It's been a popular choice for homeschoolers for over 40 years and one that second and third-generation homeschoolers now use with their kids.
Unlike the conventional looped cursive that most public schools teach, learning cursive italic doesn't require students to relearn the alphabet; instead, they learn to join the letters they have already learned.
This saves parents a ton of time and makes it easier for kids!
As someone who went through the public school system myself, I have to admit that at first, I was like, "Yes, but is it really cursive?" After using it with my kids, I can say without a doubt that it absolutely is.
Remember that the goal of handwriting and learning cursive is to become a more fluent writer.
You want your kids to be able to write quickly and legibly, and The Handwriting Success™ App helps with that immensely.
The best part?
Anyone with a tablet and compatible stylus can download it and try it for free on their iPad or Android tablet.
Now, I will say that you can't use any old regular stylus with this app.
It does need to be an Apple pencil or a similar dual-touch compatible stylus.
You can find all the specs and requirements that are needed for the app to work properly here.
What We Love About the App:
It's on an iPad which my kids think is inherently more fun.
It can be used with multiple children.
It saves paper!
It is easy to use on the go.
It makes learning cursive and practicing handwriting fun and not a chore. Hallelujah! 😉
If your kids love using technology and you need a cursive handwriting curriculum, you cannot go wrong with The Handwriting Success App!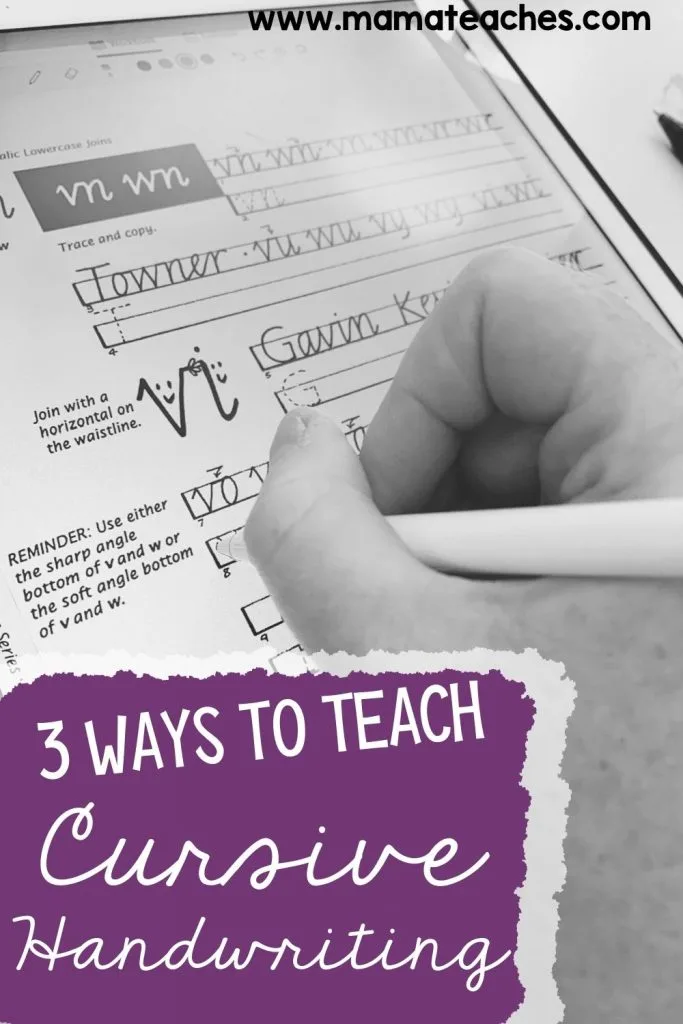 Handwriting Worksheets & Workbooks
I've mentioned before how my kids, especially when they were younger, loved anything workbook-related.
I always found it a bit amusing because so many homeschoolers struggle with getting their kids off of technology, but my kids loved doing many things using paper and pencil.
If your kids are like that too, handwriting worksheets and workbooks are a great option.
If you love the idea of using the Getty-Dubay method that I talked about above but want a print version instead, the Italic Handwriting Series is the way to go.
It offers the same great handwriting style but without the tech component.
The books are great for one student to use throughout the year, so if you're teaching cursive to multiple children, just be sure to purchase multiple copies.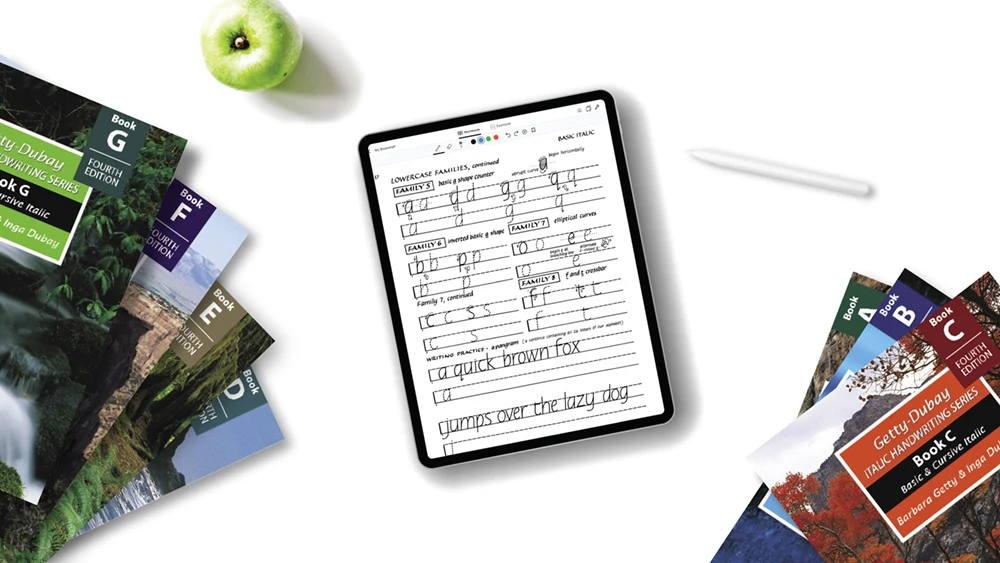 Dry Erase Practice
Sometimes it's fun to take learning on the go, and that includes handwriting practice.
One of my favorite ways to do that when technology and lugging along workbooks are not an option is to use dry-erase sleeves.
My kids used to love everything dry erase related because it wasn't something that we used every day.
For handwriting, I'd print out some cursive or print handwriting pages and slide them into a dry-erase sleeve.
Then, I'd clip the sleeve to a clipboard and hand over a fine line dry-erase marker.
The kids could practice their handwriting on the 45-minute drive to Grandma's or use their clipboards in the dentist's office when we were waiting for appointments.
Sometimes the novelty of using a different type of writing instrument can make all the difference!
No matter how old your student is (or how old you are if you're the one wanting to improve your handwriting), a dry-erase marker can make practice fun!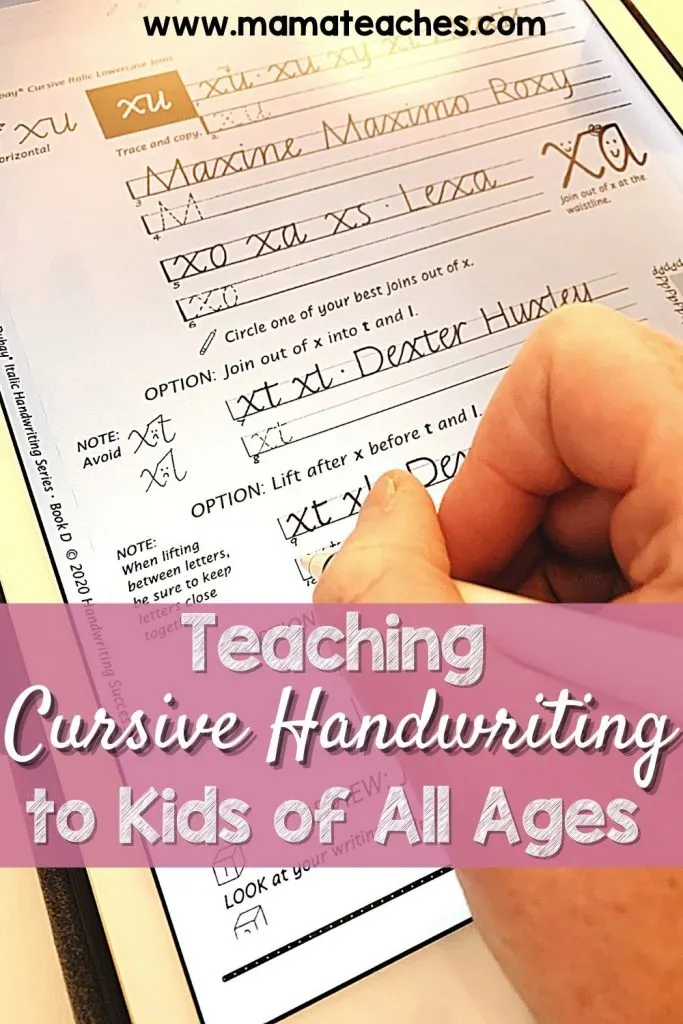 Improving Penmanship
As with all learning, teaching cursive handwriting takes time and practice to master.
It's not a simple, one-time lesson with no practice needed.
The more practice you give your students, the more proficient they'll become.
Over time, you'll notice that, like you, they develop their very own style of handwriting.
And that is something they'll take with them for the rest of their lives.
YOU MAY ALSO LIKE…