Take your planning to the next level with these tips for planning your homeschool year. It is sure to set your homeschool year up for success.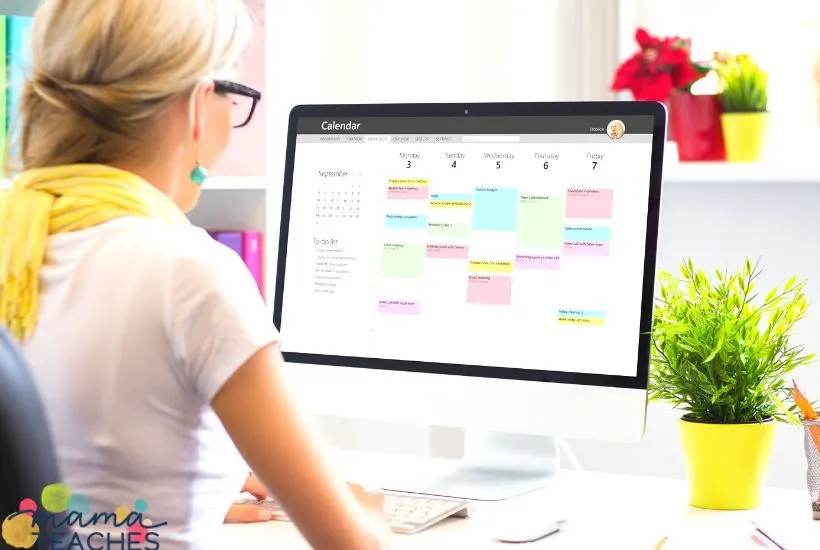 Benefits of Planning Your Homeschool Year
After planning a homeschool year, there will be a roadmap to guide your homeschool throughout the year.
The panic of "What do we have to do next?" is taken away because the work of planning out the homeschool year has already been done.
A rhythm for your homeschool day (or week) can be hashed out once you know where your homeschool year is going.
If you have music lessons every Wednesday, then it may be beneficial to plan to do less work on Wednesdays.
Planning a homeschool year in advance can help to divide the year up.
You may have a tentative plan in your mind of when you want breaks.
When you put your ideas to paper it is easier to see if the idea you have will work out.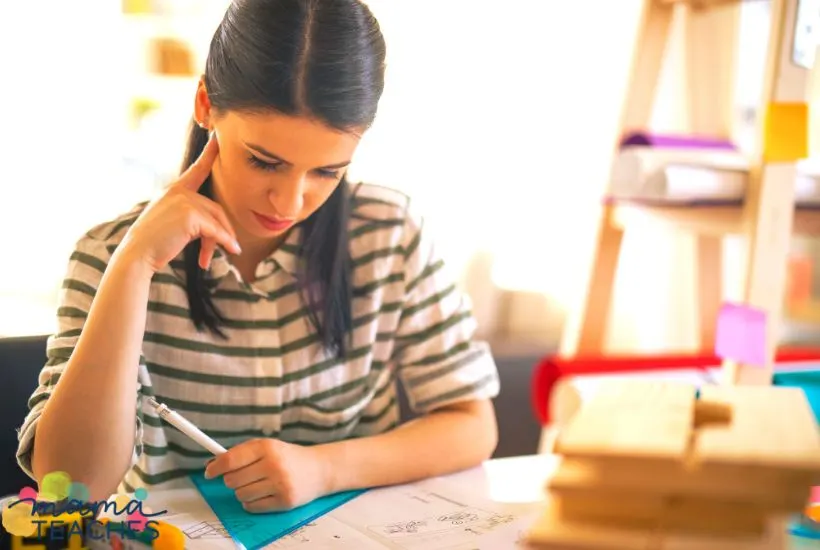 This article contains affiliate links to things that you might like.
Tips for Planning Your Homeschool Year
1. Figure Out What Needs to be Taught
The first step to planning a homeschool year is figuring out what the kids are required to learn (and what you need to report).
By starting with the end in mind, you are able to plan in reverse, ensuring that the objectives are being met.
Check your state's requirements for what needs to be taught. Most are vague (especially in the younger years) and require a certain number of credits by the completion of high school.
There are books like Home Learning Year by Year that can help guide what your kids should be learning. You can also look at state standards in your state.
Talk with your kids about what goals they have and what they want to learn about.
2. Use a Yearly Calendar to Begin to Plan Breaks
Write down tentative breaks you have in mind (in pencil) on your calendar.
Fall Breaks, Winter Breaks, Days off for Birthdays, or anything else your homeschool takes days off for.
An end date for the school year is also good to note.
Some homeschools plan six weeks on and one week off for a break.
Planning your homeschool year around breaks will help everyone to stay motivated when they know a planned break is coming.
If your school district has you send in quarterly reports, write down the days you will be sending those in.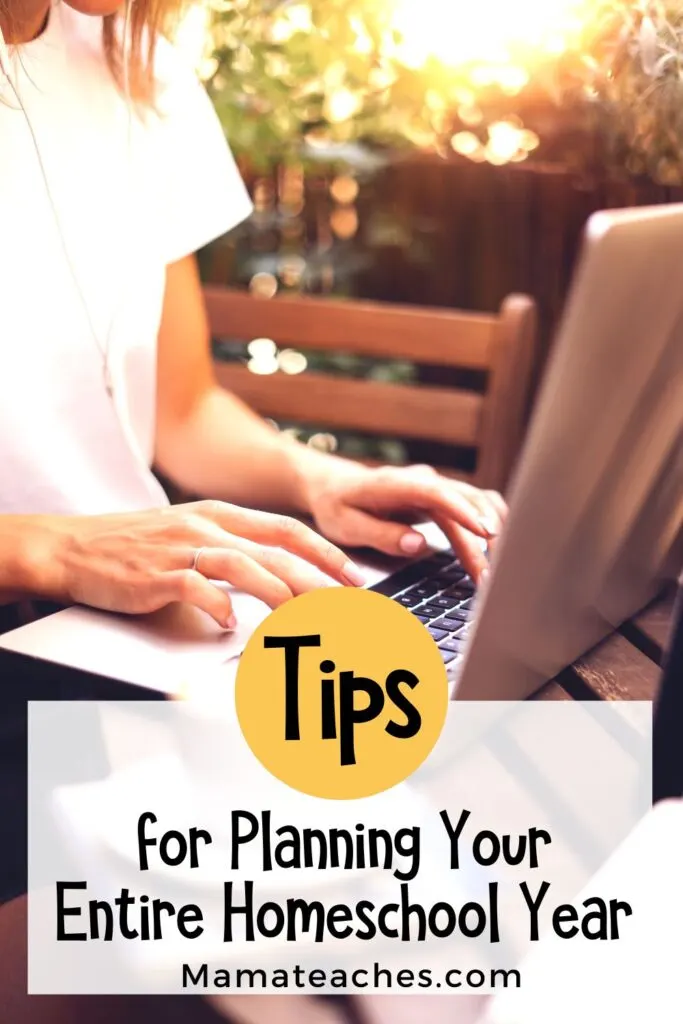 3. Check the Curriculum for Topics and Schedules
Most curriculums come with a scope and sequence that detail the order of the lessons and the approximate time it should take.
If there are four topics for science, you can split them up between the four quarters of the school year.
Another thing to look for when planning your homeschool year is the total number of lessons in the curriculum.
Say there are 36 weeks in the school year. If a math curriculum has 140 lessons in it, take the 140 lessons and divide it between the 36 weeks. That would equal 3.89.
That is how many lessons per week you would need to cover.
This means that you would need to do about four math lessons per week to complete the curriculum by the end of the year.
4. Look for Add Ons (like technology, music classes, etc.)
Allow the tools you already have access to help you.
There are many free classes or programs that can take some of the work off of your plate and help to make school more engaging for your kids.
Add in the topics your kids want to learn about and ways to work on the goals they have set for themselves.
Don't forget to add time for things like easy homeschool games that can make a world of difference in how engaging your lessons are and how excited your kids are about homeschooling!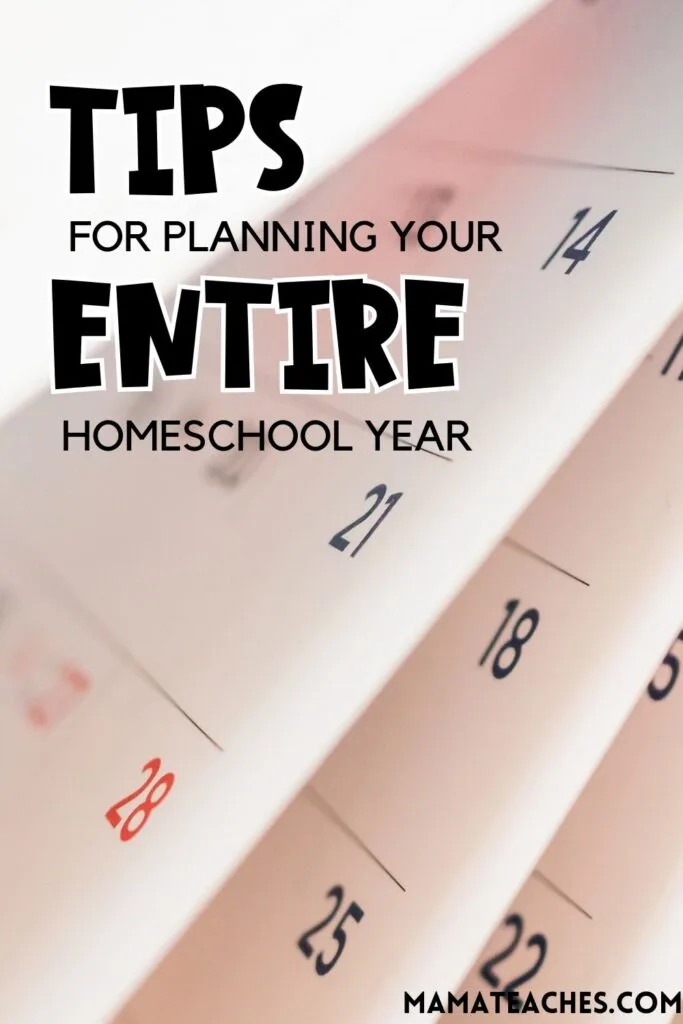 5. Create Daily and Weekly Schedules
Now that you have figured out how often you need to do certain curriculums to finish them before the end of the year, use that information when planning your homeschool year.
Make schedules of what needs to be completed daily (reading, writing, etc.) and what needs to be done weekly or on certain days.
Younger kids may need a day-to-day list made for them (on Monday do this….).
Older students may enjoy choosing when through the week they complete tasks.
6. Leave Room for Flexibility
Planning a homeschool year can be rewarding and allow you to take a breather.
If you find out that the schedule or curriculum doesn't work for your family, that's okay!
Don't be afraid to change your plans to fit your needs.
Homeschooling is a journey. It will have ups and downs.
Things may come up that require you to change what you are doing. Roll with it.
Flexibility is key in homeschooling!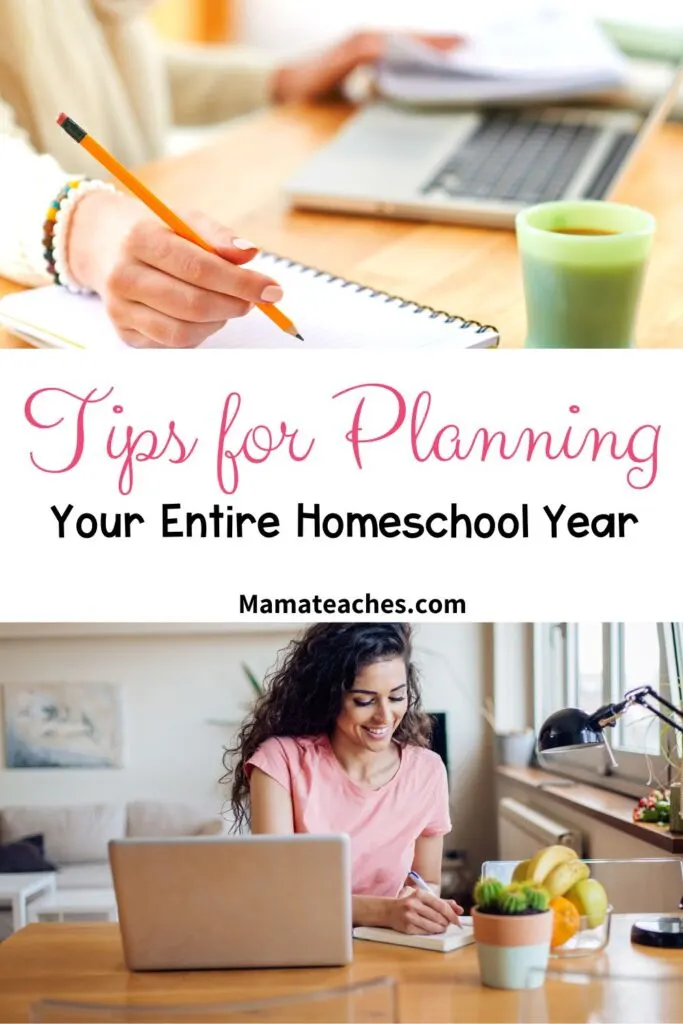 Homeschool Year Planning
Planning your homeschool year can seem daunting. Once you get started, it isn't as bad as initially thought.
It can be relieving and take the burden of what to teach off of you. Happy Homeschooling!
You May Also Like…