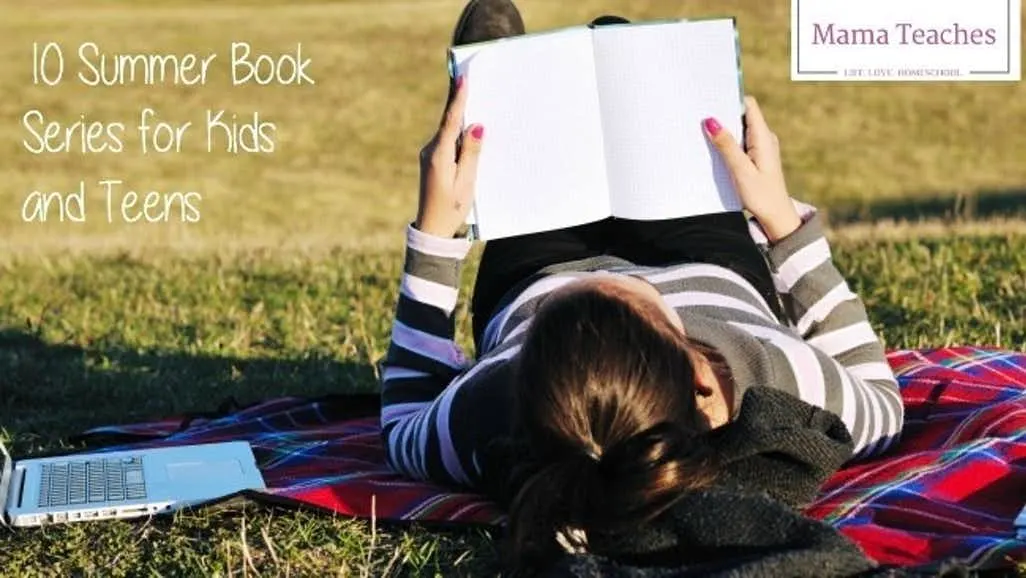 This article contains affiliate links to things that you might like.
It's time to start planning out the summer book list, but it's not as easy with teens in the house now.
Thankfully, these 10 summer book series for kids and teens are perfect for occupying the minds of even the most disillusioned young readers!
​
Fun Summer Book Series for Kids and Teens
SUMMER BOOK SERIES FOR ELEMENTARY AGE READERS
These five book series keep kids entertained no matter what time of year it is, but they're especially fun to read over the summer.
If you've never met the precocious and hilarious Junie B. Jones, you must check them out!
If Junie B. is a family favorite, be sure to read through all 28 books to catch all of her funny antics!
My boys loved the A to Z Mysteries series. Each story is well written and fun.
They're also great for boys and girls.
We loved exploring the history surrounding the stories in The Magic Tree House books in our studies.
From ancient Egypt to castles and knights, the tales are captivating and appeal to boys and girls both.
Imagine turning into something or someone else and seeing things from their perspective.
That's what happens to Katie Kazoo in this new-to-us series that Little Miss is devouring!
Great for upper elementary readers, the Little House on the Prairie series by Laura Ingalls Wilder is a perfect combination of historical fiction and fun.
SUMMER BOOKS FOR TEENS AND TWEENS
It doesn't matter how many times we read this series, the kids love them more each time.
Although we read them aloud when they were younger, the tween and teen now read them on their own.
A definite must-have series!
If your tween or teen son likes more of a fantasy based series, the Rangers Apprentice is a great one to start with.
Fans of the movie may find that the books surpass the film.
The series includes Divergent, Insurgent, Allegiant, and a fourth book called Four that wraps everything up.
As a mom, I love that the main character has dyslexia like my oldest.
This five book series features Percy Jackson and his adventures with Greek gods and monsters.
It's a great series for those tweens who are hard to find books for in the summer.
Jump headfirst into the world of Hogwarts and Harry Potter with this seven book series by J.K. Rowling.
​
As always, if you're concerned about the content of a book, read through it before giving it to your child.
Some people prefer not to let their teens read about magic or wizardry while others are fine with it.
Choose a series that fits your child's reading level, interests, and personality!