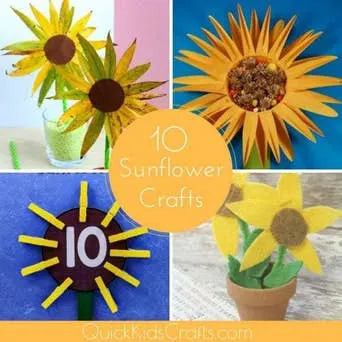 This article contains affiliate links to things that you might like.
We moved in December of last year and one of the things I was determined not to miss were the beautiful sunflowers that we grew in our tiny garden.
So, last summer we planted sunflower seeds all along our new back fence.
Sadly, none of the ones we planted came up, BUT!
we had a bunch of spontaneous sunflowers grow from the seeds that fell from the bird feeder in another part of the yard.
It was magical!
Since summer seems so far away right now (it's currently 5 degrees outside), here are 10 sunflower crafts for kids that will add some yellowy warmth to any day.
They're a great round-up of quick and easy kids' crafts!
10 Quick Sunflower Crafts for Kids
OUR FAVORITE KIDS' SUNFLOWER CRAFTS
1.Felt Sunflower
I love this one and even though it does use hot glue, it's absolutely adorable.
It would be a great teen craft!
2.Stamped Sunflower Craft with Sunflower Seeds
I'm all about using different textures in crafts, so the addition of the sunflower seeds on this one makes it especially fun!
3.Sunflower Leaf Craft
The science-geek in me is psyched about the use of leaves as the sunflower petals in this craft.
If you can't find yellow leaves (might be the wrong season!), you can paint the leaves you do have or even use tissue paper.
4.Handprint Sunflower
We did a handprint 4th of July wreath one year when the kids were young and it's so neat to see the comparison of their hands today.
This sunflower handprint craft gives you the same opportunity to create a cherished decoration.
5.Summer Sunflower Craft
All you need for this beautiful sunflower is some construction paper, tissue paper, and glue!
6.Sunflower Craft
The depth of this flower comes from it's folded petals!
It's perfect for helping little learners practice their fine motor skill development!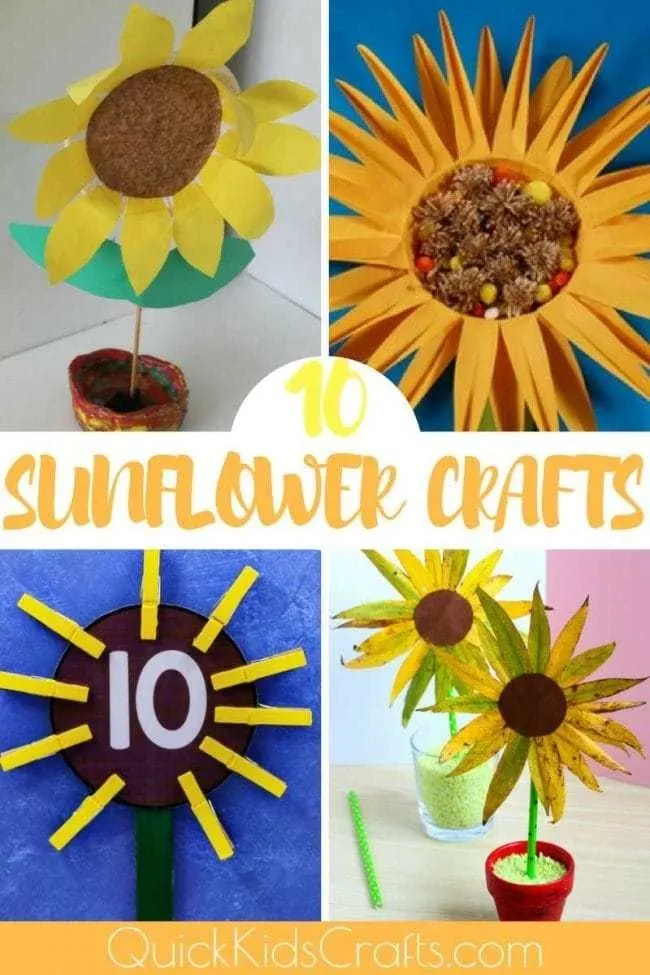 7.Count and Clip Sunflower
Part math activity, part craft, these counting sunflowers are fun and adorable!
8.Paper Plate Sunflower
This simple, quick and easy kids' craft is the perfect ode to a summer sunflower!
9.Bubble Sunflower Art Craft
Using bubbles to paint?
Yes, please!
This sunflower craft for kids is a sure kid-pleaser!
10.Sunflower Sensory Bin
Sensory bins are magical crafty bins for little learners!
This sunflower-themed sensory tub lets kids experience the fun of all things sunflower.