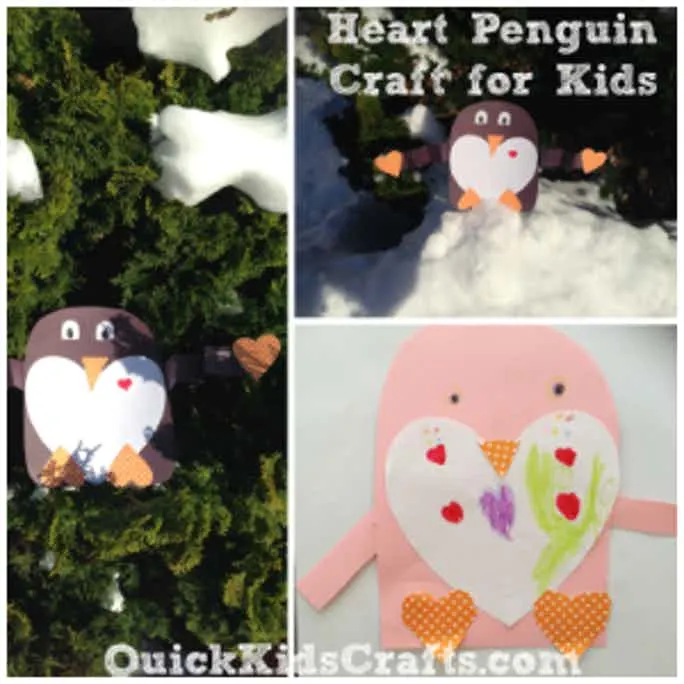 We have Mr. Popper's Penguins lined up to read this week as part of our winter homeschool unit, so a penguin heart craft was the perfect way to kick off the fun.
This penguin is easy to make and can be used with Valentine's Day celebrations (thank you heart belly and feet!) or as an extension activity to your penguin lessons.
​
Penguin Heart Craft
KIDS CRAFTS: HOW TO MAKE A HEART PENGUIN CRAFT
Ages: 2+ (with adult supervision)
Time: 15-20 minutes
​
Materials Needed:
Black Construction Paper
White Construction Paper
Orange Construction Paper
Glue Stick
Scissors
Black Crayon
Pencil for tracing
​
Directions:
Print out the Penguin Parts Template and cut out the pieces.
Trace the penguin body on the black construction paper and cut it out.
Trace the heart belly along the fold of a piece of white construction paper. Cut it out and glue it on to the black body.
Trace the four small hearts on the orange construction paper. Cut them out.
Glue two of the small hearts to the bottom of the penguin's body for the feet.
Cut out two strips for the penguin's arms from the black construction paper.
Fold the strips like an accordion and glue one end to the back of the penguin's body on either side.
Glue the two remaining hearts on the ends of the arms.
Cut out two eye pieces from white construction paper.
Glue them on at the top of the body and color in the eye.
Cut out an orange triangle for the penguin's nose and glue it on below the eyes in the center of the heart.
Enjoy your penguin!
​
Let your child get creative and use different color paper. They may surprise you with alternate arm, eye, and body designs!
​
Show Us Your Creations!
Be sure to post a picture of your finished penguins on our Facebook page or tag us on Instagram!
​
​More Penguin Fun: