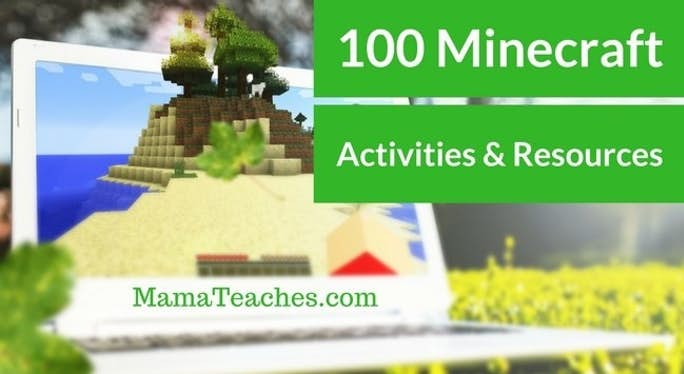 Keeping them engaged when they're not in game is simple – when you have Minecraft related activities! Here are 100 Minecraft activities and resources that are perfect for your block builder!
Minecraft Activities and Resources
2.Minecraft Water Bottle Labels
7.Ways to Use Minecraft in Homeschooling
8.Creating Your Own Minecraft Server
9.Minecraft Party Banner, Invitations, Thank You Cards & More
11.Minecraft Valentine's Day Cards
12.Minecraft Perler Bead Craft & Cards
13.Minecraft Word Search (Large)
14.Minecraft Periodic Table of Elements (3D Model)
15.Gift Ideas for Minecraft Lovers
18.DIY Marshmallow Creeper Peeps
19.Minecraft Calendar Planner for Kids
23.Minecraft Word Searches (Small)
25.Minecraft Mini Newspaper Activities
26.How to Draw Minecraft Steve
27.Minecraft World Building Candy
28.ultiplication Minecraft Pictures – great for older kids!
29.Minecraft Kindergarten Printables
30.Minecraft Vacation Bible School Curriculum
32.Minecraft Long Addition Problems
33.Distinguishing Area from Perimeter with Minecraft
35.Minecraft Printable Costumes
36.Minecraft Building Blueprints
37.Minecraft Soil Type Printable
38.Minecraft Handwriting Practice Printables
39.Minecraft Character Bookmarks
40.Minecraft Printable Stationary/Writing Paper
43.More Minecraft Valentine's Day Cards (Could also be great lunchbox notes!)
44.3rd Grade Minecraft Vocabulary
46.Minecraft History Lesson Ideas
47.Piper Computer Kit that teaches coding through Minecraft
50.Minecraft DIY Desk Organizers
52.Giant Minecraft Steve Printable
54.Printable and Editable Minecraft Themed Game Cards
55.Free Printable Minecraft Monopoly Game
57.Minecraft Creeper Popcorn Munch
60.Minecraft Knitted Hat Pattern
62.Minecraft Creeper Book Ends
63.Ultimate Minecraft Handbooks
64.Keep Calm and Love Minecraft Printable
65.Minecraft Easter Egg Tutorial
66.No-Sew Minecraft Pillow Patterns
67.Amigurumi Minecraft Creeper Pattern
68.How to Draw a Minecraft Wolf Dog
70.Minecraft Creeper Pixel Art
72.Skrafty Minecraft Homeschool Server
73.Minecraft Patterned 100s Chart Printable
74.Minecraft TNT Coloring Page
75.Printable Minecraft Pig Mask
78.Minecraft Anger Management Activity
81.Minecraft Advanced Multiplication Worksheet
82.Minecraft Multiplication Cards
86.Minecraft Fix-It-Up Sentences
87.Minecraft Chicken Coloring Page
88.Perla/HAMA Beads Patterns for Minecraft
89.Minecraft Stop Motion Movie Creator
96.More Minecraft Writing Prompts
97.Minecraft Periodic Table (this also links to a t-shirt that can be purchased)
99.Printable Minecraft Trading Cards
100.And, if you don't already have it, the Minecraft Game and Pocket Edition!
Want to come back to these ideas? Pin the image below!