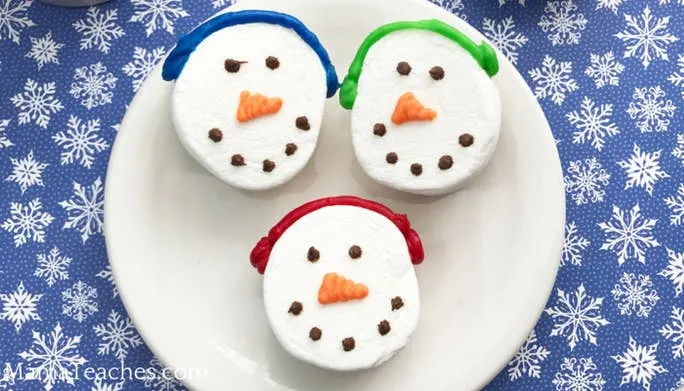 This article contains affiliate links to things that you might like.
It was in the 20s this morning – the perfect weather for hot chocolate and snowman building!
Sadly, there wasn't any snow, but there was definitely some yummy hot cocoa to be had.
To make up for the lack of snowmen, we created our own snowman marshmallows to sit atop our mugs.
They're fun to make and, even though you have to pipe the chocolate, it really takes no time at all.
If you'd like to give them as gifts with a jar of hot chocolate mix, let the chocolate piping cool completely before popping them in a cellophane gift baggie.
You might also want to put them in a mini-takeout container so that the faces don't get smudged – I put a link for the ones we use below.
We've made them for my daughter's sleepover parties before and they've been a huge hit as well.
Who doesn't like a giant pop of marshmallow snowman goodness in their hot chocolate?!
However you serve them, I hope your family loves them as much as mine does!
​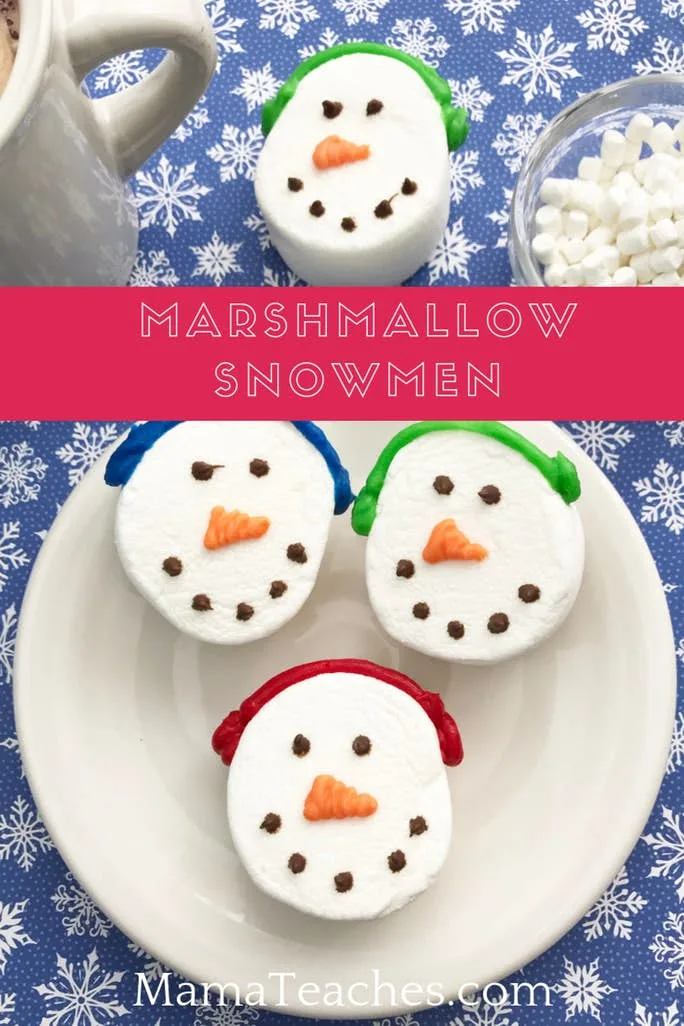 Marshmallow Snowman for Hot Chocolate
Makes: 10 Snowman Marshmallows
Ingredients:
10 jumbo round marshmallows
12 oz package of Wilton chocolate candy melts
12 oz package of Wilton orange candy melts
(2) # 2 Wilton round frosting tips
(2) disposable piping bags or zip-top bags
Wilton icing in: green, red and blue
Directions:
Pour 6 oz of the Wilton chocolate candy melts into a microwave safe dish and heat in the microwave in 30 second increments, stirring occasionally until melted.
Remove from the oven and let cool a few minutes.
Attach one frosting tip to a disposable piping bag and scoop the melted chocolate into the bag.
Gently squeeze the chocolate from the bag giving the snowman eyes and a mouth.
Repeat with each snowman.
Add a small a handful of orange candy melts to a microwave safe dish and heat in 30 second increments, stirring until melted.
Remove from the microwave and let cool a few minutes.
Attach the 2nd frosting tip and scoop the melted orange chocolate into the disposable piping bag.
Gently squeeze the orange chocolate from the bag to form the snowman's nose.
Repeat with each snowman and allow the chocolate to set.
Once the eyes, nose and mouth have set, use the Wilton icing to give each snowman a pair of earmuffs – squeeze a round dollop on each side of the snowman's head and then a headband across the top to attach the earmuffs.
Serve with hot cocoa or wrap in a cute holiday baggy and give as a gift with hot cocoa!
​
​
Supply List:
I love to shop on Amazon for these supplies, because it saves me a ton of time instead of having to run to multiple stores.
Here are my affiliate links to the products in case you like to shop online too.
Most are Prime eligible (yay for free shipping!)!
Wilton No. 2 Round Frosting Tip
​
Enjoy your hot chocolate marshmallow snowman!