Now, more than ever, high school seniors need graduation announcements to recognize their achievements. Without physical, in-person graduation ceremonies, anything that can be done to celebrate and commemorate their high school careers is so important.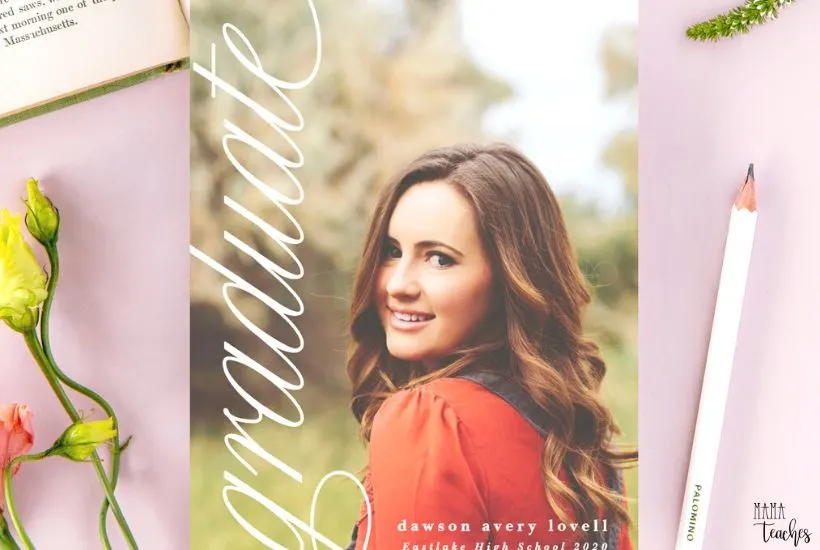 Graduations during a quarantine
My high school senior is struggling. Three years ago he decided to go to public school for the rest of his high school career after homeschooling since preschool. He's had ups and downs but, overall, he much prefers going to school than homeschooling.
He was so looking forward to walking in graduation, attending his senior prom, and all of the other rights of passage that come with being a senior in high school. With quarantine and schools closed for the year, that has all been stripped away. Even though a virtual graduation ceremony may be in the works, it's just not the same.
Graduation Announcements
Thinking back to my own high school graduation, one of the things I cherished were the announcements that my parents got me during my senior year. When I was offered the opportunity to review stationery for graduations from Basic Invite, a custom stationery company, I couldn't resist. (Scroll down to the bottom for a discount code for your order!)
Their grad announcements were just what I was looking for for my oldest. I wanted something that:
was classy yet understated
was well-made and not flimsy
was personalizable with text and pictures
was memorable
made him feel special.
Because, at the end of the day, making him feel like his achievements were not being overlooked was and is the most important thing.
Here are the graduation announcements I ordered for my oldest. They turned out absolutely perfect and the quality is amazing!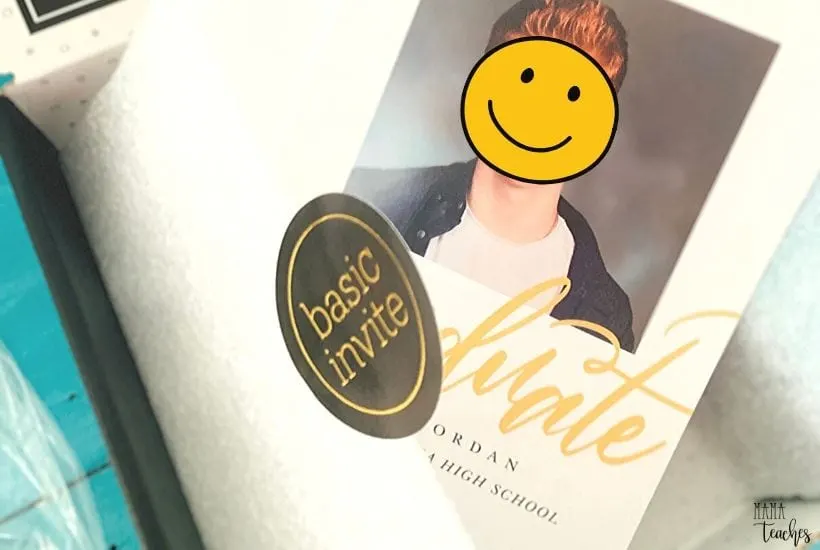 (Obviously, he doesn't have an emoji face (ha!) but he asked not to have his face shown and I have to respect that – so emoji face it is. The hair, however, is all his.)
Graduation Parties
Let's face it, graduation parties are going to be a lot different this year. Virtual parties will be taking the place of many in-person celebrations. That doesn't mean that the excitement of sending out 2020 graduation party invitations can't still be there though!
The graduation party invites at Basic Invite are as amazing as the announcements. They can be fully customized with photos and text so that your senior's unusual party can be celebrated with just as much fanfare.
Don't forget the thank you notes for graduation gifts! Because, as my senior said, the gifts are just as exciting as graduating. 😉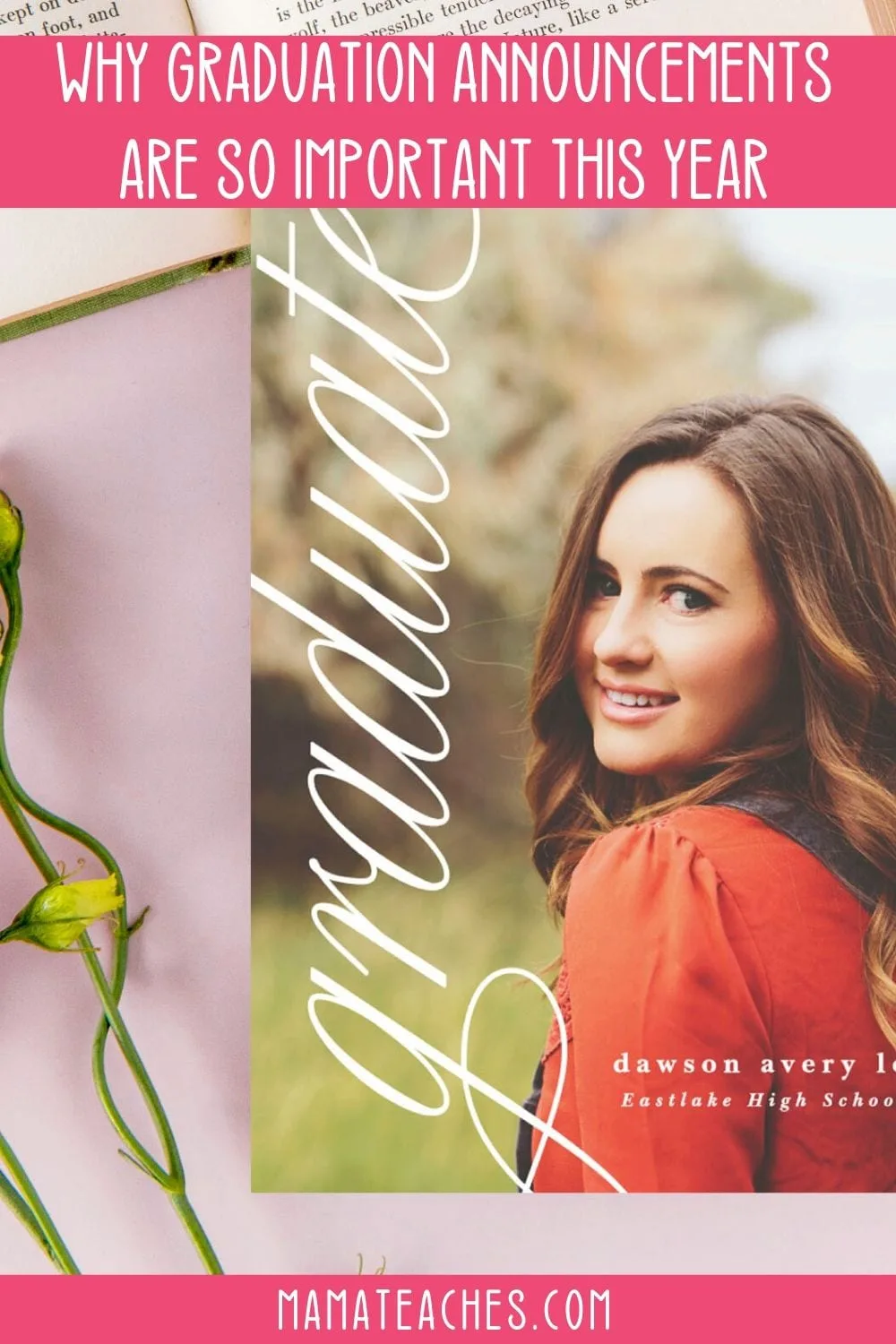 Just Celebrate
So whether you're celebrating a high school graduation or a preschool right of passage, a wedding or a baby shower, a new business, or a family reunion, just get the announcements and invitations.
This year, more than ever, we need to celebrate the good.
We need the old-school, hold-in-your-hand stationery that connects us to each other. We need to make every occasion – virtual or in-person – memorable.
Now, more than ever, we need to celebrate each other.
Why I Love Basic Invite
I have always been a snail-mail-loving kind of girl. I love getting things in the mail and beautiful stationery is my jam. Basic Invite encompasses all of the things I love about invitations and announcements.
Customized Colors
Not only do their announcements and invitations come in a multitude of colors, but you can see the preview of the color immediately. It takes the guesswork out of what you're ordering and puts you in charge of your own designs.
Envelopes included
They also send envelopes with their cards – hallelujah! I remember ordering shower invitations years ago from another company and when they came there were no envelopes. Apparently, they were separate, but not with Basic Invite. There are over 40 different colors available so they're sure to match your invites.
Beautiful designs
I'll admit that I don't like invitations and announcements that look just like everyone else's. So, the fact that I can completely change out colors, fonts, and images when designing on Basic Invite makes my heart so happy. The cards are also high quality – printed on heavyweight paper that makes the invitation stand out and just feel special.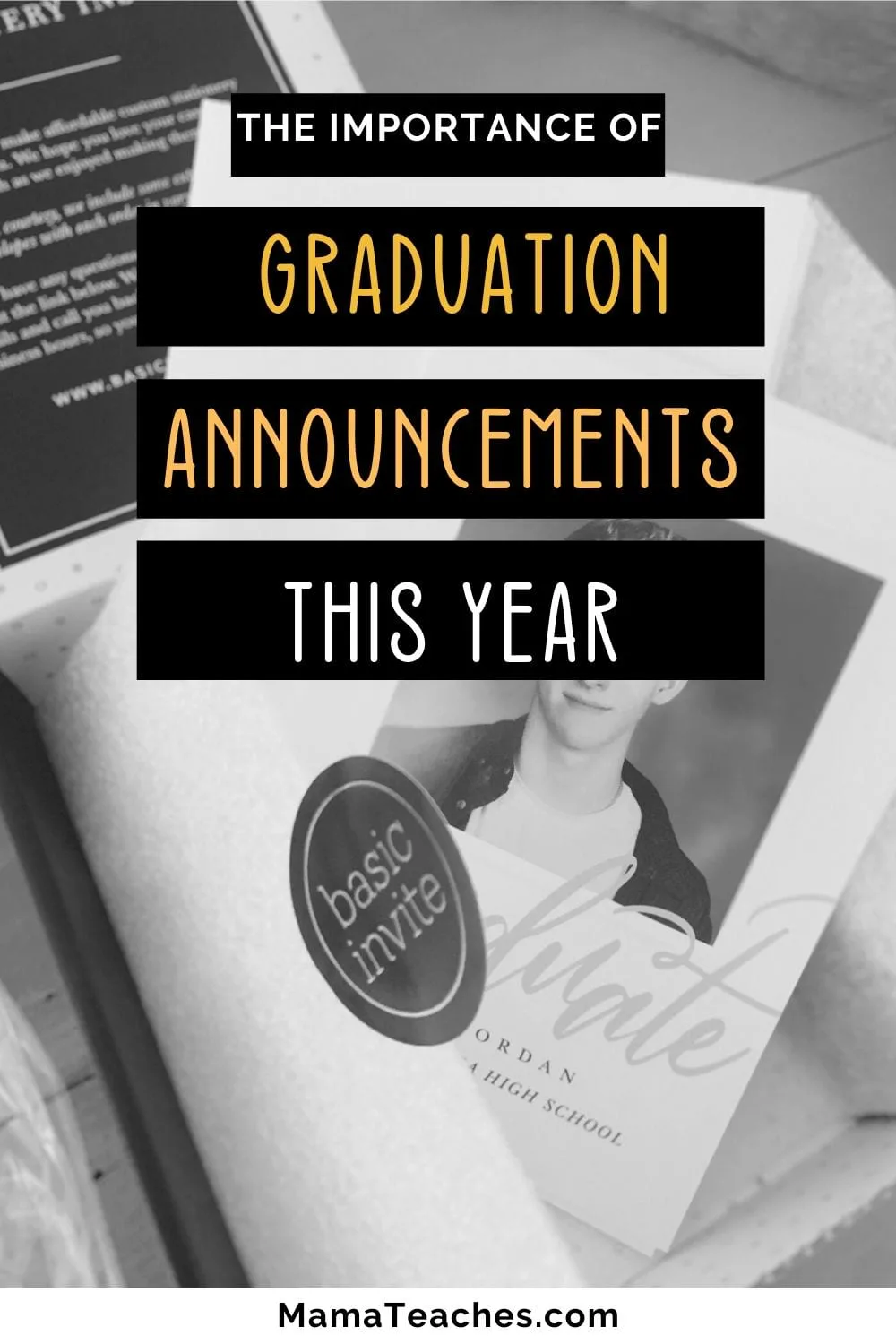 Foiled
I have a soft spot for foil on my cards and with options for silver, gold, and rose gold (yay!) foil on some of the cards, I couldn't be happier.
Beautiful, Outstanding, Professional Packaging
Besides the look and feel of the announcements themselves, Basic Invite sends the prettiest packages. The classy boxes contain the tissue paper wrapped invitations and just look so professional. Take a look at mine: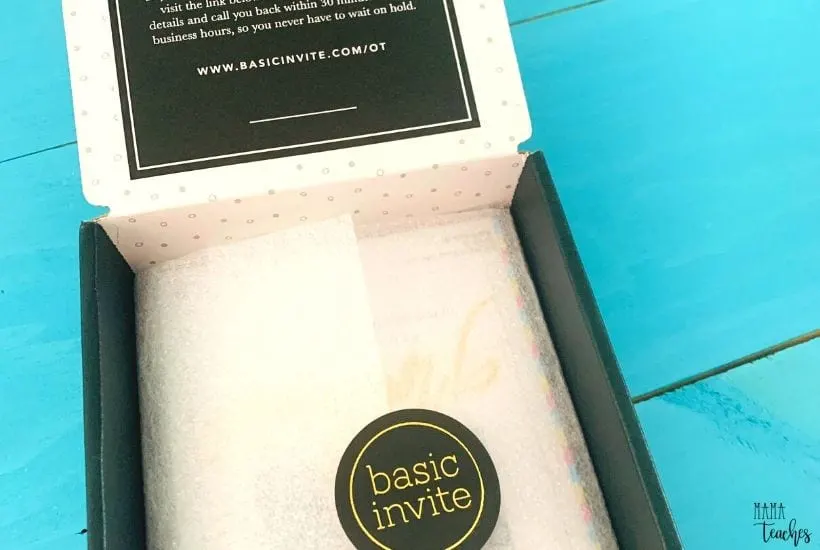 Fast Shipping
Even amidst the quarantine and shutdown, Basic Invite had my custom graduation announcements to be in under 10 days. The communication regarding the progress and shipment of my order was also outstanding!
Graduation Announcement Discount
Who doesn't love a discount!?!? Basic Invite is currently offering 15% off with the coupon code: 15FF51 Yay for discounts!
Find Basic Invite Online
As always, I highly recommend that you check out the website and the social media channels (FB, IG, Twitter, Pinterest) of the company before purchasing. It's important to see what their current specials are and make sure they resonate with what you're looking for in your graduation announcements.