Do you want to increase your positivity and improve your outlook? Try some of these positive affirmations for teachers.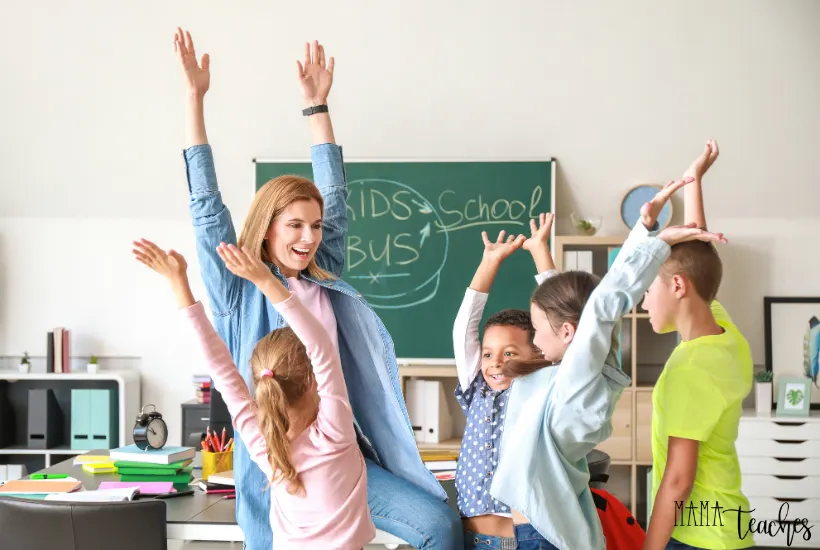 The Benefit of Affirmations for Teachers
Let's not sugarcoat it: teaching is a hard job.
It is rewarding and impactful but also physically, mentally, and emotionally exhausting.
That is why it is vital to practice self-care if you are a teacher.
Positive affirmations are one component of self-care.
Repeating a daily affirmation takes only a minute, and the practice has many benefits.
Affirmations help you to focus on the goals of the day.
They remind you of the big picture and the "why" of teaching.
Remembering your affirmation can keep you from being distracted or pulled off center by your surroundings.
You will feel prepared for the unforeseen circumstances of the day; you can greet them calmly and patiently.
Daily affirmations help you stay motivated, even in difficult times.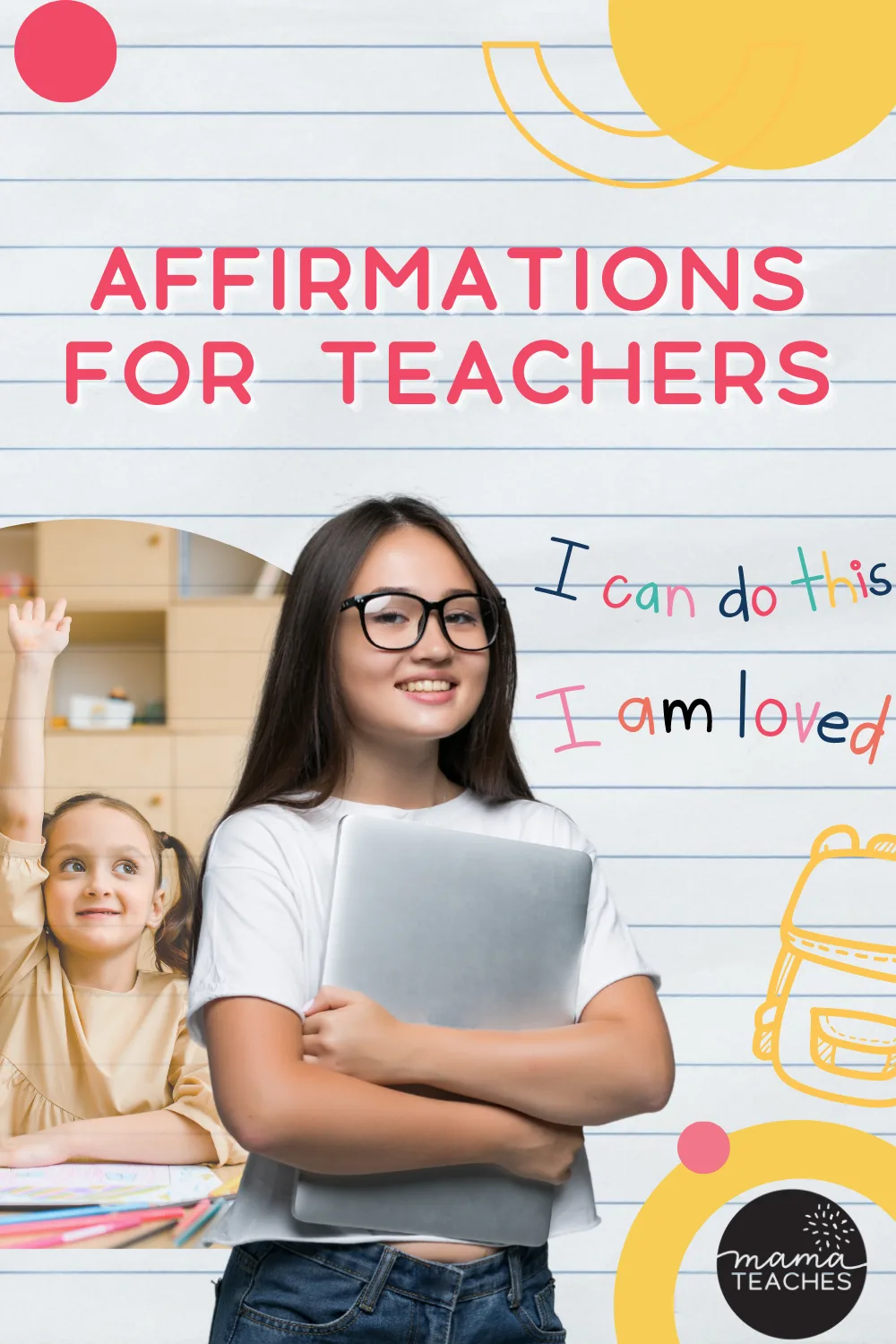 This article contains affiliate links to things that you might like.
How to Use Positive Affirmations for Teachers
It is easy to incorporate positive affirmations into your day.
Say It Out Loud
It is not enough to read an affirmation in your mind. You should say it out loud.
Use Visualization and Meditation Before You Get Out of Bed
When you say an affirmation in the morning, it stays at the forefront of your mind all day.
If you wonder, "When can I incorporate an affirmation into my already busy morning?", choose the simplest option.
Say your affirmation before you even get out of bed.
Glance at your phone or put one on a sticky note the night before bed.
Start your day by saying your positive affirmation three times.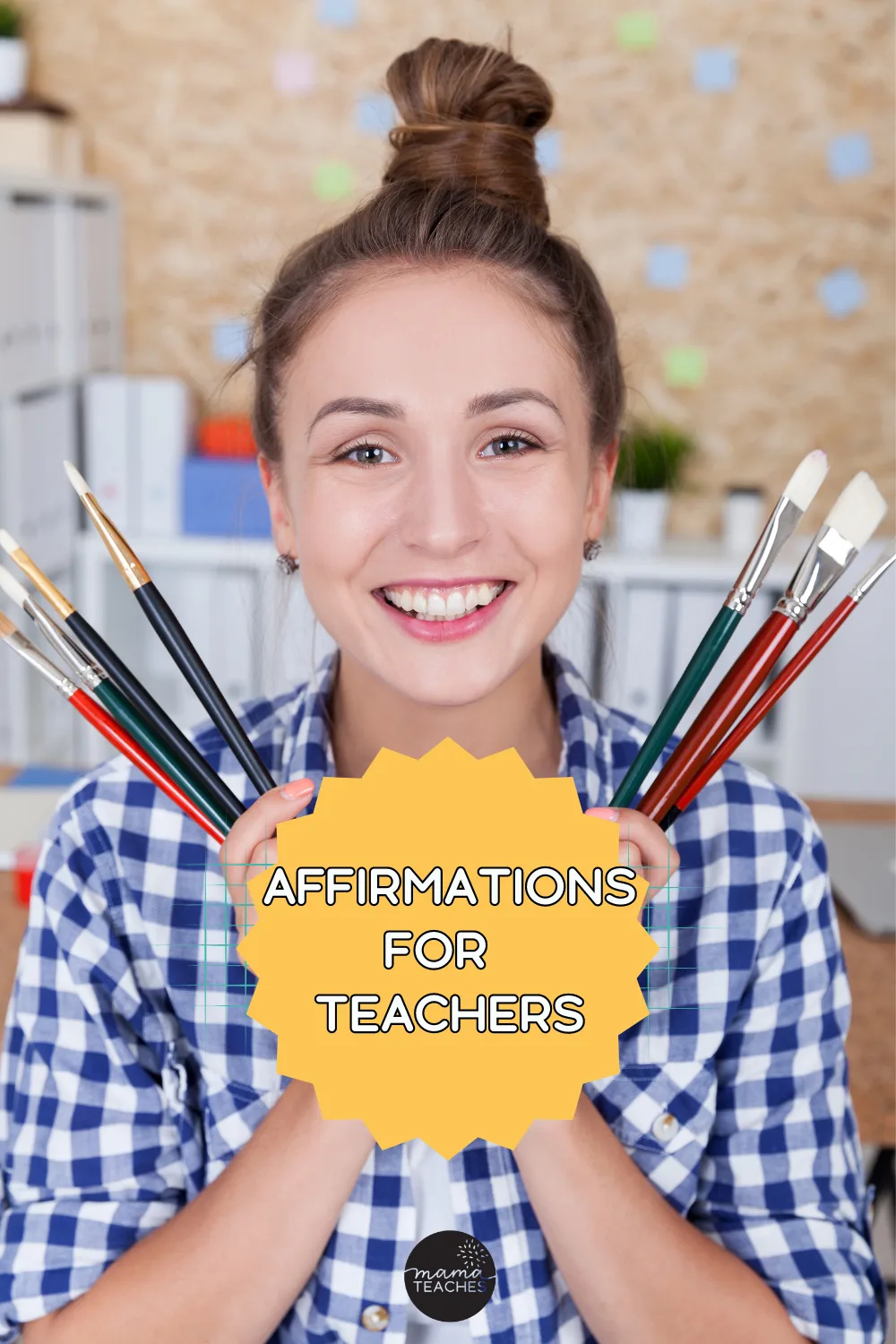 Pair the Affirmation with Art or Music
Pairing your affirmation with artwork or music can help it stick with you during the day.
You can write the affirmation with gel pens and fancy lettering.
Or you can draw a picture or symbol that accompanies the affirmation.
You could also listen to calming instrumental music while you say your affirmation.
Start an Affirmation Journal
Journaling is a powerful tool to help you focus on the positive and process your thoughts.
You can incorporate daily affirmations for teachers into your journal.
Jot down your affirmation of the day.
At the end of the day, you can record your successes or when you saw your affirmation affect your mindset.
Use Reminders on Your Phone
If your life is on your phone, why not add your daily affirmation to your reminder app?
Set your affirmation for the day as a reminder.
Your phone will prompt you with the affirmation for the day.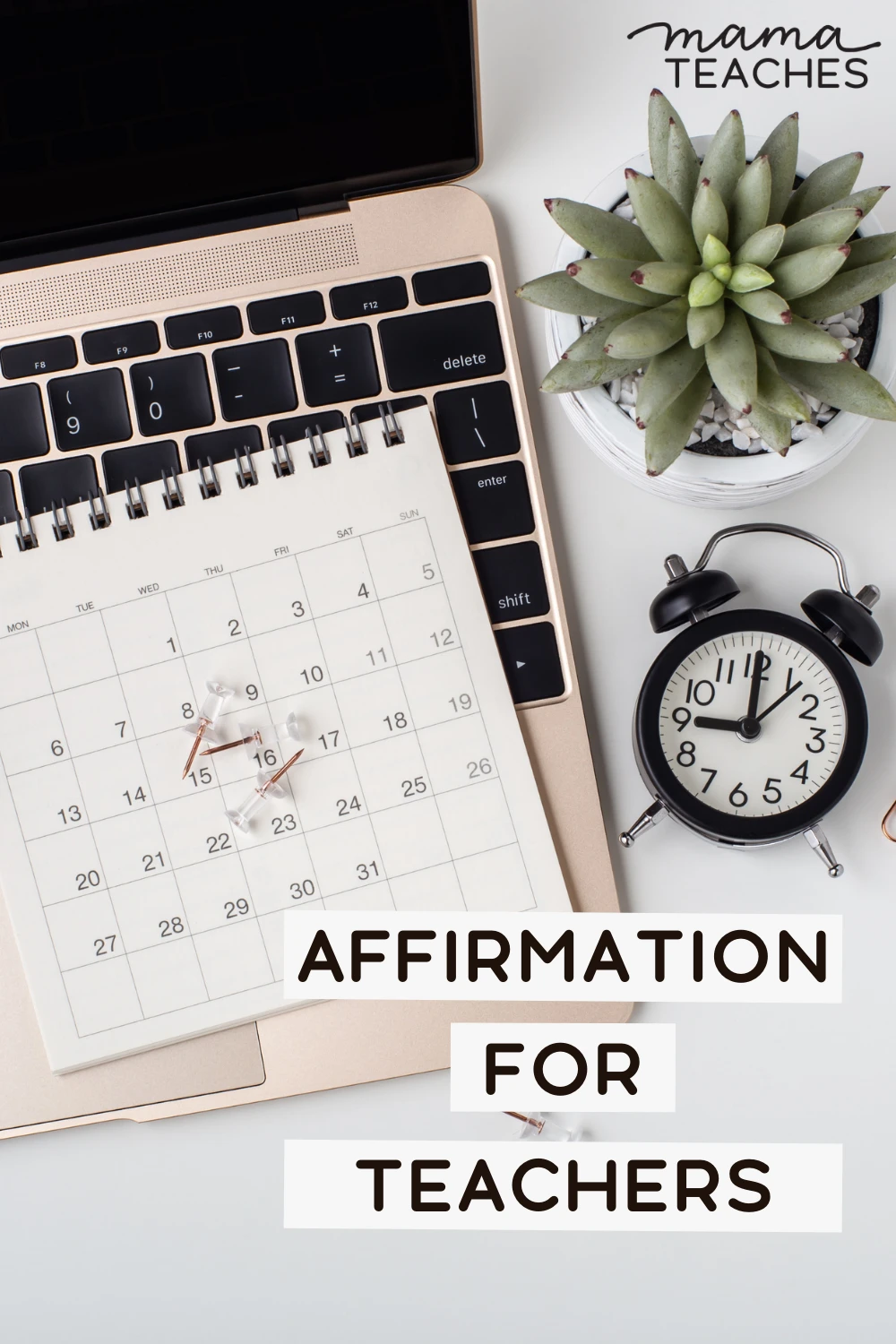 Use Your Teacher Calendar
No doubt you already have a teacher planner or desk calendar.
Write your daily affirmation into the planner.
You can plan out your daily affirmations for the month!
Adapt Them for Your Students
Students benefit from daily affirmations as well.
This can help them deal with challenges and keep a growth mindset.
Why not say affirmations together?
You can choose or adapt affirmations that will work for your students and for you.
Review Your Affirmation at Set Times
If you say your affirmation only in the morning, you may forget it as you go through the day.
Have set times where you repeat your affirmation: before work, right before the start of the school day, before a challenging class, and after lunch.
You can even use your phone alarm to remind you.
Say It in a Challenging Moment
Don't leave your affirmation on the shelf when times get tough.
Say your affirmation (whisper it quietly) in difficult circumstances.
This slight pause will give you time to think so you don't react.
It will remind you of your goals and help you to stay focused.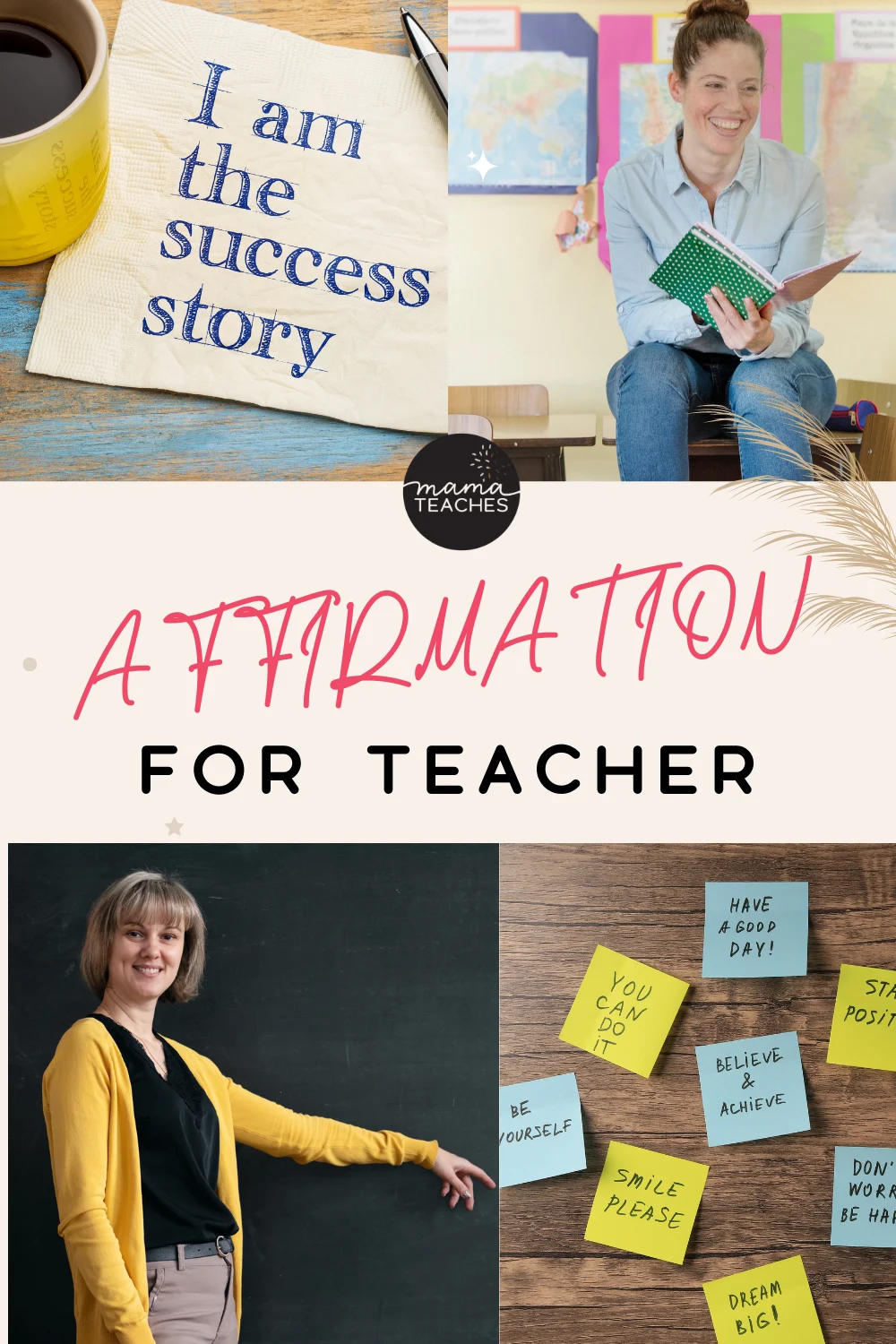 Examples of Affirmations for Teachers
Are you ready to try some daily positive affirmations for teachers? Check out this list of examples.
Every day I am making a positive impact on the lives of my students.
I am a capable and confident teacher.
I am creative and innovative; I can find solutions to problems.
As a teacher, I can foster of love of learning in my students.
I deserve balance, boundaries, and self-care. This makes me a better teacher.
I am a source of support and encouragement to my students.
When I encounter challenges, I will meet them with grace and resilience.
I am continually growing and learning as an educator.
I have the power to create a welcoming, positive learning environment.
In my teaching practices, I am open-minded and receptive to new ideas and perspectives.
I am shaping my students' lives and society as a whole.
I am proud of my accomplishments as a teacher, whether they are large or small. What I am doing matters.
Educating and inspiring young minds fills me with passion and gratitude.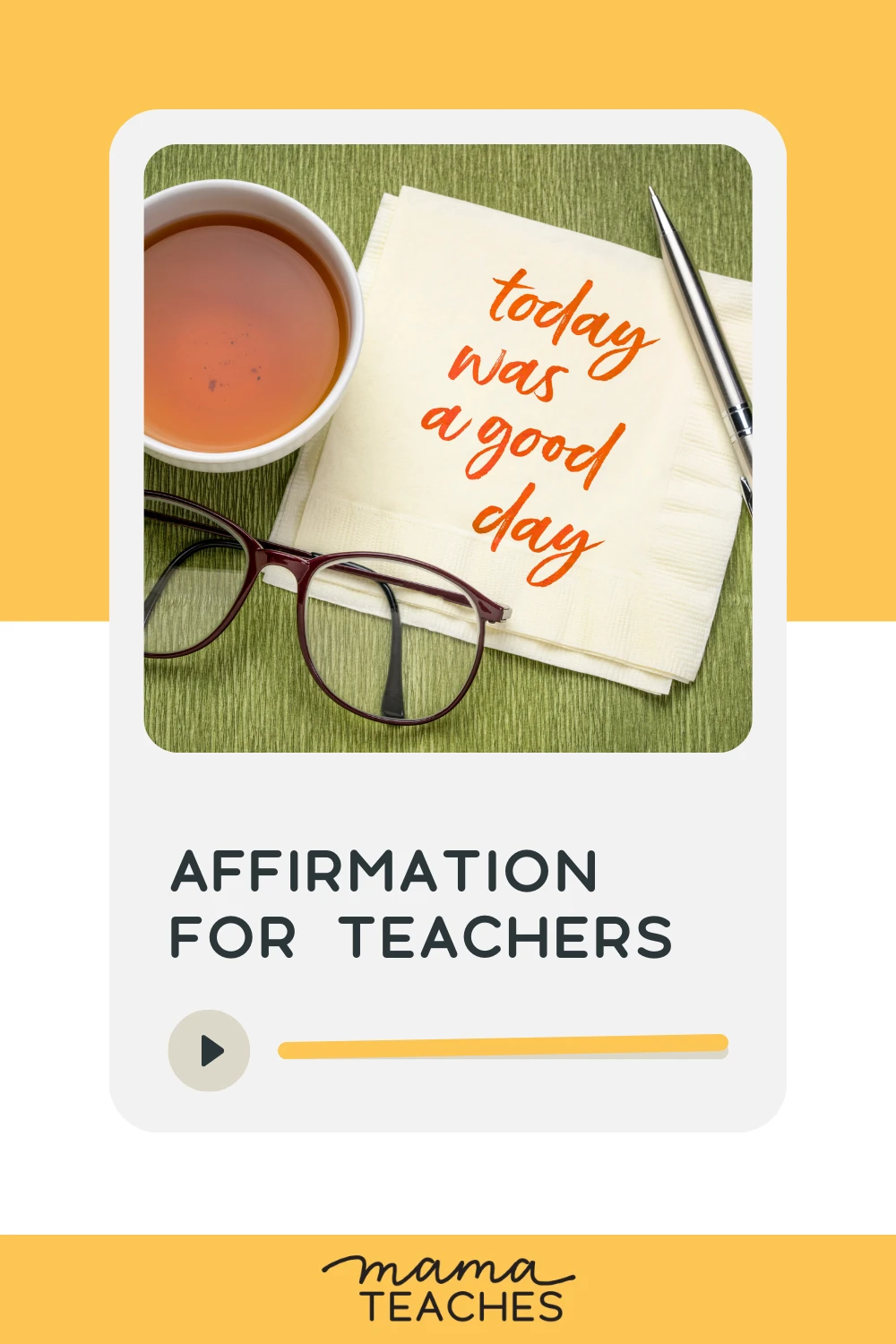 Invent Your Own Daily Affirmations
You can come up with your own daily affirmations as long as they fit these criteria:
Use positive language (don't focus on the negative)
Use the present tense
Make the affirmation personal and meaningful to you
By practicing daily affirmations, you will improve your outlook and have a calmer day.
Practicing Daily Affirmations for Teachers
Choose positive affirmations that resonate with you personally.
You do not need a new one every day.
You can choose a set of 5 (one for each day of the week). Stick with the rotation for as long as it works for you.
You May Also Like: