Free printable color by number pages are a great way to get your kids excited about school, but also wonderful for helping them transition and feel comfortable when they're in school – or starting homeschool!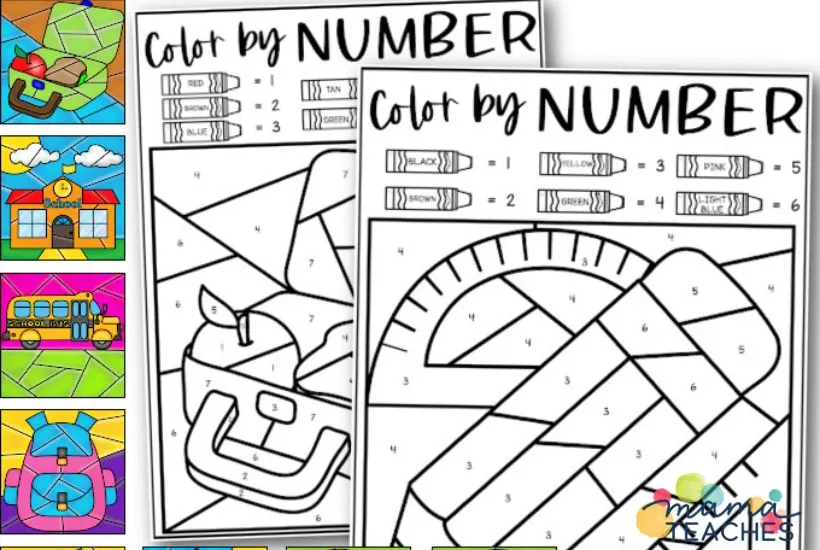 Not only will these pages provide a calming and creative coloring experience, but they'll also boost number sense skills.
So whether you're homeschooling or teaching in a classroom, let's dive into the world of color by number pages and make the back-to-school season a blast!
The Awesome Benefits of Color by Number Pages
Coloring has always been a fantastic activity for kids, promoting fine motor skills, concentration, and creativity.
But when you throw numbers into the mix with color-by-number pages, the benefits get even better!
Let's take a look at why using color-by-number pages during back-to-school time is a genius move:
Developing Number Sense in a Fun Way
You won't believe how effortlessly color-by-number pages help children develop their number sense!
These simple worksheets require kids to identify numbers and match them with specific colors.
It's like a secret mission with numbers and colors as their allies.
Without even realizing it, children strengthen their understanding of numbers without even realizing it!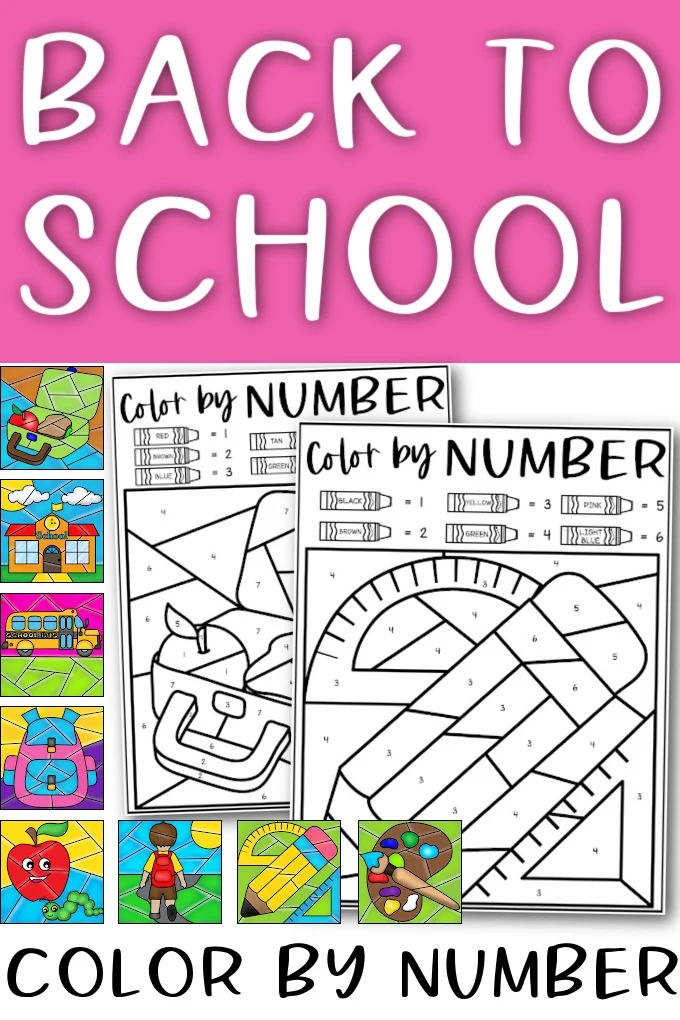 Focus and Concentration Boosters
Who would've thought that coloring could be so good for focus and concentration? Well, it's true!
When kids get engrossed in completing a color by number page, they naturally block out distractions and sharpen their ability to concentrate.
So whether you're homeschooling or in a classroom, color-by-number pages are fantastic for keeping those little minds engaged and ready to learn!
Banishing Back-to-School Anxiety with Colors
Starting a new school year can be nerve-wracking for kids, but fear not!
Coloring has a magical way of calming anxious minds, regardless of age.
So when those back-to-school jitters hit, whip out the color by number pages and let the coloring therapy begin!
It's like a relaxing spa treatment for the mind, helping kids ease into the new school year with confidence.
Ways to Use Color-by-Number Pages
Get ready to level up your teaching game with color by number pages!
Here are some fabulous ways you can use color by number pages in your classroom:
Early Finishers Paradise
We all have those students who finish their work early and need something fun to keep them engaged while others catch up.
Enter color by number pages!
With a variety of options related to different subjects, you can cater to every student's interests and give them an independent activity that reinforces what they've learned while having a blast.
Teamwork Makes the Dream Work
Encourage collaboration and teamwork by assigning group color by number projects.
Divide your students into small groups and provide them with a large color by number poster or mural to complete together.
This cooperative learning activity fosters communication skills, problem-solving abilities, and peer interaction while creating an artistic masterpiece!
Rewards that Spark Creativity
Sometimes, a little incentive goes a long way in motivating students.
Use color by number pages as rewards or incentives for completing assignments or demonstrating good behavior in the classroom.
Your students will be thrilled to have some coloring fun as they reap the benefits of their hard work.
It's a win-win situation!
Grab Your Fantastic Free Color by Number Printables
We have some free back to school-themed color by number pages hanging out in our Freebies Library (under the Math section)!
If you're already a member of our library, you can log in HERE.
Not a member yet? No worries! You can sign up, and we'll email the password right over!
Let's Make Back to School Colorful!
Get ready for an unforgettable back-to-school experience filled with creativity and learning!
With free printable color by number pages at your fingertips, you can't go wrong.
From developing number sense to boosting concentration and banishing anxiety, these activities will make your homeschooling or classroom lessons vibrant and engaging.
So grab those crayons and let the colorful journey begin!
YOU MAY ALSO LIKE…