Autumn is the perfect time to create some memories and try some new fun fall activities for kids! With over 100 activities and ideas below, there's something for everyone!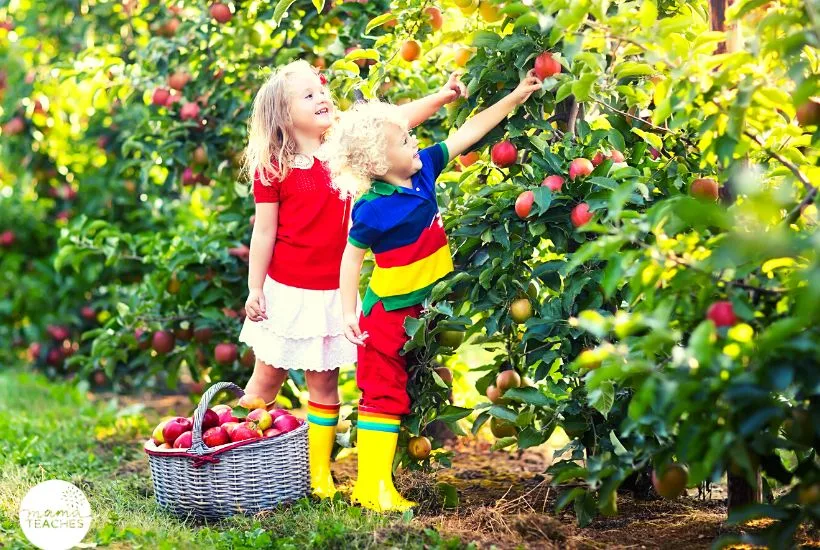 Since there are sooo many fall activities to choose from, we separated the list into different categories to help you out.
Whether you're looking for a fall themed math activity, a free printable for fall, or activities for kids to practice their fine motor skills, there's something for everyone!
Easy Fall Activities for Kids
Outdoor Fall Adventures is filled with things to try outside in the beautiful fall weather.
Pumpkin Fun activities all revolve around the perfect autumn gourd – the pumpkin!
If apples are more your thing, Fall Apple Activities are just what you need to make the season extra special!
Nature Crafts are ideas for using things you find in nature in the fall in fun craft projects.
Fall Backyard Fun Activities are outdoor activities that you can do without ever leaving home.
For those who love cooking with kids, the Fall Cooking and Baking Activities are a must-try!
Fall Festivals and Events are a fun way to get out and about in the community.
If crafts are your child's love language, but you don't have a lot of nature resources on hand, the Fall Crafts and Creative Projects will be a sure winner.
Fall Educational Activities are great if you're homeschooling or just want to add a bit more education to your fall activities with fun lesson plans and a math activity or two!
Seasonal Celebrations are just plain old fun fall activities that the whole family will enjoy!
And last but certainly not least, Giving Back explains some of the wonderful ways your family can give back this fall.
Hopefully, you'll find just the right fall activities to fill your fall bucket list and keep you and your kids engaged and having fun all season long!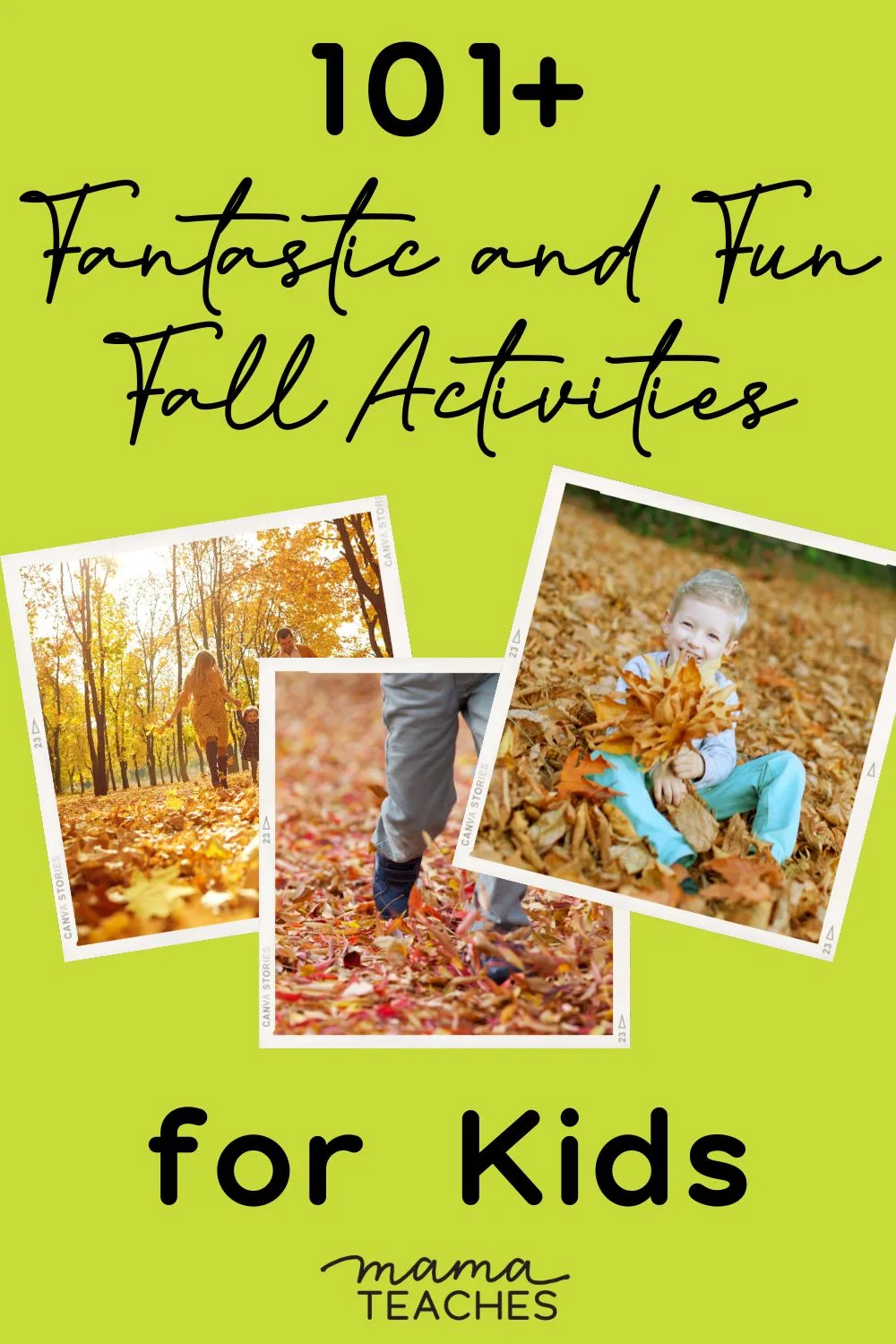 This article contains affiliate links to things that you might like.
Fun Fall Activities
Outdoor Fall Adventures
Pumpkin Picking at a Local Farm
Enjoy a fun-filled day at a local farm where you can explore pumpkin patches, find the perfect pumpkins for carving or decorating, and immerse yourself in the festive atmosphere of fall.
Go on a Nature Hike
Lace up your hiking boots and venture into the great outdoors.
Discover the breathtaking beauty of fall foliage, breathe in the crisp air, and connect with nature on a leisurely hike through scenic trails.
Collect Colorful Fall Leaves
Take a leisurely stroll and collect vibrant leaves in various shapes and colors.
Use them for crafts or decorations, or simply cherish the beauty of autumn by creating leaf collections.
Jump in a Pile of Leaves
Embrace your inner child and have a blast jumping into a huge pile of freshly raked leaves.
Experience the joy of being surrounded by nature's colorful confetti.
Visit a Corn Maze
Get lost in the twists and turns of a corn maze.
Challenge yourself to find the exit while enjoying an exciting adventure with friends or family.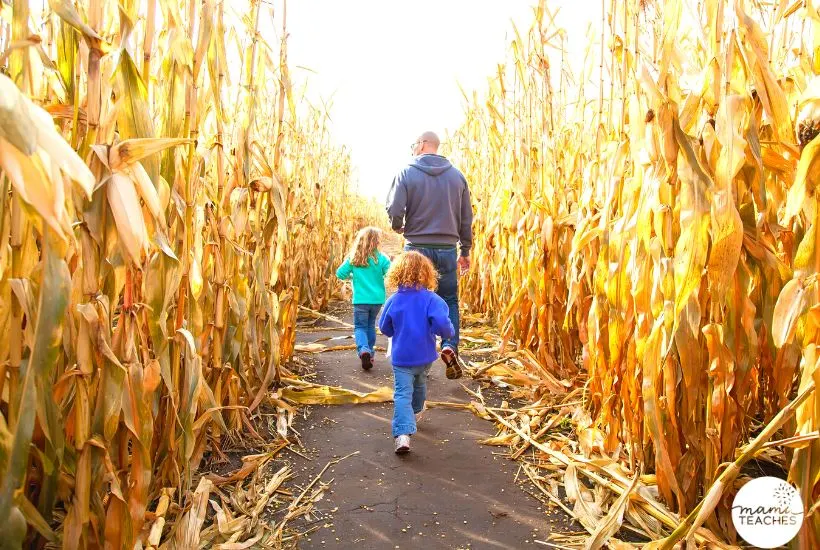 Visit a Local Farm or Petting Zoo
Get up close and personal with farm animals, pet adorable creatures, and learn about agricultural practices at a local farm or petting zoo.
It's a wonderful opportunity to connect with nature and learn about farm life.
Plant Fall Flowers or Bulbs
Put on your gardening gloves and get your hands dirty by planting fall flowers or bulbs.
Witness the beauty of blooming flowers in the coming seasons as you nurture your garden.
Go on a Bike Ride Through Scenic Areas
Hop on your bicycles and explore picturesque routes that showcase the stunning colors of autumn.
Enjoy the cool breeze as you pedal through scenic landscapes and take in the beauty of the season.
Go on a Geocaching Adventure
Combine outdoor exploration with treasure hunting by participating in geocaching activities.
Use GPS coordinates to search for hidden caches, enhancing navigation skills while enjoying the beauty of nature.
New to geocaching? Learn more about it here.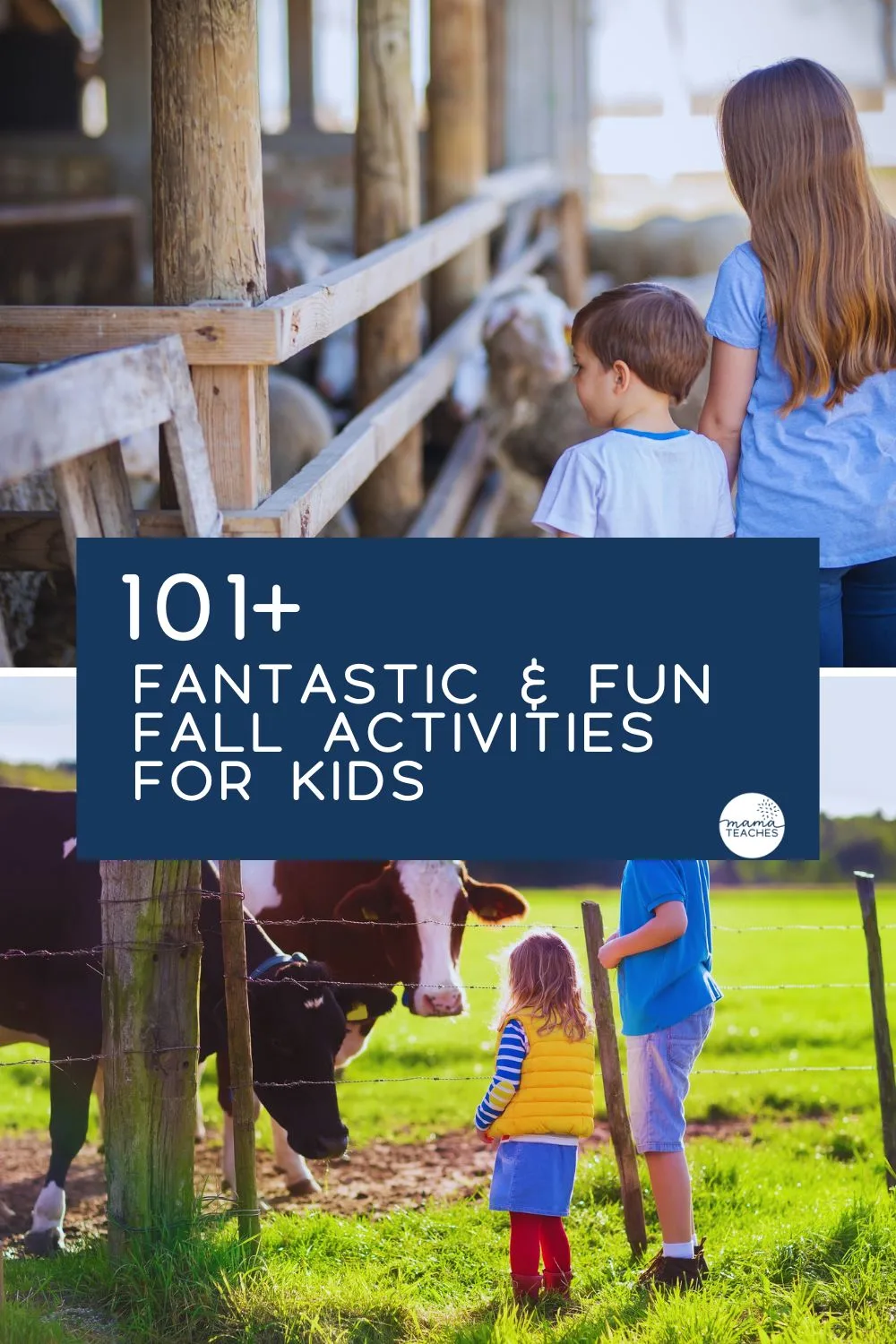 Visit a Local Nature Center or Botanical Garden
Immerse yourself in the wonders of nature at a local nature center or botanical garden.
Explore interactive exhibits, learn about local flora and fauna, and gain a deeper understanding of the natural world.
Go on a Hayride
Climb aboard a wagon filled with hay and enjoy a relaxing ride through the picturesque countryside or pumpkin patches.
It's a delightful activity for all ages that captures the essence of fall.
Explore a Local Nature Trail
Discover hidden gems in your area by exploring local nature trails.
Observe wildlife, marvel at the changing foliage, and soak in the tranquility of nature as you embark on an outdoor adventure.
Go Camping in a National Park
Pack up your camping gear and head to a nearby national park for an unforgettable fall camping trip.
Experience the beauty of starry nights, cozy campfires, and crisp autumn mornings surrounded by nature's splendor.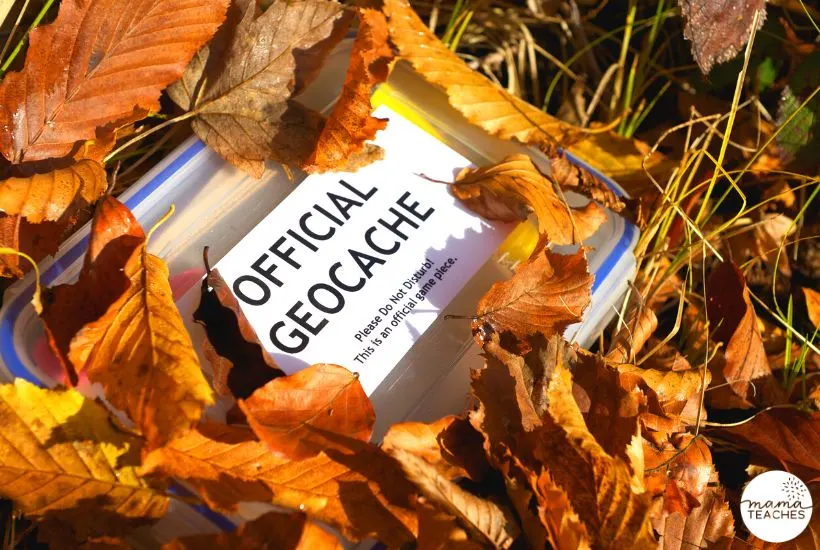 Play in a Hay Maze
Get lost in a maze made entirely of hay bales.
Navigate your way through twists and turns as you enjoy an afternoon filled with laughter and excitement.
Build a Fort with Fallen Branches and Leaves
Let your imagination run wild as you construct a fort using fallen branches, leaves, and other natural materials.
It's an opportunity to unleash creativity while connecting with the wonders of nature.
Pumpkin Fun
Carve or Decorate Pumpkins
Unleash your creativity by carving intricate designs or painting fun and festive scenes on pumpkins.
Transform them into unique and eye-catching decorations for the fall season.
Bake Pumpkin Bread or Muffins
Fill your home with the warm and comforting aroma of freshly baked pumpkin bread or muffins.
Enjoy the delicious flavors of fall with these homemade treats.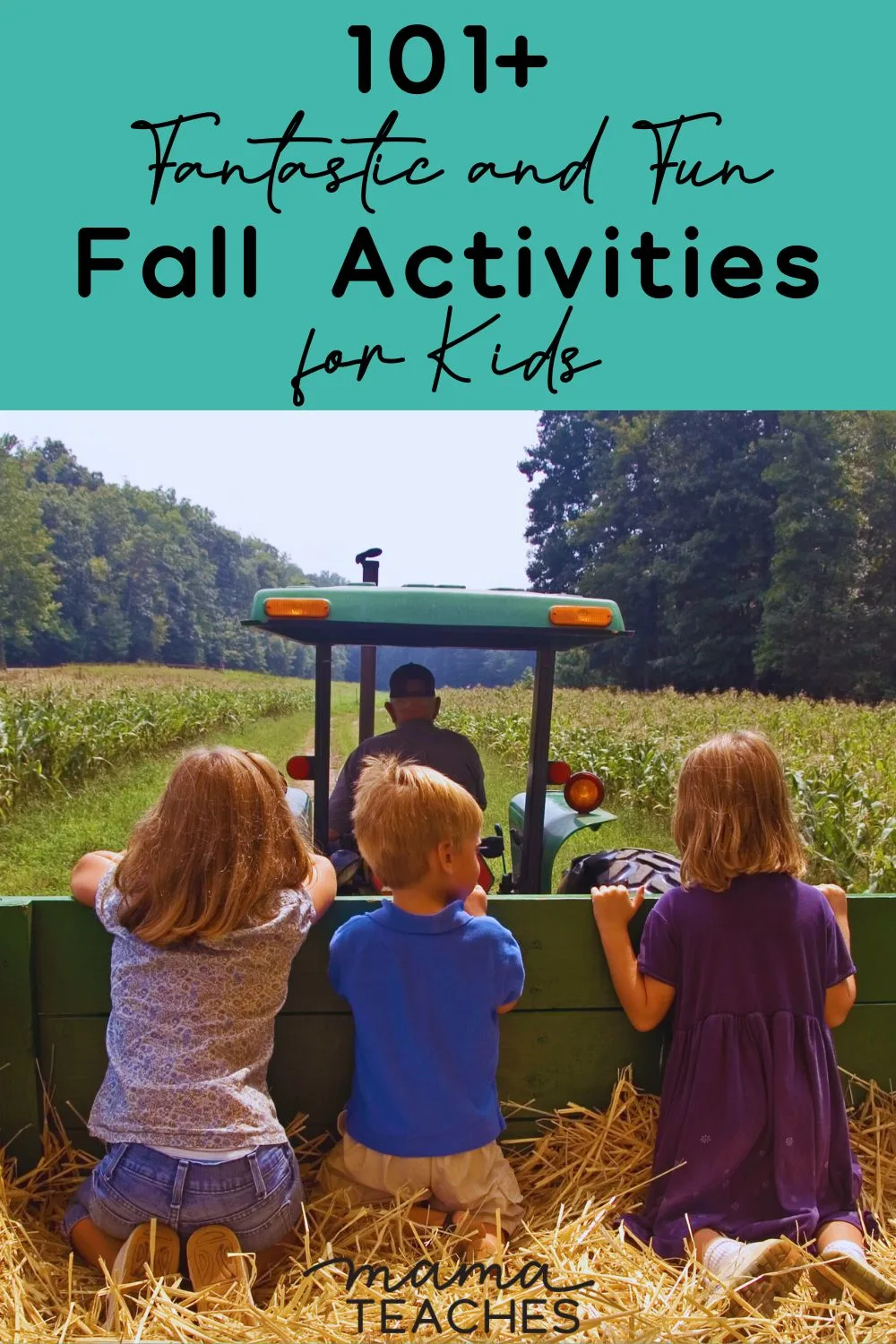 Host a Backyard Campout
Set up tents, gather around a crackling fire pit, and enjoy an evening of s'mores, storytelling, and stargazing right in your own backyard.
Create memories of a lifetime with a cozy campout experience.
Make Homemade Caramel Apples
Dip crisp apples into gooey, homemade caramel and add toppings like nuts or chocolate drizzle for a delightful autumn treat.
Indulge in the sweet and tangy flavors of caramel apples.
Decorate the Front Porch or Entryway
Embrace the spirit of fall by decorating your front porch or entryway with pumpkins, hay bales, colorful mums, and festive wreaths.
Create a warm and inviting atmosphere for the season with the help of your pint-size helpers!
Create a Scarecrow
Gather old clothes, hay, and other materials to create a friendly scarecrow to guard your yard or garden.
Put your crafting skills to work and add a touch of whimsy to your outdoor space.
Participate in Pumpkin Festivals
Join in the festivities at local pumpkin festivals, where you can enjoy activities like pumpkin carving contests, pumpkin-themed games, delicious food, and live entertainment.
Paint Pumpkins with Glow-in-the-Dark Paint
Add a unique twist to your pumpkin decorations by using glow-in-the-dark paint.
Watch them come alive at night as they emit a spooky glow.
Alternative Idea: If you're carving your pumpkins, you could drop a glow stick in them each night!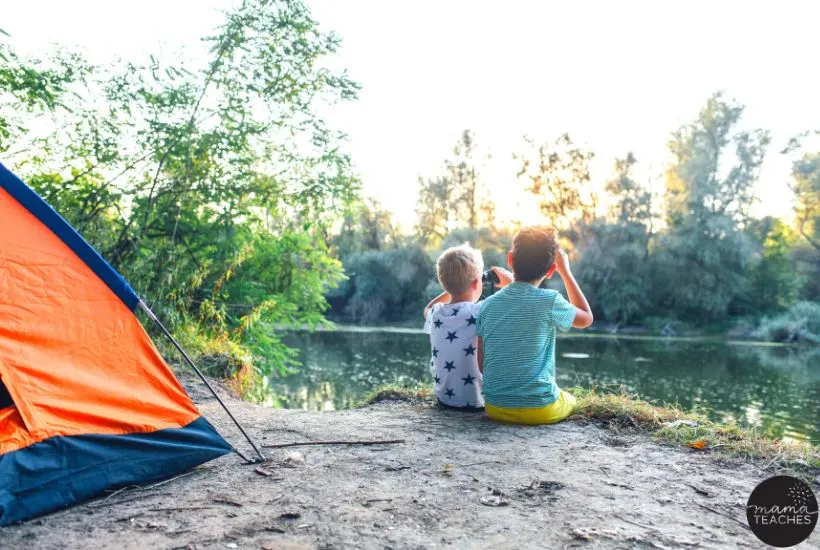 Make Pumpkin Spice Playdough
Create a sensory experience with homemade playdough infused with the warm and cozy scent of pumpkin spice.
Let kids shape, mold, and explore the dough to their heart's content.
Create Pumpkin Seed Art by Gluing Seeds to Paper
Repurpose pumpkin seeds by creating art pieces.
Glue them onto paper to make beautiful designs or even use them to create textured collages.
Host a Pumpkin-themed Scavenger Hunt
Hide small pumpkins or pumpkin-themed objects around your backyard or local park.
Provide clues for kids to find them, adding an element of excitement and adventure to the hunt.
Make Pumpkin-shaped Pancakes for Breakfast
Surprise your family with delicious pumpkin-shaped pancakes for breakfast.
Use cookie cutters or pancake molds to create fun shapes that celebrate the fall season.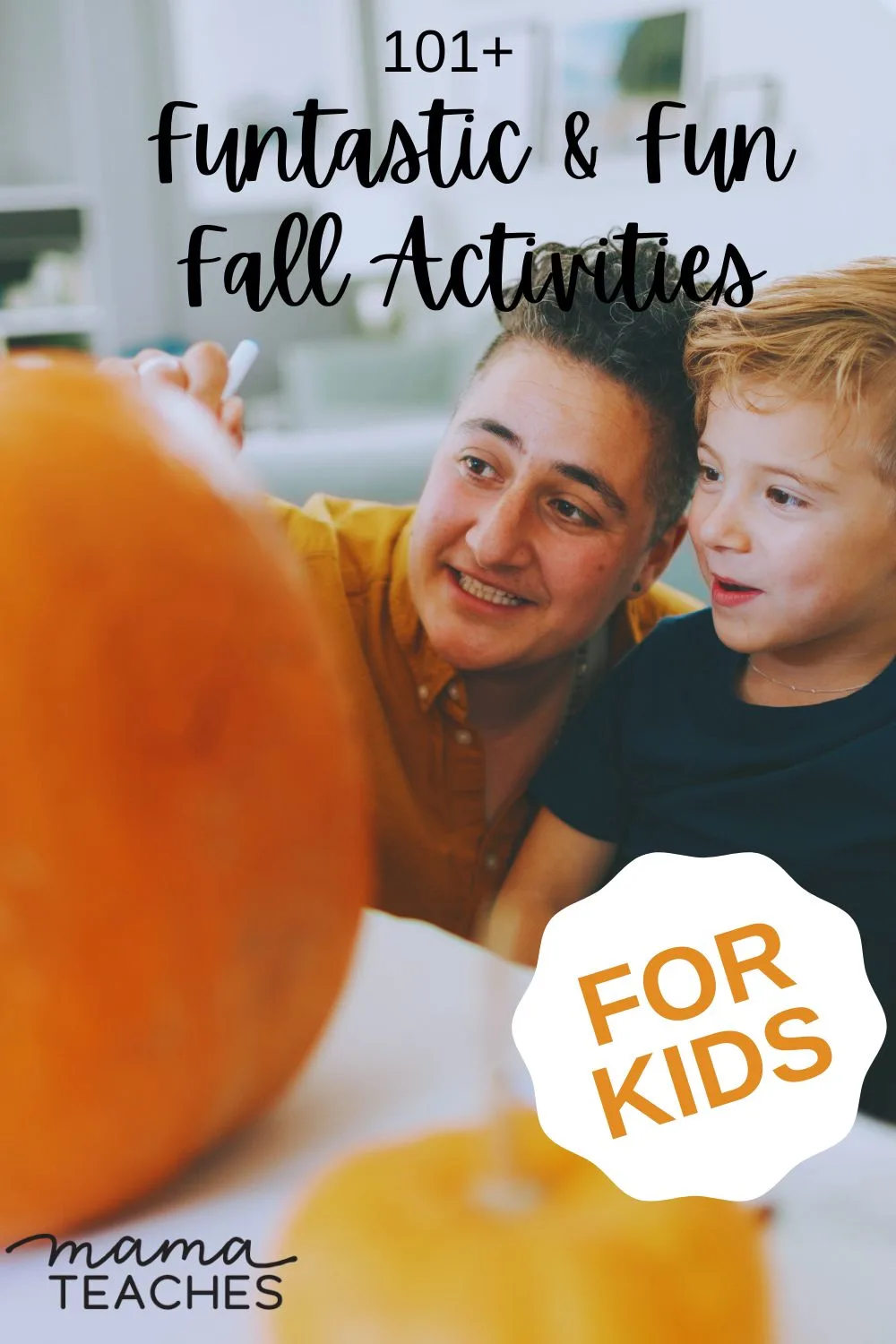 Apple Activities
Apple Picking at an Orchard
Head to a local orchard and immerse yourself in the joy of apple picking.
Wander through rows of apple trees, handpick your favorite varieties, and enjoy the fresh air and beautiful surroundings.
Make Homemade Applesauce or Apple Butter
Transform your freshly picked apples into delicious homemade applesauce or apple butter.
Simmer the apples with cinnamon and sugar for a warm and comforting treat that captures the flavors of fall.
You can even save time by making this delicious apple butter recipe in the crockpot!
Visit a Local Apple Festival
Join the community in celebrating the apple harvest at a local apple festival.
Enjoy activities like apple-themed games, live music, cider tastings, and indulge in apple-inspired treats.
Bake Apple Pies or Apple Crisp
Fill your kitchen with the sweet aroma of baked apples by making homemade apple pies or apple crisp.
Slice and season the apples, top them with a crispy crust or crumble, and savor the delightful flavors of fall.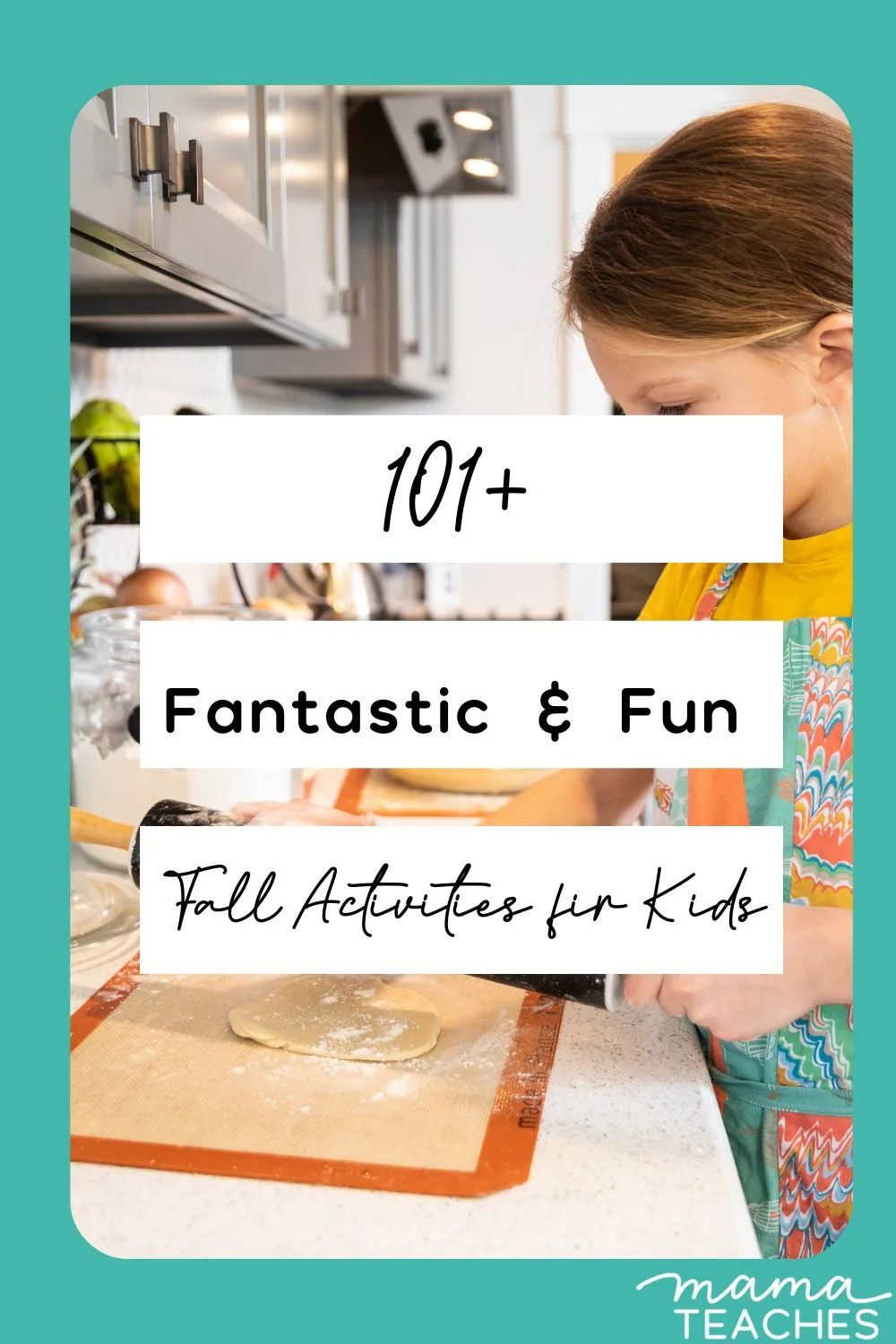 Make Caramel Apple Dip
Create a delectable caramel apple dip by melting caramel candies with a touch of cream.
Dip apple slices into the creamy caramel sauce for a decadent fall treat.
Make Apple Prints
Cut an apple in half, dip it in paint, and use it as a stamp to create beautiful apple prints on paper.
Experiment with different colors and patterns to create unique artwork.
Get the complete directions for this fun apple craft here!
Bake Apple Turnovers
Whip up easy and delicious apple turnovers using store-bought puff pastry.
Fill the pastry with spiced apples, fold them over, and bake until golden brown for a delightful fall dessert.
Create Apple-themed Sensory Bins with Apple-scented Play Materials
Fill a sensory bin with dried rice or oats and add apple-scented materials like cinnamon sticks, dried apple slices, and small plastic apples (make sure they're not a choking hazard!).
Let kids explore and engage their senses in this hands-on activity.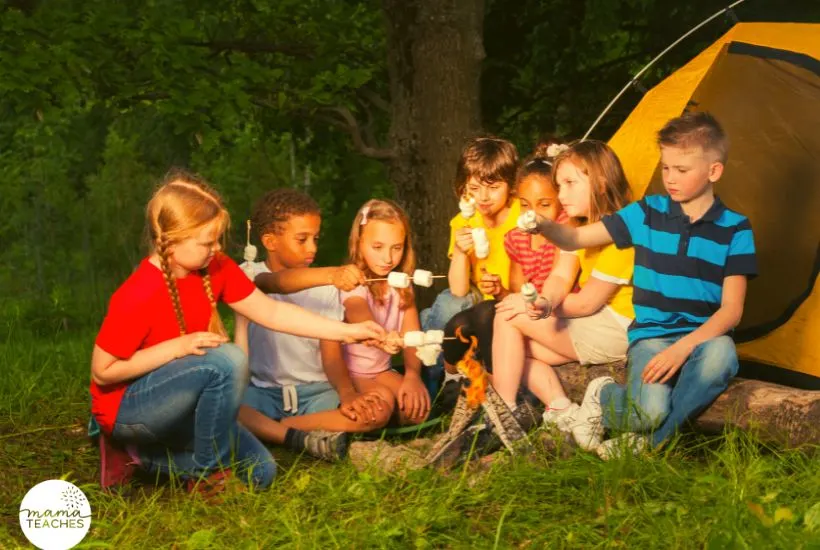 Have an Apple Taste Testing Session
Purchase an assortment of apple varieties from your local market and have a taste-testing session with your family.
Compare flavors, textures, and sweetness levels to discover your favorites.
Make Apple-themed Crafts
Get creative with apple-themed crafts.
Cut out apple shapes from colored paper or use tissue paper to create vibrant sun catchers or make collages of apple trees using construction paper and torn tissue paper.
Nature Crafts
Create Leaf Rubbings
Place a leaf under a piece of paper and use crayons or pencils to rub over it, revealing its intricate details.
Enjoy the simple yet beautiful artistry of leaf rubbings.
Paint or Decorate Pinecones
Unleash your creativity by painting or decorating pinecones with various colors, glitter, or even turning them into cute characters.
Transform these natural treasures into charming decorations or ornaments.
Make Leaf Art
Use a variety of leaves in different shapes, sizes, and colors to create stunning art pieces.
Arrange and glue them onto paper to make leaf collages or create nature-inspired designs.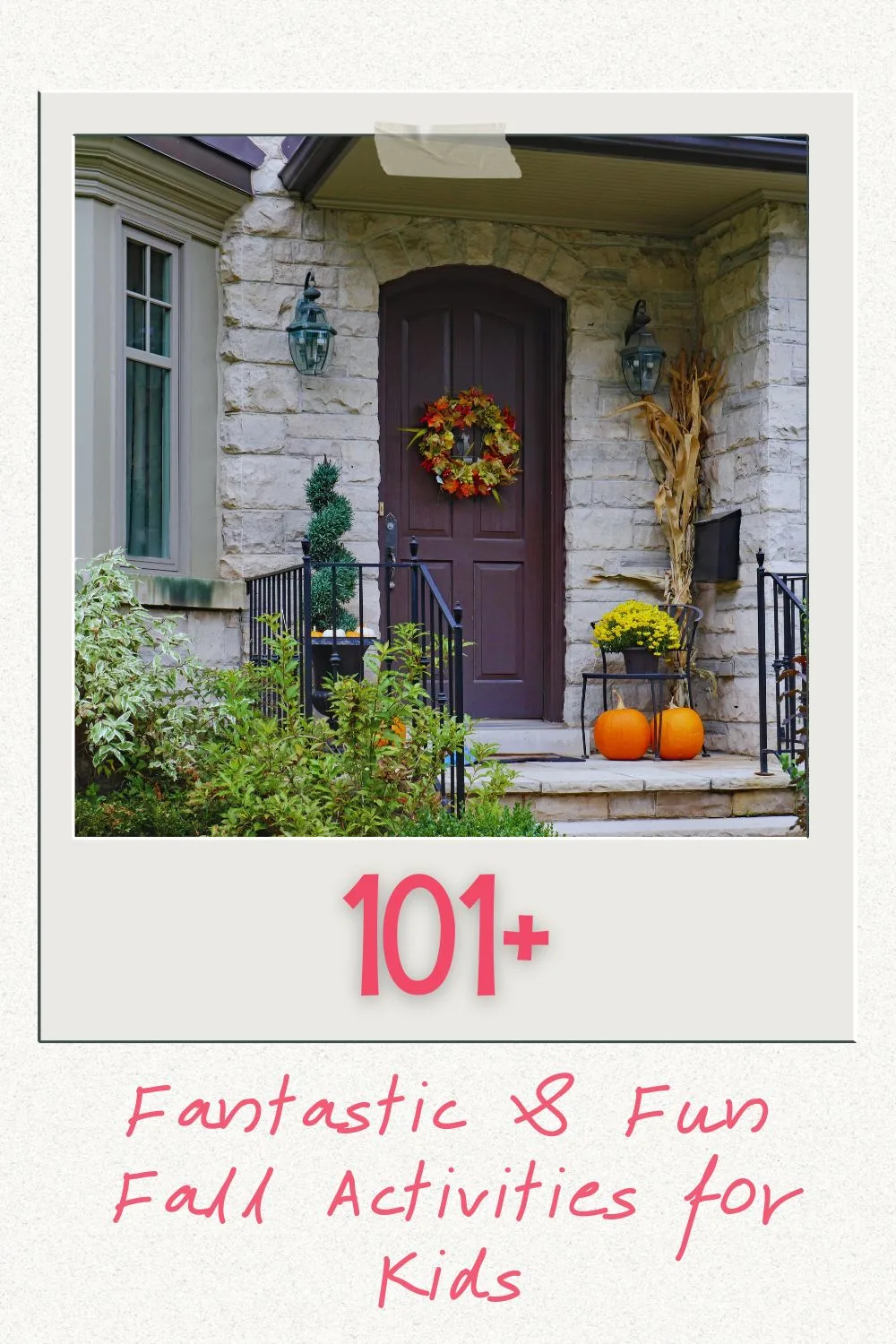 Create Leaf Crowns or Bookmarks
Fashion leaf crowns or bookmarks using colorful leaves, wire, or pipe cleaners.
Wear the crown or use the bookmark to celebrate nature's beauty and hold your place in fall-themed books.
Make Leaf Animals
Use leaves of various shapes and sizes to craft adorable animals like owls, birds, or hedgehogs.
Add googly eyes and draw features with markers to bring your leaf animals to life.
Press Leaves to Make a Fall Leaf Journal or Scrapbook
Preserve the beauty of fall leaves by pressing them between the pages of a journal or scrapbook.
Create a collection of pressed leaves that captures the essence of the season.
Create Leaf Lanterns
Enhance your fall décor by decorating glass jars with pressed leaves and placing candles inside.
These leaf lanterns will emit a warm and cozy glow.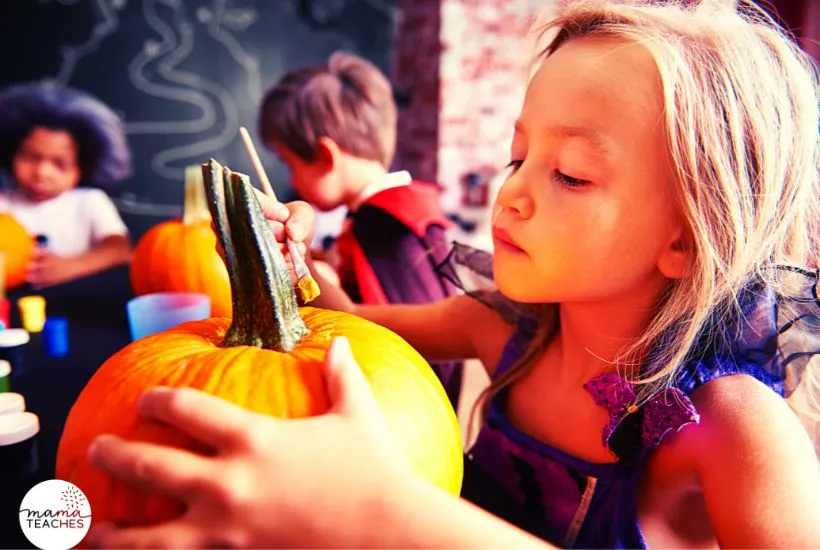 Make Leaf Crowns or Wreaths
Bend wire or pipe cleaners into circular shapes and attach colorful leaves to create stunning leaf crowns or wreaths.
Adorn your head or decorate your home with these nature-inspired creations.
Make Miniature Fairy Houses or Forest Scenes
Let your imagination soar by crafting miniature fairy houses or forest scenes using acorns, twigs, and other natural materials.
Create enchanting worlds for imaginary creatures.
Make Pinecone Animals or Characters
Transform pinecones into whimsical creatures by painting them to resemble animals, characters, or anything your imagination desires.
Enjoy the process of bringing these pinecone creations to life.
Fall Backyard Fun Activities
Have a Fall-themed Picnic
Pack a basket with seasonal treats like apple slices, pumpkin muffins, and warm drinks.
Find a picturesque spot outdoors, surrounded by autumn beauty, and enjoy a cozy picnic with family or friends.
Have a Bonfire and Roast Marshmallows
Enjoy the crisp fall evenings by gathering around a bonfire.
Roast marshmallows on sticks, make s'mores, and share stories and laughter as you embrace the warmth of the fire.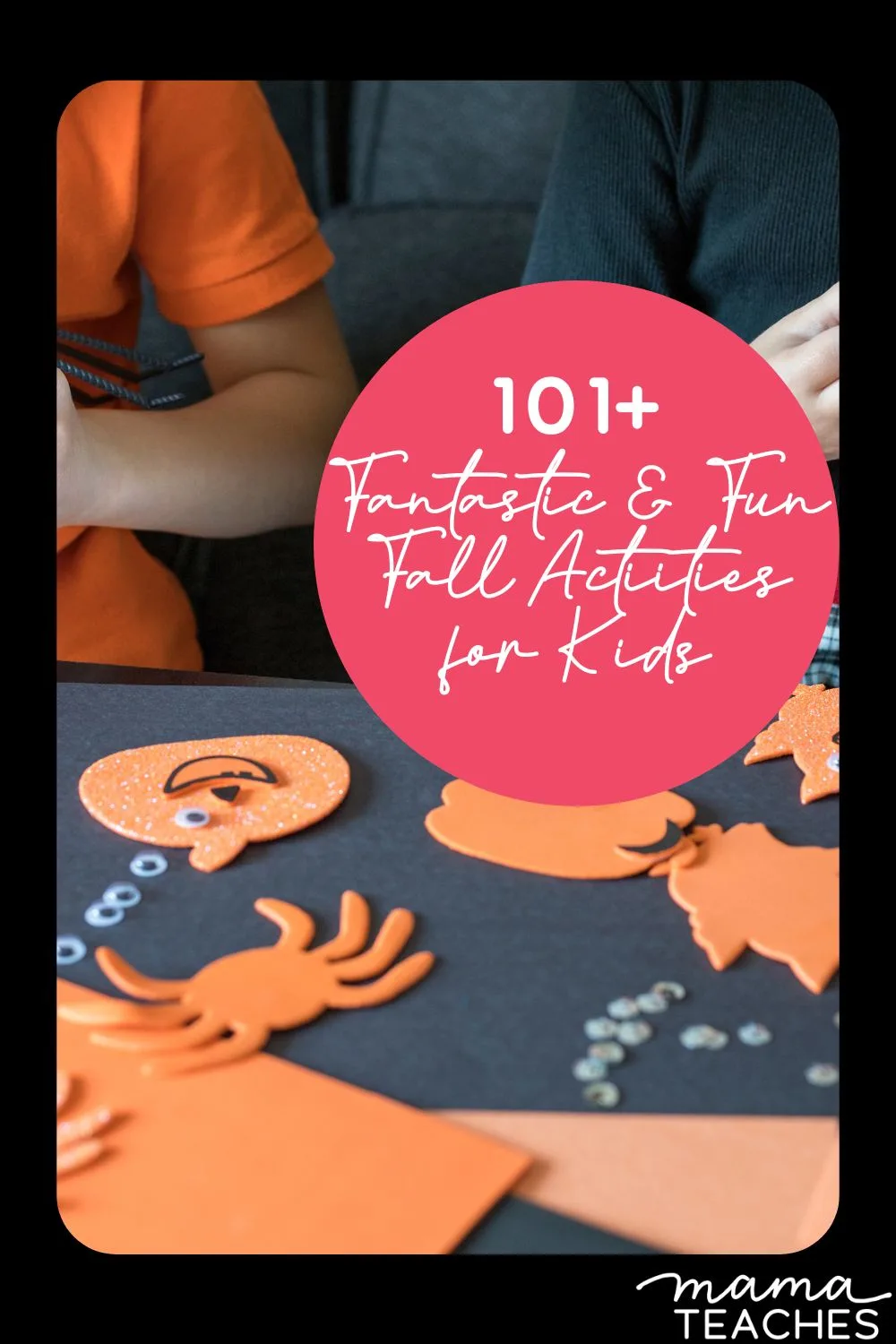 Play in Corn Sensory Bins
Fill large containers with dried corn kernels and add small toys, scoops, and cups for sensory play.
Let kids immerse their hands in the corn and engage their senses in this tactile experience.
Have a Backyard Leaf Race
Gather a pile of leaves and divide into teams.
Each team member uses a large leaf as a racing "sled" and slides along the ground to the finish line.
Enjoy friendly competition and laughter as you race through nature's colorful carpet.
Set Up an Outdoor Obstacle Course
Create a fun and challenging obstacle course in your backyard using hula hoops for jumping, cones for weaving, and jump ropes for hopping.
Test agility and coordination while having a blast.
Play Backyard Sports
Engage in classic backyard sports activities like throwing a football, playing a game of soccer, or tossing a frisbee.
Enjoy friendly competition and active play in the crisp autumn air.
Have a Backyard Treasure Hunt
Create an exciting treasure hunt by hiding small objects or clues in various spots around your backyard.
Encourage kids to use their problem-solving skills as they search for hidden treasures.
Create a DIY Nature-inspired Sensory Table
Set up a sensory table using materials from nature like sand, leaves, pinecones, or branches.
Let kids explore different textures and engage their senses in this nature-inspired sensory play.
Have a Stargazing Night
Pitch a tent in your backyard and create a cozy space for stargazing.
Lie back, marvel at the night sky, identify constellations, and share stories under the twinkling stars.
Fall Cooking and Baking
Make Homemade Hot Cocoa or Apple Cider
Warm up on crisp fall days by making indulgent homemade hot cocoa or flavorful apple cider.
Sip on these comforting beverages and savor the deliciousness of the season.
Make Homemade Potpourri
Fill your home with the inviting scents of fall by making homemade potpourri.
Combine fragrant spices like cinnamon, cloves, and nutmeg with dried fruit peels for a delightful aroma that fills the air for this fun activity.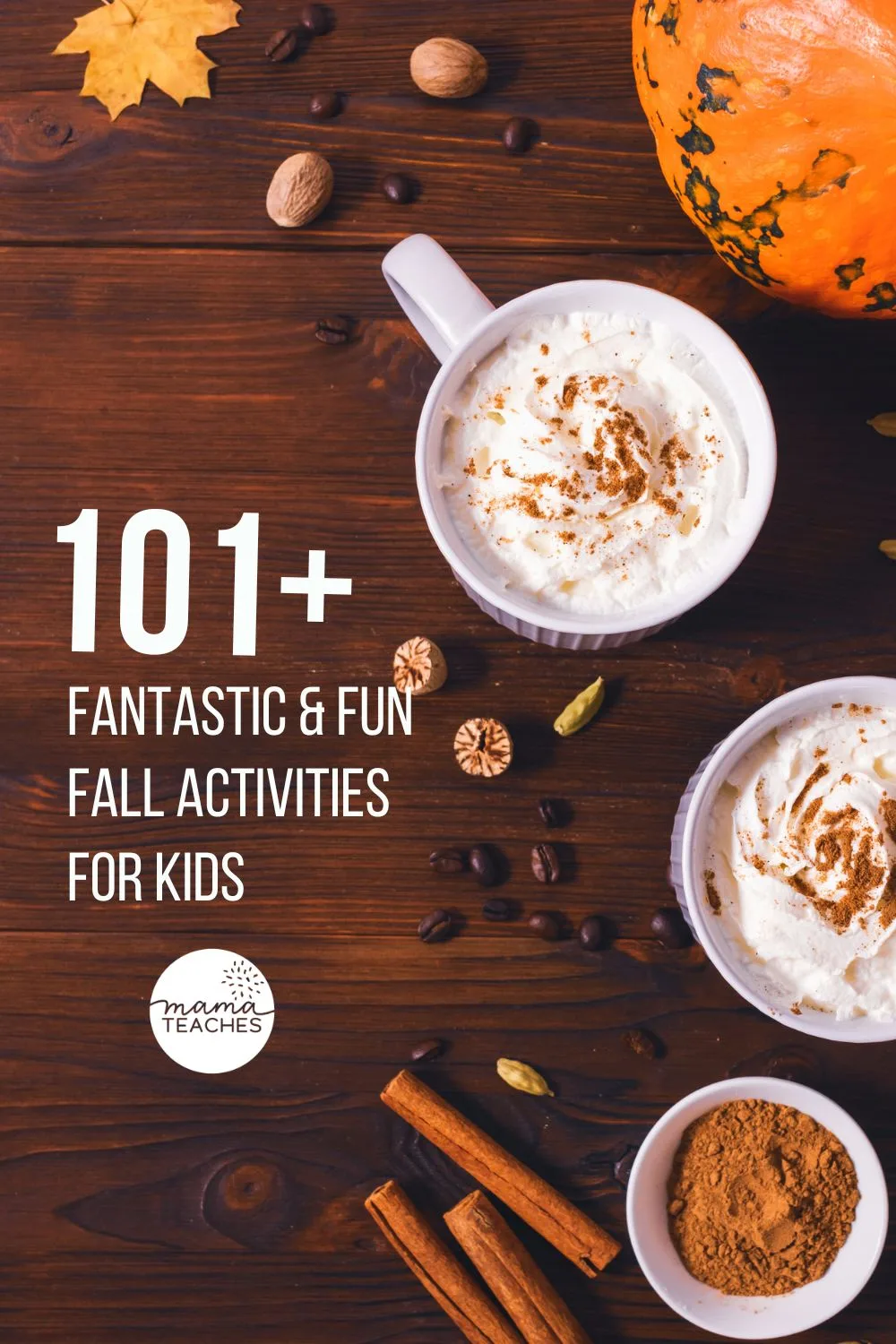 Make Pumpkin Spice Popcorn
Elevate your movie nights with a seasonal twist by adding pumpkin spice seasoning to freshly popped popcorn.
Enjoy the warm and cozy flavors of fall in this delightful snack.
Bake Apple Chips
Transform fresh apples into crispy and wholesome apple chips.
Thinly slice the apples, bake them until they are perfectly crispy, and enjoy a healthy and delicious fall snack.
Create a Fall-themed Charcuterie Board
Assemble a beautiful kid-friendly charcuterie board with fall-inspired elements such as seasonal fruits, artisanal cheeses, crackers, nuts, and dried fruits.
Enjoy a delightful assortment of fall flavors and textures!
Older kids might especially enjoy putting one together!
Make Homemade Pumpkin Spice Lattes or Apple Cider Slushies
Get creative with your favorite fall beverages by making homemade pumpkin spice lattes (for the grown-ups) or apple cider slushies (for the littles!).
Indulge in these refreshing and flavorful drinks that capture the essence of autumn.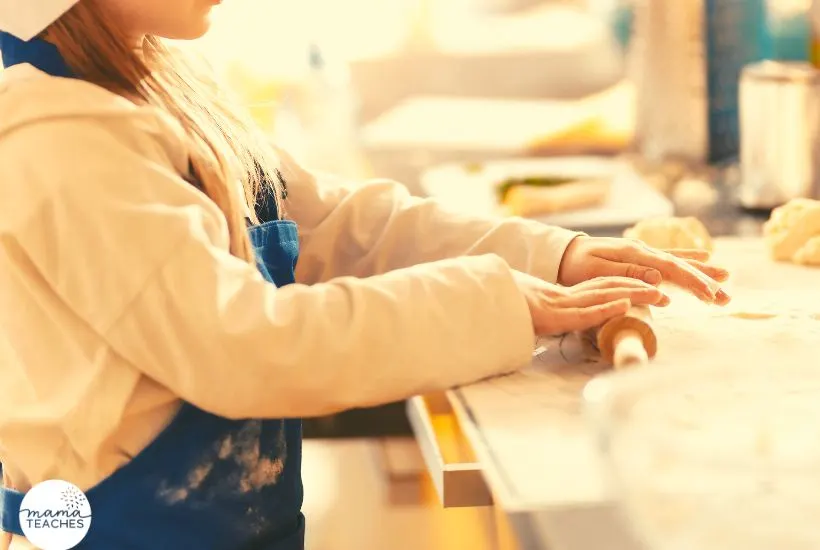 Have a Family Cooking Competition
Gather your family for a friendly cooking competition using ingredients inspired by fall.
Challenge each other to create unique dishes highlighting seasonal produce like pumpkins, apples, or root vegetables.
Enjoy the creativity and delicious results of this culinary challenge.
Fall Festivals and Events
Visit a Local Fall Festival
Immerse yourself in the vibrant sights, sounds, and flavors of the season at a local fall festival.
Enjoy activities like pumpkin carving, hayrides, live music, food vendors, and explore the festive atmosphere.
Have a Costume Parade
Dress up in your favorite costumes and organize a parade with friends or neighbors.
Show off your creativity and celebrate the spirit of Halloween by strutting your stuff in a fun and lively procession.
Attend Fall-themed Storytime at the Library
Visit your local library for special storytime sessions that focus on fall-themed books and tales.
Listen to engaging stories about changing seasons, harvest, and autumn adventures.
Participate in a Community Oktoberfest Celebration
Join in the festivities of Oktoberfest, a traditional German celebration of food, music, and culture.
Experience live performances, indulge in German cuisine, and enjoy the lively atmosphere of this iconic fall event.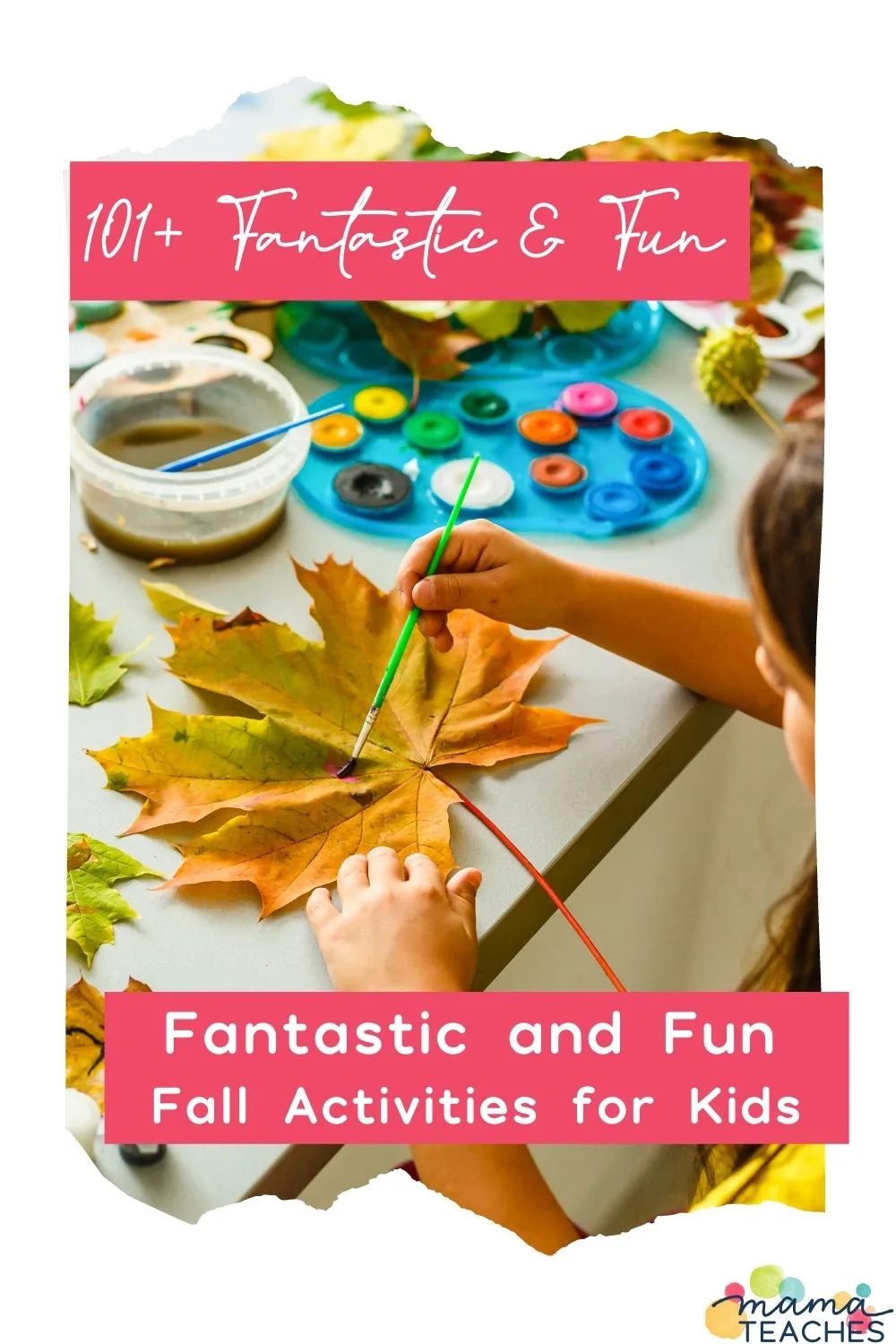 Visit an Age-Appropriate Haunted House or Haunted Trail
For those seeking thrills and chills, venture into a haunted house or haunted trail that offers age-appropriate scares.
Experience the excitement of Halloween as you navigate through spooky settings and encounter frightful surprises.
Attend a Fall-themed Theater Production or Puppet Show
Immerse yourself in the world of performing arts by attending a fall-themed theater production or puppet show.
Enjoy captivating storytelling, dazzling performances, and be transported to enchanting autumnal worlds.
Join a Local Halloween Costume Contest
Put your creative costume skills to the test by participating in a local Halloween costume contest.
Show off your unique attire, compete with other participants, and have a chance to win prizes while celebrating the spirit of Halloween.
Fall Crafts and Creative Projects
Decorate Pinecones for Crafts
Tap into your creativity by decorating pinecones with paint, glitter, or other craft materials.
Transform these natural treasures into beautiful ornaments or decorations for the fall season.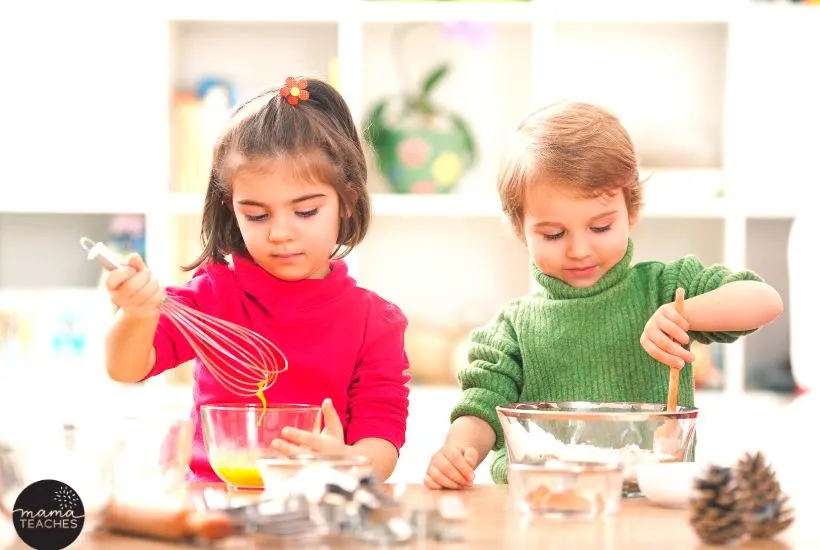 Make Bird Feeders
Show kindness to our feathered friends by creating homemade bird feeders.
Use materials like pinecones, peanut butter, and birdseed to make feeders that can be hung outside to attract birds.
Create Scarecrow Crafts
Get into the spirit of fall by making scarecrow crafts.
Use materials like hay, old clothes, and buttons to create adorable scarecrow figures that can be displayed indoors or in your yard.
Make Leaf-shaped Cookies
Celebrate the season by baking leaf-shaped cookies.
Use cookie cutters or freehand cut shapes from dough, then decorate with colored icing or sprinkles for delicious and festive treats.
Make DIY Leaf Masks
Get creative with construction paper, string, and markers to make DIY leaf masks.
Cut out leaf shapes, add string for tying, and let your imagination run wild as you decorate the masks with markers.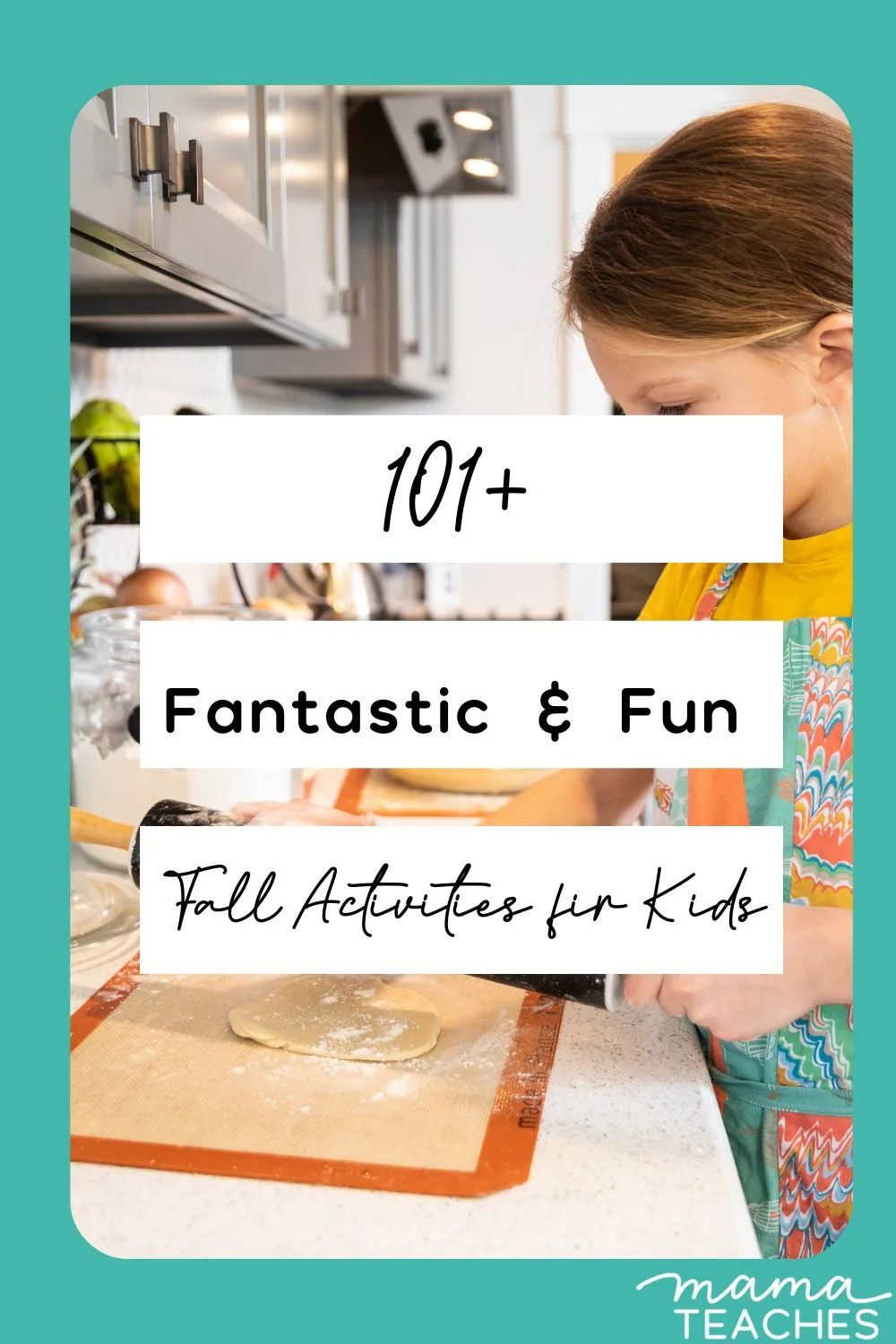 Create Leaf Animals
Utilize the unique shapes and colors of leaves to make leaf animals.
Glue leaves together to form creatures like owls or turtles, adding details with markers or googly eyes for a fun and nature-inspired craft.
Make Fall-themed Friendship Bracelets
Express your creativity and friendship by making fall-themed friendship bracelets.
Choose autumn-inspired colors of embroidery floss and use braiding or knotting techniques to create unique bracelets to share with special friends.
Design and Paint Fall-themed Rocks
Collect smooth rocks and transform them into fall-themed works of art.
Use acrylic paints to design vibrant leaves, pumpkins, or other seasonal motifs on the rocks.
Place them in your garden or community spaces to spread a touch of autumn beauty.
Create Handprint or Footprint Turkeys
Capture precious memories by making handprint or footprint turkeys.
Dip hands or feet in paint and press them onto paper to create turkey shapes.
Add details like eyes, beaks, and feathers for adorable keepsakes or Thanksgiving decorations.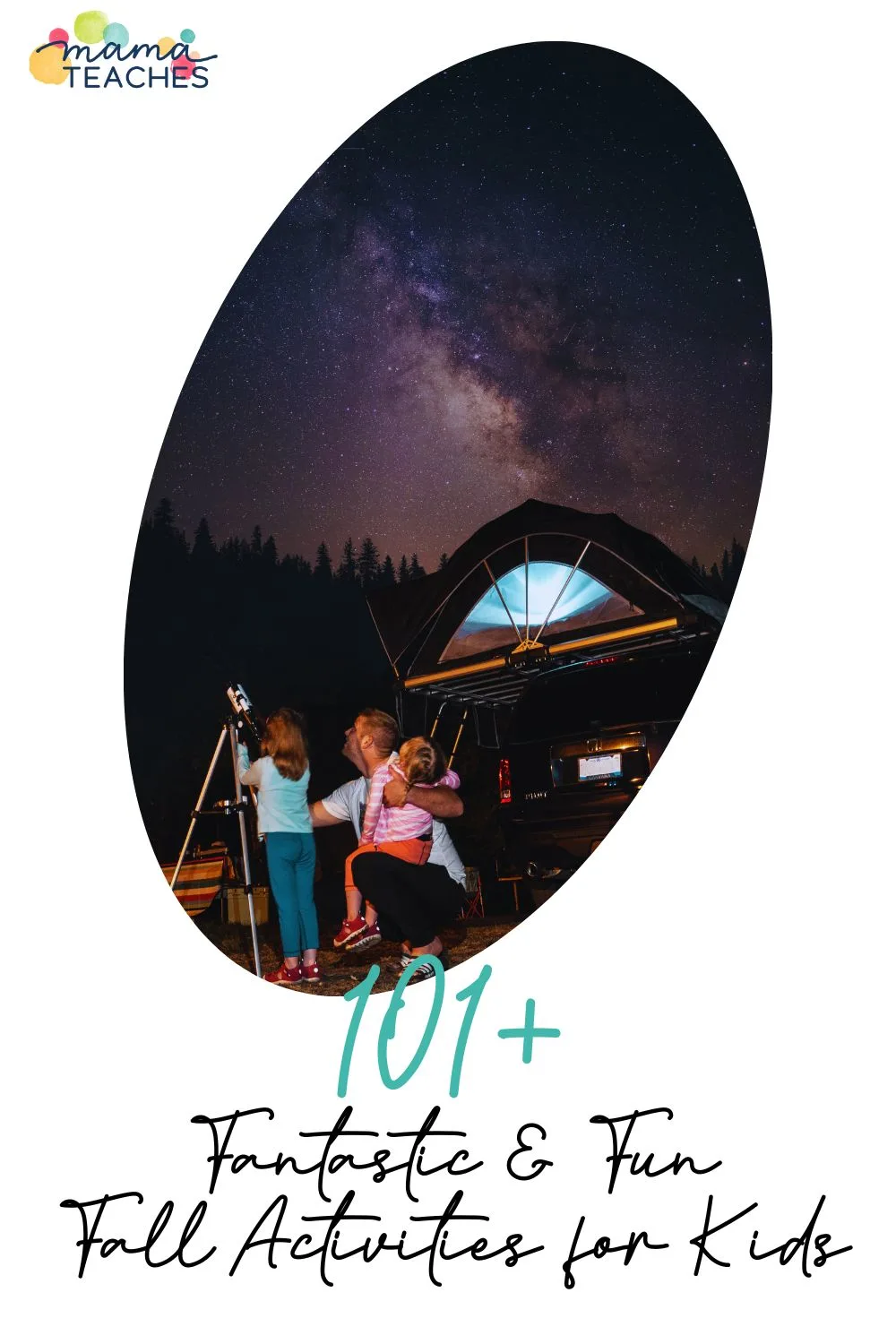 Educational Fall Activities
Go On a Nature Scavenger Hunt
Explore the outdoors and engage in a fun and educational activity by going on a nature scavenger hunt.
Search for items like acorns, pinecones, different colored leaves, or specific types of trees while enjoying the beauty of the natural world.
This fall scavenger hunt from Clare at Homeschool of 1 might help!
Have a Backyard Nature Lesson
Utilize your backyard as an outdoor classroom and have a nature lesson with your children.
Observe plants, insects, and animals that visit your yard, teaching them about the importance of biodiversity and fostering a sense of appreciation for the natural world.
Learn about Migration
Discover the fascinating phenomenon of bird migration during the fall season.
Learn about different bird species that fly south for the winter and explore their migratory patterns and behaviors.
Research and Identify Different Types of Mushrooms
Embark on a mushroom identification adventure by researching and learning about different types of mushrooms that can be found in your local area.
Study their characteristics, habitats, and cautionary measures while fostering an appreciation for fungi.
Learn About the History of Thanksgiving and Create a Gratitude Jar or Tree
Dive into the history of Thanksgiving and its traditions.
Engage in discussions about gratitude and create a gratitude jar or tree where family members can share what they are thankful for, cultivating a sense of appreciation and reflection.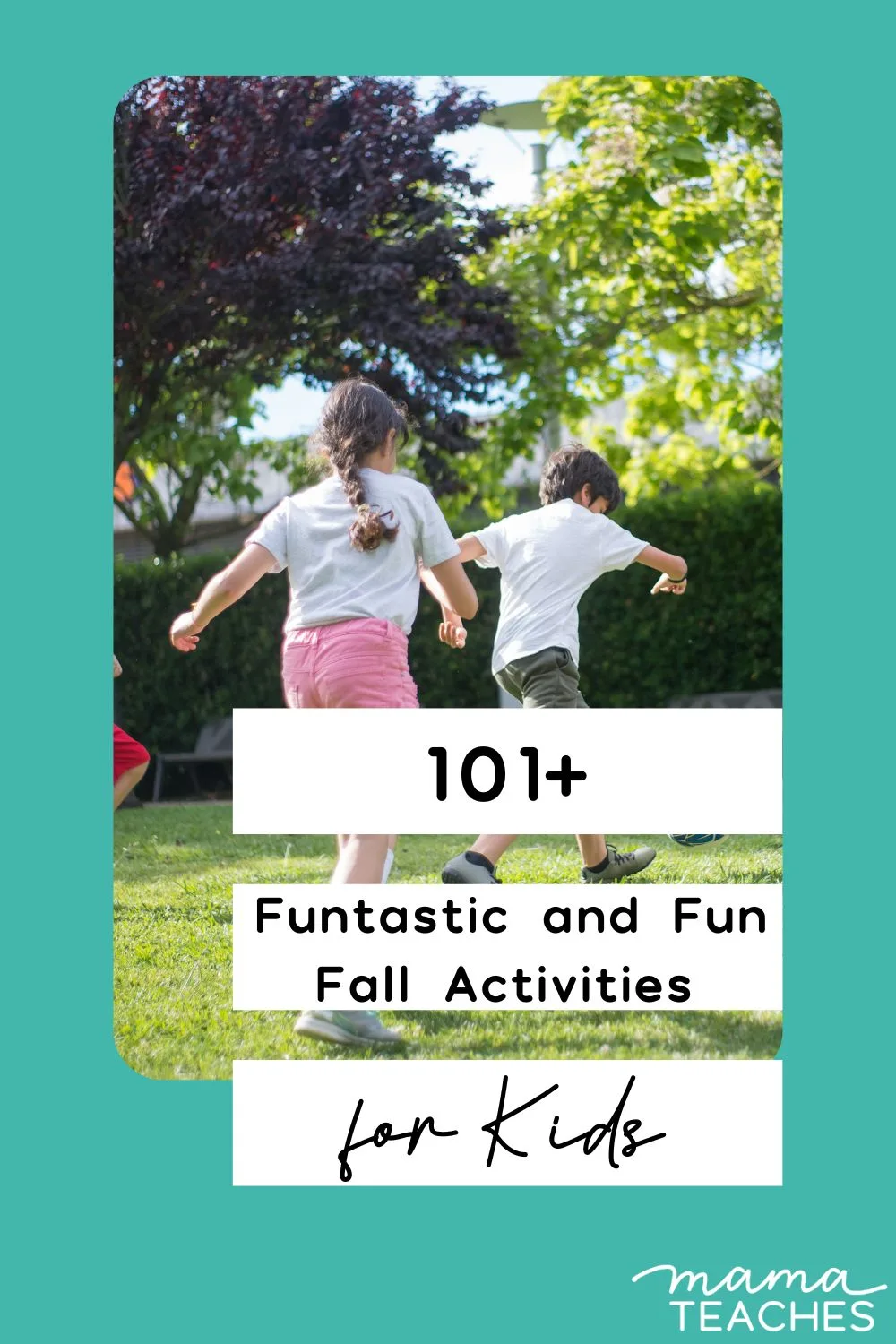 Study the Changing Colors of Leaves
Witness the magical transformation of leaves during the fall season.
Study the science behind the changing colors as chlorophyll breaks down, revealing vibrant hues.
Learn about photosynthesis and its role in plant life cycles.
Visit a Local Science Center for Fall-themed Exhibits and Interactive Displays
Take a trip to a local science center or museum that features fall-themed exhibits and interactive displays.
Engage in hands-on activities that explore topics like weather changes, animal adaptations, or natural phenomena associated with autumn.
Seasonal Fall Activities and Celebrations
Have a Family Movie Night with Fall-themed Movies
Gather the family for a cozy movie night and watch fall-themed movies that capture the spirit of the season.
Snuggle up with blankets and popcorn as you enjoy heartwarming or spooky films set during autumn.
Host a Backyard Olympics with Fall-themed Games
Transform your backyard into an Olympic arena and host a fun-filled event with fall-themed games.
Set up activities like pumpkin rolling contests, leaf jumping races, or apple bobbing competitions for a day of friendly competition and laughter.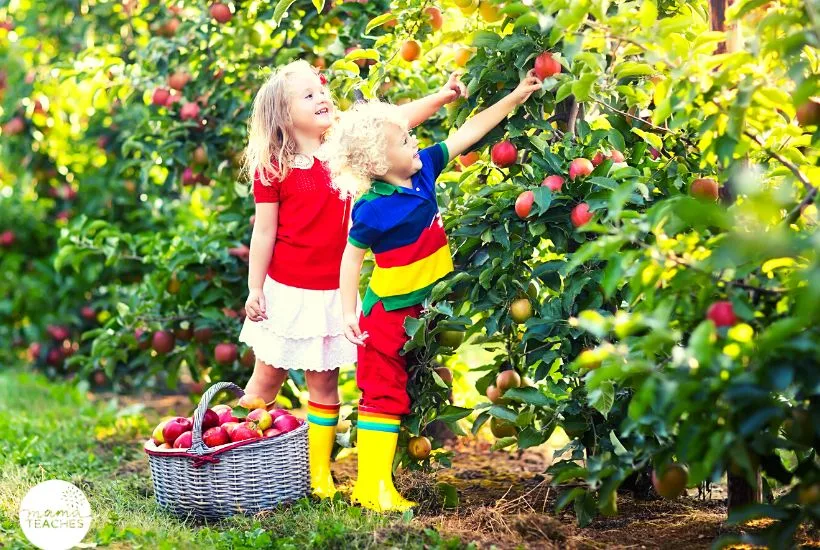 Host a Family Game Night
Bring the family together for a game night featuring fall-themed board games or card games.
Challenge each other to games like "Harvest Time" or "Pumpkin Patch" for a night of friendly competition and bonding.
Plan a Fun-filled Halloween Party
Embrace the Halloween spirit by planning a festive party.
Decorate your home with spooky decorations, encourage costumes, and organize Halloween-themed games like a mummy wrap contest or a creepy scavenger hunt for a night of frightful fun.
Decorate Fall-themed Gingerbread Houses
Engage in a creative activity by decorating fall-themed gingerbread houses.
Use graham crackers, frosting, and candy corn to build and decorate charming little houses that celebrate the colors and symbols of autumn.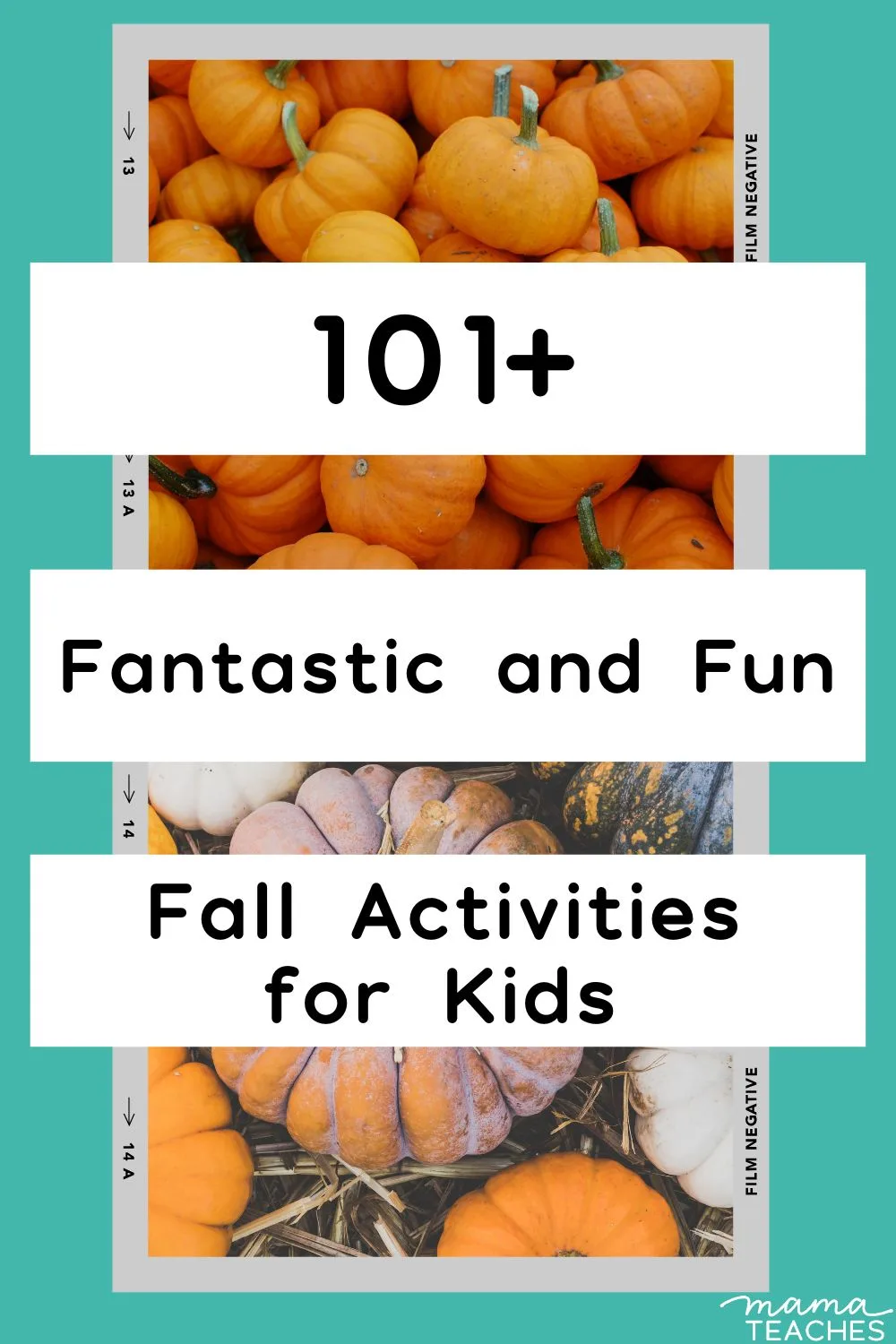 Giving Back
Volunteer at a Local Food Bank or Shelter
Volunteering at a local food bank or shelter is a meaningful way to give back to the community during the fall season.
By dedicating your time and effort, you can make a positive impact on the lives of those in need.
Help prepare and serve meals, organize donations, or participate in outreach programs to provide support and assistance to individuals and families facing food insecurity or homelessness.
Through volunteering, you can contribute to creating a more caring and compassionate community, spreading warmth and kindness during the fall season and beyond.
Autumn Activities for Kids
The autumn season is a magical time for children to engage their senses, explore nature, and embrace their creativity.
With over 100 fun fall activities at their fingertips, parents and teachers can create unforgettable experiences that combine fun with education.
Whether it's exploring nature's beauty, indulging in pumpkin-themed adventures, harvesting memories in the kitchen, crafting creative projects, or diving into fall science experiments – there is something for every child to care about and enjoy during this colorful and enchanting season.
So, get ready to embark on a journey filled with pumpkin patches, apple picking, crafts, and so much more.
Let's make this fall one to remember as we celebrate the joys of the season!
YOU MAY ALSO LIKE…