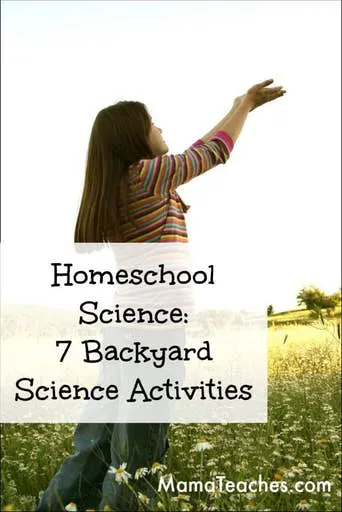 This article contains affiliate links to things that you might like.
We live in a busy town and our yard isn't all that big, but what it lacks in space it makes up for in amazing science opportunities.
I bet yours does too – even if you just have a small patio or apartment balcony.
Don't believe me?
Well, here are seven backyard science activities to try with your children.
7 Backyard Science Activities
1. CLOUD GAZING
Remember spreading out the blanket on the lawn, staring up at the clouds, and trying to pick shapes out of them?
If you never did, then you need to do this activity too.
Before you head for the blanket though, brush up on your cloud types, so that when you're relaxing outside, you can sneak in some cloud education.
Us homeschool moms are sneaky like that.
2. AWESOME ANTS
When they're inside we try to squish them, but outside?
Outside we love watching ants!
They're fascinating both in their movement and their feats of strength.
Can you imagine carrying a hunk of food that's three times as big as you are on your back?
Neither can I.
3. BIRD WATCHING
Grab your Audubon book of birds and head on out to the yard to see how many different types of birds you can find.
For added fun, hang a bird feeder by your window and sit quietly watching their behavior as they eat.
Also, if you have cats like we do, it will provide hours of entertainment for them as they sit in the window and stare.
4. HOW DOES YOUR GARDEN GROW?
Even if you don't have room for a full garden, a planter on the patio with a tomato plant or herbs is a fantastic learning opportunity.
If you can't do it outdoors, try growing a bean plant in a clear plastic cup.
Kids love watching the bean grow and the roots work their way down to the bottom of the cup.
If you have the space, growing vegetables is especially fun, because the end result is a delicious meal!
5. WATCHING THE POLLINATORS
After studying honey bees, we became fascinated with pollinators.
From butterflies to giant bumbles, we never miss an opportunity to stand quietly and watch them pollinate the flowers in our yard.
Once, when we went out shopping in this small village, there were bees pollinating the gardens around the stores.
I can't even tell you how long we stood and watched them!
We also felt especially proud because we saw their pollen baskets and got them on video.
It's the little things…
6. SEEDS ARE EVERYWHERE
When kids think of seeds, they often think of only one kind.
It's exciting to introduce them to the variety of seeds that plants around the house have.
From the large Wisteria seed pods to berries on the Japanese Dogwood, each is unique and fascinating to study.
7. WILD WEATHER
Get outside daily and record the weather.
What's the temperature?
Is there any precipitation?
How windy is it?
By exploring and learning about the weather, kids gain a better understanding of their connection to their environment.
It's also a great lesson on how the weather impacts daily life and how we adapt to compensate for certain conditions.
There are endless other experiments, explorations, and ideas for science in your backyard, but the best way to discover them is to get outside and observe.
Use your senses and really experience all that nature has to offer from the comfort of your backyard.
Have fun!