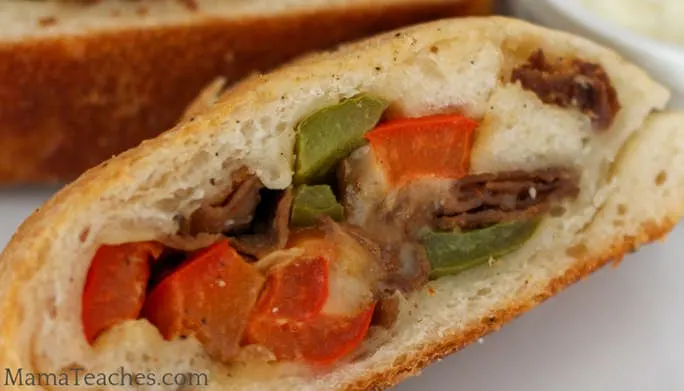 We live just outside of Philadelphia, so cheesesteaks have been a dinnertime staple since I was old enough the chew. This recipe for Philly Cheesesteak Pinwheels is a new, must-keep though, because it's a little bit like heaven. Pizza and Philly cheesesteaks in one delicious meal? Yes, please!
Philly Cheesesteak Recipe
These are perfect for serving before and during an Eagles' football game (tailgate food, anyone?), for a summer picnic, while tailgating at a college football game, or for dinner on a Friday night. When it comes to the best Philly cheesesteak? These are right up there with Pat's and Geno's. Enjoy!
Philly Cheesesteak Pinwheels Recipe
Serves: 4
Prep Time: 15 minutes
Cook Time: 30 minutes
Ingredients:
1 box of Steak'em Philly Cheese Steak Slices (In the frozen section)
½ of a green pepper
½ of a red pepper
½ of an onion
2 tbsp of Worcestershire sauce
1 cup of shredded Mozzarella Cheese
1 can of crescent roll dough*
Seasoned salt (Equal parts of kosher salt, pepper, onion powder and garlic powder)
Directions:
Take 4-5 slices of the Steak'em meat and place in skillet.
Crumble into small pieces and brown the meat.
Once browned, place in a bowl off to the side.
Cut peppers and onions into long slices.
Add pepper mix to the skillet with a pinch of salt and pepper.
Allow them to saute for 5 minutes and add Worcestershire. Cook for another 5 minutes.
Add the meat to the skillet and allow it to warm up.
Stretch the crescent roll dough evenly over a greased baking sheet and add meat and pepper mix on top.
Add the cheese and carefully roll everything up into a log shape.
Sprinkle with seasoned salt.
Bake at 375°F for 10-15 minutes or until golden brown.
Allow 5 minutes to cool.
Slice and serve.
​
*You can also use pre-made pizza dough or make your own if you prefer.
​
If you decide to make your own Philly Cheesesteak Pinwheels, snap a picture and share it with us! Tag us on Instagram @MamaTeaches or post the picture in the comments below! We'd love to see how they turned out and find out if your family enjoys them as much as yours!