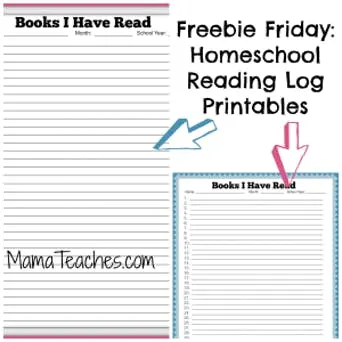 In Pennsylvania, one of the homeschooling requirements is that we keep a log of books that each child reads throughout the school year. When the kids were little I would record their books for them, but as they're getting older the responsibility falls more on their shoulders. There is, of course, mom-oversight of the entries, but they enjoy seeing what they've read and recording their accomplishments.
Now, because we have both boys and girls, you know a generic reading record just wouldn't cut it. So, today's Friday Freebie is actually two freebies – a blue and a pink homeschool reading record! Print them out, one per month, and include them in your end-of-year portfolio. If you're like me and submit a digital portfolio, snap a photo or scan each completed page and add that to the file. I prefer this as it shows the progress of each child's handwriting throughout the year, as well.
Download the reading records by clicking on the links below. Enjoy and don't forget to stop by next Friday for a Mother's Day freebie!
Blue Homeschool Reading Record/Book Log