From colored leaves to turkeys to American flags, check out these November bulletin board ideas.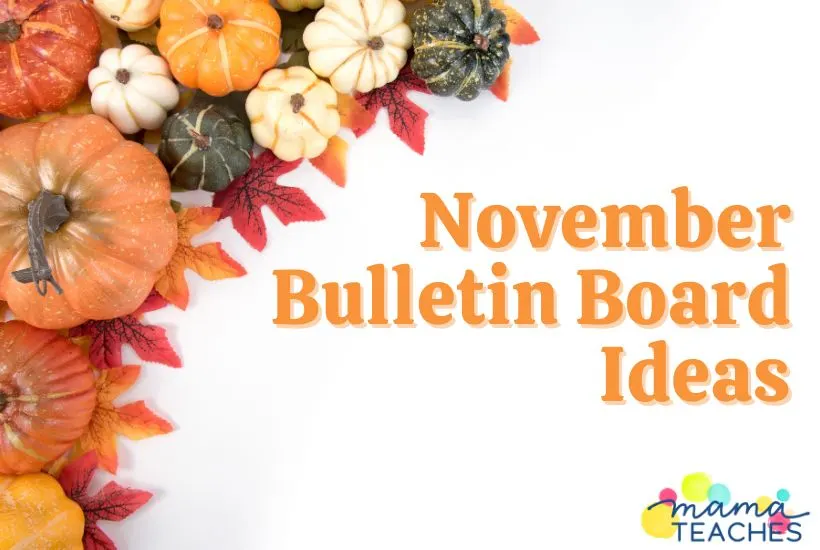 Themes for November Bulletin Boards
November has a lot to it.
Not only is it the quintessential fall month, but it is also the month of Thanksgiving (the fourth Thursday of the month).
This means you have many choices when it comes to the theme of your bulletin board.
You can always plan a fall-themed bulletin board or one for Thanksgiving (with a gratitude theme).
But you can also go for a different bulletin board theme.
Veterans Day is November 11.
If you work at a Christian school, November is typically the start of Advent (the countdown to Christmas).
US General Election Day is the first Tuesday after the first Monday of the month. Election Day for kids can be a huge learning experience!
Even doing something like a leaf chromatography science experiment could lend itself to a unique and fun November bulletin board!
Here are some other November special days:
November 1 – World Author's Day
November 5 – National American Football Day
November 8 – National STEM Day
November 10 – Sesame Street Day
November 23 – Fibonacci Day
November 29 – Giving Tuesday
Do you need more inspiration? Check out these weird holidays in November.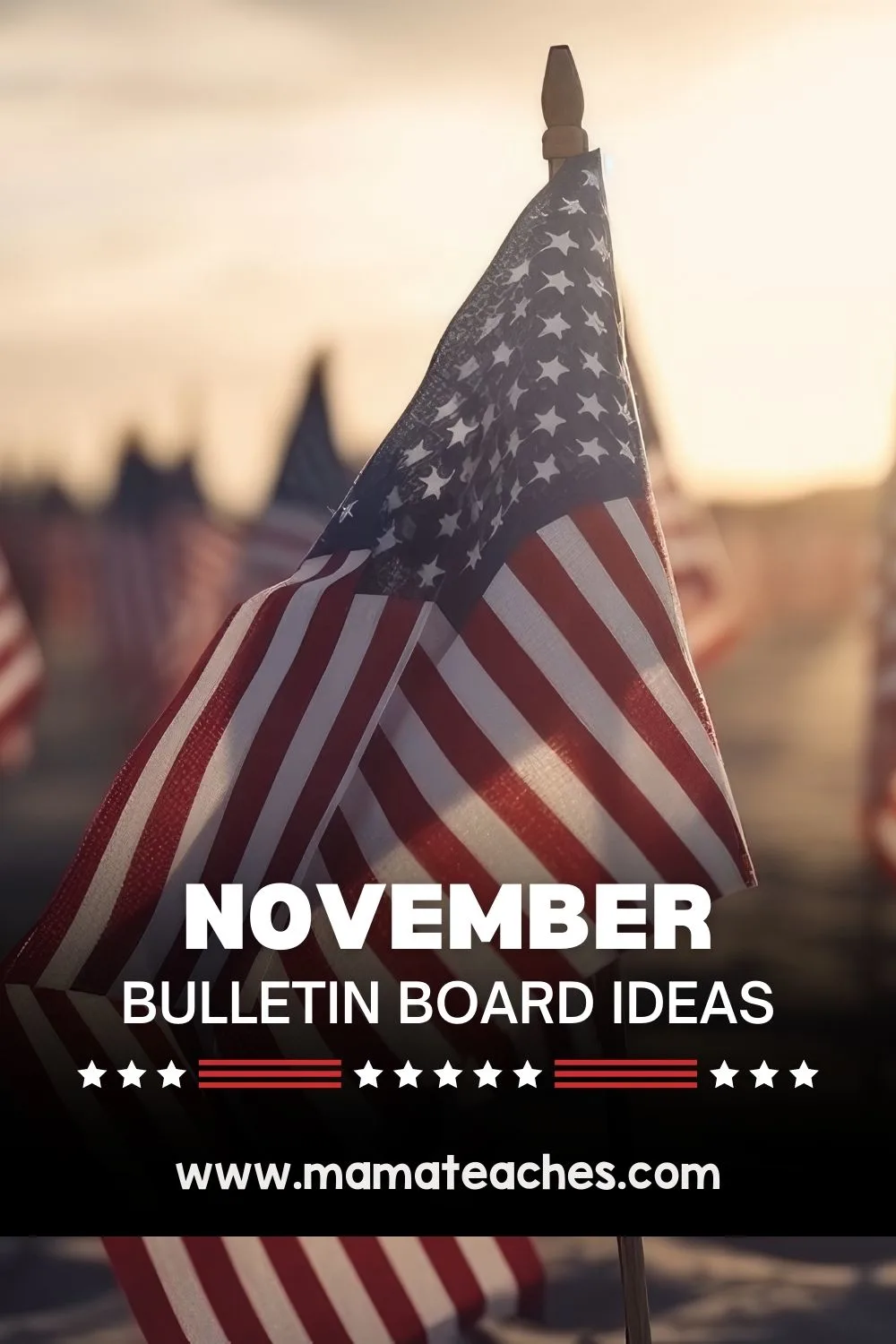 This article contains affiliate links to things that you might like.
22 November Bulletin Board Ideas
Here are some November bulletin board ideas for every classroom and teaching personality.
We Are Thankful Bulletin Board
This cute turkey craft is the perfect place to record each child's list of items that he or she is thankful for.
Veterans Day Streamer Bulletin Board
You can honor veterans with this artsy American flag bulletin board.
Thankful for Books Bulletin Board
This giant turkey doesn't have normal feathers; they are November-themed books!
Parade Bulletin Board
This Thanksgiving Day Parade bulletin board features adorable Peanuts balloons.
You can even use photos of your students as people in the crowd, or have your students draw themselves.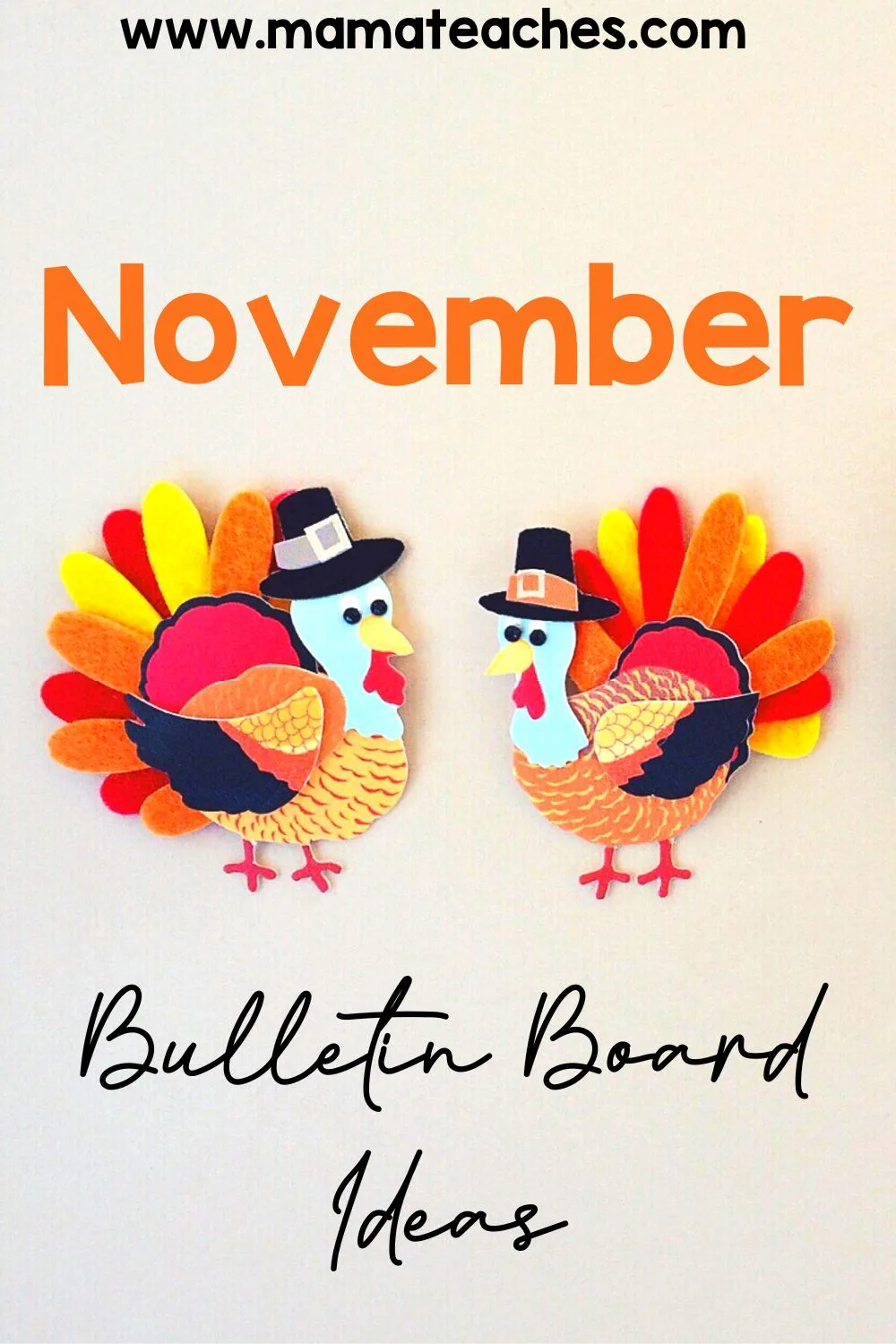 Silly Turkey Bulletin Board
This silly but simple turkey is the perfect center of your November bulletin board.
Artistic Trees Bulletin Board
These tree drawings look beautiful with Groot as a centerpiece.
Thankful Hearts Bulletin Board
This turkey is made of hearts. If you have loads of construction paper, you can make it too!
30 Days of Thankfulness Bulletin Board
Countdown the days of November by flipping over student work.
Your students will love it when their number is chosen!
Persuasive Turkey Writing Bulletin Board
Make a bulletin board out of a persuasive writing prompt.
Have each student write a persuasive piece from the perspective of a turkey: why you should not eat turkey.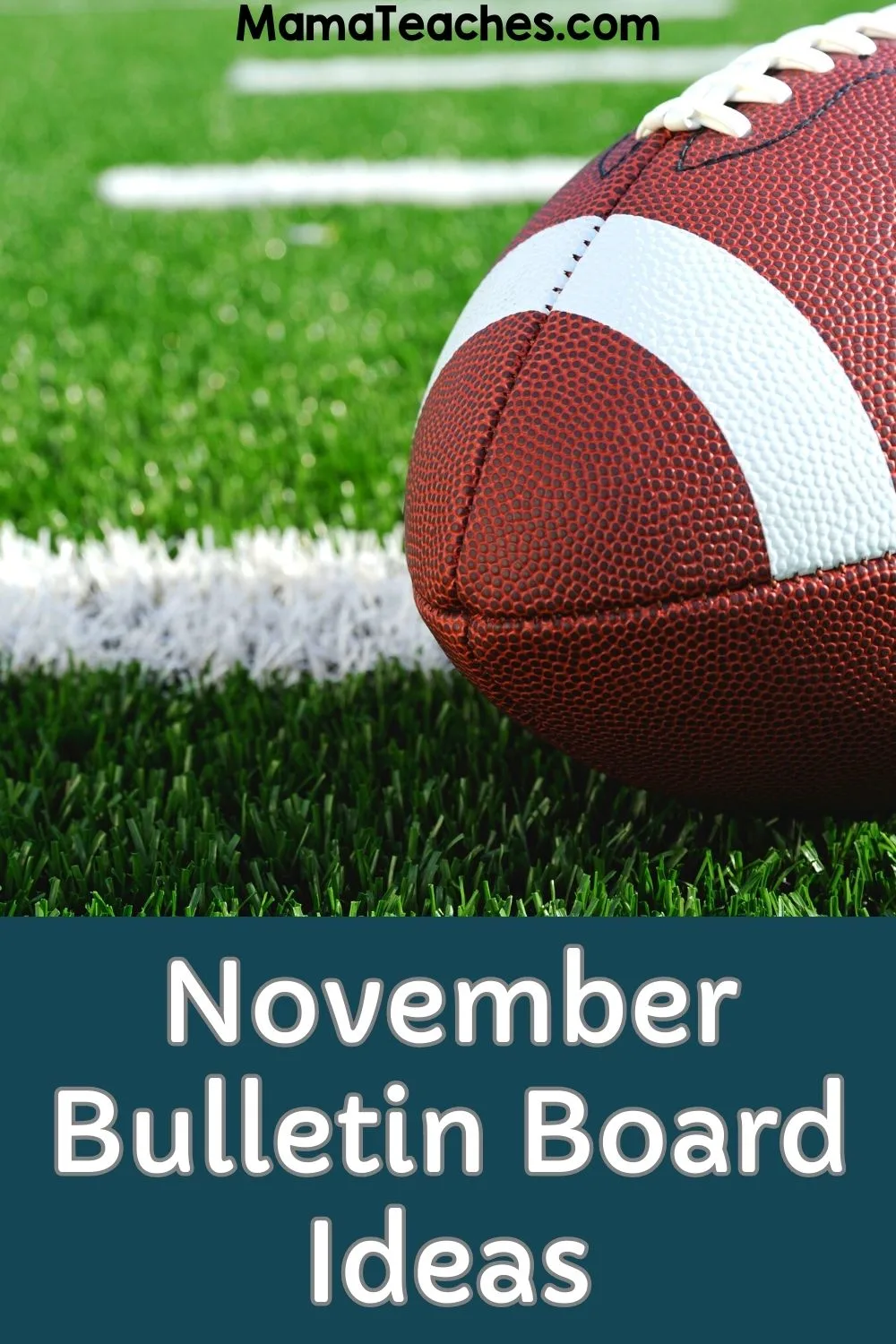 Multicolored Feather Turkey Bulletin Board
Calling all artistic teachers! This giant turkey with scads of colored feathers is an attention grabber!
Veterans Day Outline Bulletin Board
This large bulletin board is a tribute to our veterans.
Charlie Brown Quotation Bulletin Board
This sweet quotation by Charles Schultz is the perfect food for thought in November.
Veterans + Thanksgiving Bulletin Board
This is one November bulletin board idea that combines Thanksgiving and Veterans Day.
Filled with Thanks Bulletin Board
This lovely bulletin board features a focal point leaf circle and a darling children's craft.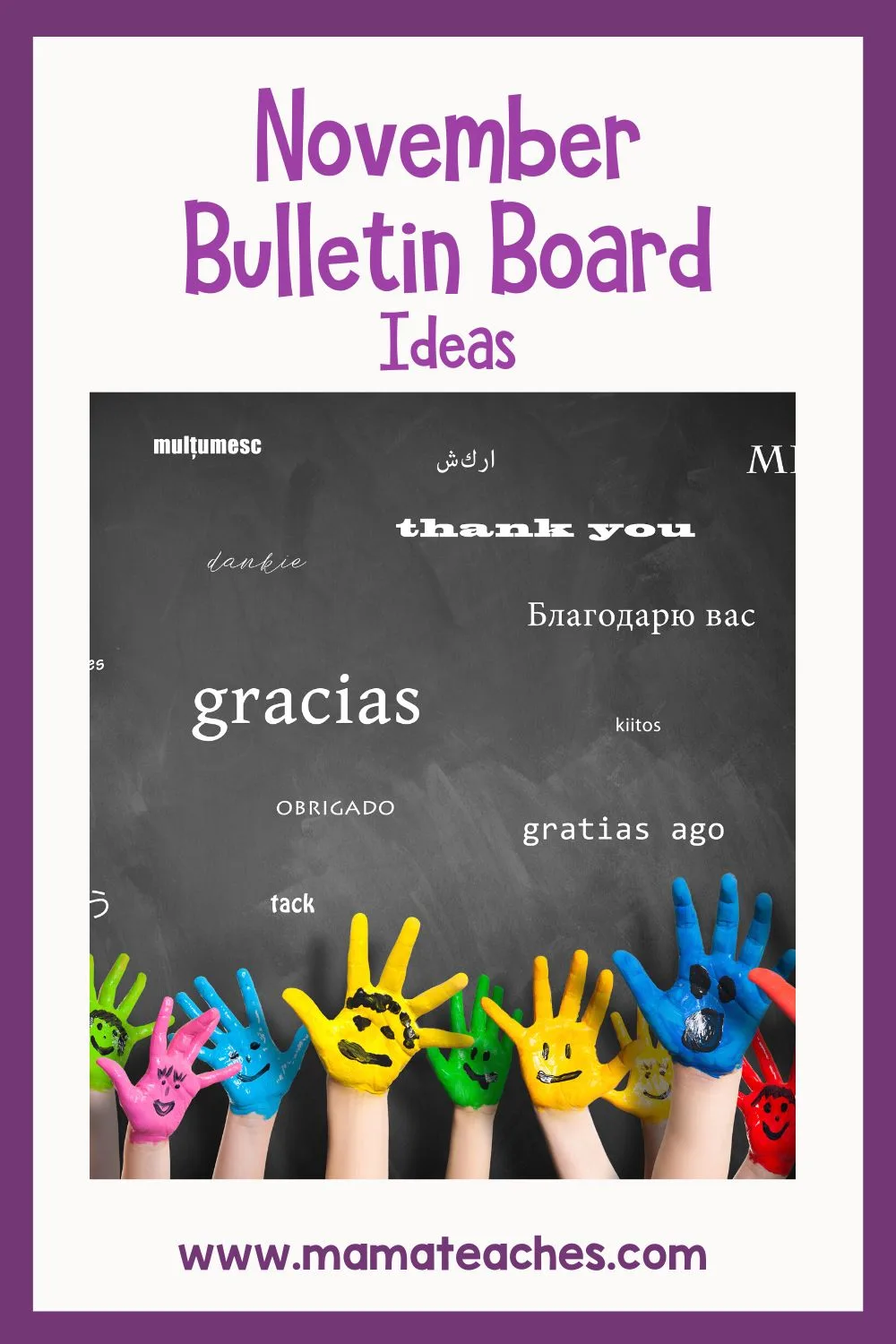 Polka Dot Pumpkin Bulletin Board
This beautiful, artistic bulletin board works equally well for October and November.
Thankful List Bulletin Board
This bulletin board works like a chalkboard. You can add what each student is thankful for.
Attitude of Gratitude Bulletin Board
The falling leaves provide a writing space for thankfulness notes.
S'More Learning Bulletin Board
If you want to avoid a holiday-themed bulletin board, you can opt for a general fall board.
STEM Bulletin Board
This board is the perfect way to celebrate National STEM Day on November 8.
Thankful and Happy People Bulletin Board
This bulletin board makes the most of a thoughtful quotation.
Fall in Love with a Good Book
Promote reading and celebrate fall with this November bulletin board idea.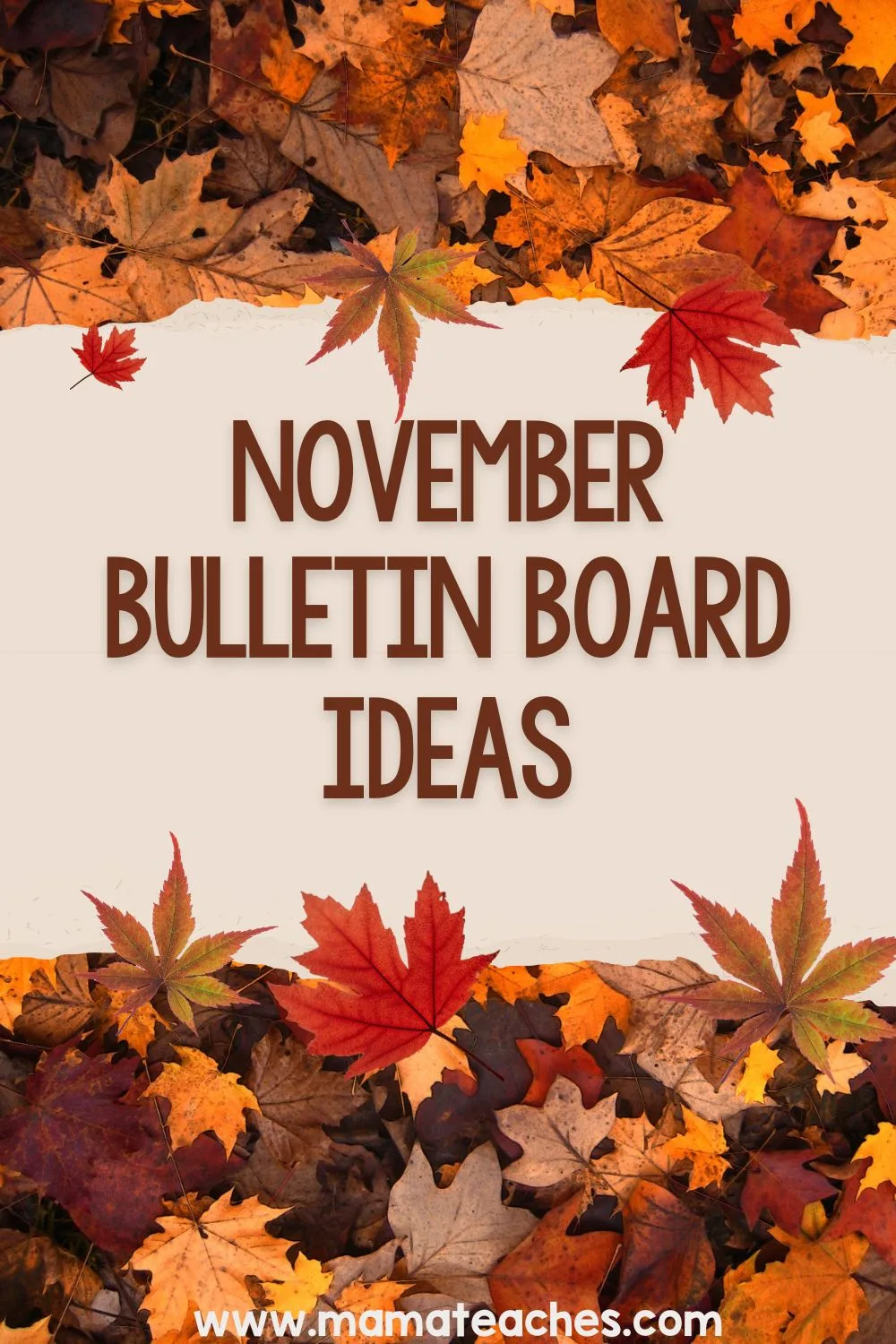 Eat More Chicken Bulletin Board
This humorous bulletin board is a great focal point for the room.
Classroom Bulletin Boards for November
These November bulletin board ideas span from simple to ultra-crafty.
Choose the one that suits your style and your classroom.
You can focus on Thanksgiving, Veterans Day, or just general fall; it's all November-appropriate!
You May Also Like: