I don't know about your kids, but mine love Star Wars!
With May the 4th quickly approaching, I decided to whip up a choice board that sneaks some learning in while also celebrating "Star Wars Day". Take a look!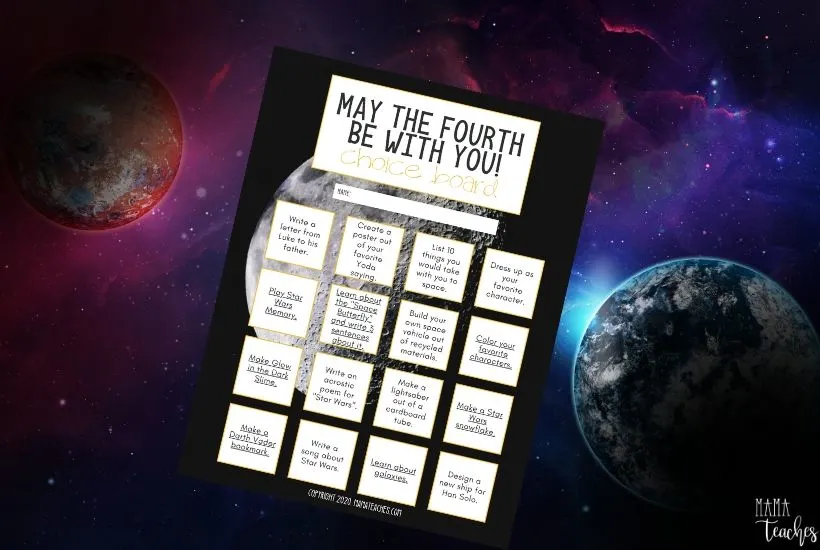 This article contains affiliate links to things that you might like.
What Is a Choice Board?
Great question! A choice board is a group of activities that give students options for learning fun.
It's typically done on a printable or, more recently, digitally.
It's a good way to get students excited about learning something new or reviewing information while giving them options.
Kids, for the most part, like self-directed learning, so a choice board is a good compromise.
You can use them in the classroom – both in-person and digitally – or at home when working with your own kids.
I liked to use them a lot when we were homeschooling elementary grades because it made the kids feel responsible for and invested in their own learning.
Grab the FREE Printable PDF version and the Google Slide version below!!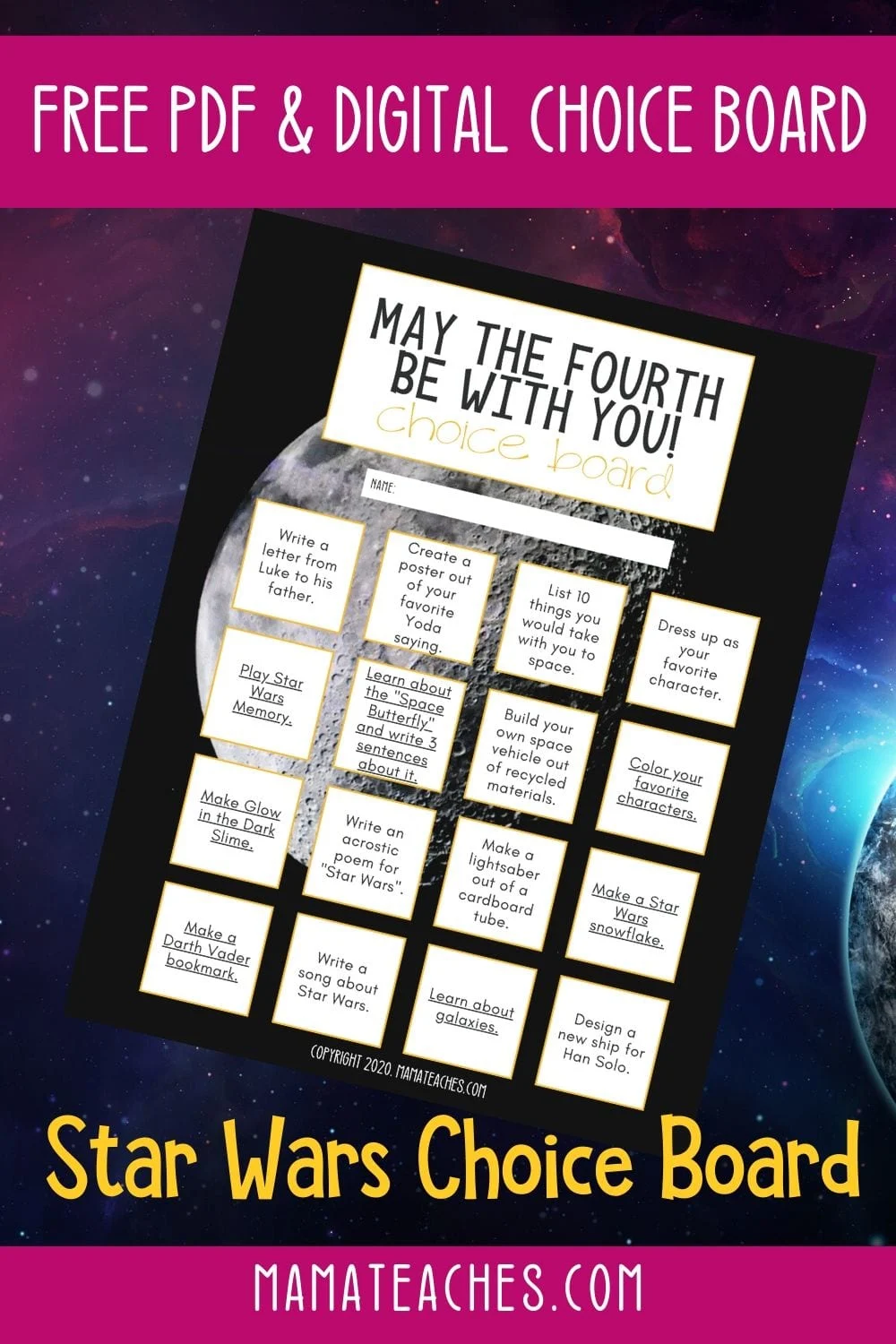 May the 4th Be With You Choice Board
May the 4th is dubbed "Star Wars Day" because it sounds a lot like "may the force be with you."
So, if you have Star Wars fans at home or in your class, a May the 4th-themed choice board is an excellent choice.
It adds some levity to the day and makes learning and you more relatable. A teacher who loves Star Wars?!? Could it be?!
This particular choice board has 16 activity options.
Some are linked, but if the links are not working correctly for you, I've included them below. Take a look at the options below:
Star Wars-Inspired choice board options
Write a letter from Luke to his father.
Create a poster out of your favorite Yoda saying.
List 10 things you would take with you to space.
Dress up as your favorite character.
Build your own space vehicle out of recycled materials.
Write an acrostic poem for "Star Wars".
Make a lightsaber out of a cardboard tube.
Write a song about Star Wars.
Design a new ship for Han Solo.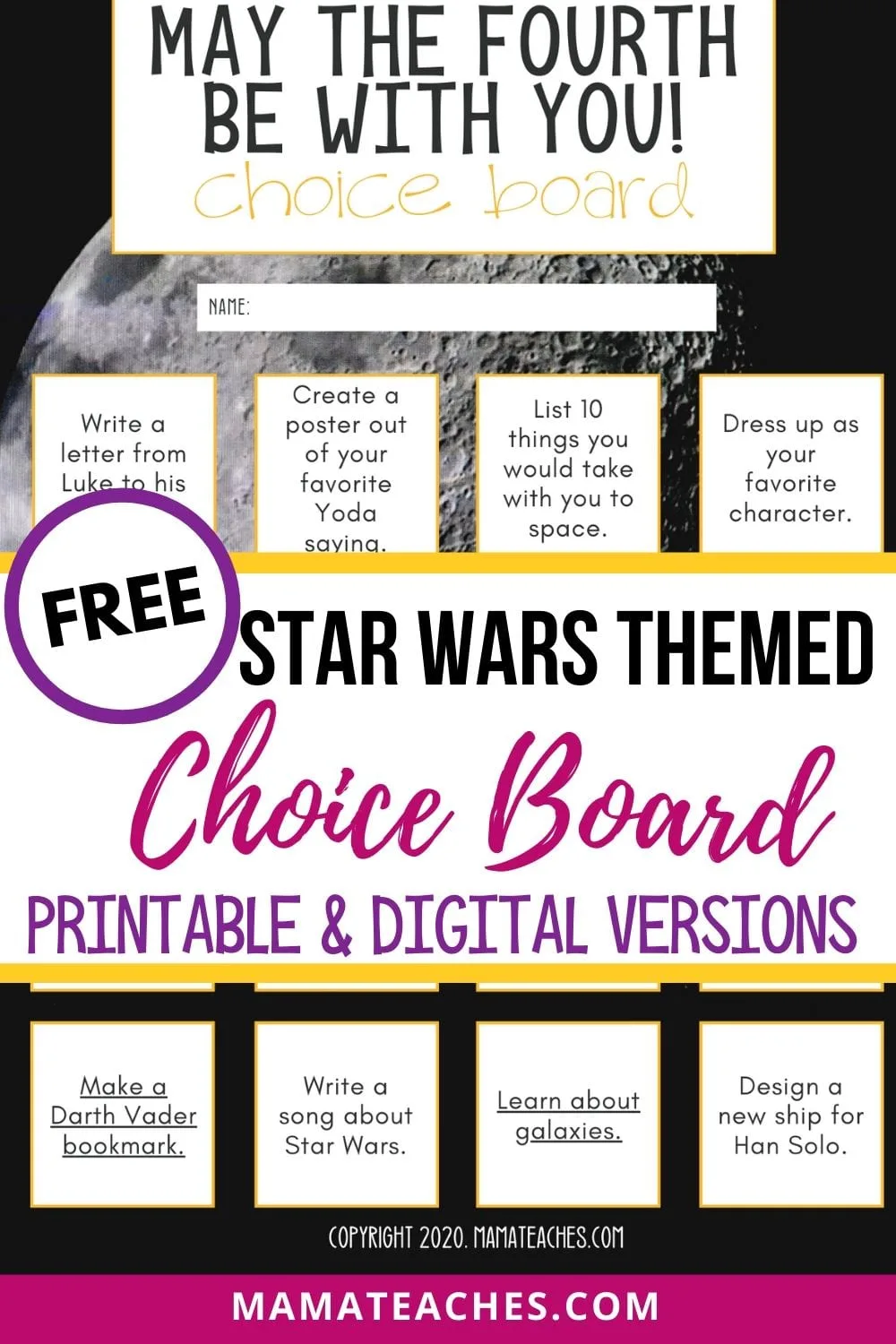 Grab Your Free Copy of the May the 4th Be With You Star Wars-inspired Choice Board in the Freebies Library!
UPDATE! The choice board is available as a PDF and as a Google Slide so you can use it in your Google Classroom!!!
Already signed up? Click here to enter your password! (I send the password out each week in the newsletter, so search your inbox for "Brandi" and past newsletters should pop up.)
Not signed up yet? No worries! It's free! Just fill out the form below and the password will be emailed to you!
You Might Also Like