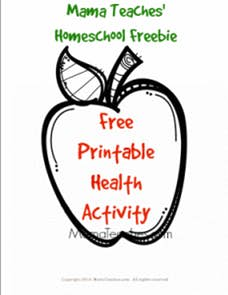 There's been a lot of discussion over what we eat and how it impacts our energy levels and overall health. Junk food definitely means lower energy levels and less happy campers. Since we've been talking and learning about health, I came up with a fun and easy free health printable for kids (aka an awesome activity sheet) to accompany our discussions.
APPLE A DAY: FREE HEALTH PRINTABLE FOR KIDS
The Apple a Day Free Printable is great to include with your health unit and can be adapted for any age. I have also included a list of books that you might want to use with your activity on the second page of the PDF. I hope it helps make teaching health and nutrition a little bit easier in your homeschool household! Enjoy!
Download
Download the Free Apple a Day Printable Health Activity for Kids here or by clicking on the picture below.