1973 was a fascinating year! From Secretariat to Shrinky Dinks, Robin Hood to Spam, learn all about this incredible year with these fun facts about 1973.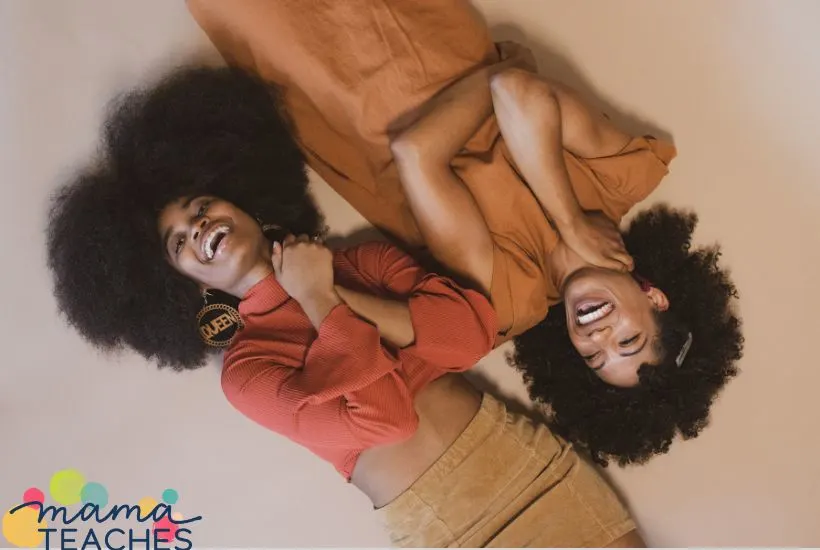 1973 Fun Facts
In 1973 Richard Nixon was president, and Spiro Agnew was Vice President (although Agnew resigned this same year).
In January of 1973, the US, North Vietnam, South Vietnam, and the Viet Cong signed the Paris Peace Accord, which officially ended the Vietnam War.
But what else was happening in 1973? What did people wear, watch, and listen to?
Who was born in 1973, and what were the most popular names that year?
Read on for a list of fun facts about 1973!
---
This article contains affiliate links to things you might like.
1. Oreos were 59 cents in 1973
The dollar went further in 1973 than it does today (even though inflation skyrocketed in the early 1970s).
You could buy a gallon of gas for 40 cents. A first-class stamp cost only 8 cents. A gallon of milk was $1.40, eggs were 69 cents a dozen, and a package of Oreos was 59 cents.
The average cost of a home in 1973 was $32,500, and you could buy a new car for $3,200.
This was countered by the average family income: a little over $12,000.
Times sure have changed for OREO prices!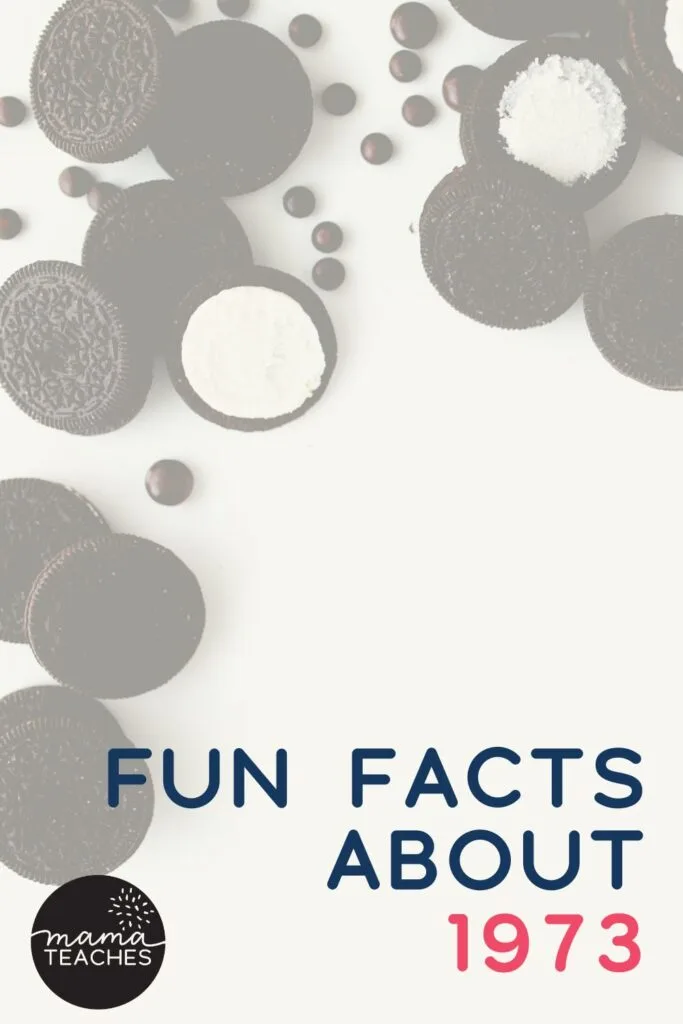 2. Family Shows Topped the Ratings
The top three television shows in 1973 were All in the Family, The Waltons, and Sanford and Son.
The fourth and fifth most popular shows were M*A*S*H and Hawaii Five-O. CBS aired 4 out of the top 5.
3. People Loved SPAM and Tab
Food and beverage favorites of 1973 included carrot cake (invented in England in the 1940s), jello salad (yep, people put fruits and vegetables inside jello and called it a salad), quiche, deviled eggs, cheese balls, SPAM, Tab, and Hamburger Helper.
4. David Blaine the Magician Was Born in 1973
David Blaine wasn't the only celebrity born in 1973. Check out this list of famous people born in 1973.
Heidi Klum
Jim Parsons
Pharrell Williams
Neve Campbell
David Chappelle
Kate Beckinsale
James Marsden
David Blaine
Nick Lachey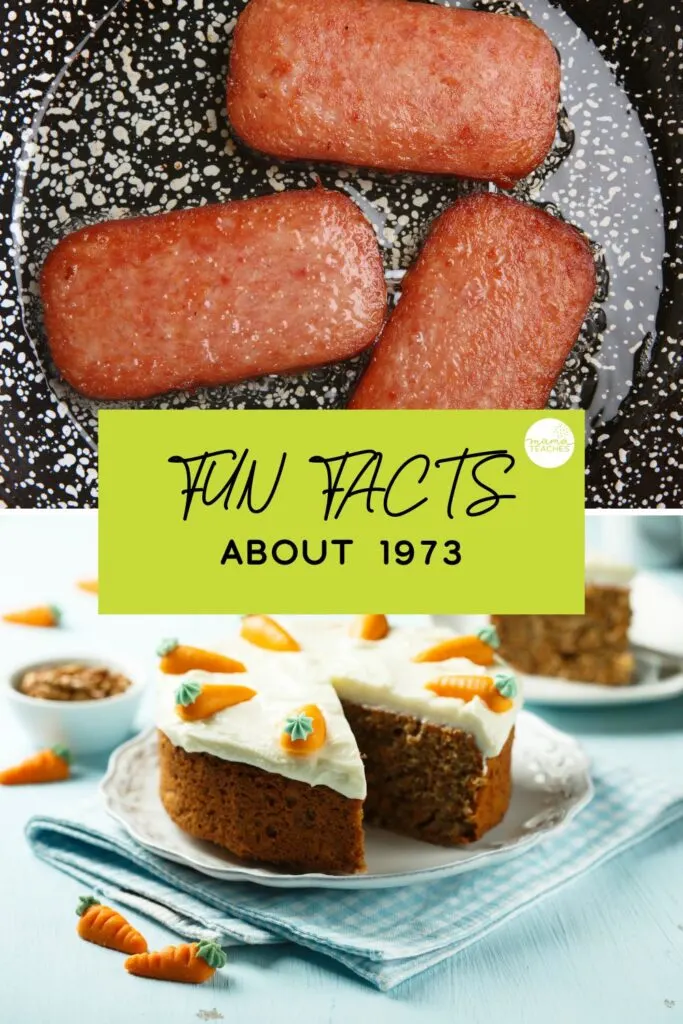 5. Jennifer and Michael Were Popular Names for Babies–Again
"Jennifer" and "Michael" continue their reign as the top baby names (Michael had been at the top since 1961).
Other popular names for girls were Amy, Michelle, Kimberly, and Lisa.
Boy names at the top were Christopher, Jason, James, and David.
6. Secretariat Wins the Triple Crown
In stunning wins, Secretariat won the Kentucky Derby, the Preakness Stakes, and the Belmont Stakes to garner the illustrious Triple Crown of horseracing.
Secretariat, whose nickname was Big Red, is known as the "horse of the century" for his unbelievable speed and heart.
Disney came out with a movie about him in 2010.
7. Kids Played with Shrinky Dinks
The most popular toys in 1973 were Shrinky Dinks, the Evil Knievel Stunt Cylce, Baby Alive, Tonto figures, the Fun Dune Buggy (a ride-on toy that went 2 mph), Hoppity Hops, and Walkie Talkie sets.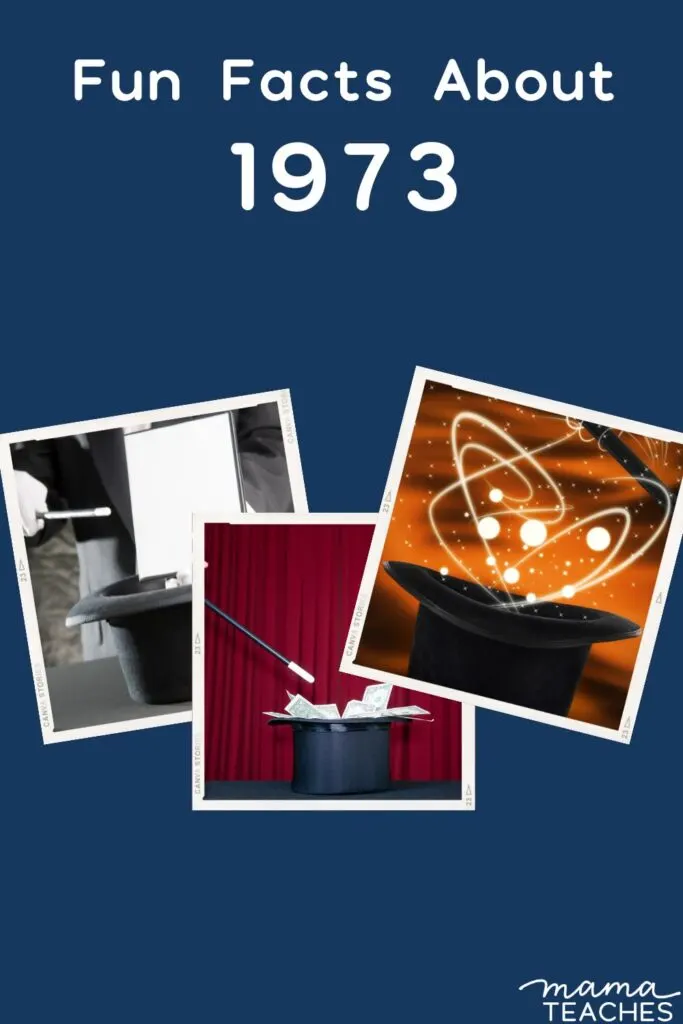 8. "Bad, Bad Leroy Brown" Made Good Music
Other top songs in 1973 were "Tie a Yellow Ribbon Round the Ole Oak Tree" by Tony Orlando and Dawn, Robert Flack's "Killing Me Softly," Carly Simon's "You're So Vain," "You Are the Sunshine of My Life" by Stevie Wonder, and Elton John's "Crocodile Rock."
9. A Scary Movie Made Huge Bucks
The top-grossing movie of the year was The Exorcist. Next up was The Sting with megastars Robert Redford and Paul Newman.
The top kids movie of the year? Disney's animated Robin Hood.
10. The Handheld Cell Phone Was Invented
The cell phone had its start in 1973 when Motorola engineer Martin Cooper invented a handheld cordless phone. Yes, you could hold it in your hand, but it weighed 2 1/2 pounds!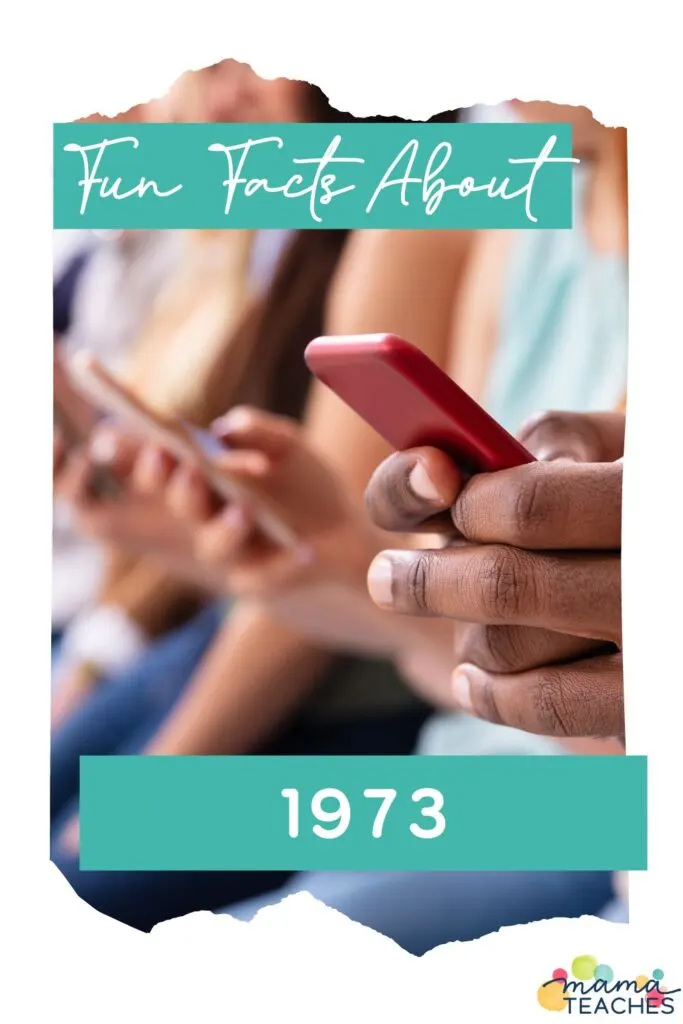 11. The Hippie Look Was in Fashion
Big hair was all the rage in 1973: Afros, long hair, and muttonchops dominated the scene.
People wore bell-bottoms in denim and corduroy, colorful shirts (especially plaid, paisley, tie-dye, and patchwork prints), and platform shoes and Hushpuppies.
1973 Pop Culture Fun Facts
1973 was a year full of political change, clever inventions, and outrageous fashion. Delve into the past with these fun facts about 1973.
You May Also Like: