It's tempting to start comparing your homeschool to other homeschoolers you see online.
Curb the homeschool comparisons with these tips.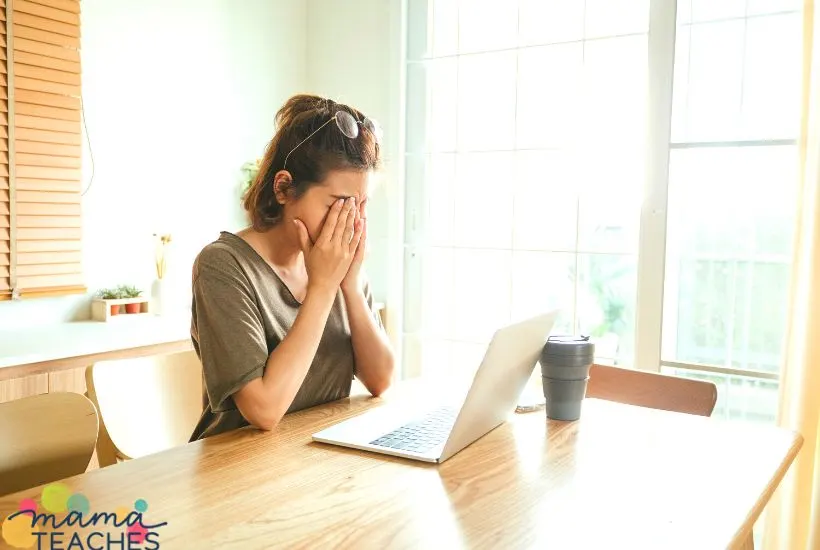 Homeschooling Community
There is a beautiful homeschooling community online.
From blogs to Instagram, Youtube to Facebook groups, and wherever you dwell online, there will surely be homeschooling parents.
With such free access to other homeschooling parents, it's easy to get caught up in what other parents do with their kids (and what you aren't).
Some have fancy homeschooling rooms, and others are only outside (it seems).
Letting doubt creep in that you aren't good enough or don't do the "right" things with your kids is unsuitable for you or your mental health.
Keep reading to get some homeschooling encouragement and ideas for combating homeschool comparisons and comparing yourself to others.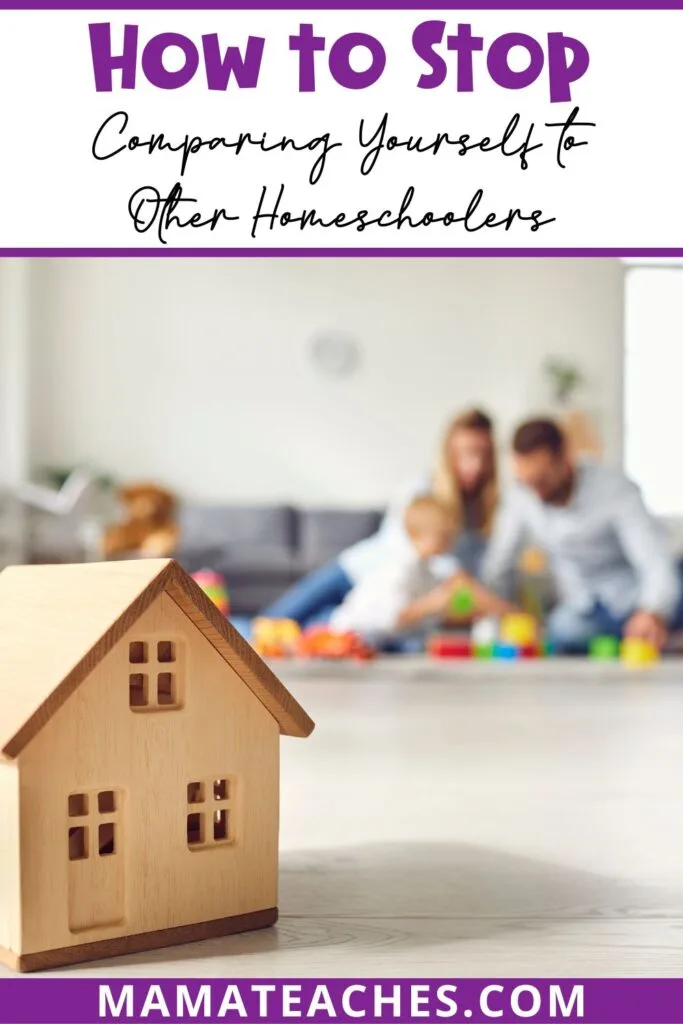 This article contains affiliate links to things that you might like.
How to Stop Homeschool Comparisons
1. Avoid Social Media Groups or Accounts That Make You Feel Inferior
The aesthetic of certain groups or accounts may draw you in.
But if these accounts and groups are causing you to start comparing yourself to others and second guess what you are doing in your homeschool, then it's time to unfollow or leave the group.
We tell our kids to stay away from them if someone isn't being nice to them.
We should take this advice when we realize certain accounts are causing us not to be nice to ourselves.
2. Remind Yourself That Every Family and Homeschool is Unique
Each family and homeschool has their own strengths, likes, dislikes, and weaknesses.
Being outside all day may work for some families, but it isn't practical for others.
Focus on what you love about your homeschool.
Find out what works for your kids and you, and keep on going.
Homeschool comparisons are never equal comparisons because every kid (and parent) is unique.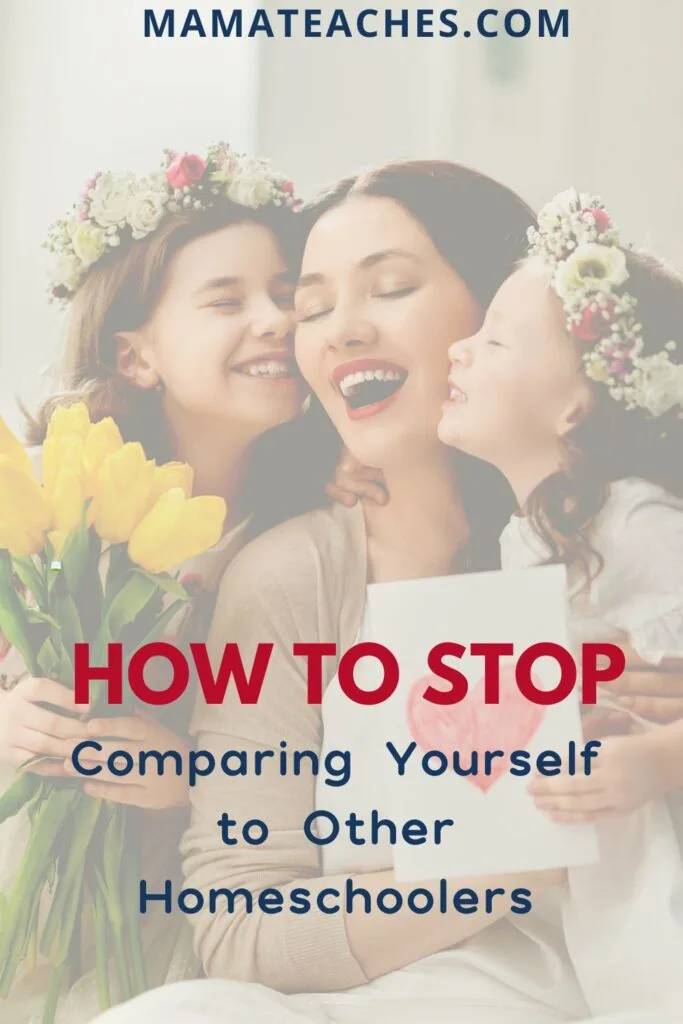 3. Celebrate Your Successes and Achievements, No Matter How Small
Getting your kid to sit at the table for three minutes is undoubtedly something to celebrate, especially when it has been a struggle all year.
It doesn't matter that someone you follow has kids that can sit at the table for twenty minutes.
Homeschool comparisons can be a thief of joy in your homeschool.
Let your homeschool have its successes and achievements. Celebrate them!
4. Prioritize Self-Care and Your Well Being
When you feel good, you are more confident. With more confidence comes less of an urge to start comparing yourself to others.
Not only do self-care and your well-being make you feel good, but it also makes you a better teacher.
Of course, it's easier said than done but experiment to find what works for you and roll with it.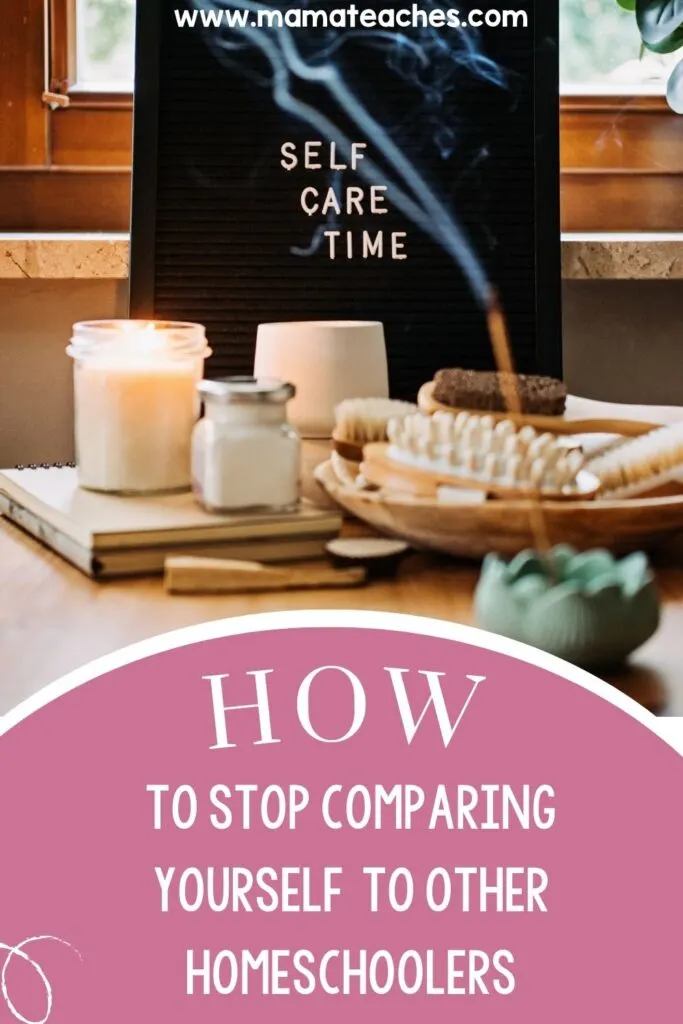 5. Focus On Your Homeschool Journey Goals
Being focused on your own homeschool journey goals leaves you little time to make homeschool comparisons.
So instead, celebrate milestones and achievements to keep everyone in your homeschool inspired and encouraged to continue.
6. Seek Out Support From Others with Similar Values and Goals, and Don't Cause You to Do Homeschool Comparisons
It's lovely to have a community of people who know what you are going through and can relate. With this, you can get ideas for what worked in their homeschooling journey.
Keep in mind that this support system is meant to support you. If, at any point, it no longer serves as support and turns into homeschool comparisons, it is alright to eliminate the community from your life.
7. Remember That Homeschooling is a Journey, and It is Okay to Make Mistakes
Mistakes can be brutal, but mistakes mean you are trying new things and trying to improve. This in itself is a win.
Making a "mistake" means you found something that doesn't work for your homeschool. What valuable knowledge!
Every homeschool runs into hardships. What once worked may need to be adapted to fit your current homeschooling chapter.
People generally post the highlight reel online. Comparing yourself to others isn't fair to you, especially when you only see the highlight reel.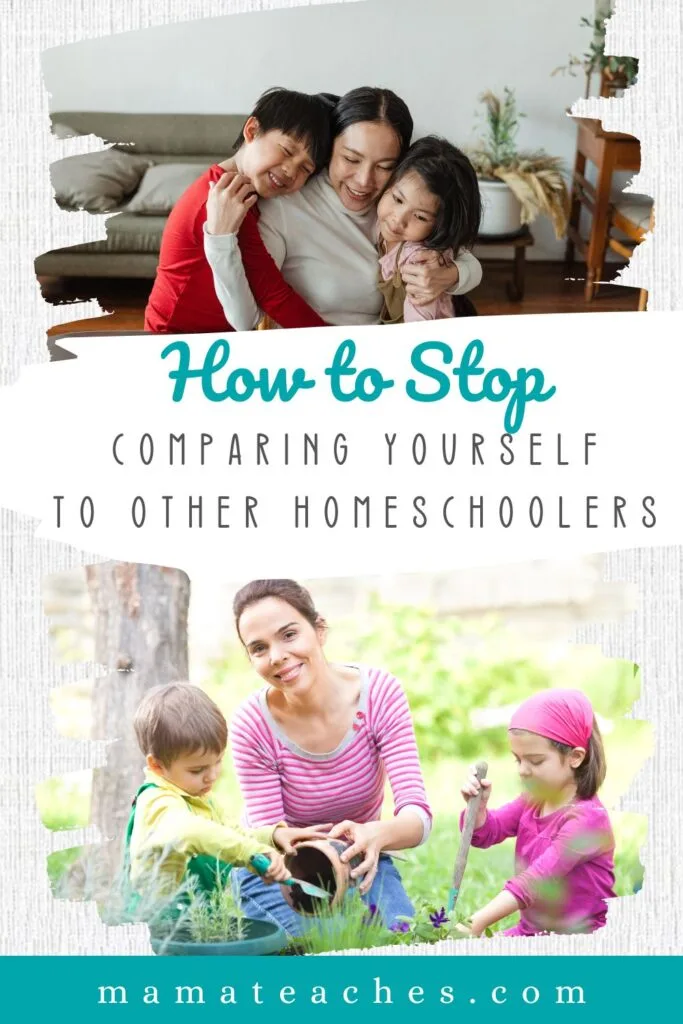 Comparing Yourself to Others
Each homeschool has its own beautiful story. Imagine how boring our world (in social media feeds) would be if we all did the same thing at the same time in the same way.
Embrace homeschooling communities, but ensure there is no room for homeschool comparisons in your life.
You May Also Like…