New to homeschooling?
Figuring out how to organize your homeschool supplies can be the most challenging part of it all!
These tips will help.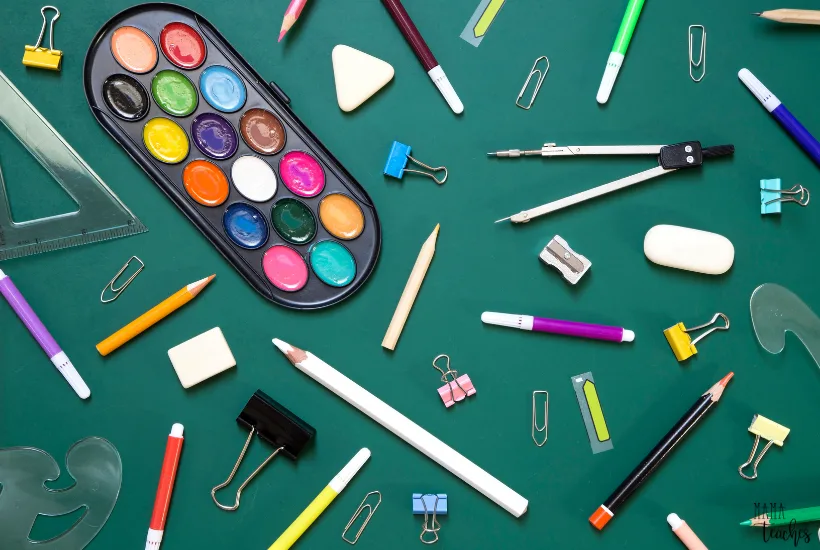 This article contains affiliate links to things that you might like.
Keeping your homeschool supplies organized can seem like a real chore and a big bore.
Who wants to deal with that?
Well, we've got news for you!
We found a few key items that have really helped us keep it together, or at least makes it look like we do!
So, we thought we would share with you some of our favorite ways to organize homeschool supplies.
Check them out below!
Best Ways to Organize Homeschool Supplies
Desktop Carousel
Think of a desktop carousel as the Lazy Susan for school supplies.
It's pretty much a spinning unit of small vessels to contain your pens, markers, pencils, glue sticks, and more.
If it fits, it spins, and you should put it in there.
It is the simplest way to go from a jumbled mess to an uncluttered desk.
It doesn't get much easier.
Stacking Files
These stackable paper holders are a dream.
While you would think they are just for paper files, they are not.
They can fit binders, sticker packs, notepads, books, and more.
Have one for each child, or maybe, one for each day.
However you decide to use your paper holders, we know one thing for sure: stacking files will make you smile!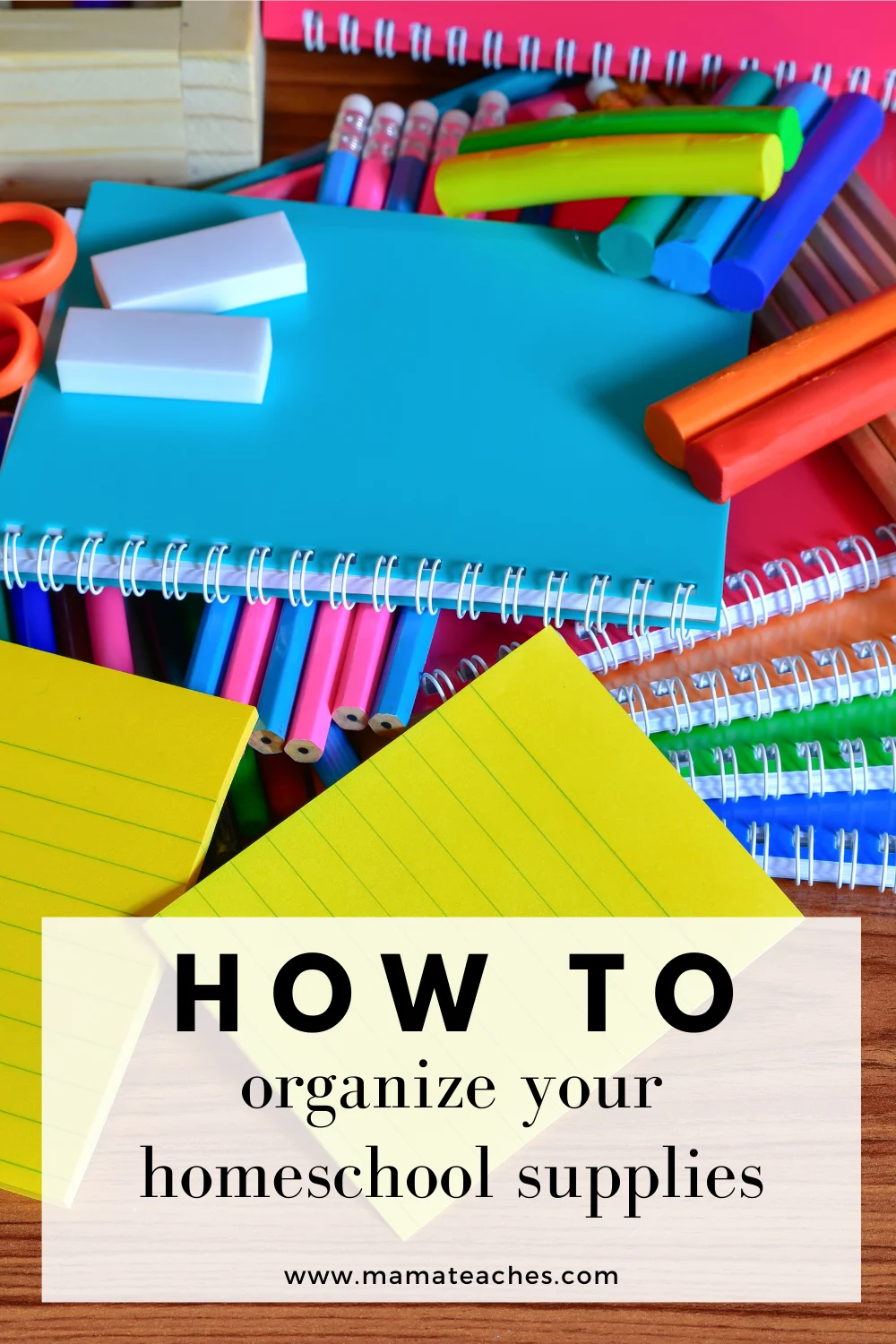 Glass Jars
We love glass jars for many reasons, but most importantly, we think they are perfect for storing and organizing a variety of homeschool supplies.
Great for craft and activity items, glass jars offer a clear, sturdy, lidded option for storing small pieces like buttons, pompoms, pipe cleaners, paperclips, and the like.
With the contents visible, you and your little ones will know exactly what you're getting into. Note: You can use clear acrylic jars as well!
Baskets and Bins
Baskets and bins are essential for organization.
Available in many different shapes, sizes, and colors, there is a basket and a bin for anything and everything.
From books to CDs, LEGOs to building blocks, baskets and bins are a quick fix for keeping similar items grouped together.
To put it simply, baskets and bins just make everything better!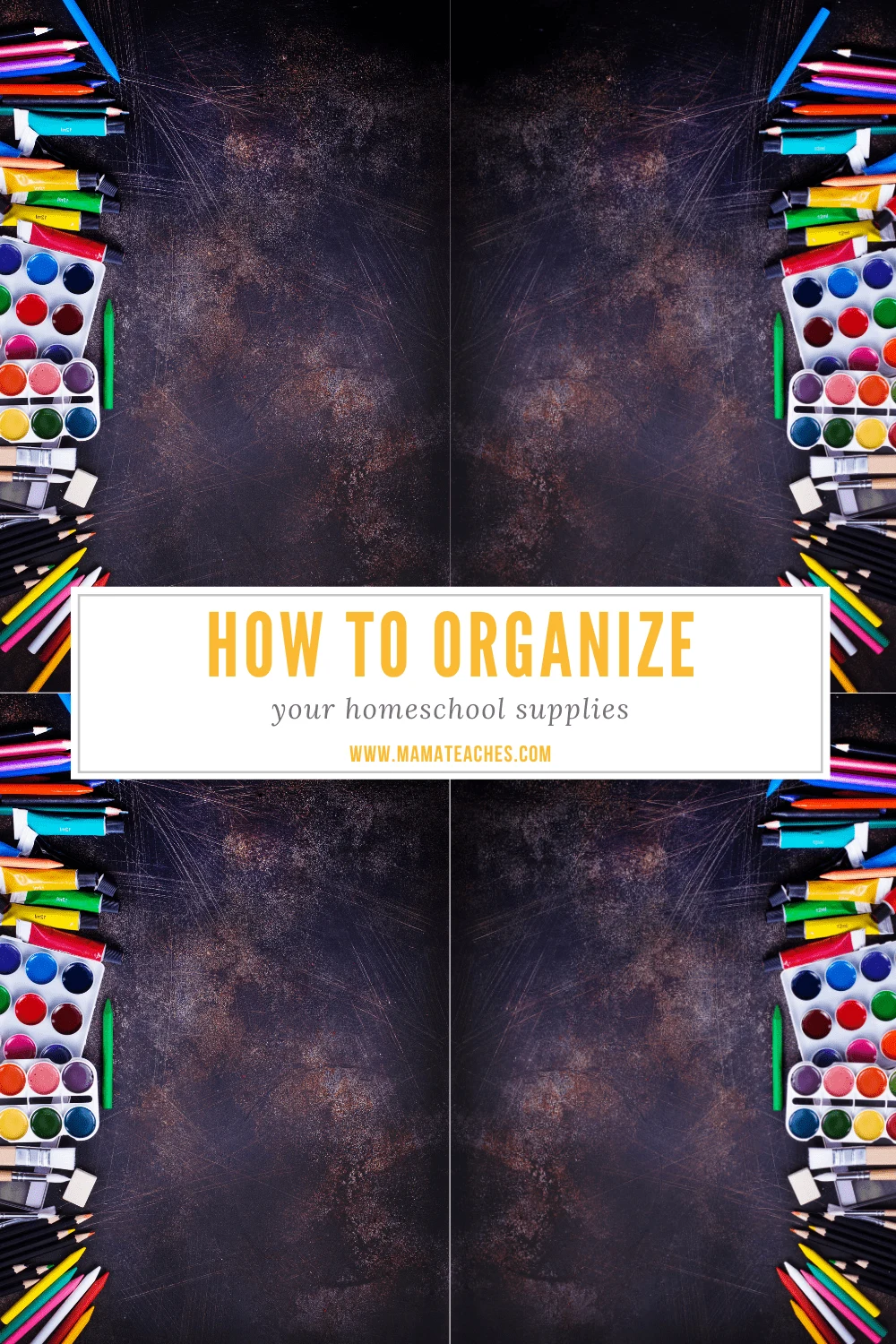 Magazine Holders
These cute little magazine holders are ideal for books, clipboards, planners, and more!
They look nice on a shelf, in a cubby, or at the top of the closet.
They can be color-coded or alphabetized.
The versatility of magazine holders makes them a key item for organizing your homeschool supplies.
How Organizing Your Homeschool Supplies Makes Your Day Better
Keeping your homeschool organized just means there is a place for everything.
So, don't overthink it!
These awesome organization items will help keep your homeschool neat and tidy without breaking a sweat.
When there's less clutter, there's less stress and that makes for better, happier homeschool days.
From desktop carousels to magazine holders, your homeschool will be organized effortlessly in no time.
Let's get organized!
You Might Also Like…