Creative writing – kids either love it or hate it.
That's why it's so important that when teaching creative writing, it's done in a way that is engaging, fun, and structured.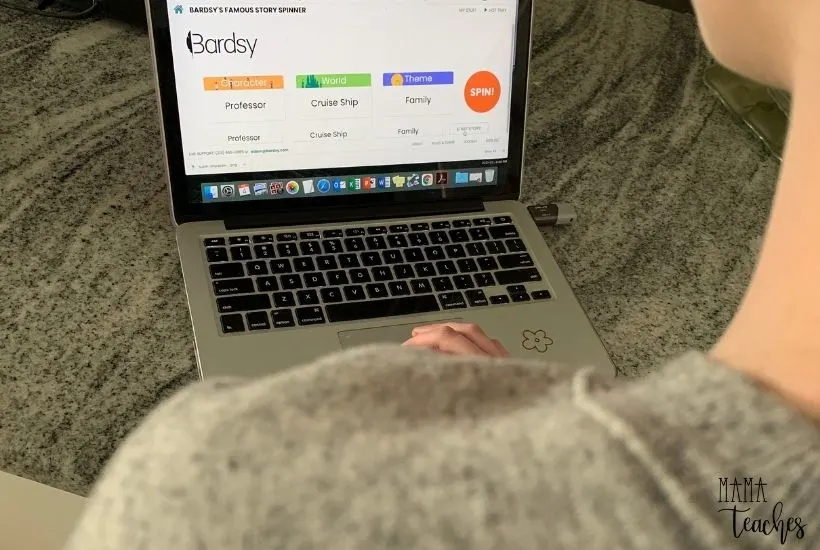 This article contains affiliate links to things that you might like.
Creative Writing
I have been writing stories since I was in elementary school and while I don't write them as much now that I'm older, my love for a juicy story is as strong as ever.
So when I was given an opportunity to try Bardsy Homeschool, an online writing tool for kids, I couldn't wait to dive in.
What I discovered was that even the most avid story writers can benefit from a well-structured program!
Meet Bardsy Homeschool
Unlike a lot of other programs that make writing dull for students (and boring to teach!), Bardsy Homeschool does the opposite.
Writing becomes a fun, low-pressure activity that taps into children's love for stories and creativity.
How does it do that?
With some amazing online writing tools that are designed with even the most reluctant writers in mind.
But First, We Must Teach
Imagine putting your child behind the wheel of a car and telling them to drive.
You have given no instructions, no rules, no assistance.
All you have provided is the car with a good set of brakes.
You can bet your child is going to keep a firm foot on those brakes even after you tell him to drive.
Neither of you are going anywhere and he's probably pretty darn terrified.
Writing is a lot like that.
We give our children a writing prompt and then tell them to write.
That's it.
How overwhelming that blank peiece of notebook paper has to be for them!
Instead, we have to teach them the ins and outs of writing.
We need to give them structure and tools to help them understand how it works and why it's important.
Bardsy Homeschool helps do that.
With writing tools, lesson plans, and video courses, Bardsy gives students that much needed background before putting them in the driver's seat and telling them to go.
It's your young writer's place for safe practice and engaging lessons.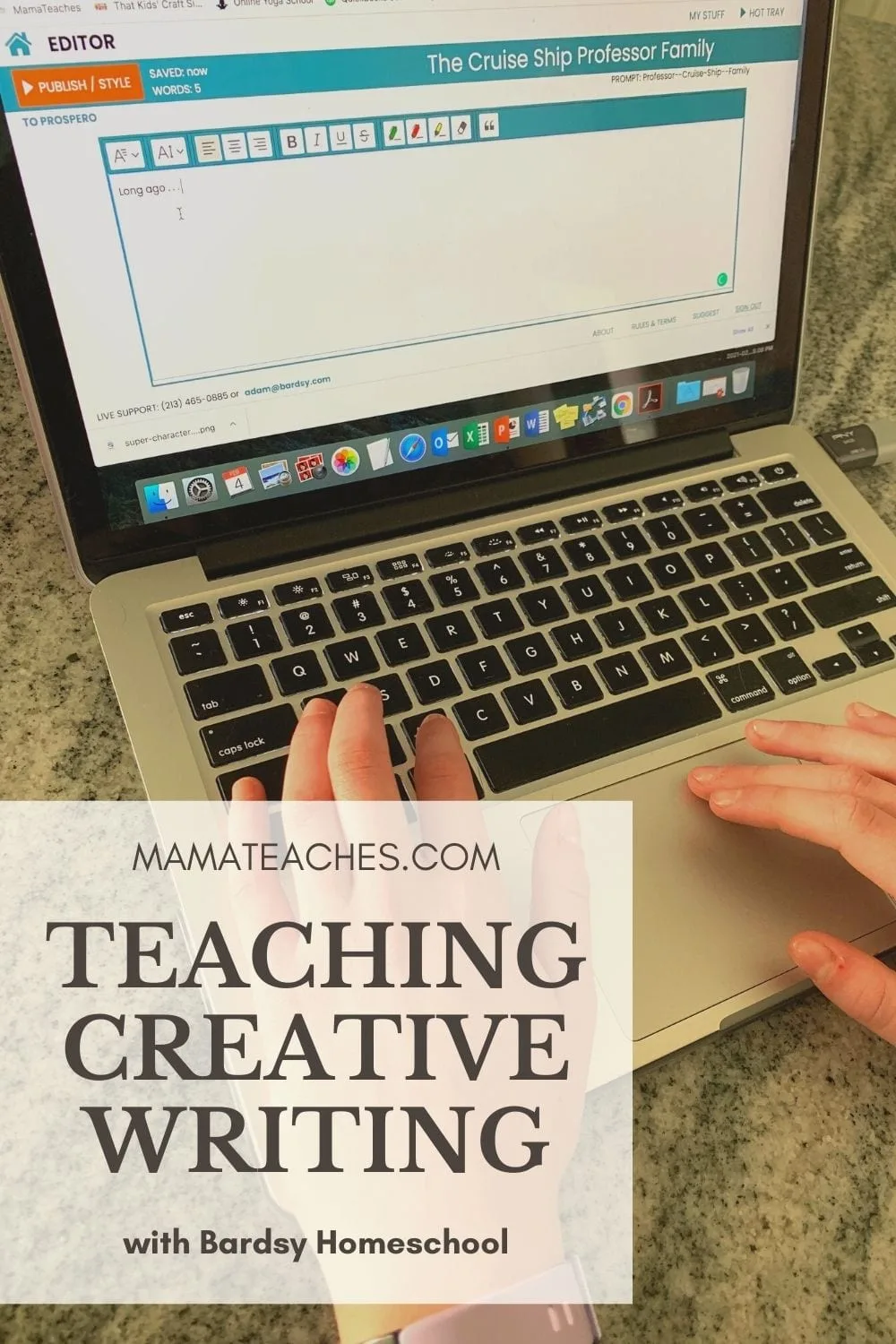 Generating Creative writing Ideas
There are a lot of ways to generate writing topics, but one of our favorite ways is using Bardsy Homeschool's Story Spinner.
When you click on the "Spin" button, the website generates a random combination of story character, setting, and theme.
Some of them are hilarious while others create mystery and intrigue.
All of the options though spark the creativity needed for creative writing success.
"The Story Spinner is my favorite part of Bardsy. I love the combinations it comes up with and, even if I'm not feeling much like writing that day, the Story Spinner suggestions always get me going. If your kids get stuck on writing, this is a million times better than just a plain writing prompt!"

– 7th Grade Daughter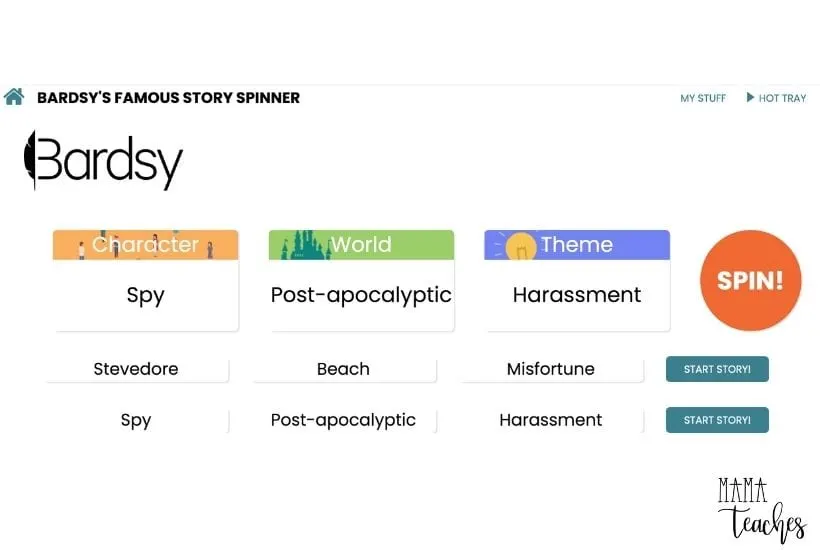 Teaching Creative Writing Just Got Easier
As a homeschool mom, I often loathed teaching creative writing because it was, in many ways, like pulling teeth – especially with my oldest who has dyslexia.
Bardsy Homeschool makes it a lot easier by:
Saving me time with lesson planning
Providing a solid, well thought out homeschool writing curriculum that's presented in multiple ways
Keeping the kids engaged with the lessons and making writing exciting
Offering a ton of organizers so students can easily navigate the flow of stories
and by being a fun, affordable program.
Speaking of affordable, at less than nine dollars a month, Bardsy Homeschool is one of the least expensive writing curriculums we've ever tried.
One of the perks of their billing program is that you can cancel at any time, so if the program isn't working for you, your homeschool situation changes, or you decide to take four months off during the year, you can pause or cancel your subscription.
The converse is also true – if you homeschool year-round, you never have to worry about matching the subscription dates up to when you'll be teaching!
Character Development Toolkit
In addition to their writing curriculum, Bardsy Homeschool has a Free Downloadable Character Toolkit!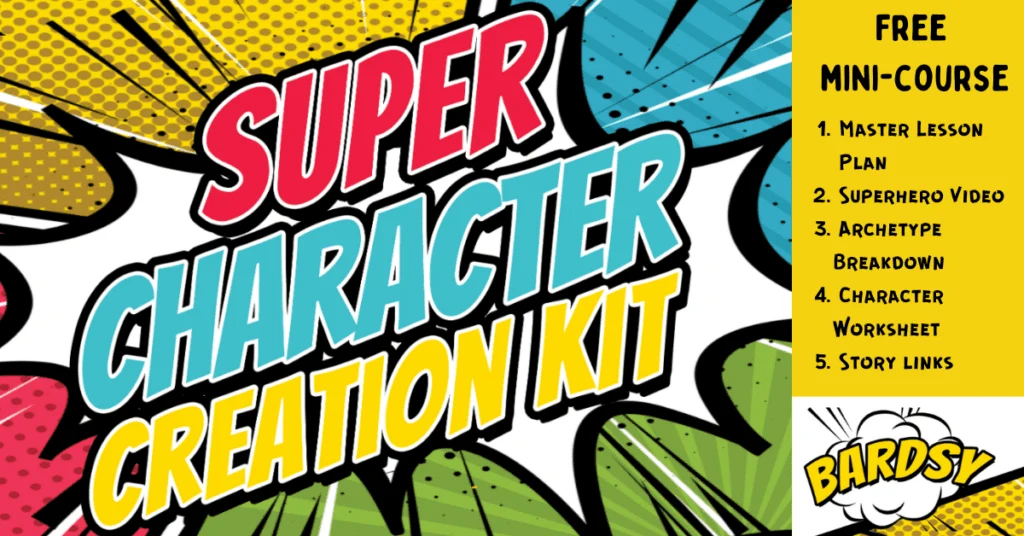 Here's what they have to say about it:
Bardsy Homeschool believes that creative writing supercharges every academic skill.
Storytelling isn't extra-curricular, it's trans-curricular.
It not only bolsters your learner's ability to absorb, process, retain and retrieve information across disciplines, it also increases their tenacity while tackling complex material, subject-specific vocabulary, and new concepts.
Creative writing has even been proven to raise math and science performance.
The Bardsy Homeschool Method breaks storytelling down into two complementary steps: develop and assemble.
This method is woven into our online tools to minimize struggle and make writing accessible and fun.
Now, you can see this method in action with our online Super Character Toolkit.
This comprehensive kit includes:
Create a Super Character Lesson Plan and Activity
Bardsy's Super Character Video Course – Part 1
Three Extensive Character Building Templates
Everything You Need To Get Creative And Get Writing!
Make Teaching Creative Writing Fun Again
If you're struggling to make creative writing a subject that your children don't loathe, Bardsy could be the answer.
Their commitment to making writing fun and engaging is unparalleled.
Check it out today and see how it just may change the course of writing in your homeschool journey!
You Might Also Like…