May 24th is Scavenger Hunt Day, but that doesn't mean you can't enjoy a fun Indoor Scavenger Hunt any time of year!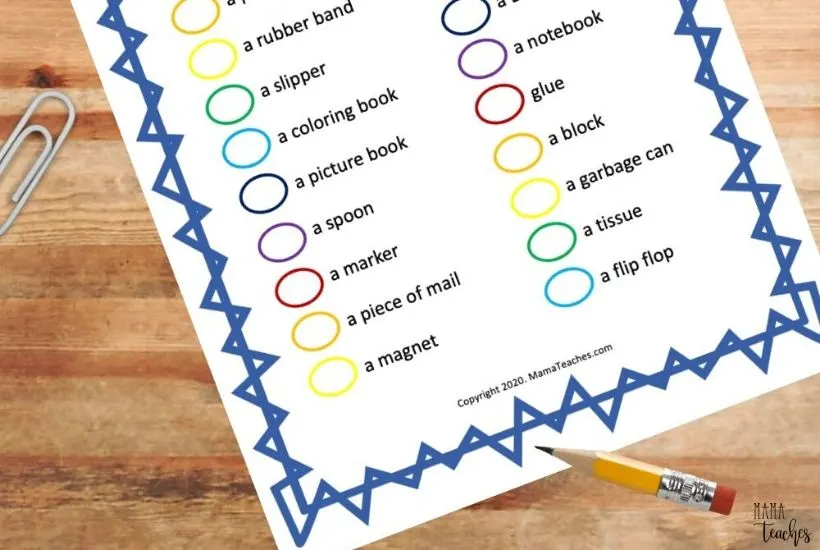 This article contains affiliate links to things that you might like.
Indoor Scavenger Hunts
Whether you're dealing with a rainy day or it's too hot or cold to go outside, you can still get your kids up and moving around with this free printable indoor scavenger hunt!
The link is at the end of the article.
This printable scavenger hunt activity is designed specifically for elementary-age kids.
It features typical things you might have around the house that they can find.
If there's something on the list that you know you absolutely do not have, simply cross it off and add something else!
Why We Like Indoor Scavenger Hunts
Our family loves a good indoor scavenger hunt because it gets the kids moving and active on days when it just isn't feasible to go outside.
It not only works as the ultimate boredom buster, but it burns off energy and gets them thinking.
They have to think about what the item, where it would typically be found in the house, and then the scavenger hunt makes them use their observation skills to find the objects.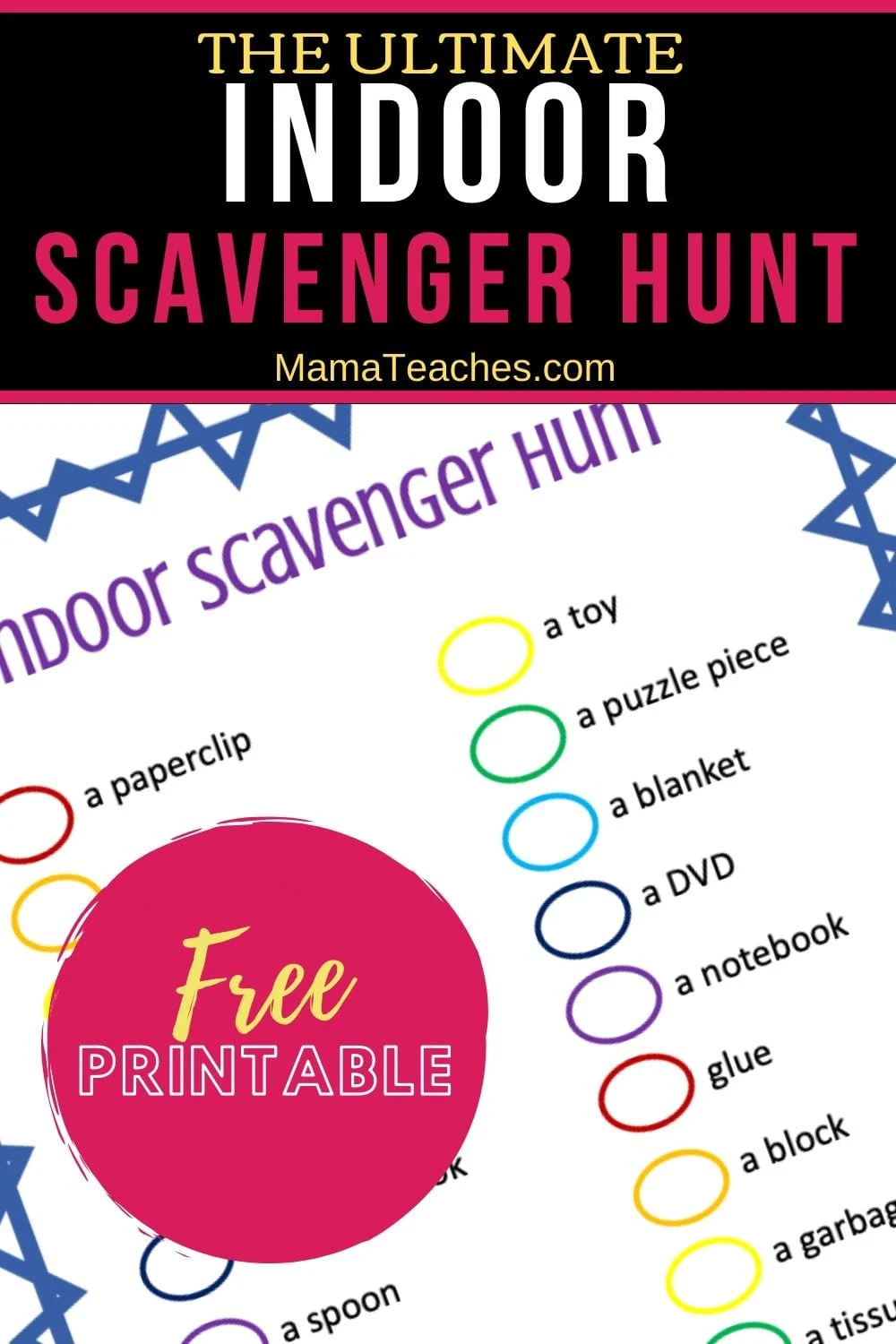 This article contains affiliate links.
How to Play the Indoor Scavenger Hunt Game
To play this indoor scavenger hunt game, give each child or each team a copy of the list.
Set a timer for 15 or 20 minutes and designate a spot in one room where they can place their items.
You can choose to have them return each item to their designated spot one at a time or allow them to gather a few things before they come back to deposit them.
The team who finds the most items by the time the timer goes off wins!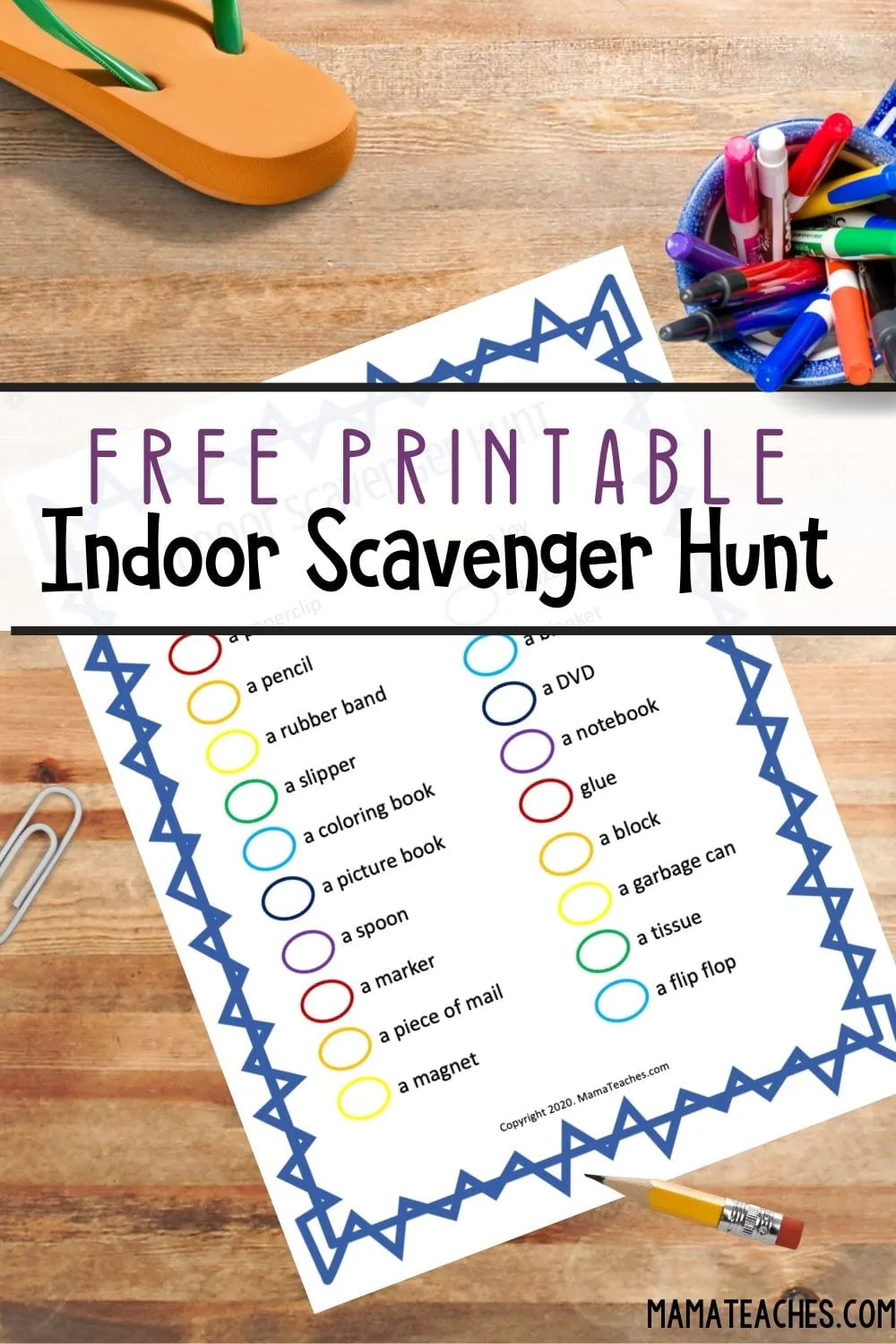 Printable Indoor Scavenger Hunts
This printable scavenger hunt contains a list of 20 items that you might find around the house.
The items on the list include everything from a rubber band to a blanket to a spoon.
This means your kids will be looking in multiple rooms and moving around quite a bit.
The printable comes as a PDF file that has two versions of the same scavenger hunt.
One of them is in color for those who have a color printer and the other is in black and white for those who prefer not to use color ink or who prefer to print on colored paper.
Print one or print them both – it's totally up to you!
You can download your FREE copy of the Indoor Scavenger Hunt printable from our Freebies Library!
Simply fill out the form below and the password for the library will be emailed to your inbox!
Have a blast!