Doesn't everyone love a good virtual escape room?
Puzzles, logic, and drama?
Yes, please!
Here's another reason to love digital escape rooms: they work wonders in the classroom!
Using Digital Escape Rooms in the Classroom
You might think a virtual escape room only has entertainment value, but it's also a fabulous classroom tool.
It can play a number of roles in your day, from smoothing out transition times, igniting interest in a concept, and encouraging cooperation between your in-person or online students.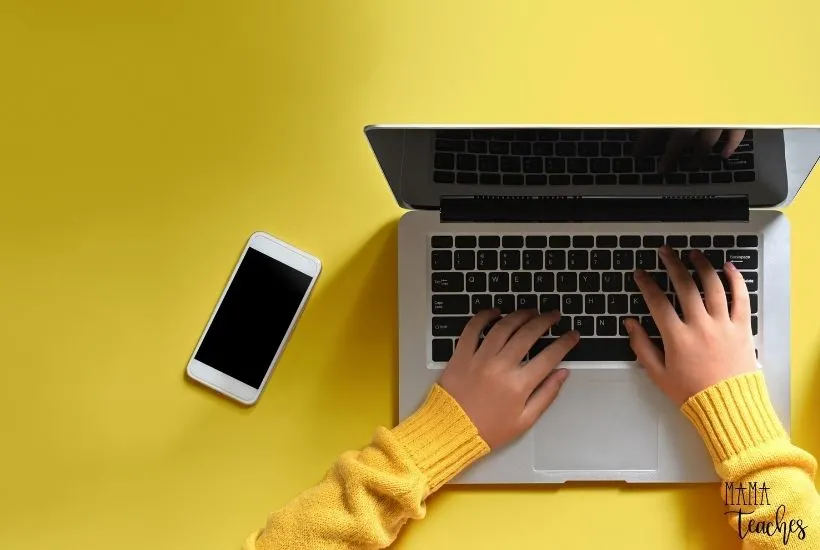 This article contains affiliate links to things that you might like.
When to Use Virtual Escape Rooms
Virtual escape rooms are very flexible because they take a relatively short amount of time to complete.
Use them in any one of the following ways.
Reviewing Concepts
Digital escape rooms cover lots of themes (hello, social studies review!) and use many math concepts (math facts, here we come!).
When you assign a digital escape room that reviews a concept you have already introduced, you are now the super fun (and stealthy) teacher!
Introducing Concepts
Sometimes all you need is a little hook to get a child interested in learning.
Digital escape rooms are an engaging introduction to something new.
Bell Ringers
You need the beginning of class to get yourself sorted, take attendance, and pass out papers.
Virtual escape rooms are the perfect bell ringer to buy you a few moments.
Cooperative Learning
Digital escape rooms simply beg for kids to help one another.
When it comes to an escape room, two heads are definitely better than one!
Foster an environment of cooperative learning online or in-person by grouping your kids together to make the escape.
Early Finishers
When a student finishes early, you can minimize the fidgeting and chatter by having a digital escape room ready to go.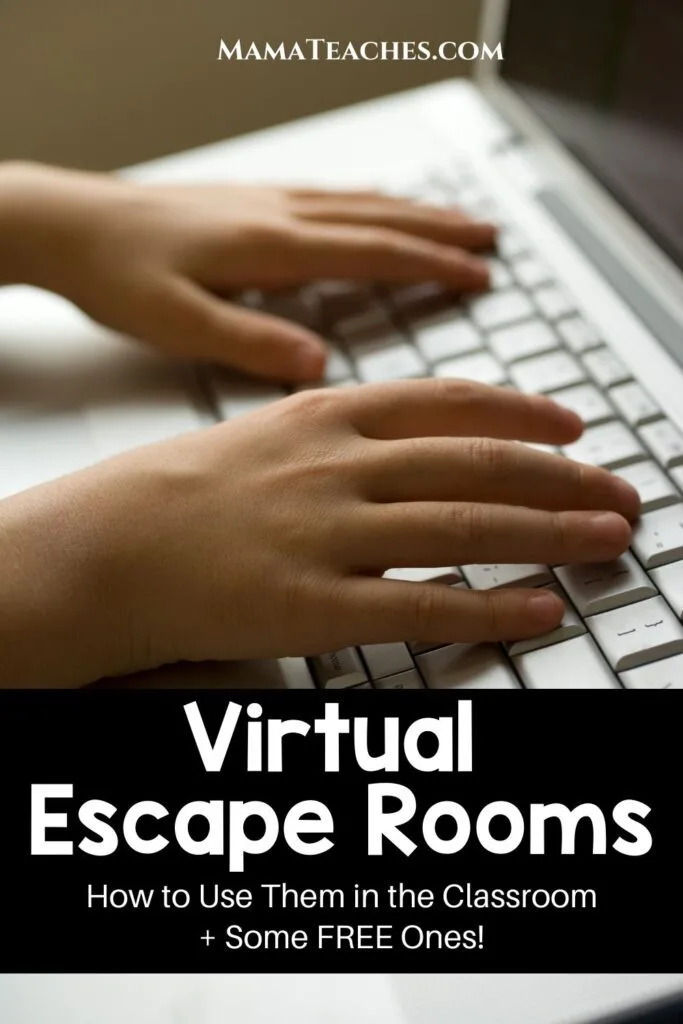 Virtual Escape Rooms List
Here's a list of some fabulous (and free!) virtual escape rooms that work well in the classroom.
The answers are self-checking, but you can find the answers for yourself in the MamaTeaches Freebies Library.
Bring on the turkey, acorns, and leaves!
These math and logic puzzles are perfect for late elementary (or as a quick bell ringer for older students).
This seasonal math escape room practices word problems that involve multiplication and division.
This is ideal for a December, January, or February lesson.
This fast and fun escape room promises some spooky practice with addition and counting.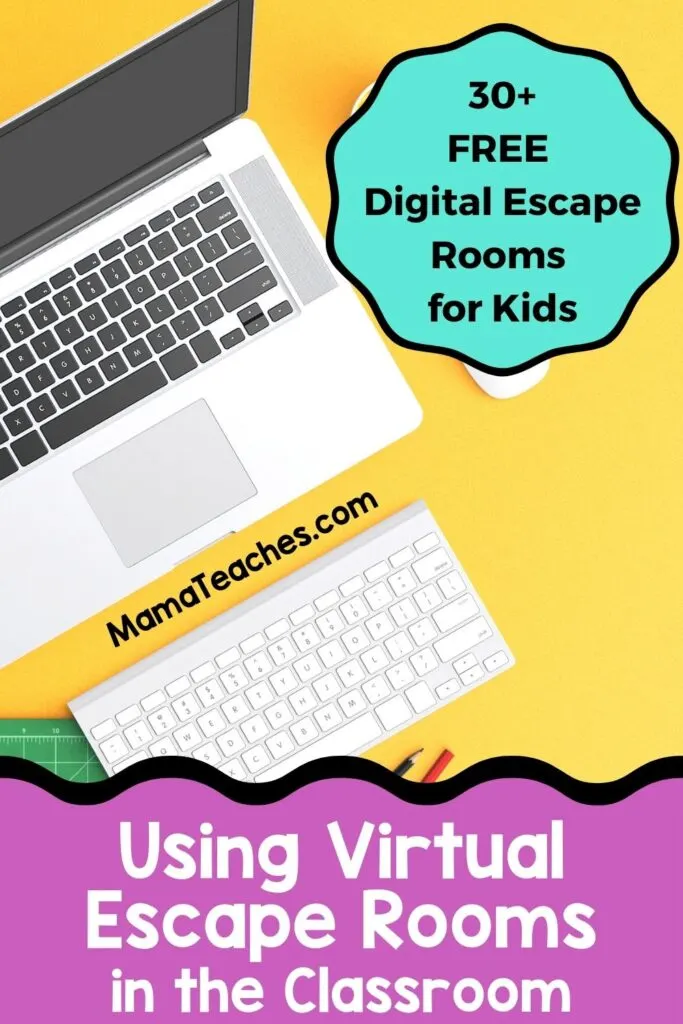 Oh no!
The school budget is being slashed!
You have to work the numbers to save the various sports programs at your school.
This 15-minute escape room reviews the basic operations of addition, subtraction, multiplication, and division.
This digital escape room is ideal for middle schoolers.
They must solve the rebus puzzles (word picture puzzles) to save the town's School Spirit Parade!
Here is a list of digital escape rooms for every grade level.
Their time to complete ranges from a few minutes to almost an hour.
From Abraham Lincoln to Harry Potter, Alice and Wonderland to asteroids, there is something for everyone.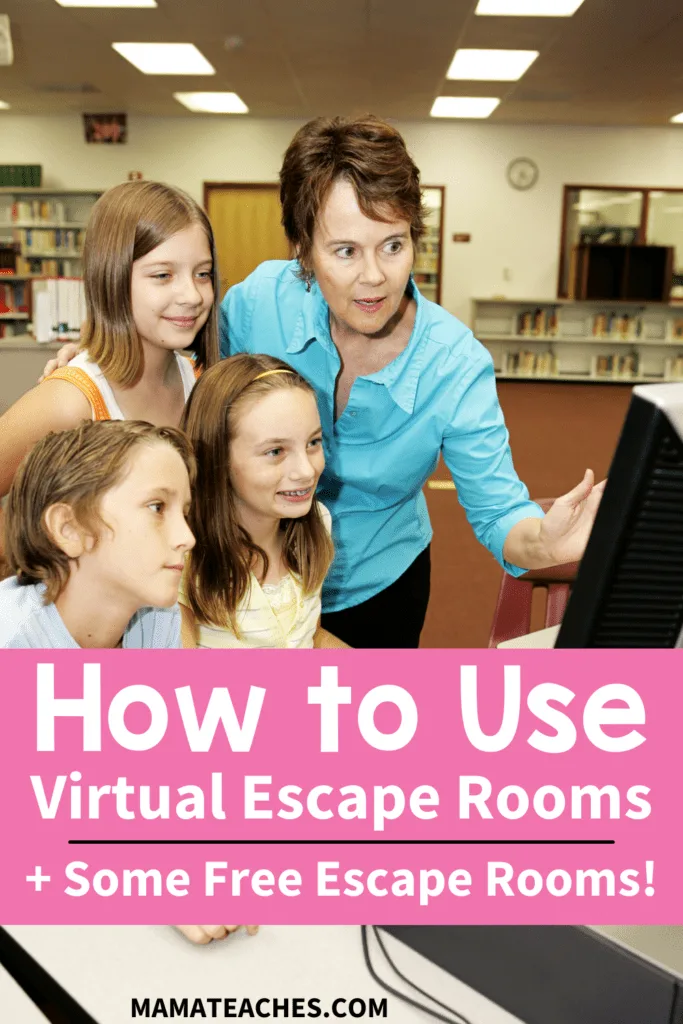 Using Virtual Escape Rooms in the Classroom
Unlock a love of learning in your class with these clever and cooperative digital escape rooms.
You May Also Like: