The holidays are here, and you'd like to give your kids a small present to show them you care.
Here are 25 holiday gifts for students that will keep your wallet happy.
Holiday Gifts for Students
'Tis the season of giving, and you'd like to send your students off to break with something thoughtful and fun.
The problem?
You don't want to break the bank.
We've got you covered!
Check out these 25 holiday gifts for students that cost little but score big.
Whatever type of gift you'd like to give–wacky, whimsical, thoughtful, or delicious–we have an inexpensive option sure to delight your kids.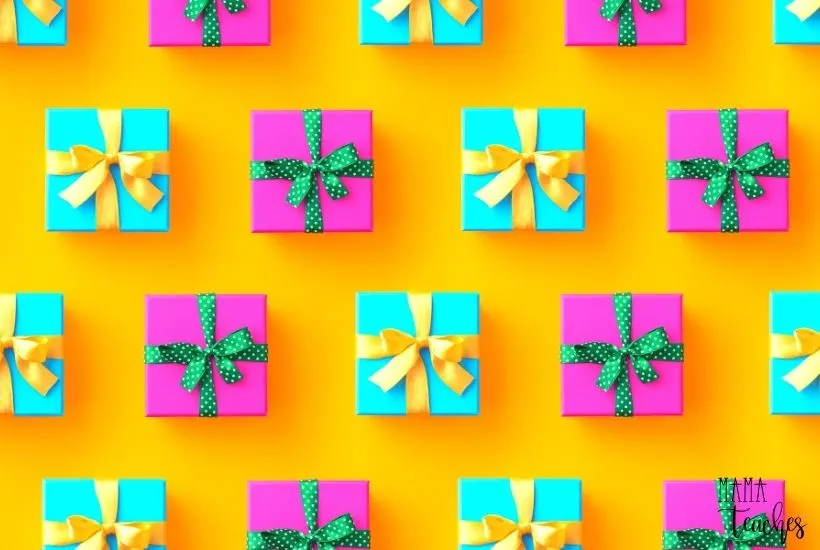 This article contains affiliate links to things that you might like.
25 Cheap Gifts for Students
Check out these fun and inexpensive gifts for students.
Scratch Off Cards
Why should the lottery corner the market on scratch-offs?
Kids go crazy for these things!
Scratch off the cards to reveal classroom prizes such as no homework for a night, lunch with the teacher, line leader, or teacher's helper.
I've got specific instructions and FREE scratch-off card templates right HERE.
Books
Gift the gift of reading this holiday.
Books are actually inexpensive gifts if you order them through Scholastic.
They have books for as little as $1.
The only downside?
You need to plan ahead so you receive the books in time.
Pencils with Pencil Toppers
This super budget-friendly option is adorable as well.
Buy some fun holiday pencils and add these cuties to the top!
Your students will love them!
Hot Cocoa on the Go
Who doesn't love a steaming cup of chocolatey goodness?
Pack cocoa mix in an insulated cup.
Add marshmallows, a mini candy cane, and a fun plastic spoon.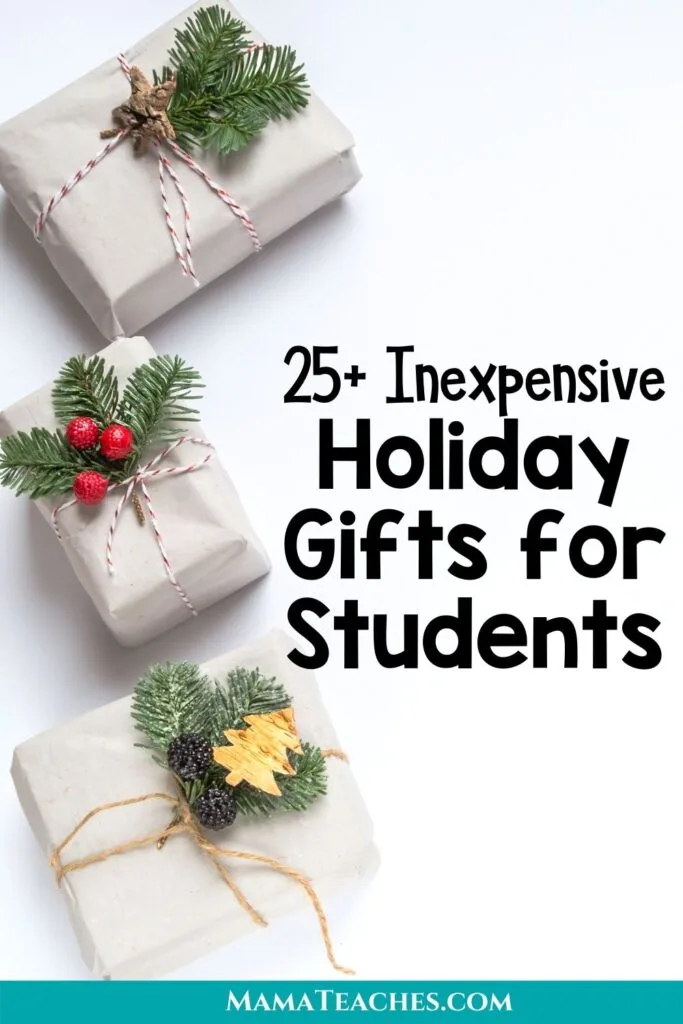 Coloring Bookmarks
These color-your-own bookmarks are free to download and use.
They are more than a gift; they are an activity!
Framed Wordle
Print your own wordle (pictures made out of words) using a free wordle generator like wordclouds.com.
You can use topics from your class, the names of the students, and even inside jokes.
Go the extra mile and slide it in a dollar store frame.
Ice Cream Coupons
Local fast-food restaurants often sell coupon books for ice cream (for example, starting in September, Wendy's sells coupons for Junior Frosty's–5 for $1).
You may also find that local businesses will donate free coupons for your class.
It's worth asking!
Water Bottle Stickers
Vinyl stickers are perfect for water bottles (or really any surface) because they are water-resistant.
This set has over 200 stickers that range from cool to cute.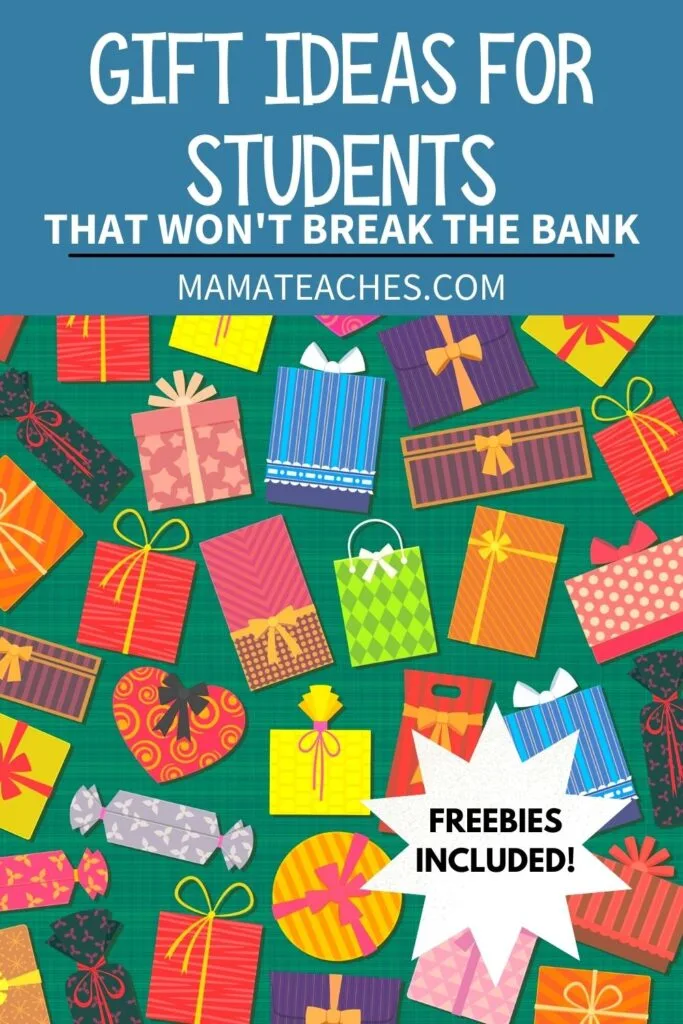 Pop Fidget Key Chains
Kids love pop fidgets, and these mini versions are perfect to attach to a backpack or pencil pouch zipper.
Happiness Journals
These brown kraft journals have cheerful messages on the front.
Pair one with a pen for a perfect student holiday gift!
Scratch-Off Bookmarks
These basic black bookmarks can be scratched to reveal rainbow colors underneath.
This set is great because it even comes with ribbons to attach to the top.
Cut Gel Pens
These colorful gel pens are more than just writing utensils; they have desk pets on top!
Positive Mindset Rubber Bracelets
This is one of my favorite holiday gifts for students because these black rubber bracelets have messages that encourage the students to believe in themselves and dream big.
Giving a gift like this shows students how much you care!
Rainbow Pencils
These rainbow pencils are so fun you are going to want to keep some for yourself!
The pencil lead is a combination of different colors, which makes whatever you write unexpectedly awesome!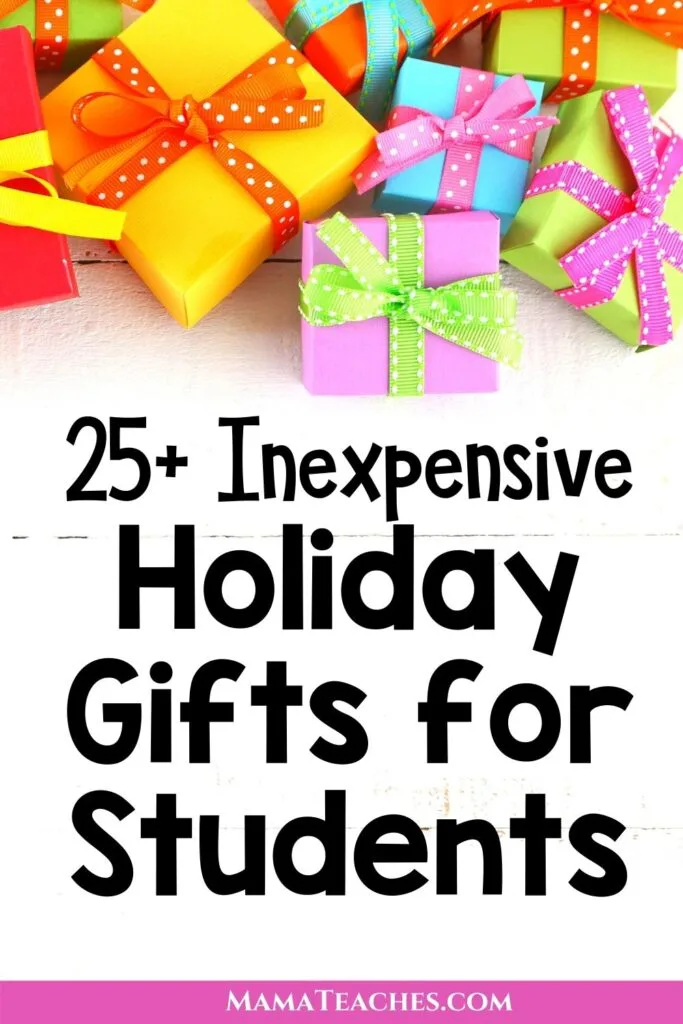 Animal Erasers / Desk Pets
Have you incorporated the classroom management tool of desk pets into your teaching repertoire?
If not, these adorable animal erasers are the perfect way to get started!
Candy Cane Pens
Nothing says "Holiday Gifts for Students" like these candy cane pens.
Did I mention they are peppermint-scented?
Mop Head Stylus Pens
These stylus pens are three-in-one.
You can use it as a regular pen, retract it to use as a stylus on phones/tablets, and turn it around to use the microfiber hair to clean your screen.
Sunglassess
Winter or summer, sunglasses are always a great idea for a gift.
Why not look cool when it's cold outside?
Winter Hats
These winter beanies will help your students stay warm and toasty.
The assorted colors are fun, too!
Gloves
Everyone needs a bunch of these stretchy gloves!
Small enough to cram in a jacket pocket and stretchy enough to fit every hand size, these gloves are cheap holiday gifts that are practical too!
Temporary Tattoos
Why not give your students a tattoo (a temporary one, that is)?
These temporary tattoos feature over 700 different cartoon styles.
It's a bargain!
Drawstring Backpacks
These drawstring backpacks in assorted colors are the perfectly practical.
You could stock each one with an inexpensive book or holiday craft.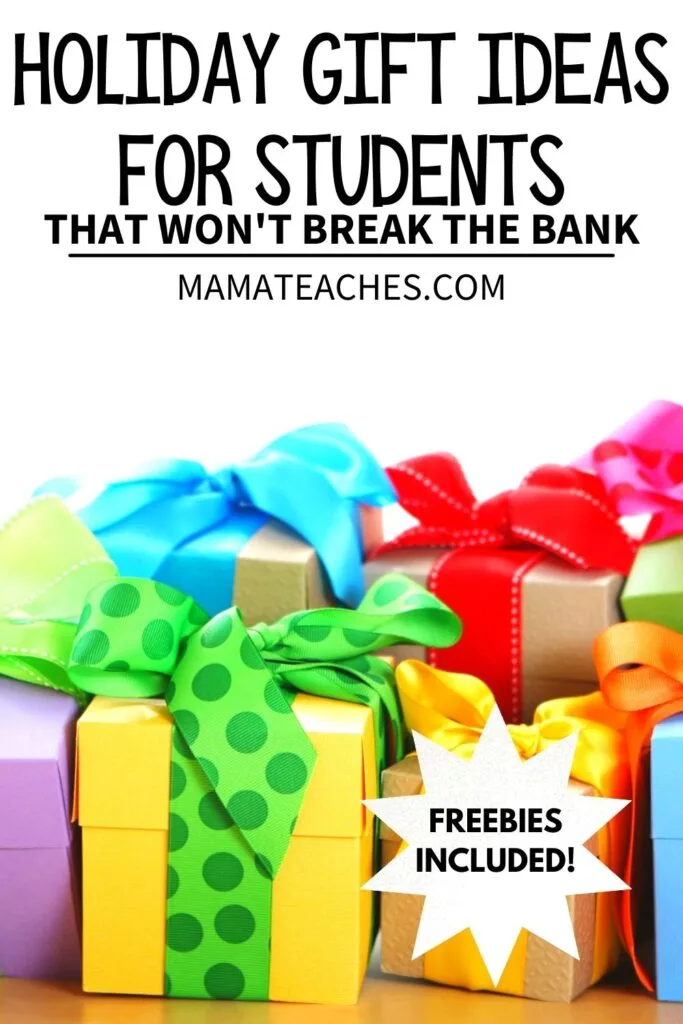 Worry Stones
These polished stones are great gifts for students with anxiety.
They each contain a different engraved message (like "Relax" or "Believe").
Rubbing your finger along the smooth surface of the stone helps relax you.
Wacky Straws
It is a fact that water tastes better when you drink it through a wacky straw!
Water Bottles
This gift is a little pricier, but it's a great one: water bottles.
If you have a Cricut you can hit a home run by affixing each student's name in his or her own water bottle.
Personalized gifts are always a win!
Inexpensive Student Holiday Gifts
It's the holidays, and you want to show your students that you care.
You don't need to spend a mint to make this happen.
Pick something special from this list of inexpensive holiday gifts for students.
You May Also Like: