It's the end of the year, and you want to show your kids that you care about them and wish them well.
Check out this list of end of year gifts for students.
Student End of the Year Gifts
When it comes to end of the year gifts for students, you want something cute and memorable–but you don't want to break the bank.
Try some of these themed ideas and pair them with a cute message.
You can make adorable printables for free using a program like Adobe Spark or Canva.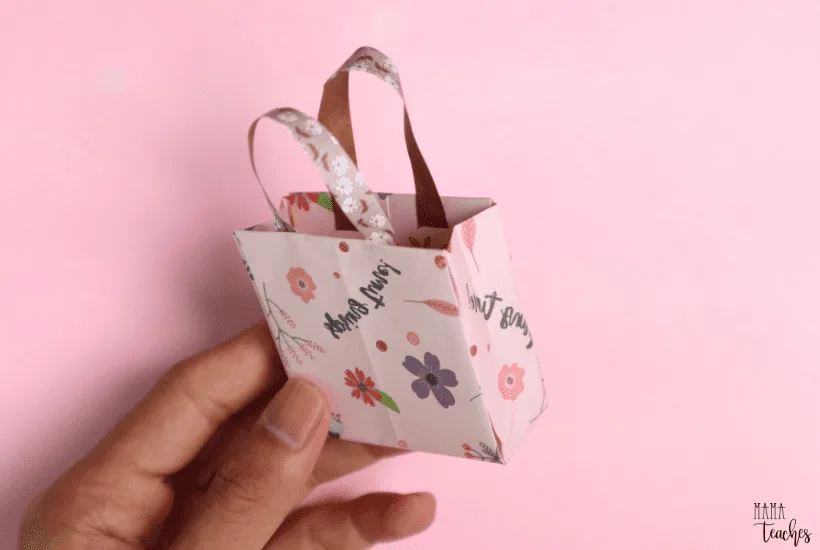 This article contains affiliate links to things that you might like.
Summer Themed End of the Year Gifts for Students
It's time for summer break!
Celebrate the good times to come with these summer-themed end of year gifts for students.
"Have a Cool Summer!"
What says summer like ice cream?
Get individual gift cards or coupons for ice cream, italian ice, or milkshakes.
Some companies may give these to you free if you ask.
"You Blew Me Away This Year!"
This message pairs perfectly with a bubble wand.
"Hope Your Summer is Buckets of Fun!"
Give your students a sand bucket filled with sand or water toys.
"Have a Ball This Summer!"
Attach this tag to an inflatable ball.
My personal favorite: emoji beach balls!
"This Year Just Flew By!"
Give your students a kite, a frisbee, or a model airplane kit.
"Slap Me Five! It Was an Amazing Year!"
Pair this tag with colorful slap bracelets.
"Your Future Is Bright!"
Get some colorful or wacky sunglasses.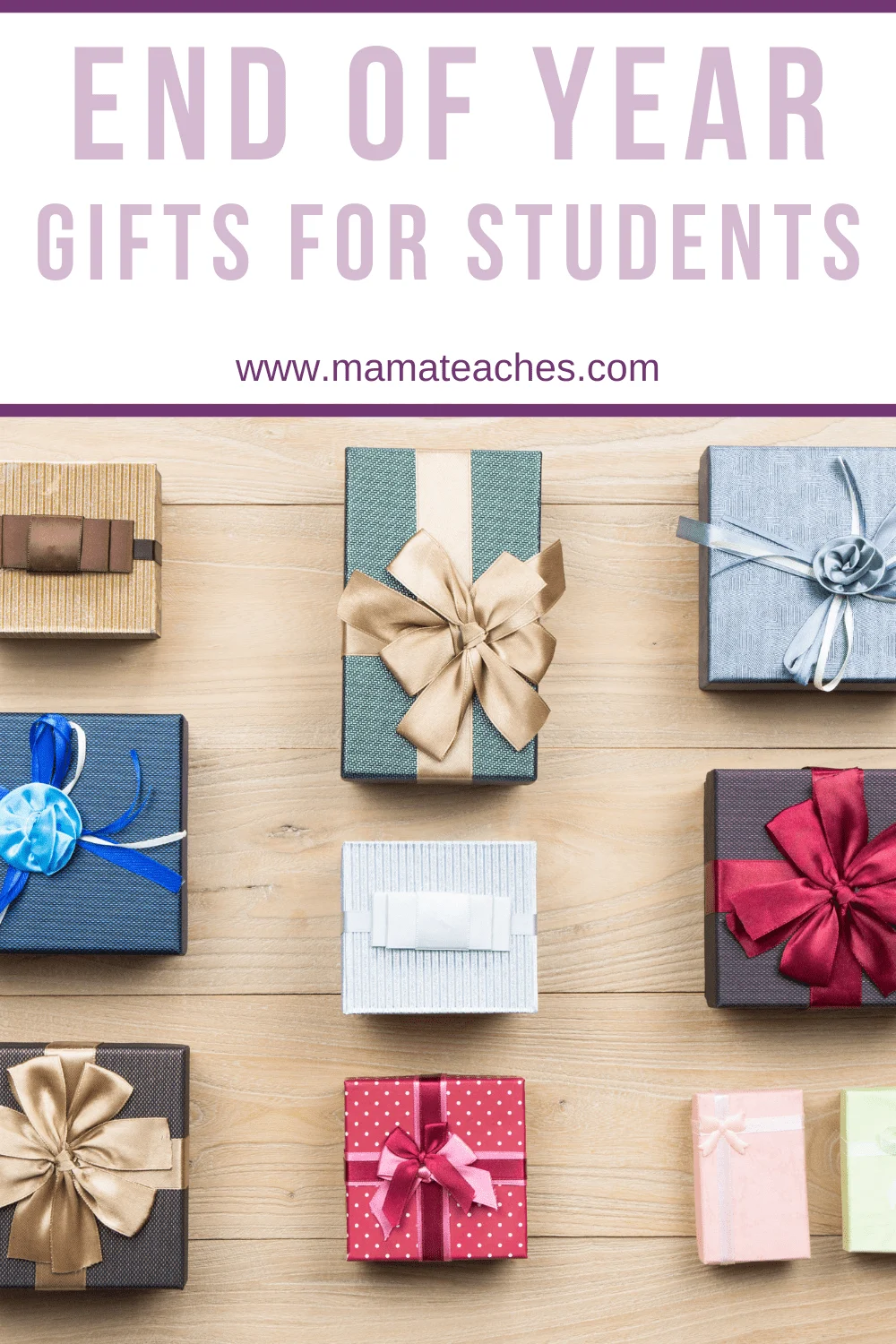 Education Themed End of the Year Gifts for Students
You want your kids to enjoy a fun gift that encourages some brain activity over the summer.
Get ready for some education-themed end of year gifts for students.
"This Summer Will Be One to Write About"
Attach a mini journal and a colorful pen.
"Get Shaking This Summer!"
Give each student a pair of dice and summer themed math game ideas.
"[Student's name] Loves Reading!"
Make a custom bookmark for each child with a paint sample strip and sharpie–one word per block.
Use a hole punch to attach a vibrant ribbon.
"You Made It! That's a Big Deal!"
Enclose this note with a deck of cards and some math card game ideas.
"You're #1 in My Book!"
Pick out a book for each child.
This could be a fun book, a summer reading book, or a book you know they will read for next year.
Meaningful End of the Year Gifts for Students
You want a gift that goes straight to the heart.
Enjoy these ideas for meaningful end of the year gifts for students.
Personalized Acrostic Poems
Make an acrostic poem for each child by spelling their name vertically and writing an adjective that starts with each letter of their name.
Attach these poem cards to a fun pencil or pen.
Here is one for Sam:
Silly
Artistic
Magnificent
Word Cloud Certificates
Using a word cloud generator (like Mentimeter), and type in words that indicate treasured memories from the year as well as adjectives that describe the class.
Watch the word cloud take shape!
Take it one step further and make a personalized one for each child.
You can print these and frame them inexpensively.
Painted Rocks
Buy some paint pens and make each child a customized painted rock with their name and a positive attribute.
Friendship Bracelets
Some simple cording and a letter bead sends the message, "You started this year as my student but now you are my friend."
Inscribe a Book or Journal
This handwritten note inside the front cover can be a thank you, an encouragement, or a favorite quotation from a class book you read this past year.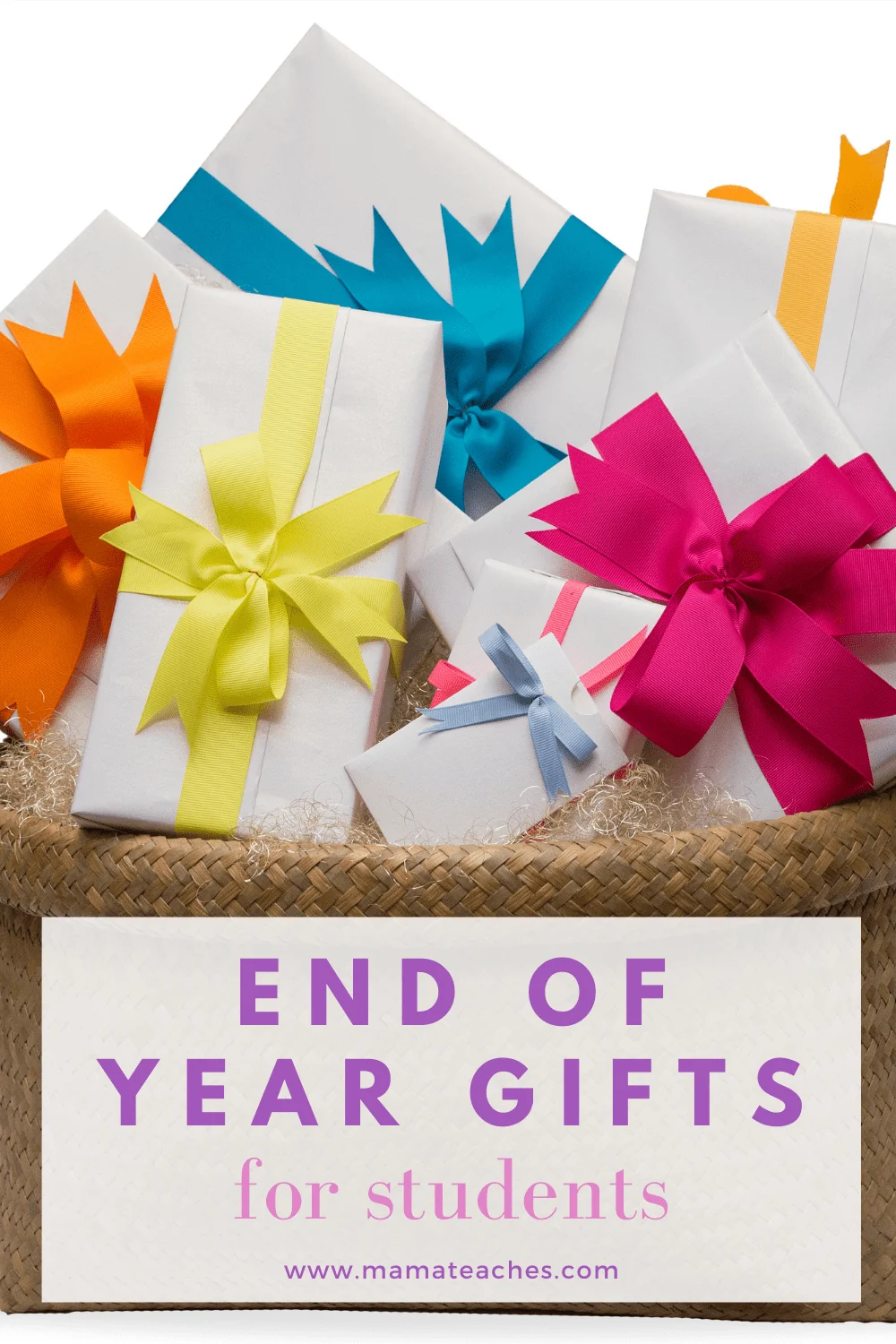 End of School Year Gifts for Students
No matter which end of year gift you choose to give your students, they will appreciate your thoughtfulness.
You have been more than a teacher to them this year: you've been a leader, a role model, and a cheerleader.
Send them off with a memorable end of the year gift that ties a bow on your time together.
You May Also Like: