Having children of different ages while homeschooling can be tricky. Check out our best tips and tricks for homeschooling multiple ages.
Homeschooling Multiple Ages
Having children of different ages while homeschooling can initially seem a bit overwhelming.
With more people added to the homeschooling equation, the more complicated it becomes.
The good news is that a few tips and tricks may help you manage your children of different ages while homeschooling.
Keep in mind that you are dealing with humans, not robots. What works one day may not work the following (as frustrating as that can be).
And if you're parenting a strong willed child or a child with dyslexia, it can also through off things when you're homeschooling.
Try some of these tips to see if they work with your family.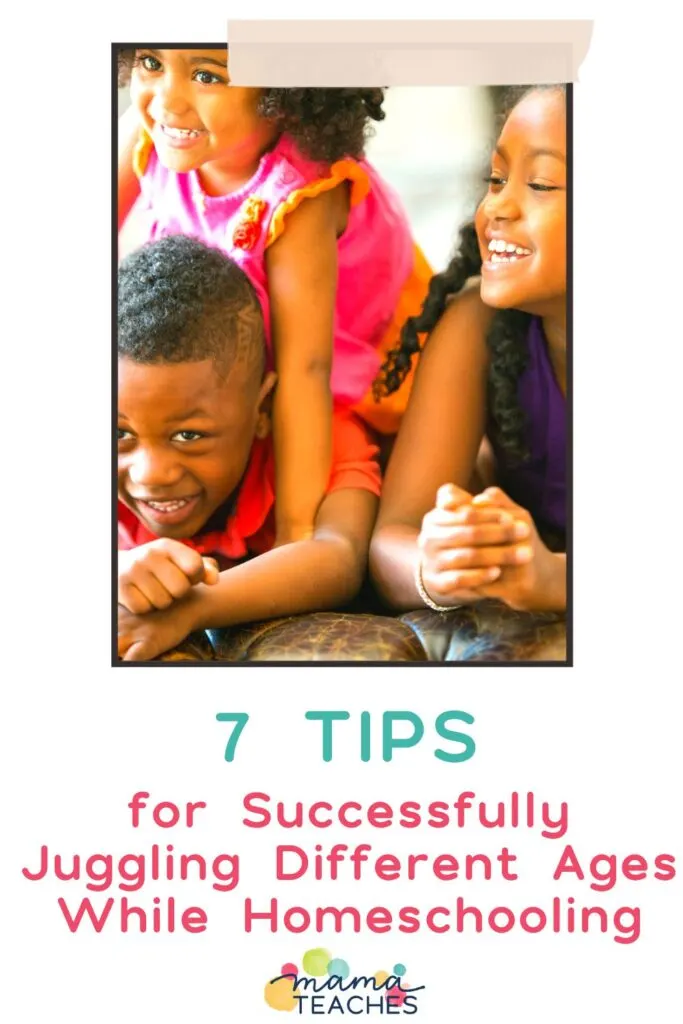 This article contains affiliate links to things that you might like.
Tips for Managing Different Ages While Homeschooling
1. Create tailored learning plans for each of your children
Take into account each child's individual needs, interests, and abilities when coming up with a learning plan.
This helps to create reasonable goals and makes homeschooling more enjoyable for everyone.
2. Focus on asynchronous activities such as reading, research, or drawing
By creating asynchronous activities (activities that can be done without the teacher's help), the youngest learners can participate in the same activity without staying.
In contrast, older learners complete more complex tasks.
Plus, less dependence on you frees you up to help with other things.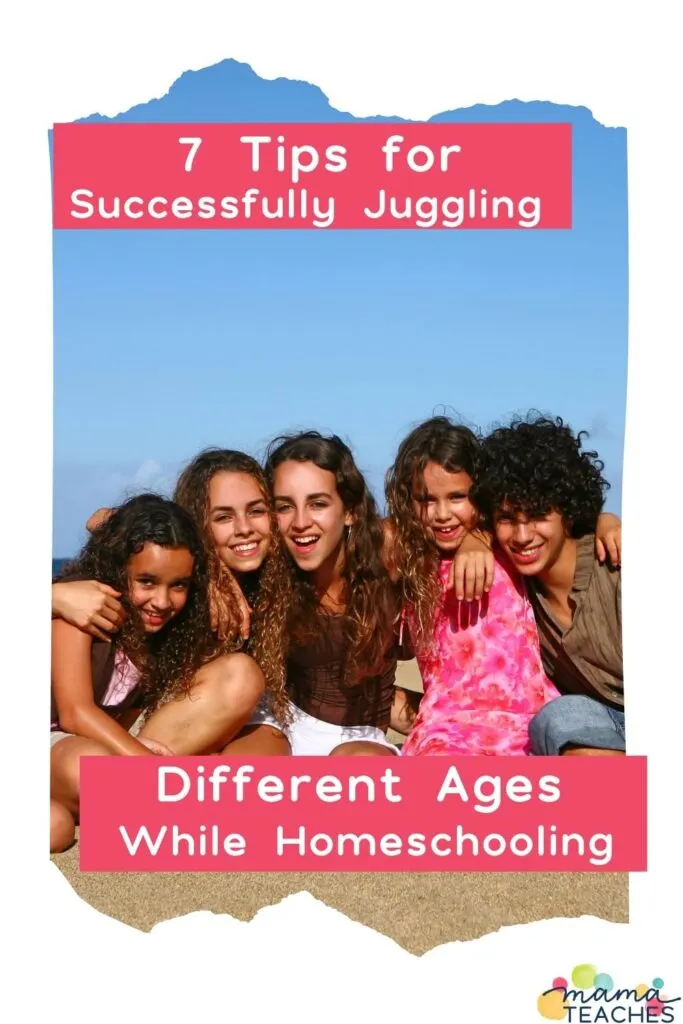 3. Utilize digital tools like video conferencing software or interactive whiteboards to facilitate collaboration
Take advantage of the technology to help your students collaborate with peers, educators, or experts.
While older kids are video conferencing, younger students can work on tasks that require your attention.
There are many online classes, book clubs, and so much more that are available for homeschooled students.
So find digital tools that fit the needs of your kids and let them go to town, so to speak ;).
4. Incorporate a variety of activities into each day
Things like field trips, art projects, science experiments, etc., will help to keep everyone engaged and focused.
They also provide something for your kids to look forward to.
Having kids of different ages while homeschooling comes in handy when you need to go places or do hands-on activities because the older kids can help guide the younger kids.
5. Take regular breaks throughout the day to allow for creative thinking and restful moments.
Everyone (including Mom) needs a break throughout the day.
Allow time for rest and for kids to be creative.
Having kids of different ages while homeschooling can be challenging, but factoring in time for them to individually do what they want and what appeals to their interests is a unique part of homeschooling.
Less prep for you and more creative discovery play for them. Win-Win!
6. Set up "family fun time" at least once a week
This is a time set aside for everyone to take a break from homeschooling and to engage in something enjoyable together.
From games to obstacle courses to building something together, the time spent together is never wasted.
Having kids of different ages while homeschooling can lead to some epic family fun times because older kids can be paired up with younger kids.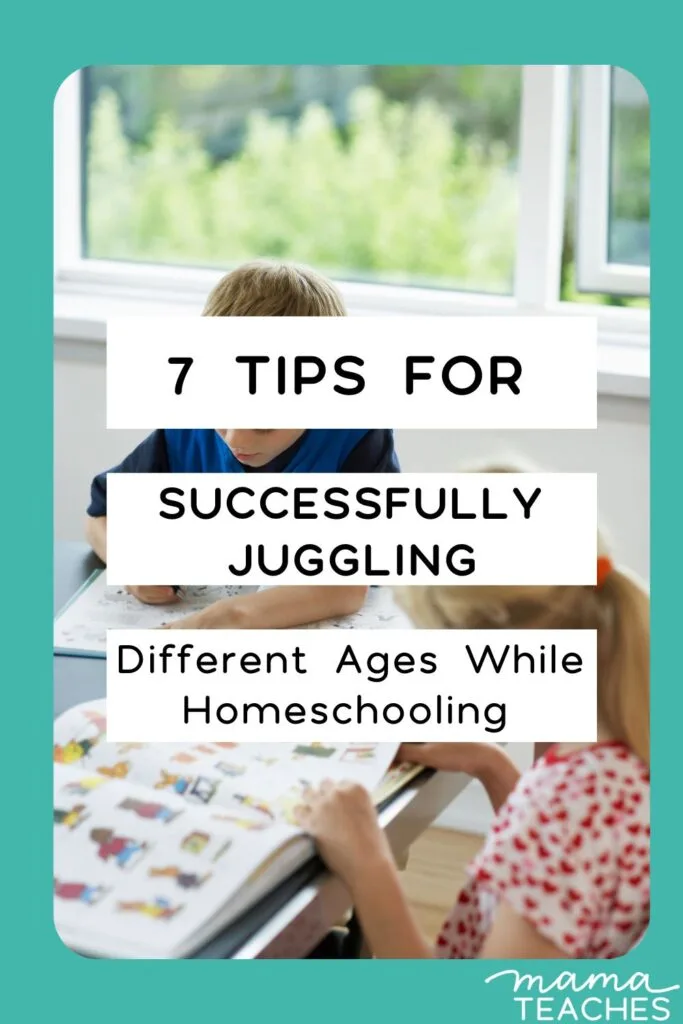 7. Offer incentives for completing tasks
It's incredible how much work will be achieved when a special treat, a reward, or extra playtime is involved.
It would be nice if everyone were self-motivated to complete their work, but this isn't how things work.
Passing out incentives makes everyone's life a bit easier because there tends to be less pushback.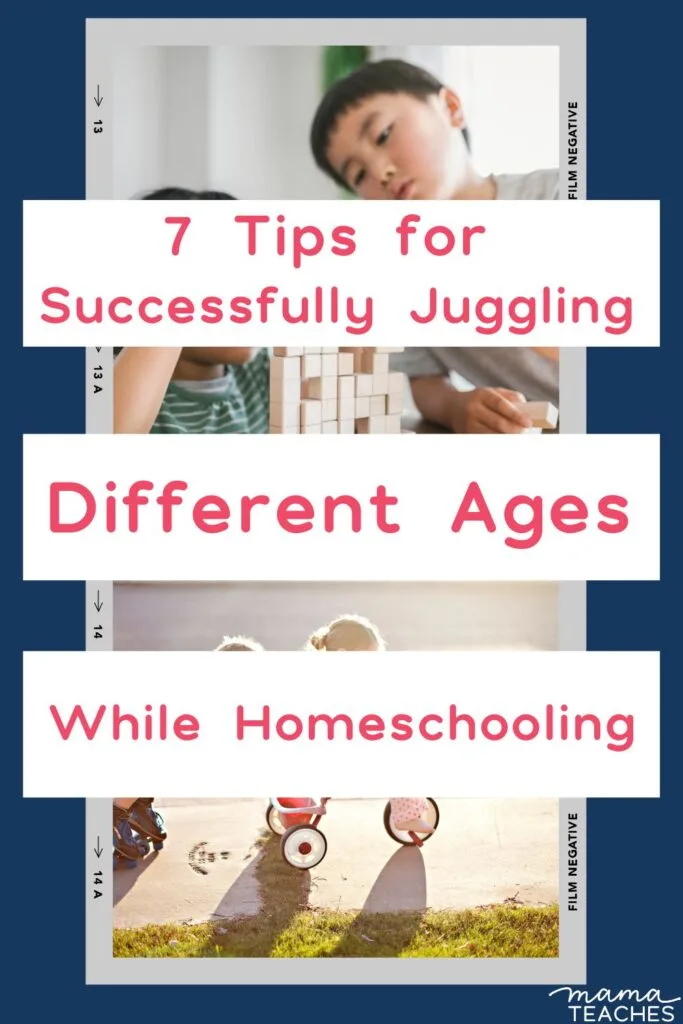 Different Ages While Homeschooling
Juggling multiple ages while homeschooling is challenging. There is no easy way around it.
Hopefully, you have found a few tips that you can implement to help your homeschool run a bit smoother.
You May Also Like…