What do you need for kindergarten? Check out this list of school supplies for kindergarten.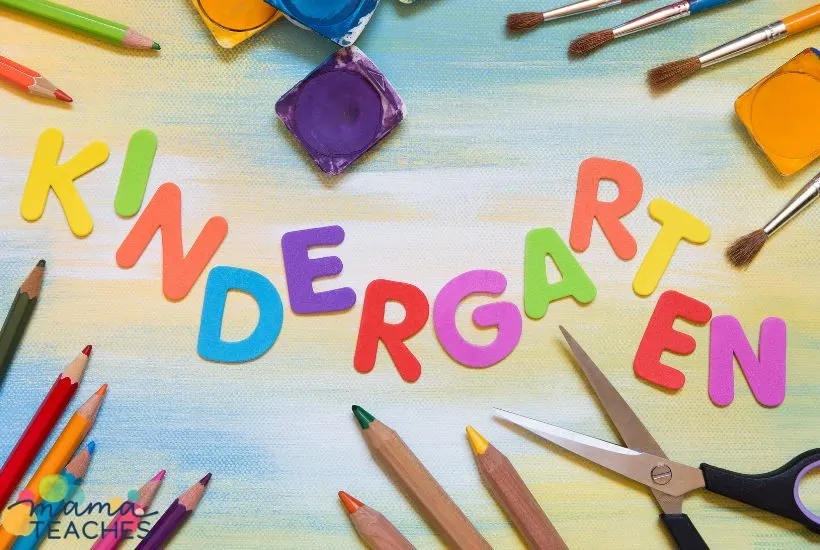 Your little kindergartner will be well-prepared for the start of school.
What Kindergartners Need
You might think that students need more and more school supplies as they advance in school.
Strangely, the opposite is true.
Because kindergarten involves so many projects and activities in the curriculum, you need more school supplies for this year than you do the other years.
This kindergarten school supply list also has some investment items.
Purchase those items for this year, and you can reuse them in first grade and beyond.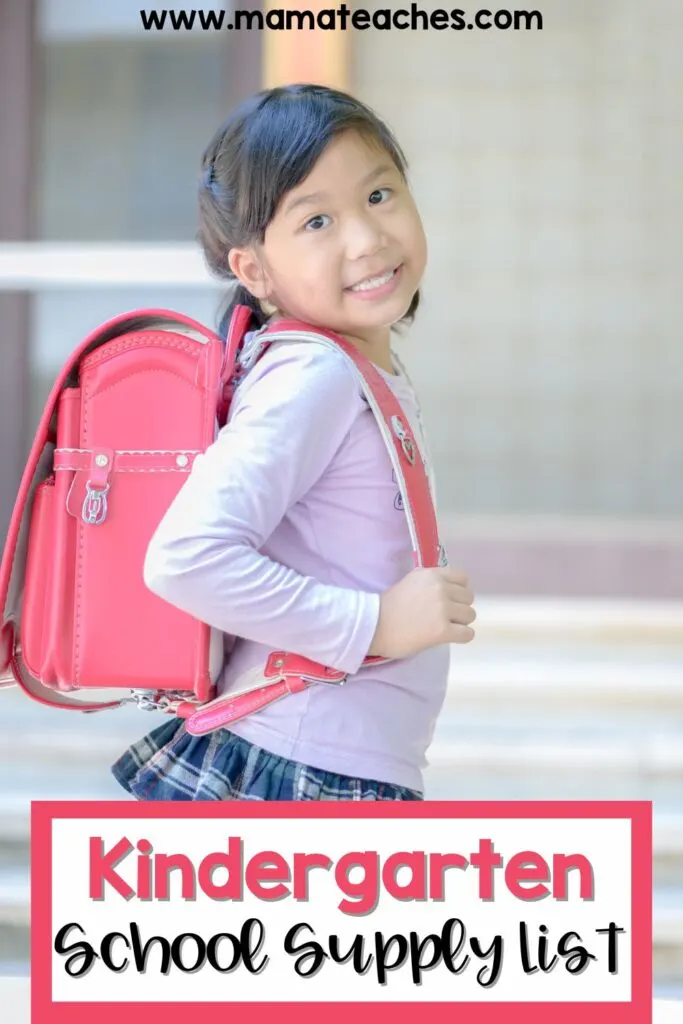 This article contains affiliate links to things that you might like.
Basic Items for the Kindergarten School Supply List
These are items you will need to buy for this year, but they may last for multiple grades.
Your little learner does not need an overly large backpack, but it should be large enough to hold a zipper binder.
This brand comes with two water bottle pockets and a tablet or laptop sleeve (great for travel).
It also comes in lots of kid-friendly designs and colors.
You want an insulated lunch bag to keep food items cool.
You can also opt for a Bento Box, which has plastic compartments for lots of tiny food items.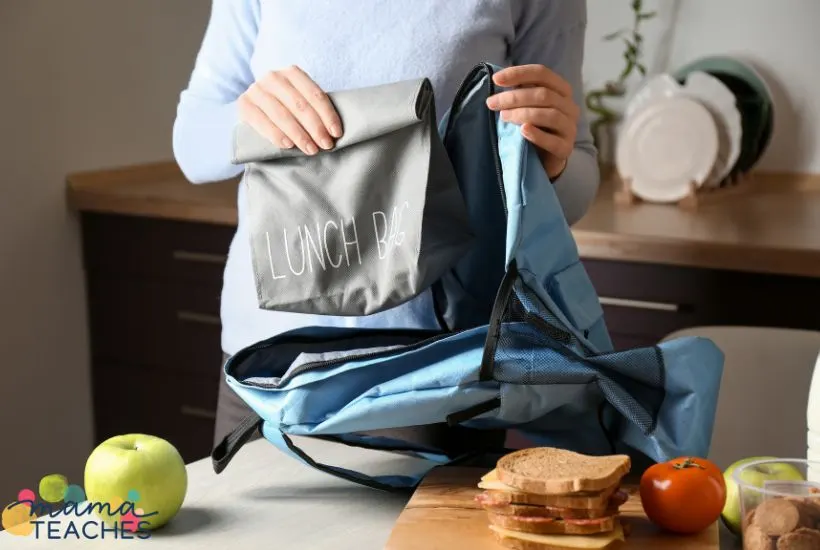 These adorable water bottles with spouts hold 18 ounces of water and match the backpacks.
For computer-based learning and activities, each child should have their own pair of headphones.
Forget earbuds. Kindergartners need comfy, over-the-ear headphones.
Most schools provide tablets or computers for kids to use in class.
However, they may have homework that requires a tablet (like BOOM card practice).
Homeschooled kindergartners can use tablets for certain school subjects and review.
This Amazon Fire Tablet has kid-safe browsing, a sturdy cover, parental controls, and a two-year warranty.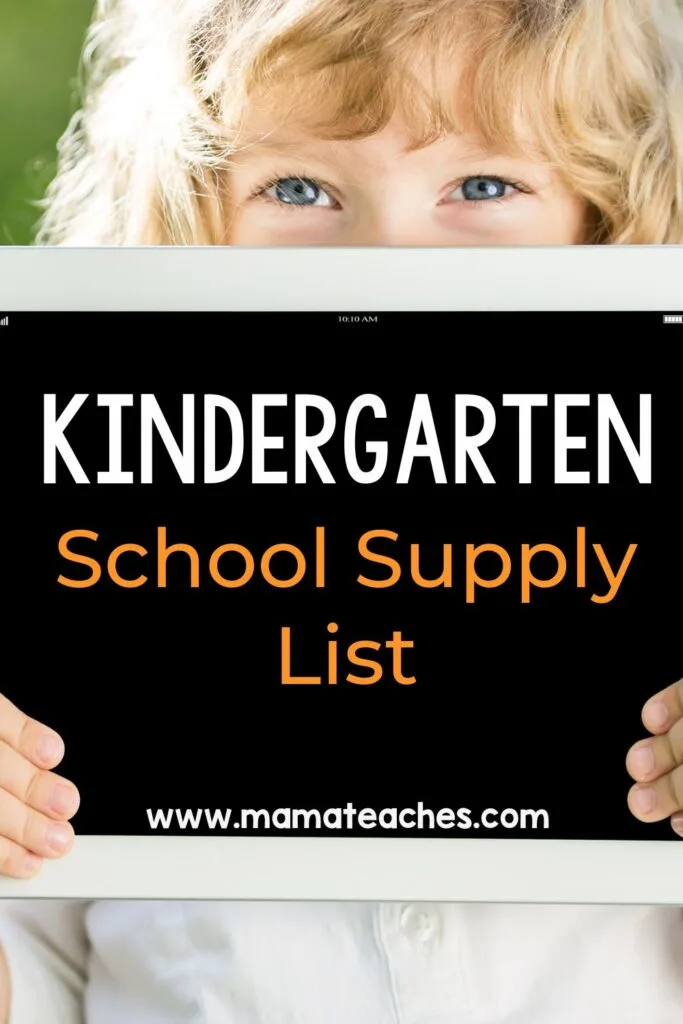 Kindergartners are not the most organized students.
That is why a zipper binder is a must-have for keeping all papers in place.
You will need to go through their binder every day to find papers, but this all-in-one system can ensure your student will always have what they need.
Change of Clothes
Most kindergarten teachers will say this is a must.
Pack a spare set of clothes (top, bottoms, underwear, and socks) for your child and stuff it in a ziplock baggie.
Don't forget to change out the clothes to long sleeves and pants when cooler weather sets in.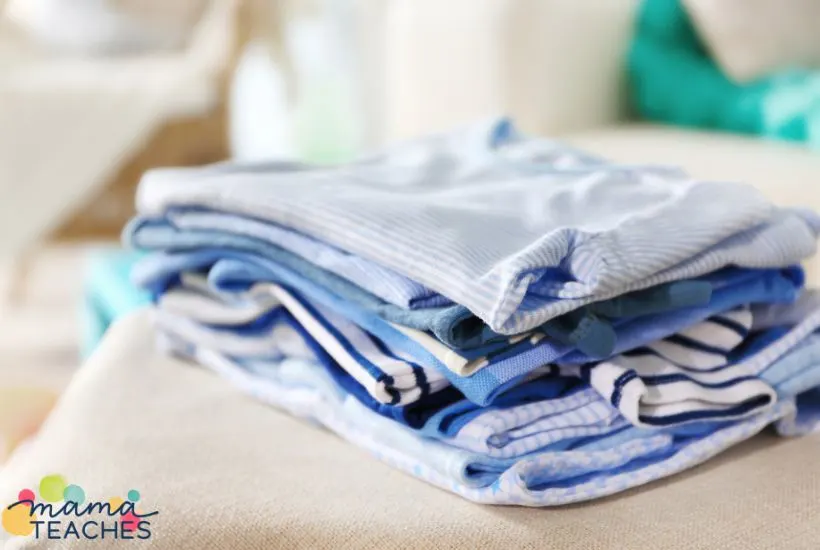 Consumable Items for Kindergarten School Supply List
These are items that you need to buy fresh every year.
Keep in mind that each classroom teacher may have their own particular list, but this is a general list of the basic supplies needed for every kindergartner, whether they attend a traditional school or are homeschooled.
Are there cheaper brands of crayons? Sure.
But nothing beats Crayola when it comes to smooth writing, bold colors, and sturdy crayons.
Buy two boxes of the 24 pack crayons. You can send your child with one for the fall, and then switch it out for a new on in the spring.
Some argue a 64 pack is best. After all, it comes with its own crayon sharpener.
However, kindergartners are generally hard on their supplies. Keep it simple with a 24 pack and replace it mid year.
You can always buy a separate crayon sharpener.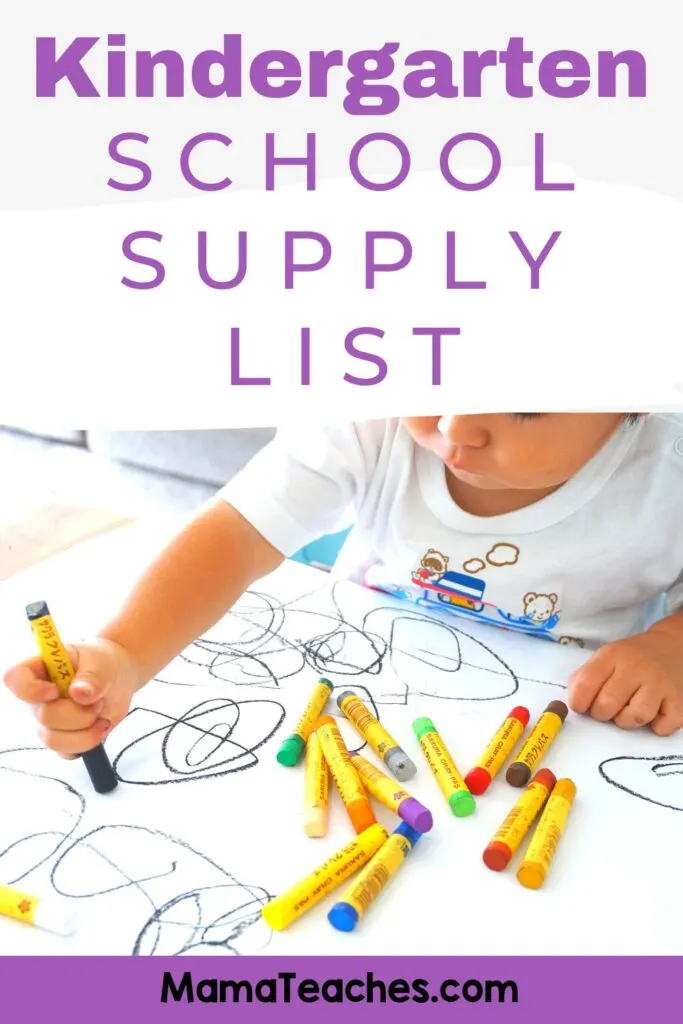 Ticonderoga pencils are truly superior.
They are easy to sharpen and their lead is less likely to break compared to other brands.
This is especially important to kindergartners who often press very hard on paper.
Buy the pre-sharpened pack. This is a huge time saver.
I recommend purchasing the 72 pack. It is only a few dollars more than the smaller packs, and it will last into future grades.
That is, if your child can keep track of his pencils!
This dual-pencil sharpener can sharpen both pencils and crayons, and the sharpener is small enough to fit inside a pencil pouch.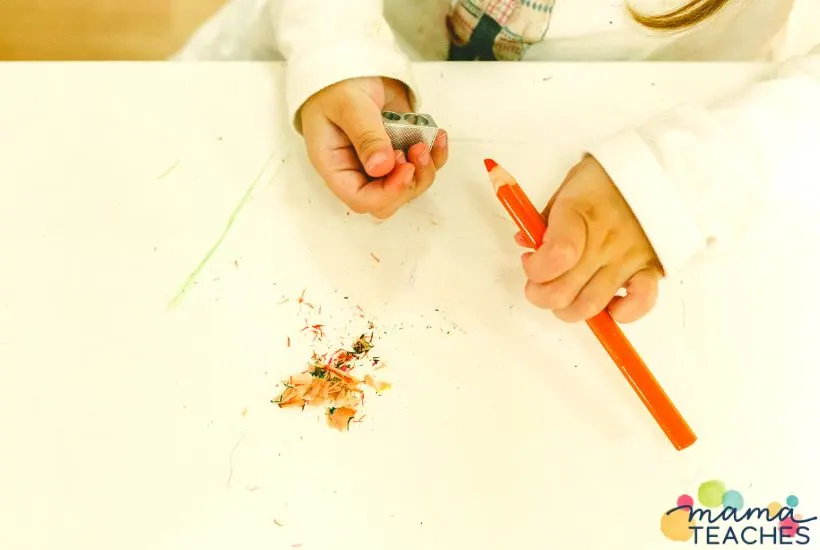 Kindergartners erase a lot.
The tiny pink eraser that comes on the pencil will likely be used up before the pencil is halfway sharpened.
Although kids love the pencil top erasers, they work miserably. They fall off when you try to erase!
Buy a set of pink slab erasers. These Ticonderoga erasers are the same high-quality pink rubber on the end of the pencils.
You can erase a wide swath of writing with a slab eraser.
You can also keep your pencil topper on your pencil–just for looks!
Your child's pencil grip is important.
A proper grip insures neater handwriting and fewer hand cramps and finger callouses.
A child's grip, for better or worse, is fully set by the age of 7.
Now is the time to help your child develop the proper grip (typically "the tripod grip").
You can encourage the tripod grip with pencil grips.
Not only do they force your child to use a tripod grip (because there is no other way to hold the pencil), they are soft and comfy.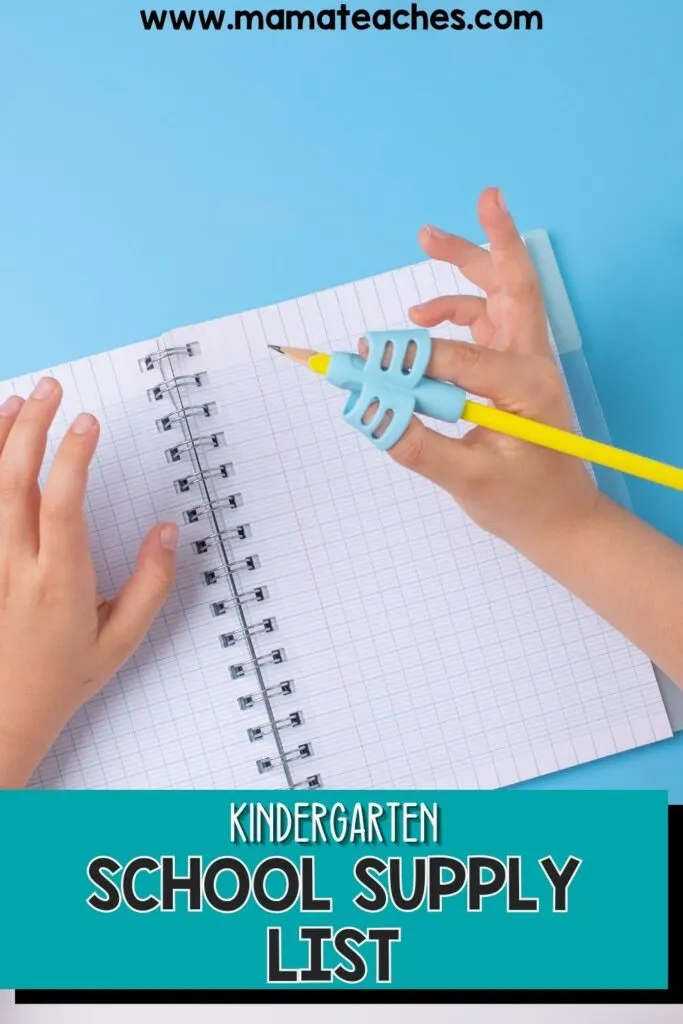 Many teachers like their students to use individual whiteboards or laminated worksheets.
Not so fun fact about dry erase markers: they may wipe off whiteboards, but they stain clothing.
This is why washable dry erase markers are the best dry erase markers for kindergartners.
Save yourself the laundry headache and buy washable broad tip markers.
This Crayola variety is billed as the "most washable marker"– yes, please!
If you have to buy colored pencil packs for the general class bin, go ahead and buy the regular pack.
If you are buying colored pencils for your own child, go ahead and spring for the Crayola erasable colored pencils.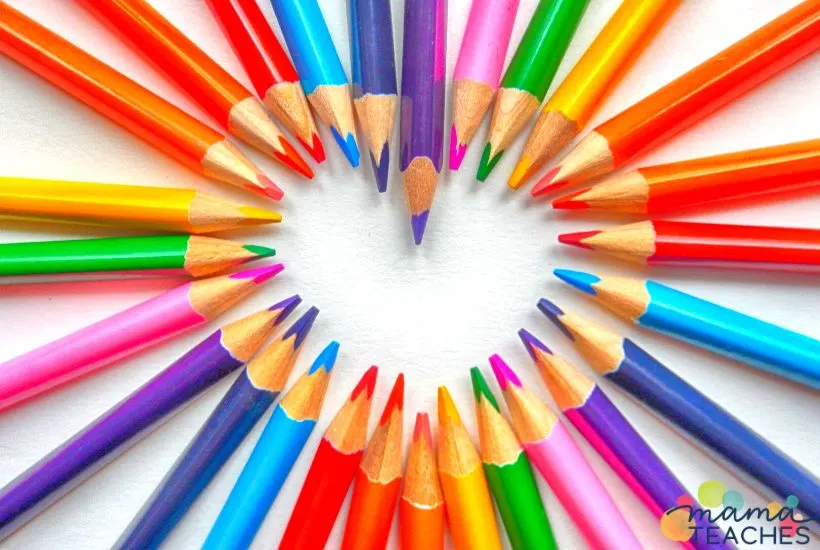 Kindergartners learn to cut paper, but they must do so safely.
These kids scissors have a blunt tip to prevent accidents.
These are Fiskars brand, which makes high quality scissors that work well for righties and lefties.
You can go with two types of containers for pencils and sundry supplies: the pencil pouch and the pencil case.
The pencil pouch has the advantage of clipping into a zipper binder.
I'm all for choosing paper or plastic.
Unfortunately, paper folders last about 2 seconds in the hands of a kindergartner.
If you buy 2 plastic folders, they will last all year.
Buy the kind with pockets and prongs.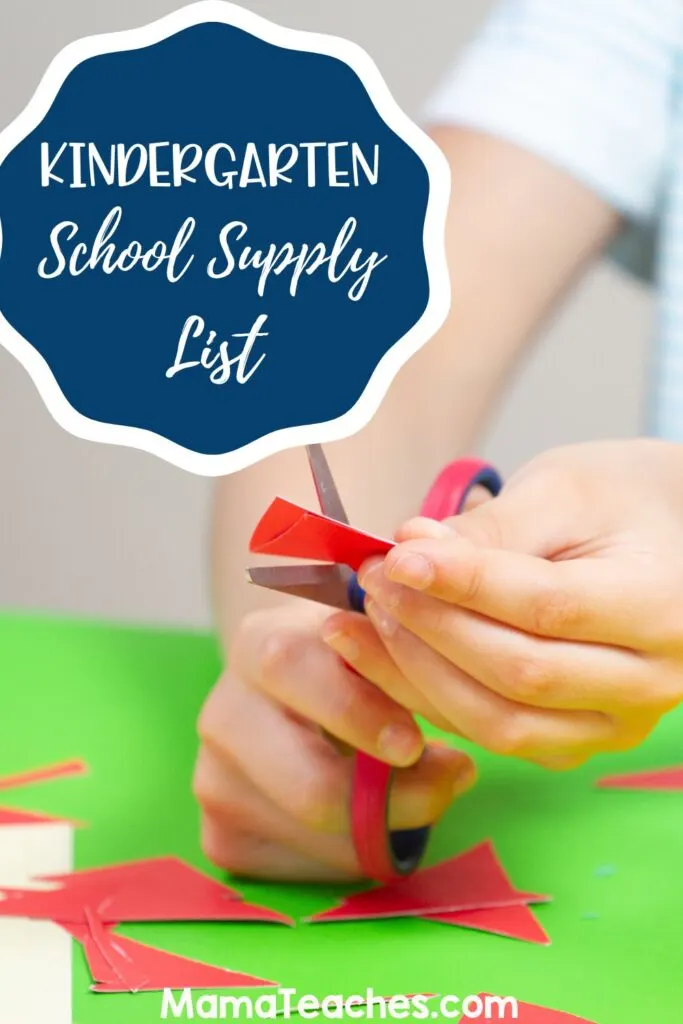 It is a truth universally acknowledged that every kindergartner will lose at least one ruler.
Save yourself the headache and buy a multipack. That way you will have extra when your child, inevitably, loses their ruler.
You want rulers that have inches on one side and centimeters on the other.
If you use a binder system, looseleaf paper may be the best bet.
If you don't, purchase several wide-ruled spiral notebooks.
I like this pack of multicolor notebooks. You can pick one color per subject.
Then your student can decorate them with stickers to personalize the notebooks.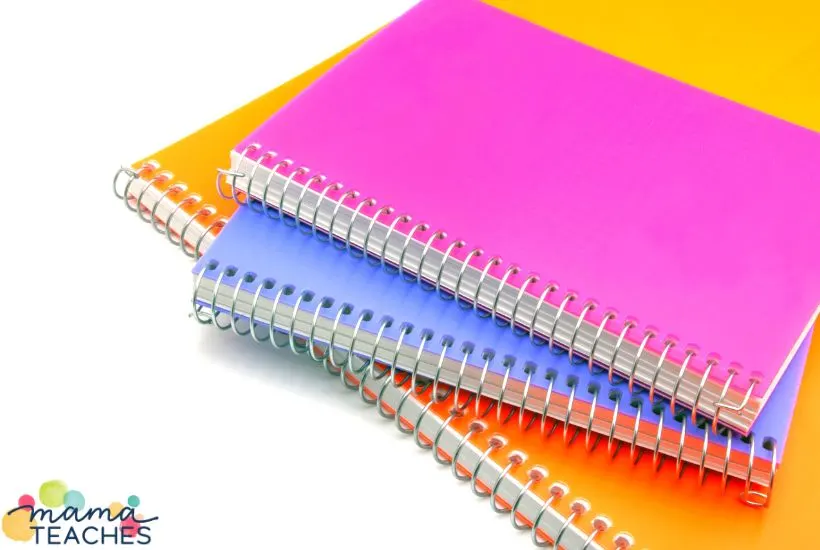 Some students need the guided lines found in primary notebooks. These notebooks are best for writing-intensive subjects.
All glue sticks are not created equal.
Kindergartners do best with the purple glue sticks that dry clear, so they can see where they have applied the glue.
The larger glue sticks last longer than the smaller ones; they are less likely to dry out.
No kindergarten school supply list would be complete without the classic Elmer's school glue.
Your little learner will use this glue on a host of adorable projects.
It's nontoxic and washable.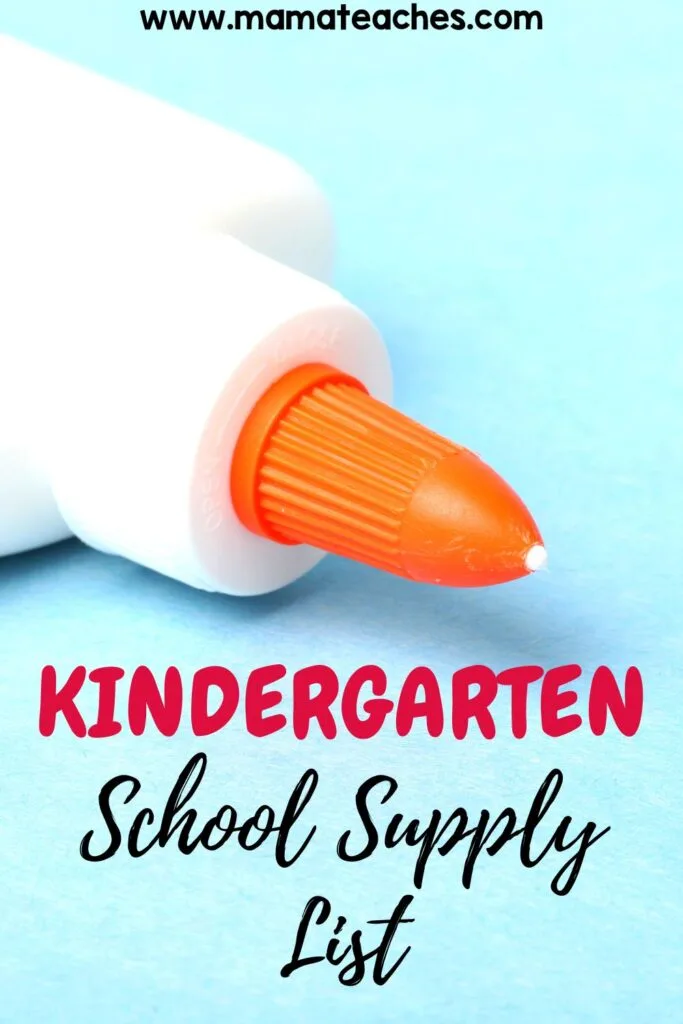 Sometimes tape is the best adhesive for the job.
Gallon resealable bags or ziplock bags have a million uses in kindergarten.
You can use them for storage of easy readers, colored pencils, show and tell items, extra clothes…the sky is the limit!
The kind with the zipper closure is the easiest type of baggie for little fingers to seal and close.
You would not believe how many boxes of tissues a classroom will use during the school year.
Do your teacher a favor, and buy her three mega boxes of the sturdiest type of tissue.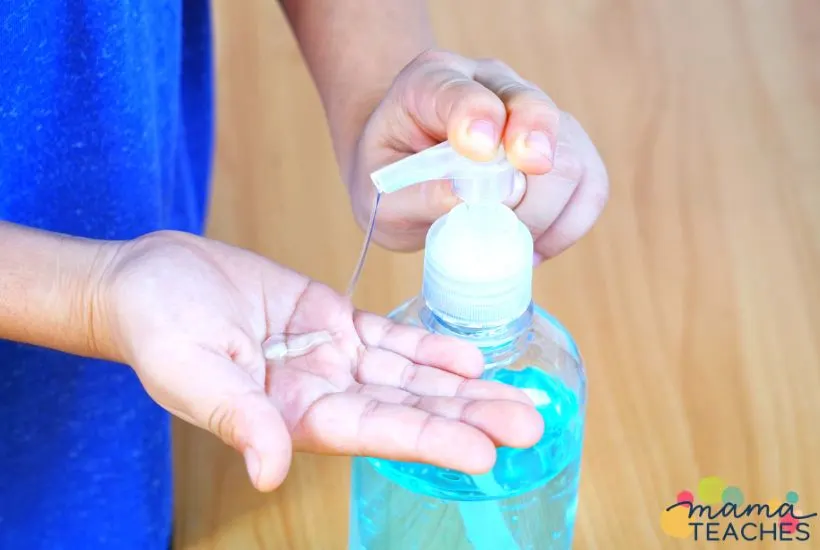 Spills are incredibly common in the kindergarten classroom.
Buy your teacher a roll (or two!) of paper towels.
Germs are rampant in the kindergarten classroom.
Buy your teacher a hand sanitizer pump, and buy your own student a personalized hand sanitizer to clip to their backpack or keep in their pencil pouch.
Try to avoid the sweet-smelling versions. Kids may be tempted to taste them.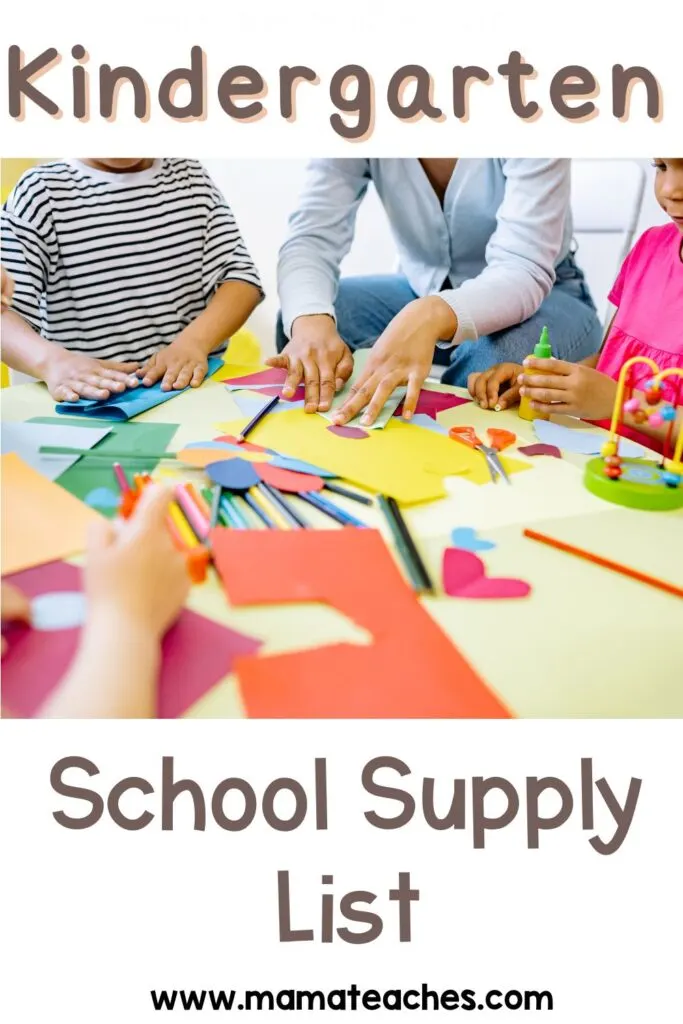 The Ultimate Kindergarten School Supply List
Kindergarten is the transition to elementary school.
You can help your child prepare by outfitting him or her with the items on this kindergarten school supply list.
Just click, order, and cross off "back to school shopping" from your to-do list!
You May Also Like: