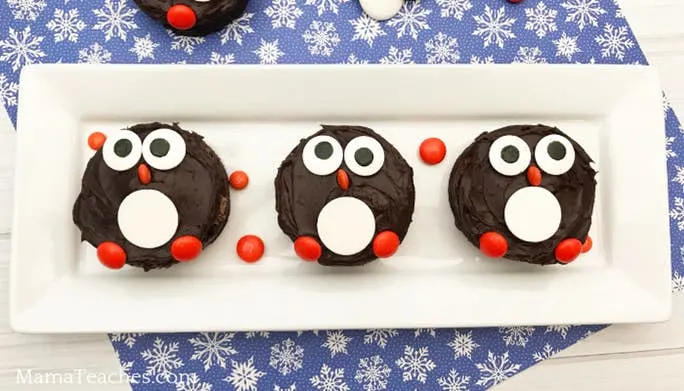 This article contains affiliate links to things that you might like.
There's just something about penguins that make me smile.
Maybe it's their regal stature or the adorable way they waddle around that gets me.
Whatever it is, they're one of my favorite animals.
So, this penguin brownie recipe was a natural fit when we did a penguin unit study recently.
It's a great way to get the kids cooking and learning all at the same time!
​
Penguin Brownies
Ingredients
3/4 C. vegetable oil
1 1/2 C. sugar
2 tsp. vanilla extract
3 eggs
1/2 tsp. baking powder
3/4 C. all-purpose flour
1/2 C. unsweetened cocoa powder
12 oz package of Wilton bright white candy melts
Large candy eyes
Orange M&M's
Mini orange M&M's
Chocolate frosting
3″ round cookie cutter
Directions:
Preheat the oven to 350 degrees Fahrenheit and line a 9×9 baking dish with parchment paper.
Combine the vegetable oil, sugar and vanilla extract.
Whisk in the eggs.
Slowly fold in the flour, cocoa powder and baking powder.
Pour the batter into the prepared baking dish.
Bake for 25-30 minutes.
Remove from the oven and let cool.
Line a baking sheet with parchment paper.
Gently lift the brownies from the baking dish and use the 3″ round cookie cutter to carefully cut the brownies as close as possible and place on the prepared baking sheet.
Generously frost each round brownie.
Give each penguin 2 large candy eyes.
Place (1) small mini orange M&M under the eyes standing up for the penguin's nose.
Place a white candy melt on the penguins belly.
Take (2) orange M&M's and place on the bottom edge of the penguin for it's feet.
Repeat with all the penguin brownies.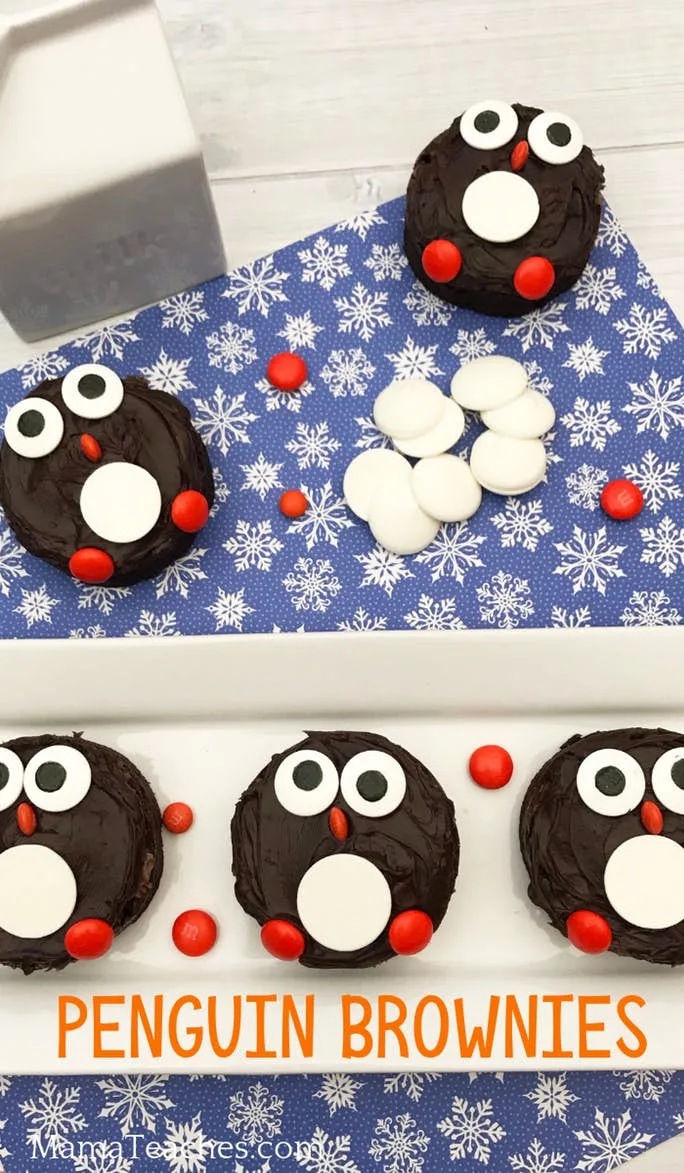 Tips for making the penguin brownies:
To tell if the brownies are done, insert a knife in the center of the brownies – if it comes out clean, the brownies are cooked.
Let the brownies cool completely before trying to frost them. We tried to frost the first batch when they were still warm and the icing slid all over. Our penguins were a hot mess.
The candy eyes we found in the baking aisle of the craft store, but they were pretty pricey. We have since ordered these from Amazon (this is my affiliate link) and they are just as good, but less expensive: Edible Candy Eyes
The tiny orange M&Ms can be found in those small tubes of M&M candies that they usually have at the checkout line in the candy section. We searched the store for them, couldn't find any, and then discovered them as we were waiting in line. If you're an online shopper only, here's my affiliate link for them: Mini M&Ms
If you want to give them a minty-flavor, add one drop of Peppermint Vitality Essential Oil to the batter when you mix in the Vanilla Extract. Here's more information on purchasing the Peppermint Vitality Essential Oil (and other oils!).
​
We hope you enjoy your brownies!!
​
More Penguin Fun: