After going on a nature walk you are coming home with pockets full of treasures. Turn the treasures into art by making a nature collage craft.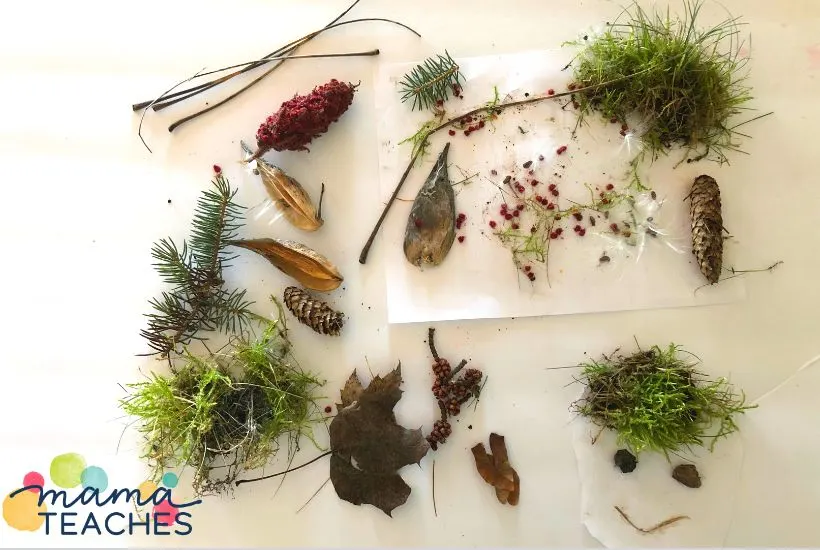 Why Should You Get Kids in Nature?
When kids are in nature, they are more relaxed, their mental health is benefitted, they use up some energy, they get into better moods, the list goes on an on.
Kids who are out in nature frequently tend to sleep better, become more creative, and have less stress.
What wonderful things to want for our kids!
But what do you do once you get your kids dressed to go outside? Below is a great activity that can be paired with a nature walk.
Assigning purpose to a nature walk can ignite a desire in your kids to want to go on the walk.
After being in nature with your kids, you will see that there are so many treasures all around.
Kids love to collect all the pretty things nature has provided.
Put these beautiful items together into a nature collage to save the items in a way your kids can enjoy day in and day out (and to prevent them from going through the washing machine).

This article contains affiliate links to things that you might like.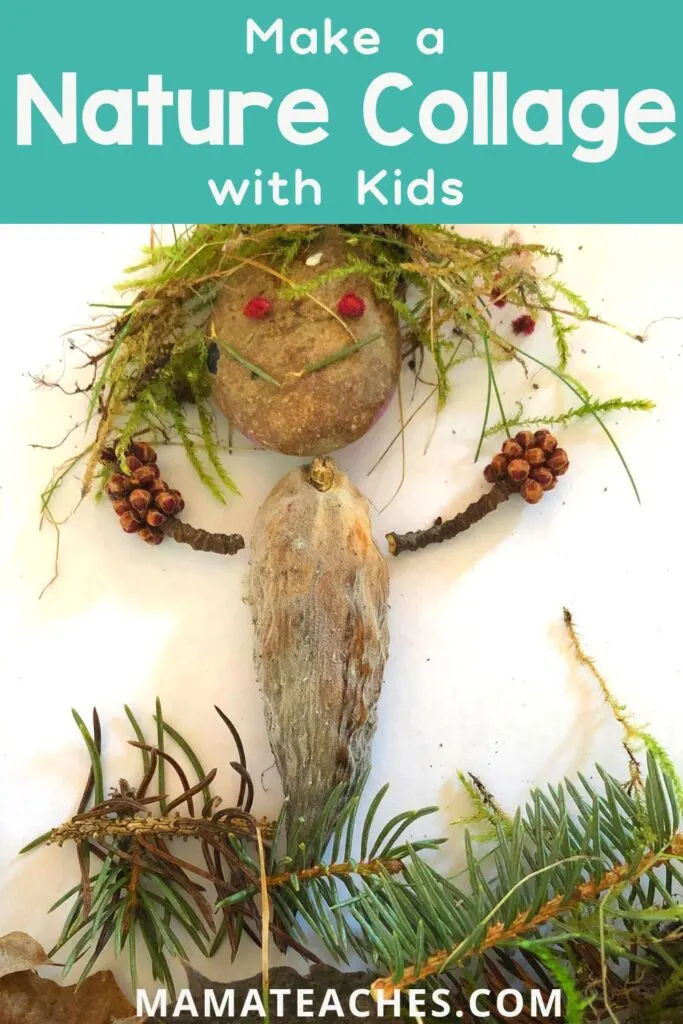 Materials Needed for a Nature Collage Craft
– glue (liquid glue works best)
-paper
-items from nature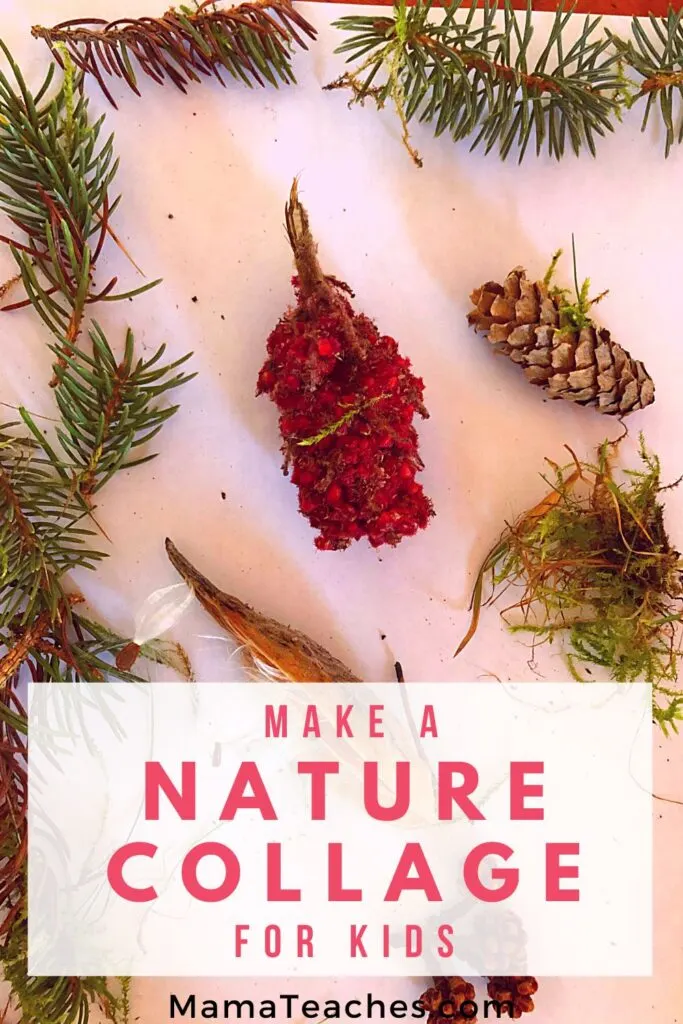 How to Make a Nature Collage
1. Before going on a nature walk with your kids, explain that they will be making nature collage crafts when you get home.
By setting the goal, it will help them to pick out the perfect items for the nature collages.
2. While on the nature walk, have them collect different items. You may want to suggest that they get a variety of sizes, shapes, and colors.
Have them keep in mind that the items will need to be small enough to fit on a paper and light enough for them to carry the items home.
3. Once your nature walk is complete, sort out the items from your nature walk.
Laying them in the middle of the table helps the kids to see what items are available and may spark an idea.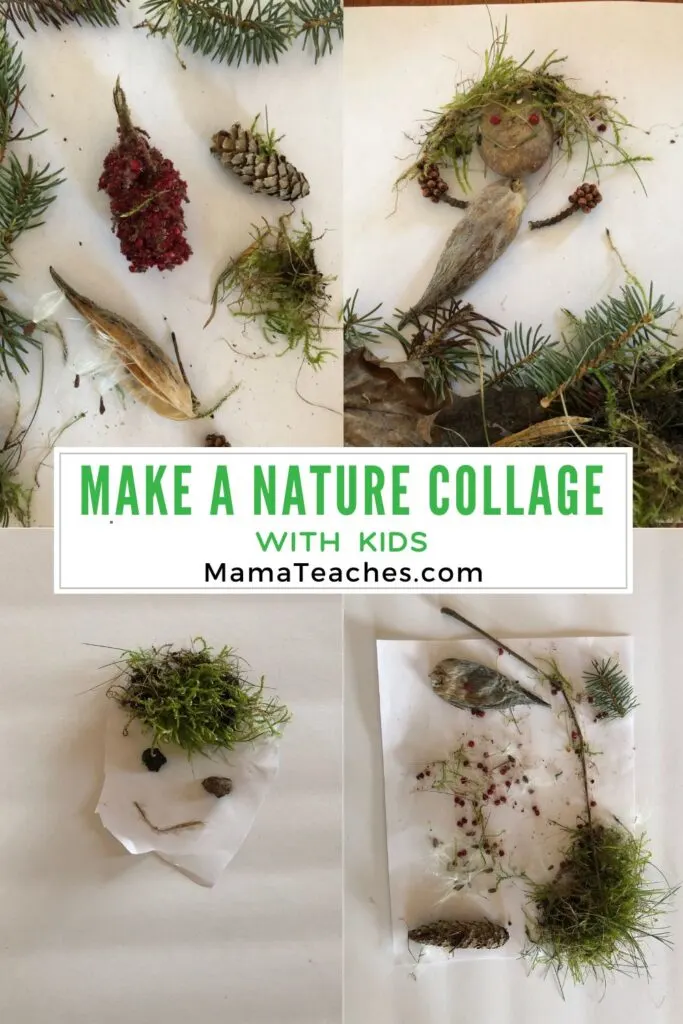 4. Have your kids lay out the item from nature on top of a sheet of paper.
They can make a scene (like a fish jumping out of water), an item (like a mermaid, heart, fairy, etc.), or an abstract pattern with pieces of nature randomly displayed around the paper.
5. Once they are content with their work, have them pick up one item at a time and glue it into place.
By moving one item at a time, it is less likely that the other items on the page will shift (hopefully preventing a meltdown).
6. Let the nature collage craft dry.
7. Enjoy the nature collage!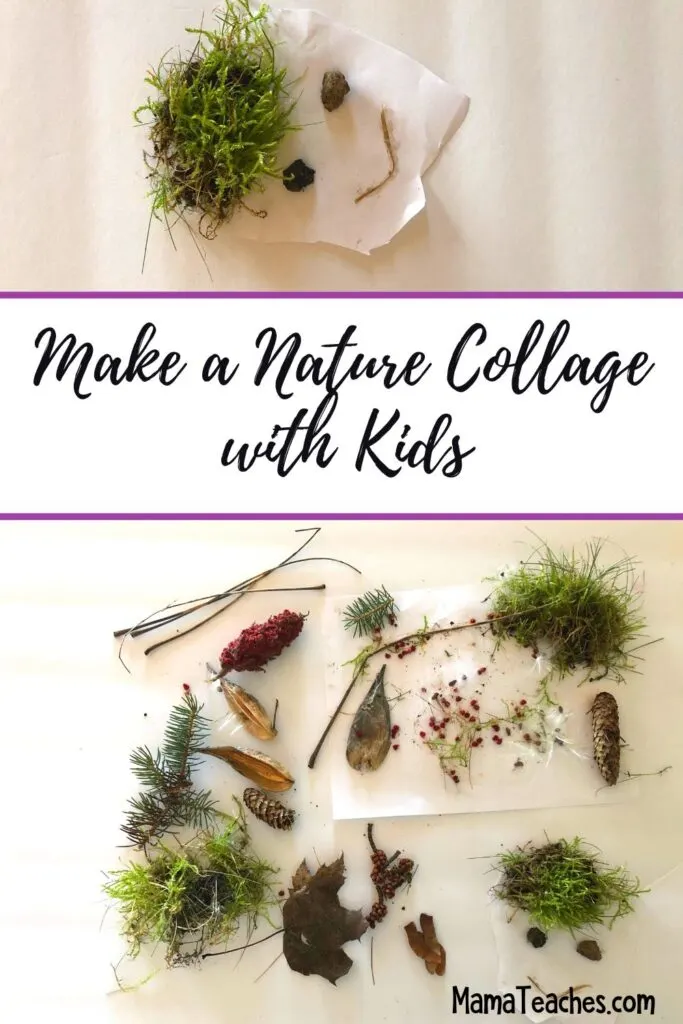 Nature Collage
With no right or wrong way to do it, a nature collage is a great beginner craft for even the most reluctant kids.
Some kids are particular and won't try something if they know they can't do it perfectly.
Because there is no perfect way to do a nature collage craft, it relieves some of the tension of making it 'the right way'.
Plus, nature collages are fun and easy to make and are beautiful to look at.
You May Also Like…