There is more to November than just Thanksgiving. Keep reading to see the November themes and the November books for kids suggestions.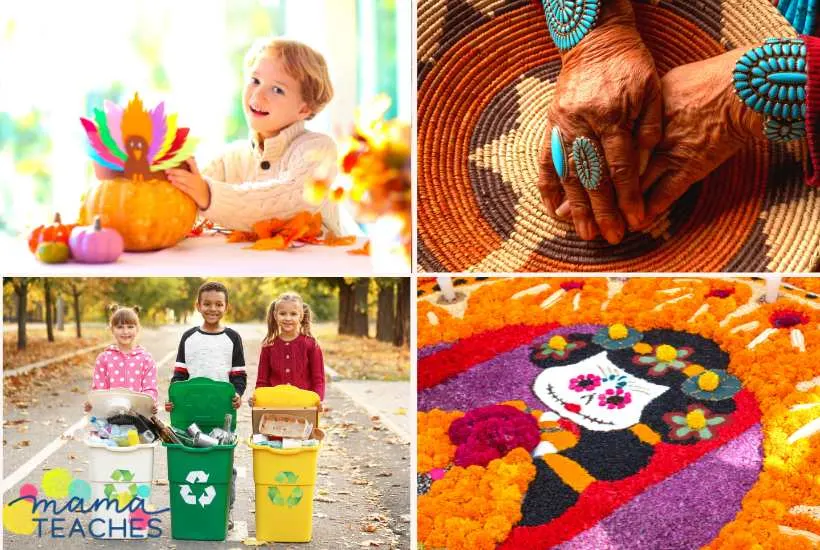 Themes for November Books for Kids
Native Americans Heritage is celebrated all November long.
Teach kids about Native Americans by reading some of the top-picked books below.
November starts with the Day of the Dead.
This celebration is big in Mexico to honor the people that have passed away.
World Jellyfish Day is celebrated at the beginning of November.
Books about STEM and STEAM will be included in the list because National STEM Day is November 8th.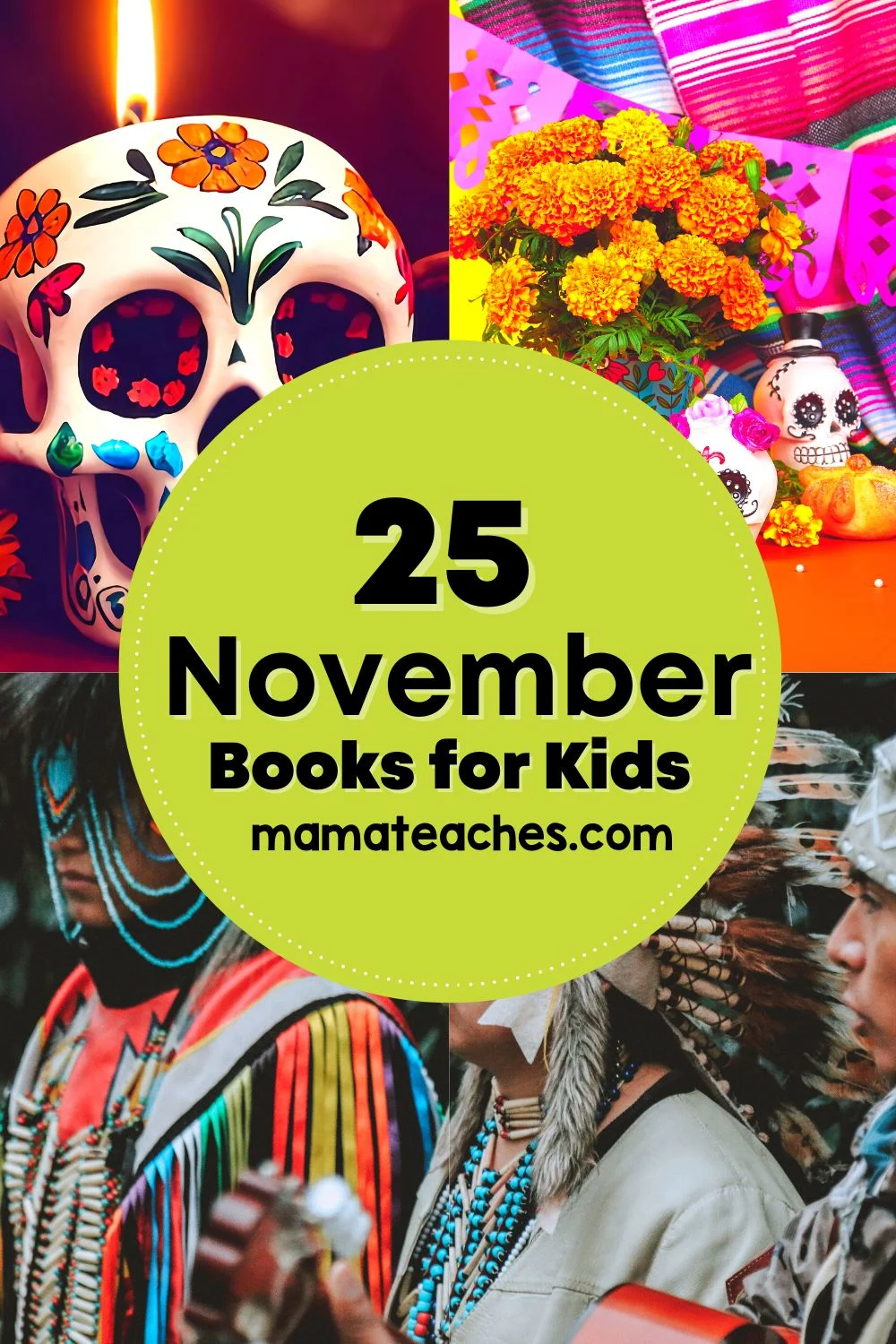 This article contains affiliate links to things that you might like.
America Recycles Day encourages recycling and reusing items.
This day certainly warrants some books to be included about it.
There are many days to honor children in November.
From National Adoption Day to World Children's Day to Princess Day, many opportunities exist to celebrate children.
Red Planet Day is November 28th. In addition, there are a few books about this spectacular planet.
Of course, Thanksgiving is in November, but you won't find books about Thanksgiving on this list because there is a book list post dedicated to Thanksgiving.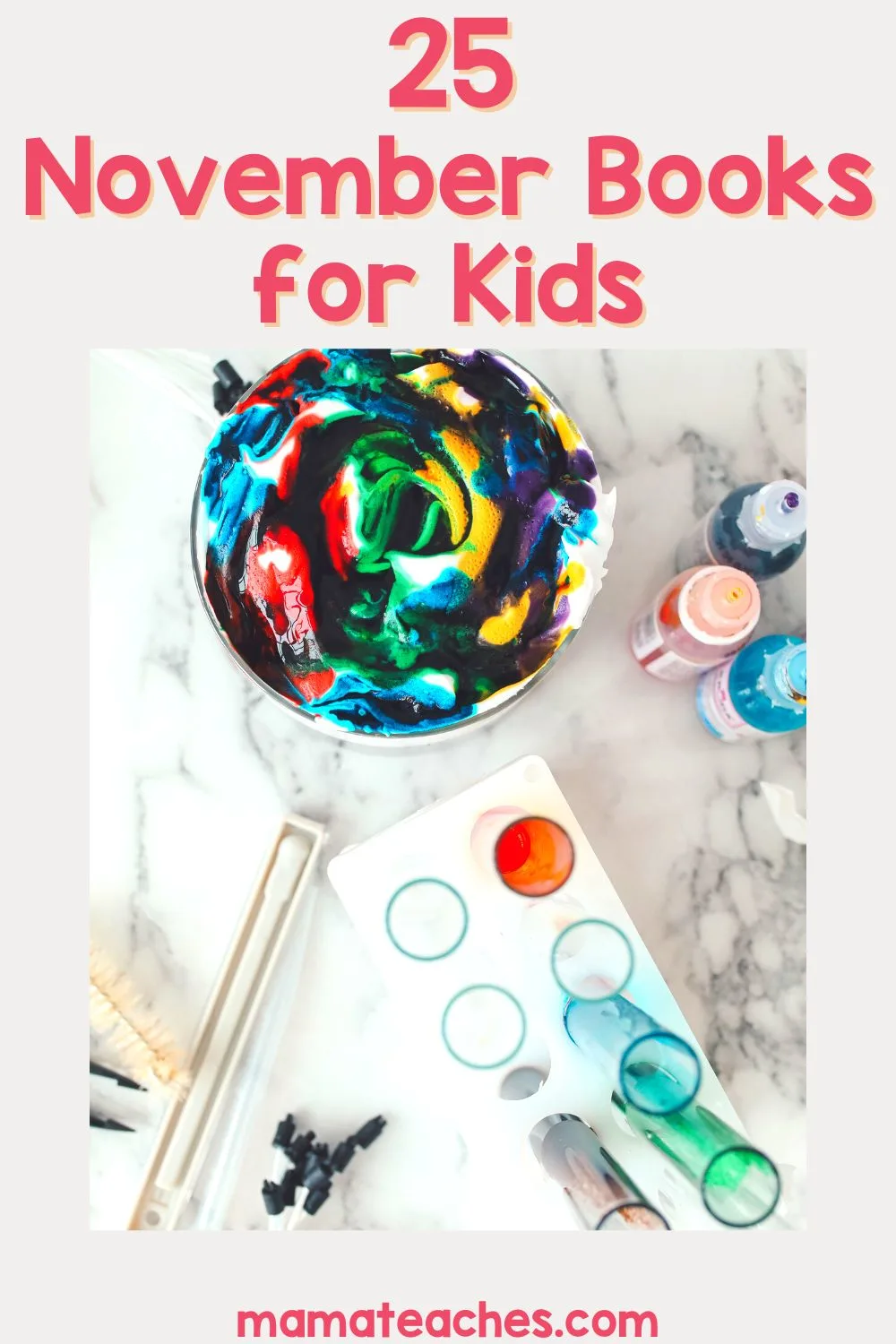 Top November Books for Kids
The beautiful verse in this book makes a powerful impact on the message of this fantastic story.
A Native American family shows the importance of fry bread to their family and nation.
She thought she would be participating in a Powwow, but instead, River finds herself in insolation.
Follow River along as she goes from sickness-induced isolation to embracing the healing power of community.
The author, a member of the Cherokee Nation, explains the historical functions of Powwows.
Introduce kids to traditional stories, like how mountains are formed or why the North Star stays still, told by indigenous tribes with this November books for kids pick.
Not only are the traditional stories included, but tribal history and fun facts about each tribe are also included.
If you are looking to teach kids about the truths when it comes to Native Americans, this book will be a great resource.
The tough topics of forced simulation, making Native Americans relocate, the US not recognizing tribes as nations, and many more are covered.
Indigenous people have led movements across North America to urge people to care for the water.
This book is a great way to show kids the importance of caring for the water, as told through a story of a black snake destroying the water sources.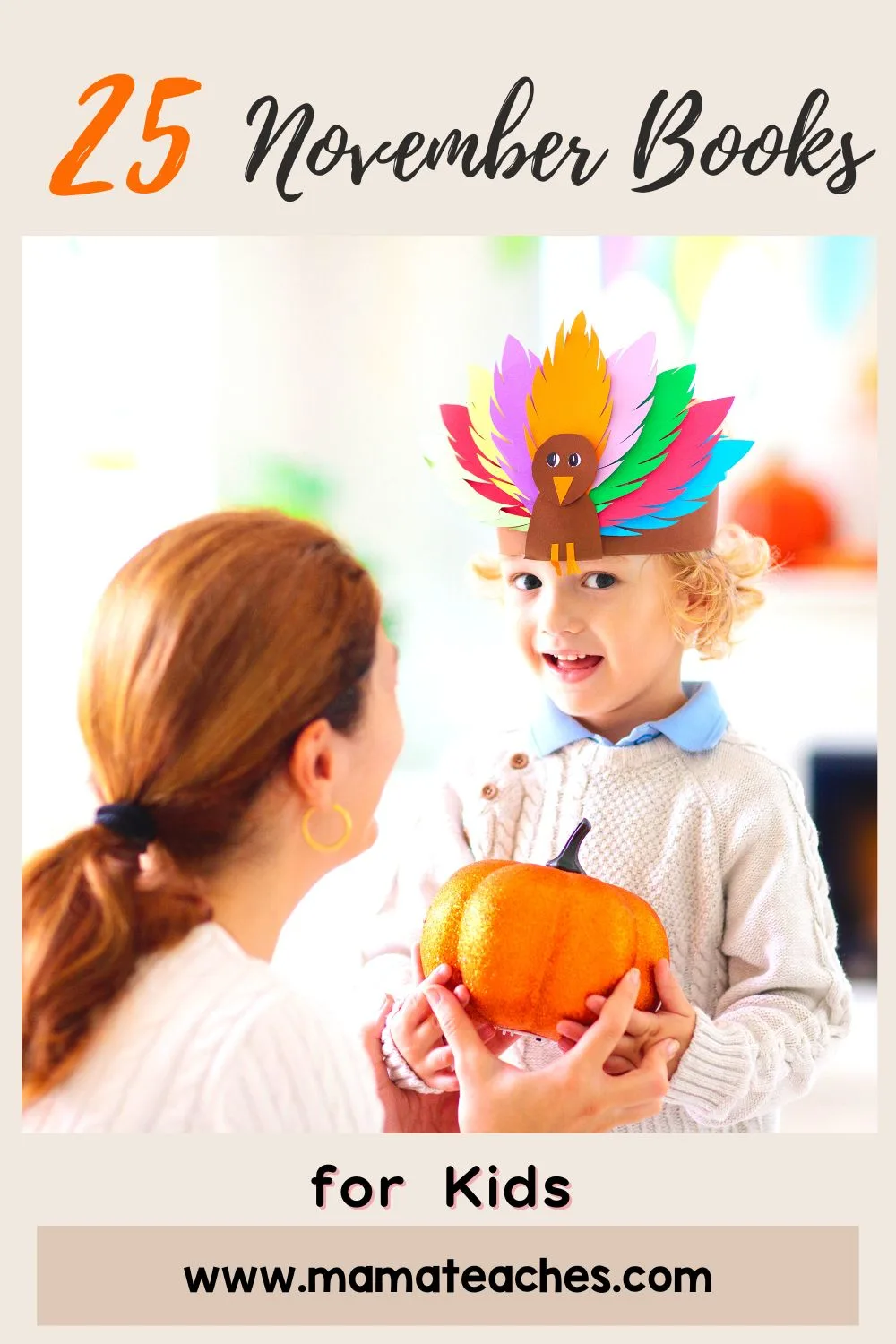 This bilingual book tells the story of a young girl that misses her grandpa.
She helps to prepare for the Day of the Dead to honor him in hopes that his spirit will visit that night.
Come along as Chicano Jr. celebrates his first Day of the Dead in Mexico.
The history of the holiday and the things it shares with Halloween are both explored in this bilingual book.
Not to mention the pictures are adorable.
Encourage kids to learn about the Day of the Dead with this informative book that includes activities they can do with their families or communities.
In the middle of an identity crisis, a little jellyfish tries to figure out who he is.
Finally, with some help, he realizes that labels aren't necessary and should embrace being uniquely himself.
Two unexpected friends have fun together exploring the open sea.
This early reader graphic novel will bring a smile to anyone's face, so it was a must for this November books for kids list.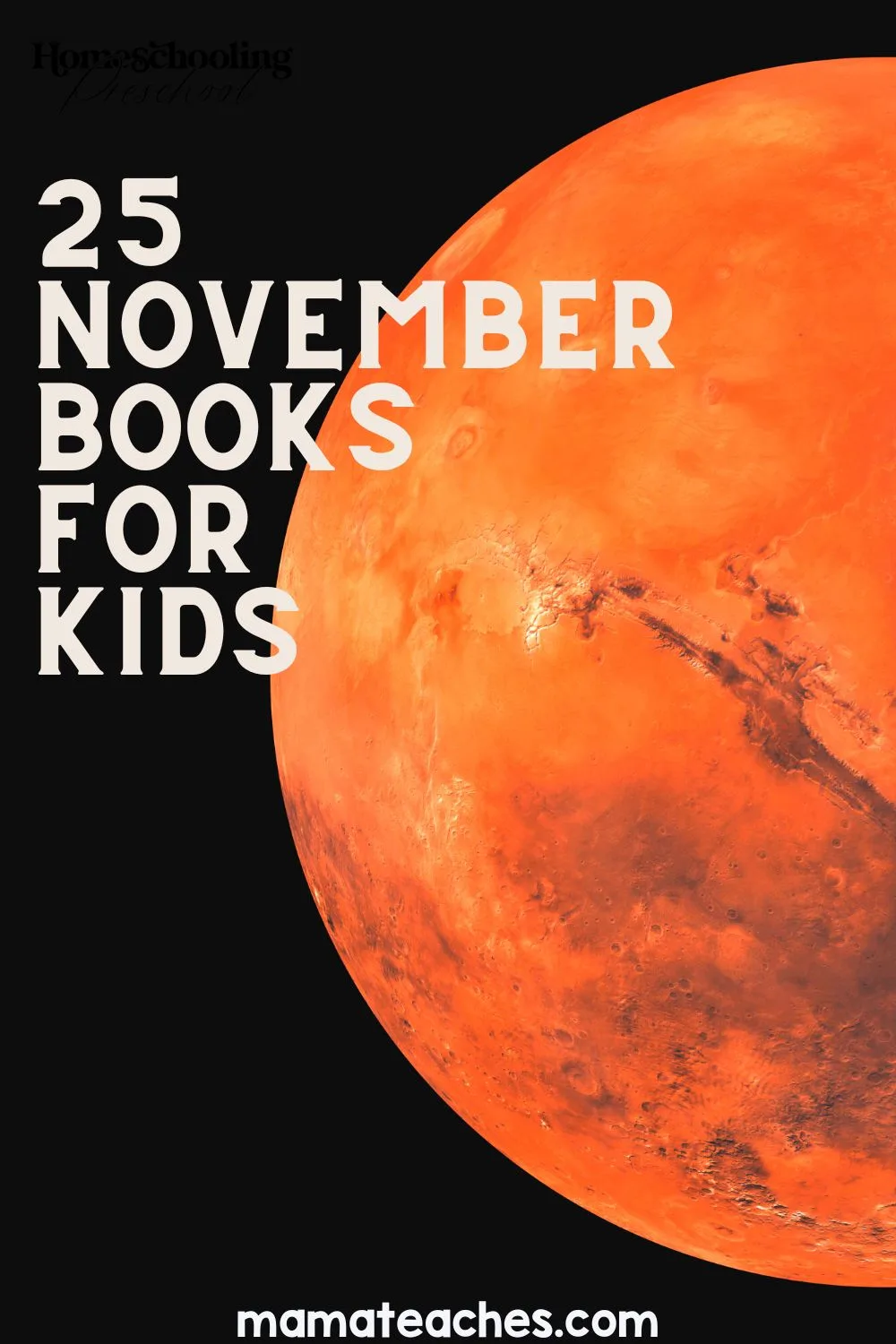 This is the book that started the Ada Twist love, which caused it to be turned into a Netflix show.
Ada is a young girl that loves to solve problems. She teaches the reader the importance of asking, "Why?".
Be sure to check out the other books in the series, too.
Little ones learn about the diverse job possibilities that are out there. The fun rhyming sentences and cute pictures bring this book to life.
Emma Ren inspires young kids to chase after their dreams. For example, she dreamed of making a battle robot for a class competition.
When her partner doesn't believe girls can make things as good as boys, Emma Ren works hard to prove him wrong.
Ada uses the principles of STEM to help solve where her neighbor's dog went—the gadgets Ada uses play an essential role in figuring out the mystery.
Zoey discovers a glowing picture in her mom's office and learns an incredible secret.
Follow along as she uses the scientific method to solve problems to help save a baby dragon.
This chapter book is written in simple sentences and is perfect for lower elementary students.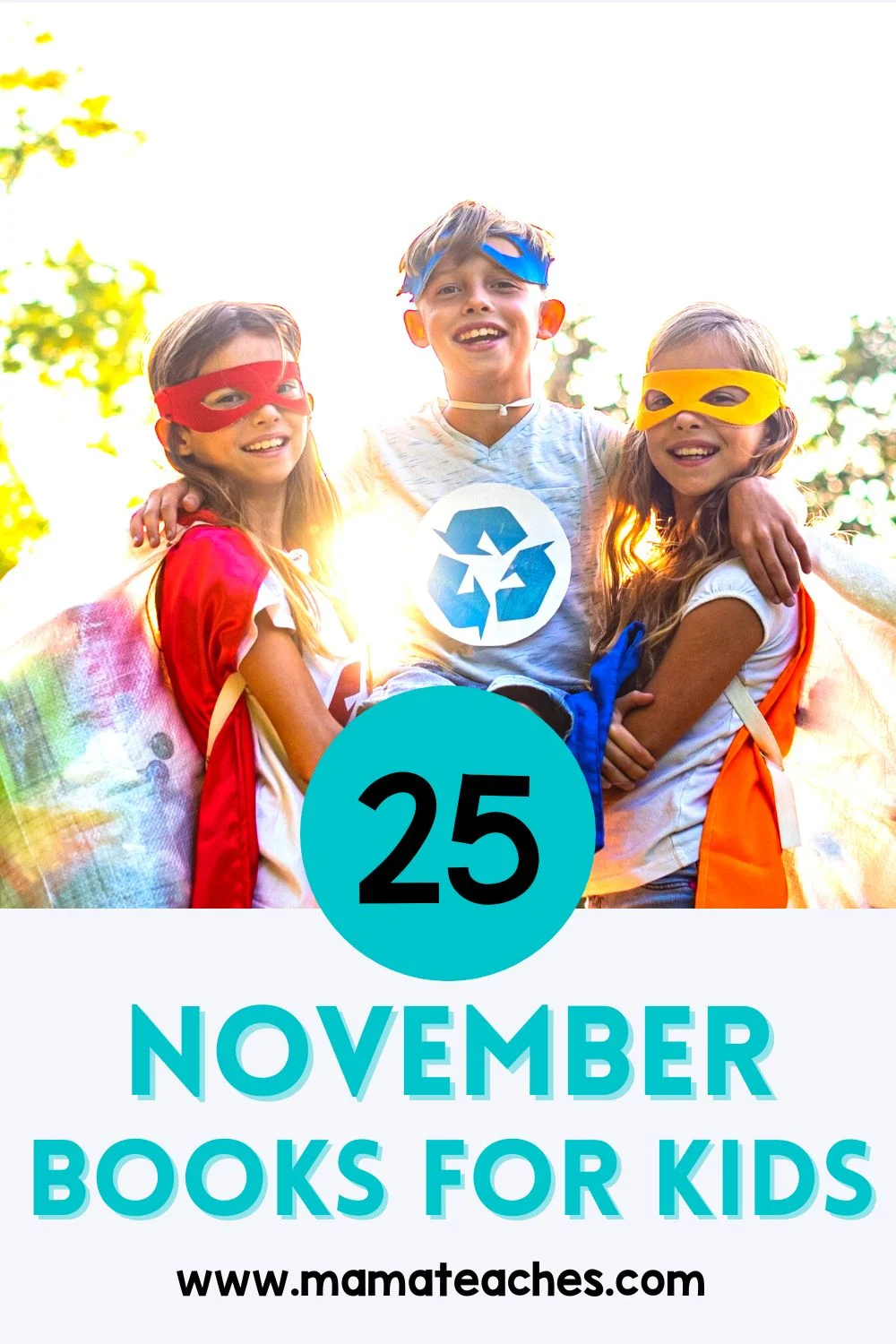 Readers learn about small choices they make each day that can either help or harm the planet.
From turning the water off while brushing your teeth to walking to the park, many options are presented in this book.
There are sure to be a few options that kids can choose to do to help our planet.
After another ninja sees a turtle stuck in plastic, Earth Ninja saves the day.
He explains about endangered animals and how even a tiny piece of plastic can cause significant issues.
The three R's are taught throughout this adorable picture book.
Kids may think dropping one piece of trash is no big deal.
However, this book brings to light the idea that if everyone in the community dropped one piece of trash, the community would soon be covered in trash.
This adorable story is told from the perspective of Mars.
Amazingly, a great story about Mars can be said while providing interesting facts and being funny.
Follow along as the robot called Opportunity takes on Mars. Experience the fantastic things Opportunity found and see what other fun surprises are in store.

This book is packed with facts about Mars.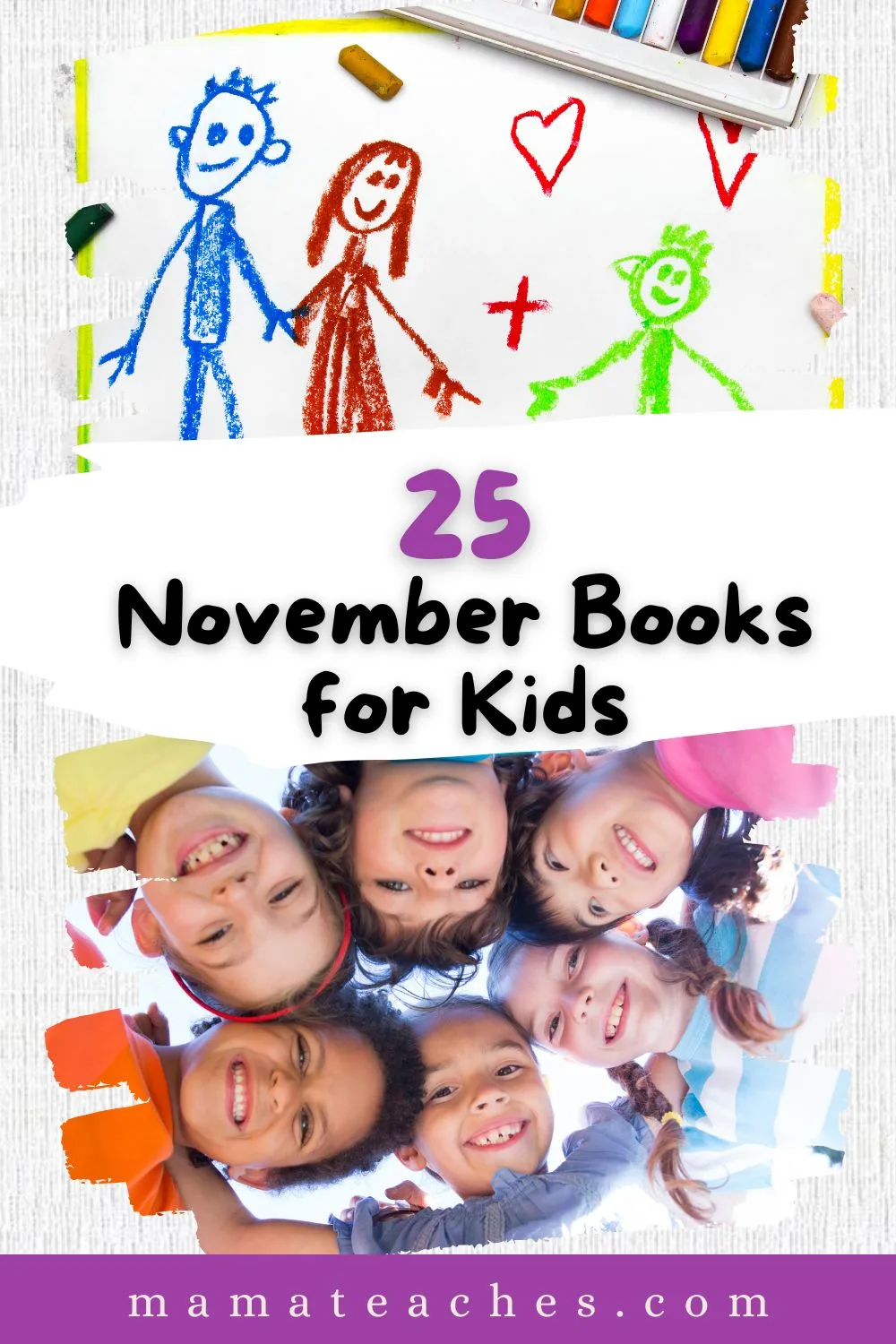 This inclusive picture book teaches children about the one thing that truly makes a family; love.
This book includes many different types of families: blended families, foster families, and all the families in between.
Despite Delly Duck being excited to hatch a chick, she had no idea what to do once the chick was born.
Finally, one concerned goose helps Delly Duck learn how to care for her chick.
Short and sweet, this precious picture book shows a mother's everlasting love for her daughter.
This is an excellent addition to the list of November books for kids.
When Princess Naomi angrily races out of the castle, she finds a unicorn in need. With her newfound need to help, she quickly forgets her anger.
This book has dance moves on each page to get your readers up and moving around while you read.
Princess Truly has rocket boots and magical curls that will save the day when paired with her smarts and strength.
This book is a perfect early reader chapter book that has simple sentences and a simple plot line to build confident readers.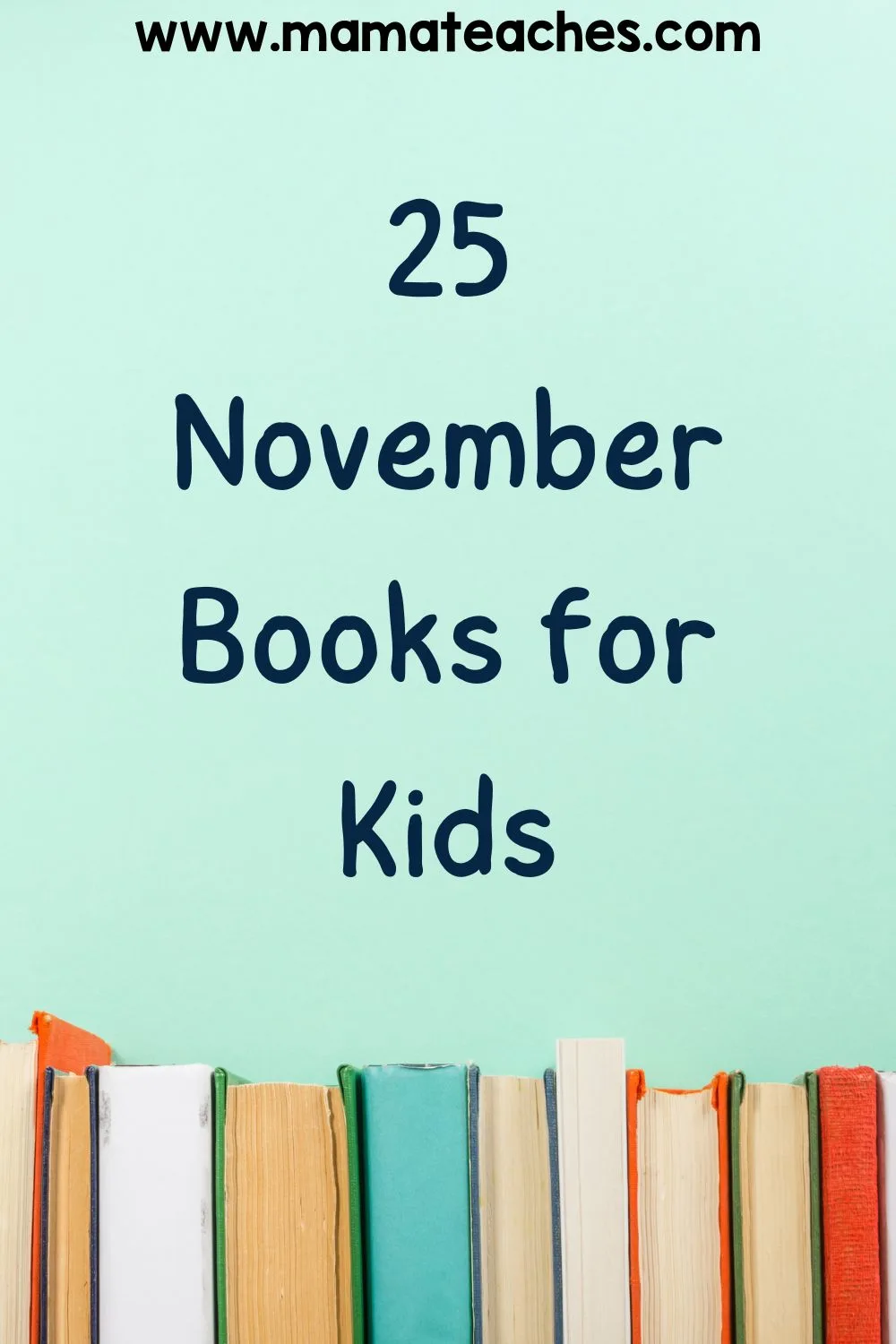 November Books for Children
With many different themes, this November books for kids list has something for everyone.
Graphic novels, nonfiction books, and picture books are all great options for any classroom or homeschool.
You May Also Like…