October is the perfect month to change up your classroom bulletin board. Get inspired with these October bulletin board ideas!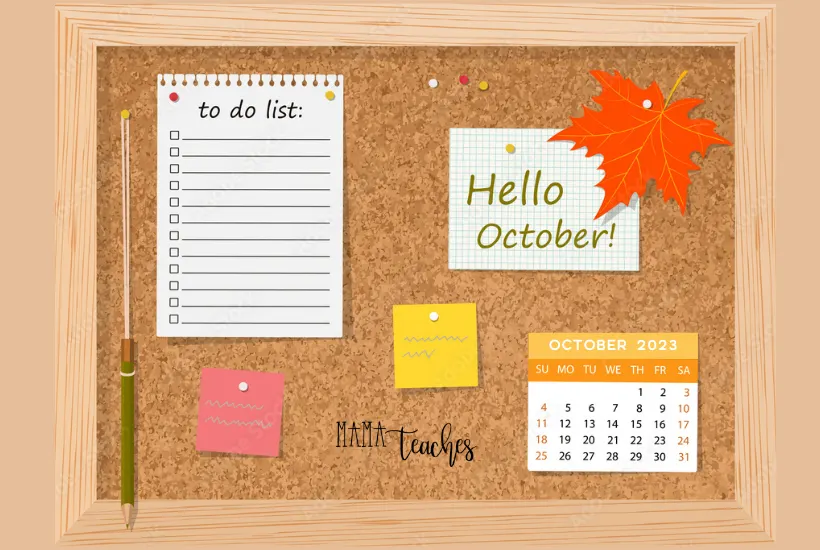 Ideas for October Bulletin Boards
October has two main themes for bulletin boards: autumn and Halloween.
But these aren't your only options.
The second Monday in October is Columbus Day or Indigenous Peoples' Day.
World Mental Health Day is October 10.
Here are some fun holidays that may spark some October bulletin board ideas:
National Taco Day (October 4)
National Be Nice Day (October 5)
World Teachers' Day (October 5)
National Dessert Day (October 14)
National Pasta Day (October 17)
Reptile Awareness Day (October 21)
National Pumpkin Day (October 26)
National Chocolate Day (October 28)
National Cat Day (October 29)
Do you need more ideas? Check out these Weird Holidays in October!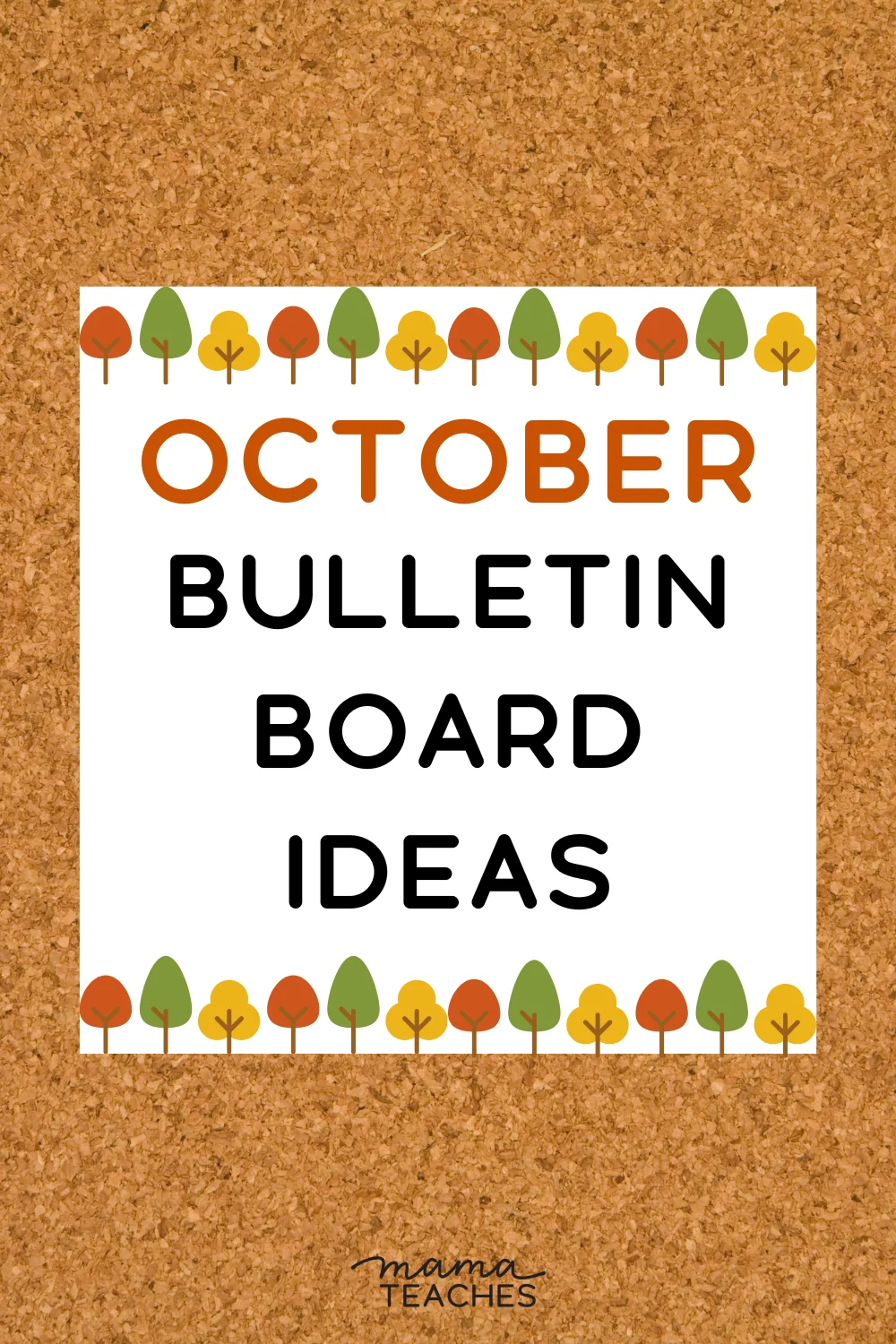 This article contains affiliate links to things that you might like.
October 21 Bulletin Board Ideas
These October and Halloween bulletin board ideas range from simple to execute to super crafty.
Find the one that fits your skill level and teaching personality!
Hello Fall Bulletin Board
This fanciful bulletin board features fall items everywhere you look!
This is the perfect bulletin board for crafty teachers who want a stunning focal point in their classroom.
Bats and Tree Bulletin Board
The incredible board features bats that fly off the board's edge and then curl around the clock!
Fab-BOO-lous Ghost Board
This adorable bulletin board takes advantage of a student craft and a Halloween pun.
Are you short on time this October? This is one of the most straightforward Halloween bulletin board ideas.
Fall in Love with Learning
This is one of the October bulletin board ideas that nods to Halloween without screaming it.
It works well through October; if it spills into November, it still works.
Kindness Web Bulletin Board
National Be Nice Day dovetails nicely with this spider bulletin board emphasizing kindness.
It's a great way to showcase topical student work!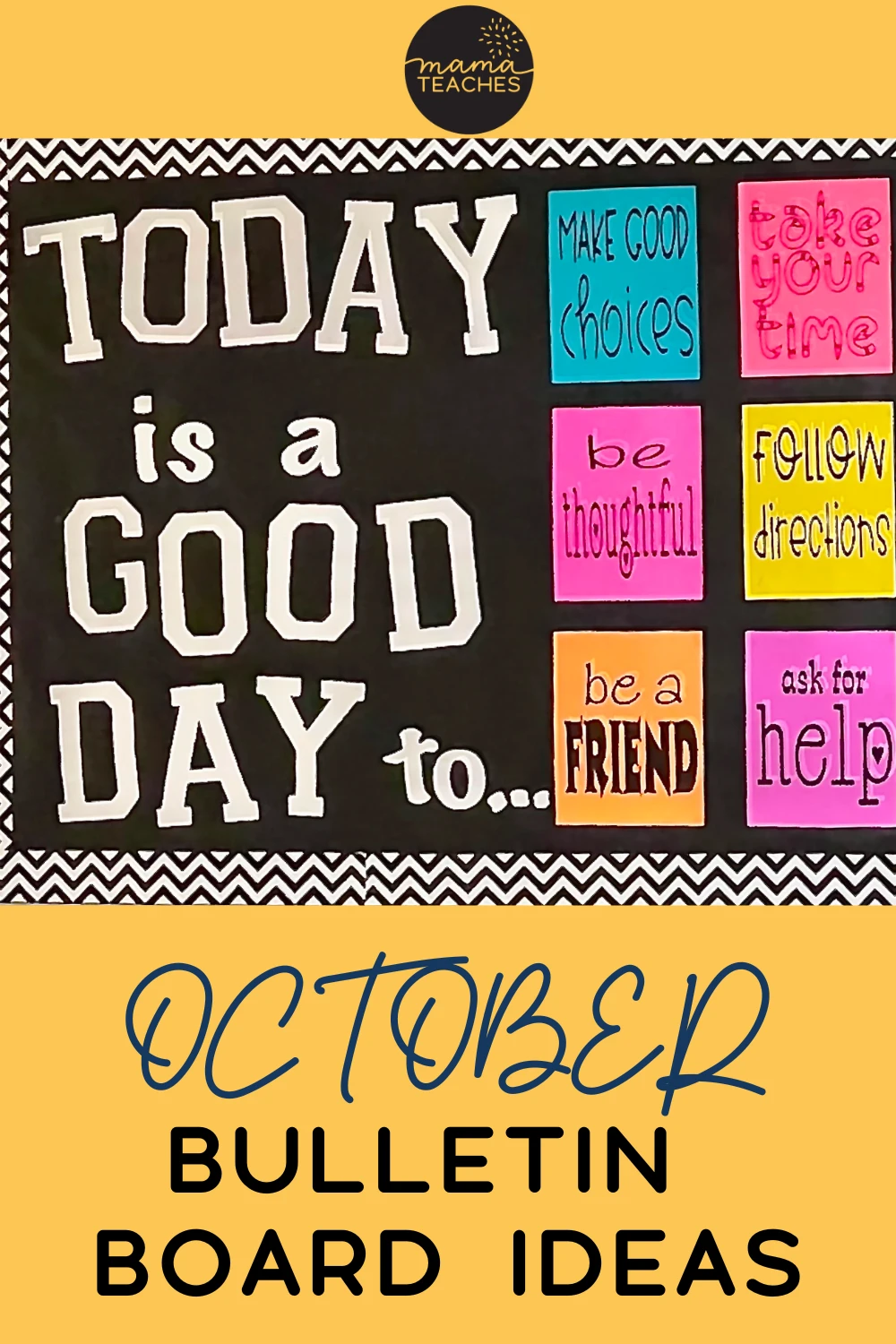 October Library Bulletin Board
This giant spider promotes October-themed titles!
Hidden Treats Bulletin Board
Each day of the month, students can "punch out a pumpkin" to reveal a piece of paper with a treat written on it.
The treat could be pencils, stickers, a dance break…you name it!
Nightmare Before Christmas Bulletin Board
Art teachers, you know you have the best bulletin boards.
Just LOOK at this one! It's breathtaking!
Everybody Focus Bulletin Board
Turn this simple call-and-response attention-getter into a delightful bulletin board.
Kindness Brew Bulletin Board
Students can brainstorm ways to be kind and write them on the bubbles.
Oozing Library Bulletin Board
Here is another fantastic library bulletin board idea for October.
3-D Witch Bulletin Board
This 3-D bulletin board is eye-catching and on theme!
If you don't feel like going the extra mile, you could always make this with flat paper (and not worry about making it 3-D).
Bats Bulletin Board
On this bulletin board, students can display Fun Facts About Bats.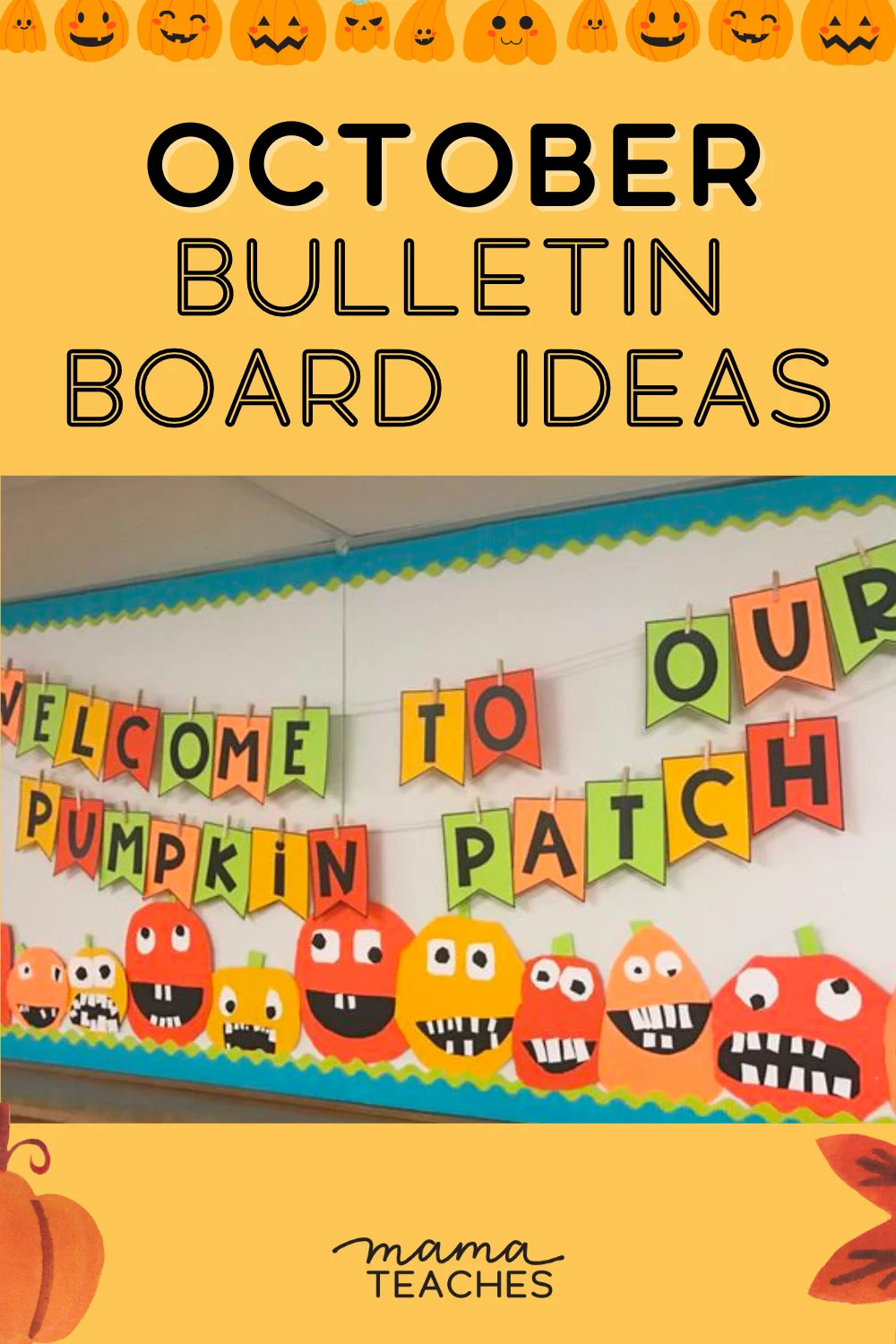 Biggest Pumpkin Ever Bulletin Board
This gigantic, textured pumpkin brings to life the book The Biggest Pumpkin Ever.
Spider Web Bulletin Board
How do you make this inventive bulletin board idea?
Just get some stretchable spiderwebs and a PVC web-printed tablecloth!
October Calendar Board
This beautiful calendar board makes the most of chalk drawings on black paper. The price is right!
October Math Bulletin Board
This simple bulletin board is the perfect place to display student work.
Halloween ELA Bulletin Board
This giant Frankenstein is both memorable and easy to construct.
Writing Bulletin Board
Put those overused words on a tombstone!
This is a fun reminder to your student writers to move beyond the basics.
Tissue Paper Pumpkin Bulletin Board
https://amzn.to/
You can construct this bold bulletin board with orange tissue paper pompoms.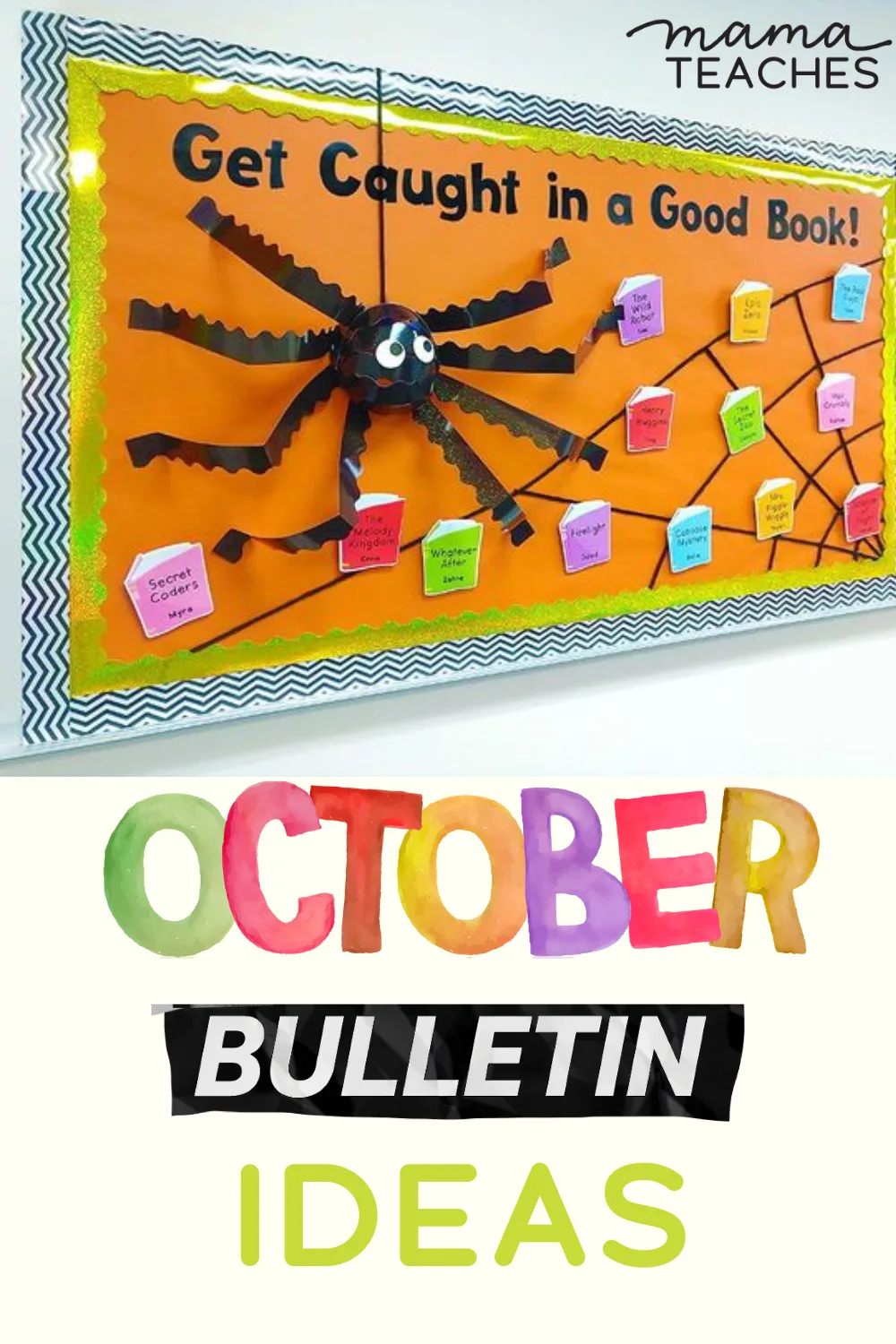 Spanish Coco Bulletin Board
This bulletin board features the characters from the movie Coco.
It's perfect for a Spanish language classroom.
Delightful October Bulletin Board Ideas
These October bulletin board ideas range from humorous to beautiful.
With this range of ideas, you are sure to find a few that match your classroom and your level of artistic ability.
Even the simplest bulletin board can quickly transform your classroom and reinvigorate your students.
You May Also Like: