Eek! Halloween is right around the corner, and you need to decorate your classroom fast!
Never fear–we've got last-minute Halloween decorations that will transform your classroom.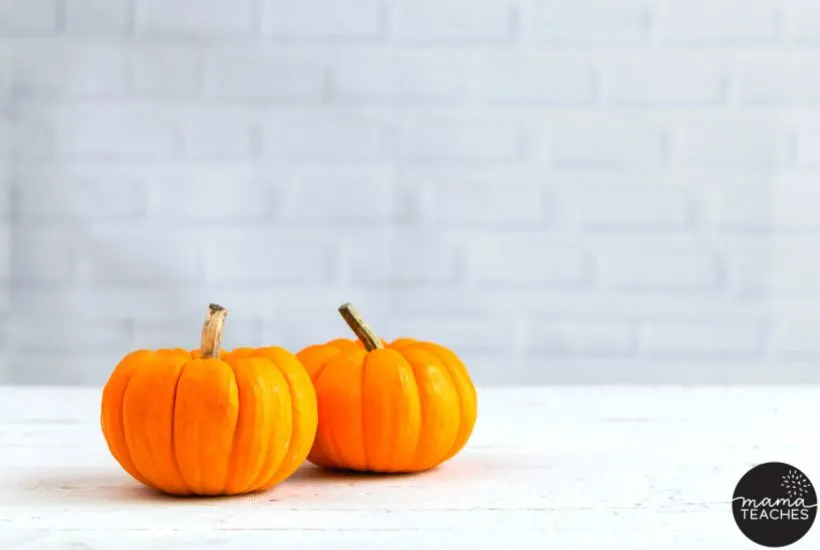 This article contains affiliate links to things that you might like.
Why Decorate for Halloween
The school year is long.
How do you keep your students motivated and enthusiastic?
One easy way is by celebrating.
Break up the monotony of the school year by celebrating each season and holiday that you can.
How do you celebrate?
Change up your bulletin boards, try themed assignments, plan holiday activities, and decorate your centers.
The creative atmosphere of the classroom will add a boost to the season!
How to Hang Things on Cement Walls
If your classroom walls are cement, you know the struggle.
How can you hang up Halloween decorations when nothing seems to stick?
If You Want a Permanent Hanger
You may have a spot in your classroom where you always hang a banner.
Or perhaps you have an area where you hang framed art.
For these places, you'll want a permanent hanging solution.
You can't use regular nails on cement, but you can use hard wall hangers.
These plastic hooks have multiple thin metal prongs that cling firmly to the wall and don't disintegrate the cement.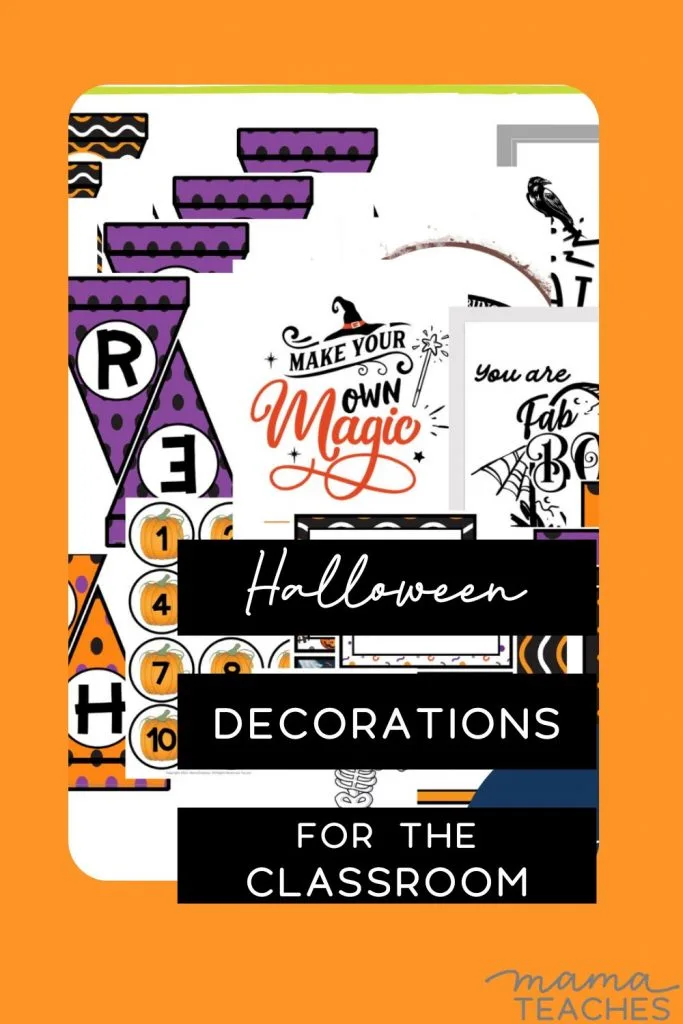 If You Want to Hang a Decoration Temporarily
If you want to hang decorations and remove them soon after, opt for a temporary solution like mounting putty.
Mounting putty is the best tack because it doesn't leave a sticky residue on the walls. (And if it does, you can easily wipe it away with soap and water.) It's ideal for hanging lightweight decorations made of paper.
Command hooks are another option for concrete walls.
I like to have a few around the classroom to hang banners or dangling items.
Before you attach mounting putty or command hooks to your cement, you must clean the walls.
Don't skip this step!
Tiny bits of dust and dirt will keep your tack from adhering properly.
To clean the wall, dampen a cloth with rubbing alcohol and wipe the surface.
No scrubbing is required!
Decorating with the Decoration Pack
This Halloween Decoration Pack will instantly make your classroom spooktacular!
All you need is a color printer, white paper or cardstock, and a pair of scissors.
Presto!
Your classroom is decked out for Halloween.
The pack includes: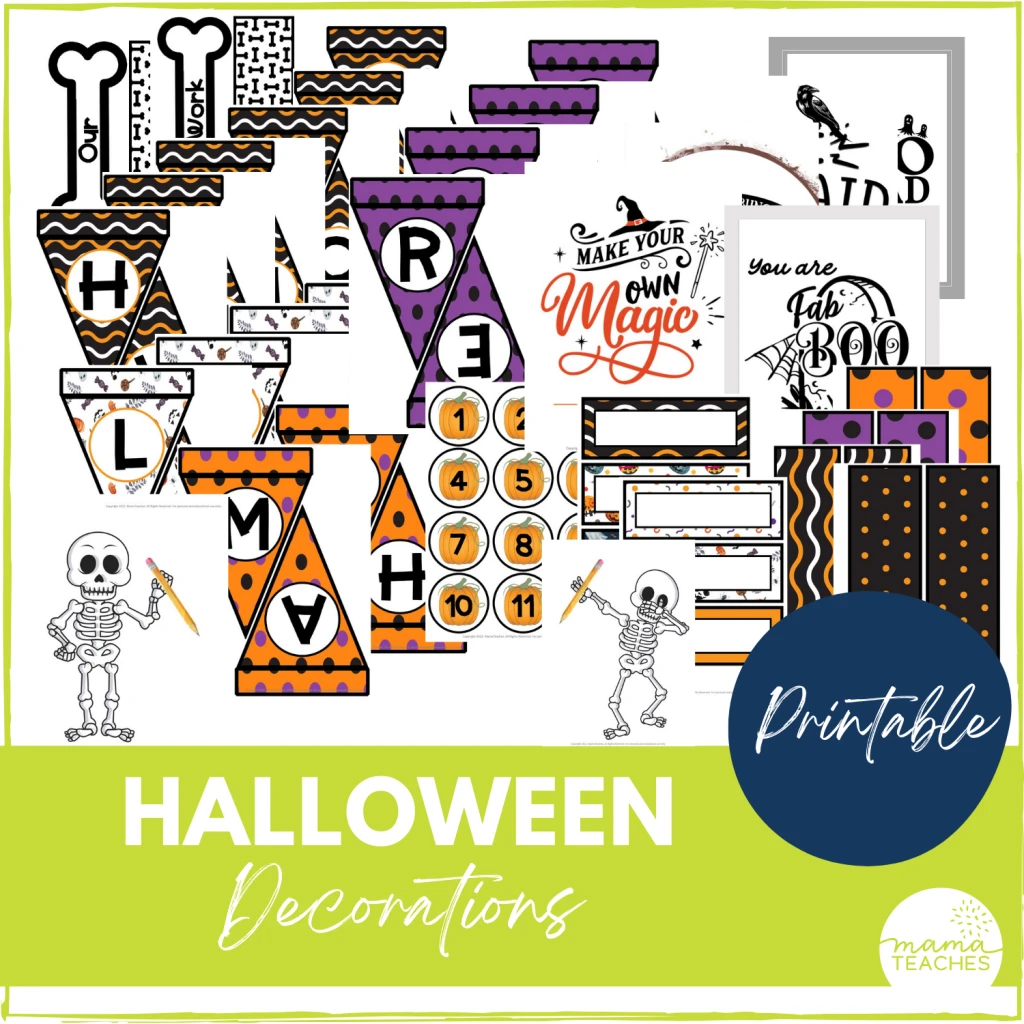 Happy Halloween Pennant
This classic orange and black pennant banner is perfect for the front of your classroom.
You could hang it over your whiteboard or on your front door.
Library, Science, Math, and Reading Pennants
Your centers will have their unique Halloween flair with these Halloween-themed pennant banners.
While the pack comes with these specific centers, it also includes blank pennants so you can add your own custom words.
Labels and Nametags
The Halloween Decoration Pack also includes six different label and nametag designs.
These labels and nametags are all editable, so you can type and print whatever words or names you want.
You can use the labels on the homework pile, class supplies, and bulletin boards.
Pumpkin Clock Numbers
Make your classroom clock on-theme by attaching these pumpkin numbers to the wall around the rim of your clock.
Halloween Posters
Every classroom needs some wall art!
This pack also includes 5 unique Halloween-themed posters.
They take advantage of Halloween puns like "Fab-BOO-lous" and "Make Your Own Magic!"
All are Halloween-themed, but none are scary.
Ready-Made Halloween Bulletin Boards
Not only does this decoration pack include 5 different Halloween bulletin board borders, but it also includes picture cutouts of friendly skeletons holding pencils and a sign that says, "Our Bone Chilling Work." In a matter of minutes, you can have a Halloween-themed bulletin board to display student work!
Quick and Easy Halloween Decorations for the Classroom
As a teacher, you've got enough to do without spending hours on classroom decorations.
With this Halloween decoration pack and a package of mounting putty (and maybe some fake spiderwebs), you can quickly transform your classroom into a fun and fabulous place for the holiday.
You May Also Like: