Here's how to make your classroom boo-tiful for Halloween without breaking the bank! Check out these inexpensive Halloween decorating ideas.
Cheap Decoration Ideas for Halloween
You want your classroom to be a place of learning and wonder, and that means changing up the scenery for the seasons. But that's hardly written in the school budget.
Don't worry! We've got you covered. You don't need to spend your paycheck at the Halloween store to give 'em pumpkin to talk about.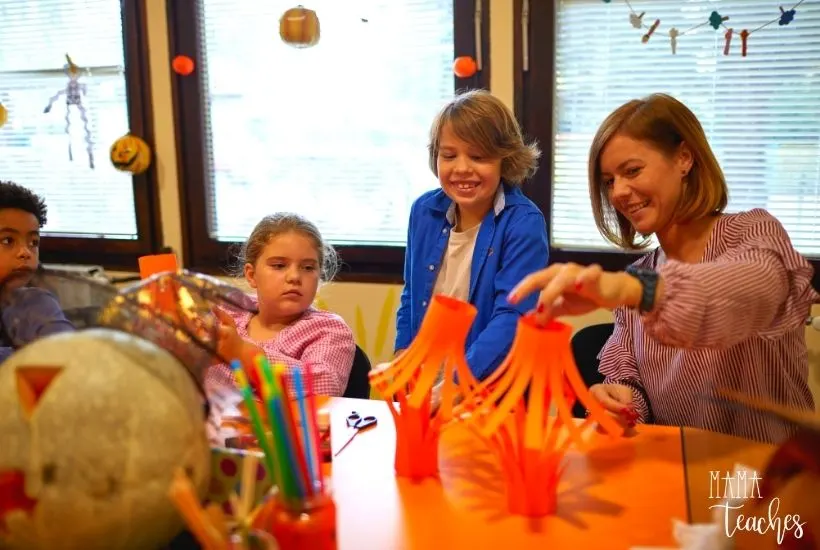 Inexpensive Halloween Decorating Ideas for the Classroom
You don't have to be a crafting wizard to create some fabulous Halloween fun in your classroom. These cheap decoration ideas are simple to make and budget-friendly.
Spiders on the Web
Get some stretchy spider web floss and cast webs in your corners and over your bookshelves. Add a few plastic spiders and you're ready for the holiday!
Googly Ghost Garland
If you have access to a die-cutter, garlands are the way to go! Cut a bunch of ghosts or pumpkins, stick on some large googly eyes, and staple them to some yarn or string. This is the perfect trim for your whiteboard!
Eye Am Watching You
A good teacher has eyes in the back of her head, right? Keep some on your desk. Use an extra-large jar (I can eat my weight in pickles so I always have a pickle jar) and fill it with water and eyeball ping-pong balls.
Flying Bats
Get out that die-cutter and make some black bats out of construction paper. Tape them to your walls in groups (or dangle them from the ceiling with fishing line)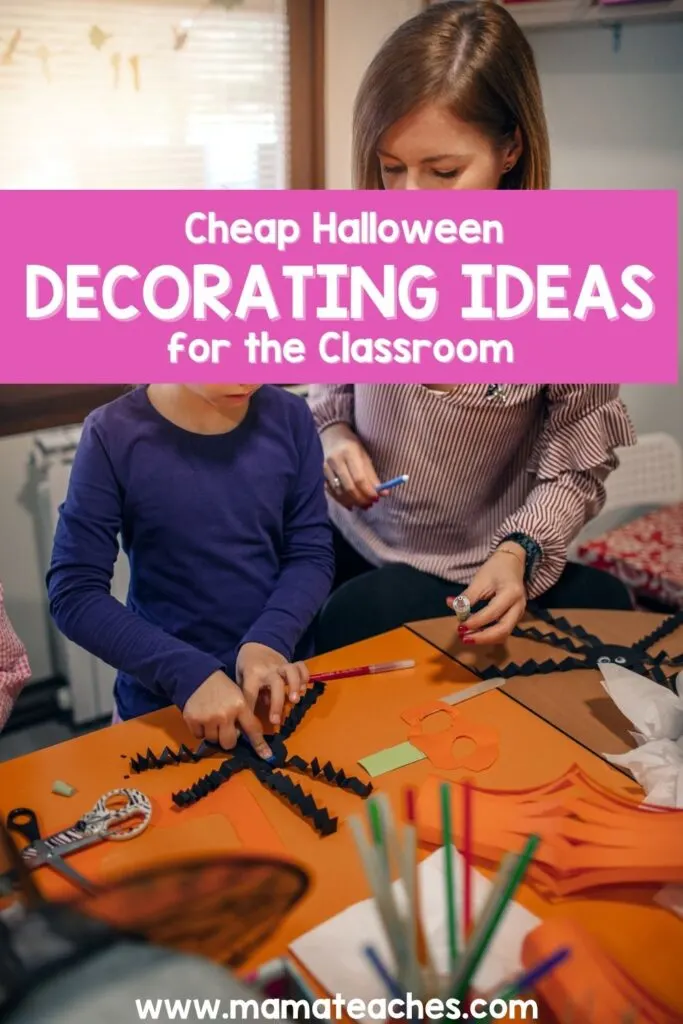 Ghost Balloons for a Halloween Party
Latex balloons don't stay inflated with helium forever, but if you have a one-day Halloween function you can quickly (and cheaply) turn white balloons into ghosts. Just use some black Sharpie to color in eyes and a mouth! Tape some white streamers to the base of the balloons for extra ghostly fun.
Spell with Jars of Candy
Get out your paper letters and mason jars! Tape a black letter on each mason jar to spell a Halloween word, like "BOO," "EEK," or "TRICK." Then fill each mason jar with a Halloween treat, such as candy corn, marshmallow pumpkins, or Reese's Pieces. Bonus: You can grab a sugar boost whenever you need it!
Pumpkin Decor
When you cut into a pumpkin, you start the timer on decomposition. Decorate your real pumpkin (or use a fake one) with paint or washi tape instead. That way it can beautify your room in October and beyond!
Styrofoam Spiders
Spray some 3-inch styrofoam balls with black spray paint, then cut four pipe cleaners in half to make 8 legs for the spider. You don't have to stick with black pipe cleaners: orange, green, and purple are also perfect Halloween color choices.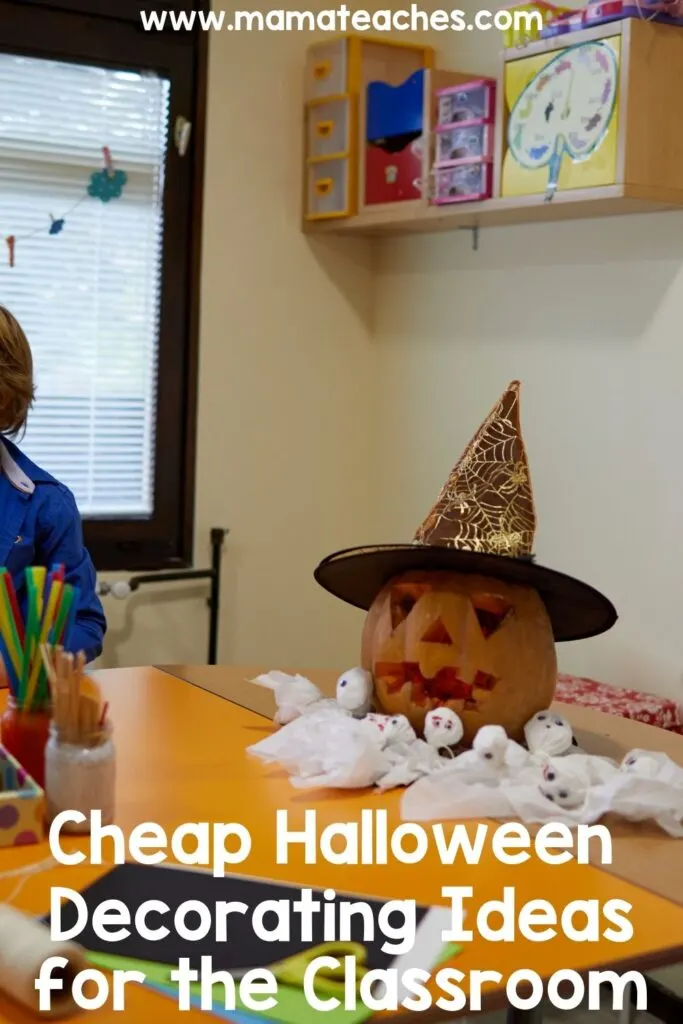 Lollipop Ghost Garland
Turn Tootsie Pops into a ghost garland by covering each lollipop with white facial tissue. Secure with a little white ribbon. Use a black marker to draw eyes and mouth on each ghost. Hang them from the ceiling with fishing line or tie them together to make a ghoulish garland.
Balloon Pumpkin Garland
Inflate some orange balloons and turn them upside down (tie end on top). Use a Sharpie to draw a Jack-o-lantern face on each one. Tie the stems together with string.
Bloody Candles
Light a red candle (make sure it is solid red and not just red dipped) and drip the crimson wax onto some white pillar candles.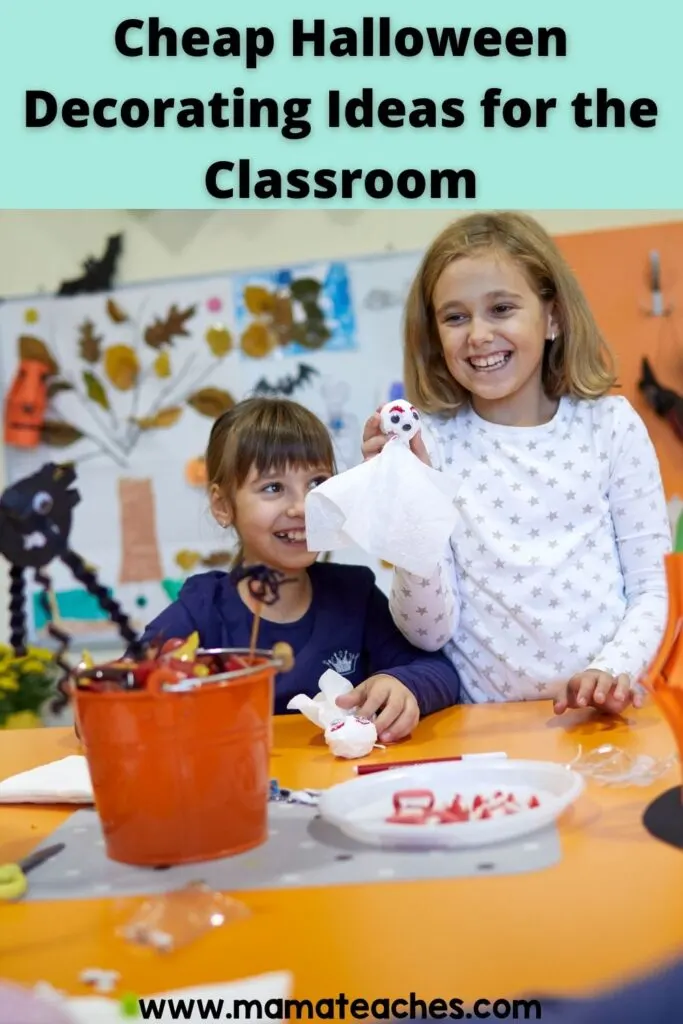 Classroom Decorations for Halloween
Make your classroom spook-tacular with these cheap and easy Halloween decorating ideas for the classroom!
You May Also Like: