Applying math lessons learned in a classroom to real life can be mind-boggling for some kids.
That is why real life math practice can be a valuable asset to their learning experience.
Find more below about this free math worksheet that applies real life math to our imaginary Rainbow Restaurant's delicious yet, indulgent, menu.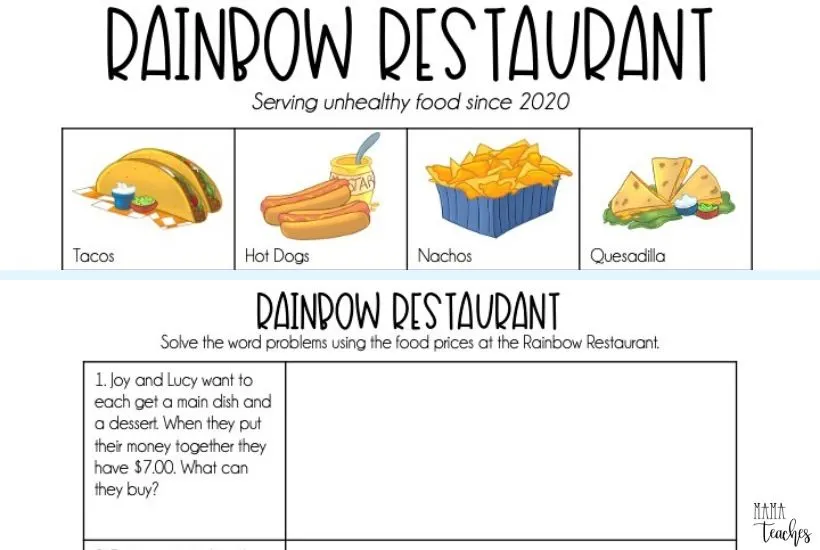 This article contains affiliate links to things that you might like.
This real life math practice is intended for upper elementary aged children, meaning third grade and up.
Incorporate the menu with wide variety and the free math worksheet into lessons about addition and subtraction, into lessons on how to use money wisely.
MAKING RAINBOW RESTAURANT'S REAL LIFE MATH WORKSHEET
Both the menu and the math worksheet can easily be printed on standard 8.5"x11" printer paper.
You don't need color ink, but it will add a lot of pizazz to your Rainbow Restaurant menu if you do.
The number of copies you need to print is dependent upon how you want to use this free printable.
If you are in a classroom, or a homeschool setting, and want each child to have a copy of the menu and the worksheet, print as many copies as you will need.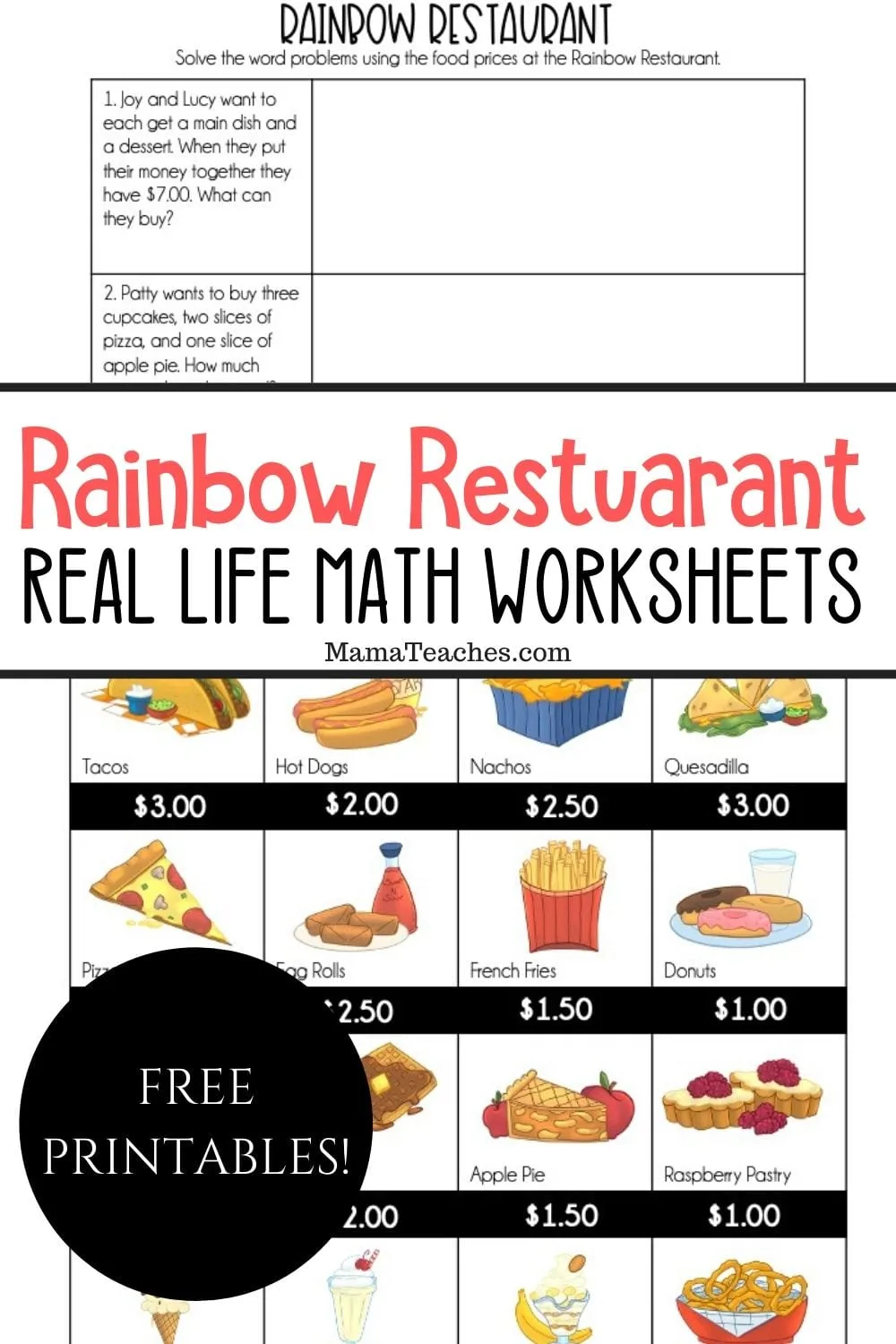 To save paper, you could print the menu out only a few times and laminate it.
That way, if your student's desks are set up in small groups, each group can share their respective menu while also having their own copy of the math worksheet.
USING THE REAL MATH WORKSHEET
The restaurant menu includes 16 different food items, all with varying prices.
The free math practice that comes with this menu has five multi-step word problems.
In a classroom, a teacher could use this activity as either a student's individual practice or within small groups.
Parents at home, don't worry.
This is a great home-school activity to use in your child's lessons.
You could also help your child or children build their real life math skills using this free printable in an imaginary restaurant game where they act as the cashier.
You can use this math worksheet as a guide for your "orders".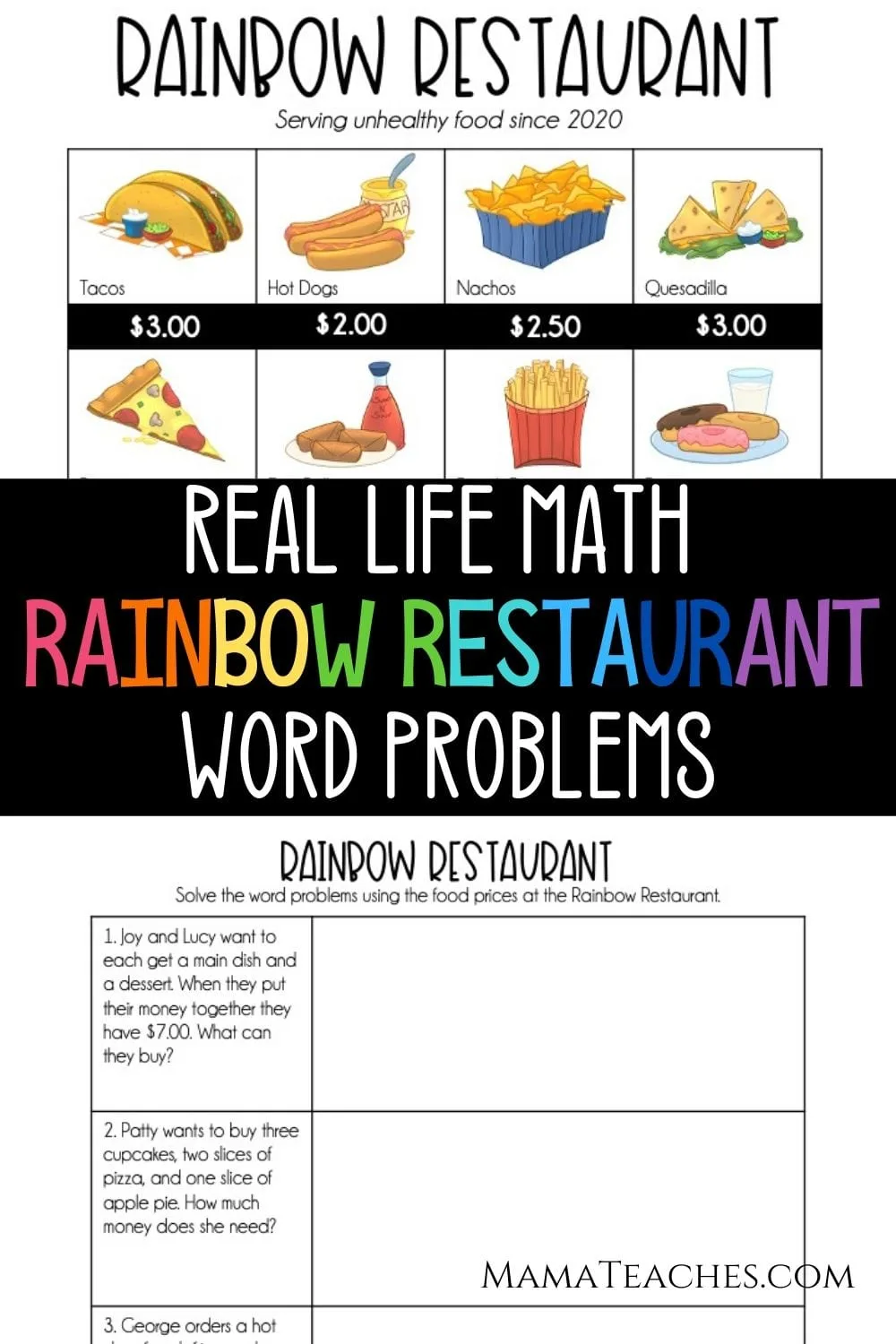 Below are a few suggestions of materials you may want to use with this printable:

Pencils. As with all math practice, you want students to show their work and provide an answer.
Erasers. Mistakes happen! That's what learning is all about.
Food props. Sometimes, to make a class more engaged, using physical props can make a problem seem more approachable. Find a fake hot dog or hamburger to help with their real life learning process.
Grab Your Free real life math Printables
The Rainbow Restaurant printables are available for free in our Freebies Library!
If you're already a member, you can access the library here with your password.
Not a member yet?
No worries!
Sign-up below and the password will be emailed to you!
However you and your children or students use this real life math worksheet, we would love to see those Rainbow Restaurant's up and running!
Tag us on Instagram @MamaTeaches and feel free to share what you thought about this activity!
You Might Also Like These Other teaching Activities & Resources: