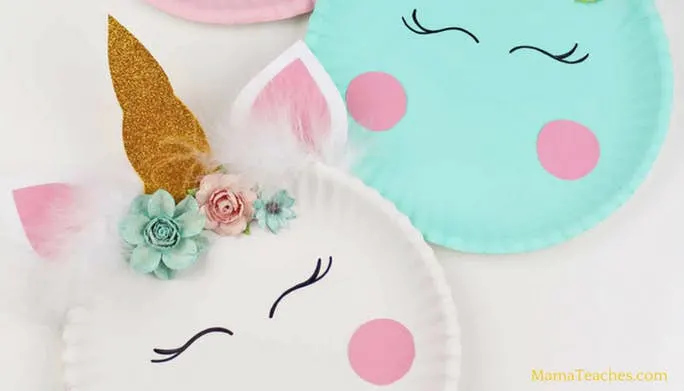 In our house, there's no such thing as too many unicorn crafts! We love all things unicorn, fairies, and glitter.
Unicorn Craft for Kids
So, when the my daughter and her friend were complaining that it was too hot to go outside the other day, we broke out the craft supplies and got to work.
This unicorn paper plate craft is one of our favorites, because they're so pretty and can be painted any color you'd like. Don't care for light teal or pink? Try baby blue or lavender instead! Would you rather have a silver horn instead of a gold one? No problem! Just change the color of the paper you're using.
Being able to customize this unicorn craft for kids is what makes it even more special! What color will your unicorn be?
Be sure to also check out the Unicorn Egg Craftthat's perfect for Easter or unicorn Christmas ornaments or just because!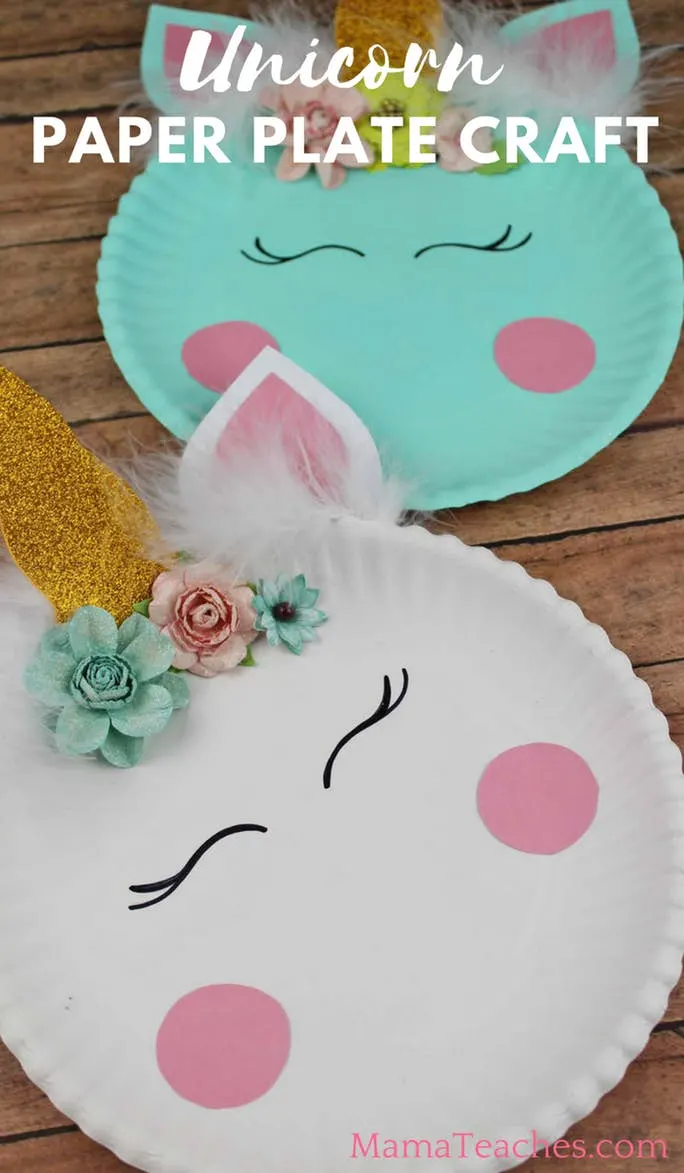 Paper Plate Unicorn Craft
Ages: 8+
Time: 30-45 minutes
Supplies Needed: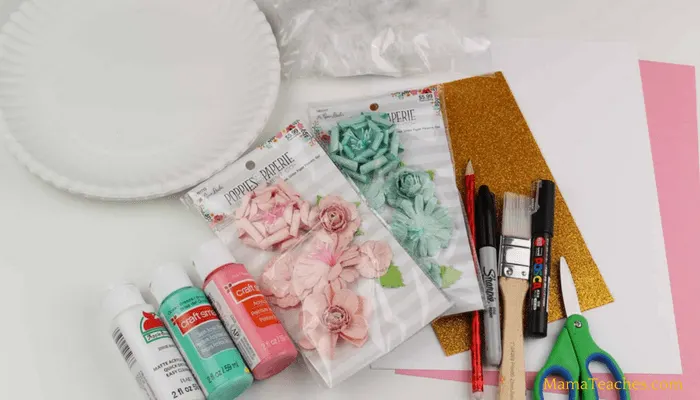 Unicorn Template – DOWNLOAD
Paper Plates
Acrylic Paint
Paintbrush
Paper Flowers
Hot Glue
Glue Stick
Black Paint Pen or Black Marker
Pencil
Scissors
Cardstock
Glitter Cardstock
Marabou Feathers
Directions:
Paint the paper plates pastel colors. They also look great left white! Allow the paint to dry completely.
Print out the unicorn template above.
Cut the template out and trace onto cardstock.
Cut the horn out and glue on the front of the paper plate. Refer to the photo below.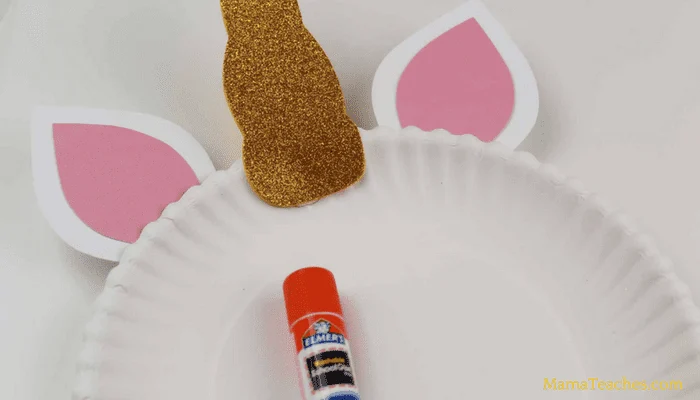 Cut out the ears. Glue the inner ear onto the ear using a glue stick.
Glue the ears onto both sides of the horn. You'll want to glue the ears behind the plate, right on the edge.
Cut a strip of marabou feathers. Add a dab of hot glue in front of one ear and then glue the feathers in place.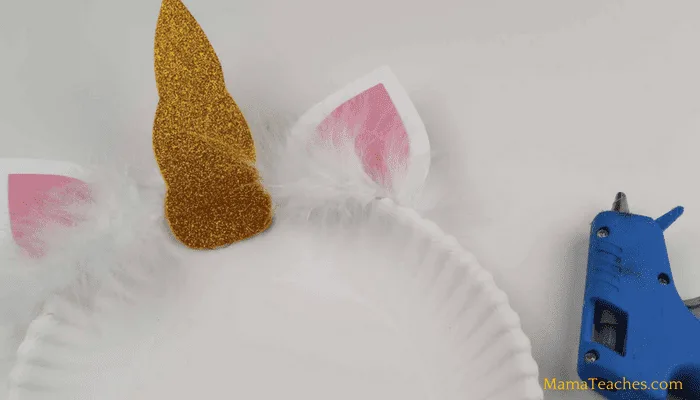 Tuck the feathers behind the horn.
Glue the end of the feathers in front of the other ear.
Glue paper flowers in front of the horn.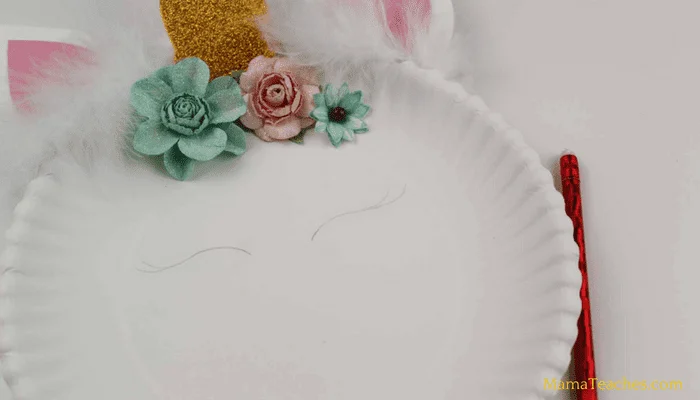 1. Use a pencil to draw eyes onto the unicorn. When you are satisfied with how they look, trace over the eyes with a black marker or black paint pen. (you could also use large googly eyes)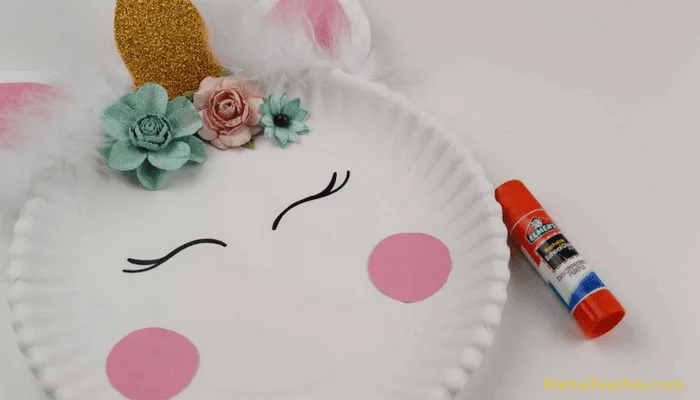 Cut the circles from the cardstock and glue onto the unicorn. Refer to the photo above.
Congratulations! Your unicorn paper plate craft is finished!
Be sure to snap a photo of your unicorn paper plate craft and post it below! We would LOVE to see how it turned out! You can also tag us on Instagram @MamaTeaches!