When you're homeschooling and working from home you need a work from home schedule so that everyone knows what to expect throughout the day.
This free printable schedule will help keep everyone on track!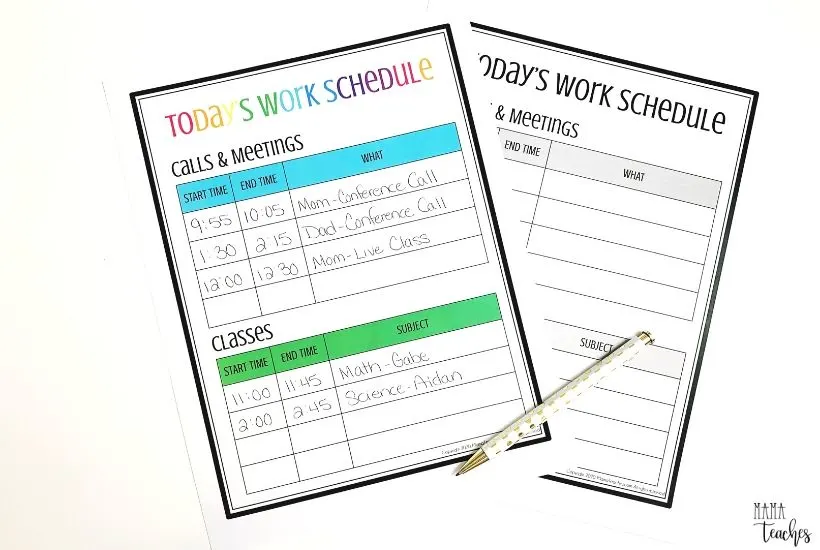 This article contains affiliate links to things that you might like.
Printable Work from Home Schedule
As someone who has worked from home and homeschooled for more than a decade, I completely understand how overwhelming it can be.
You're pulled in a million different directions with conflicting obligations and only so many hours in the day.
It's hard.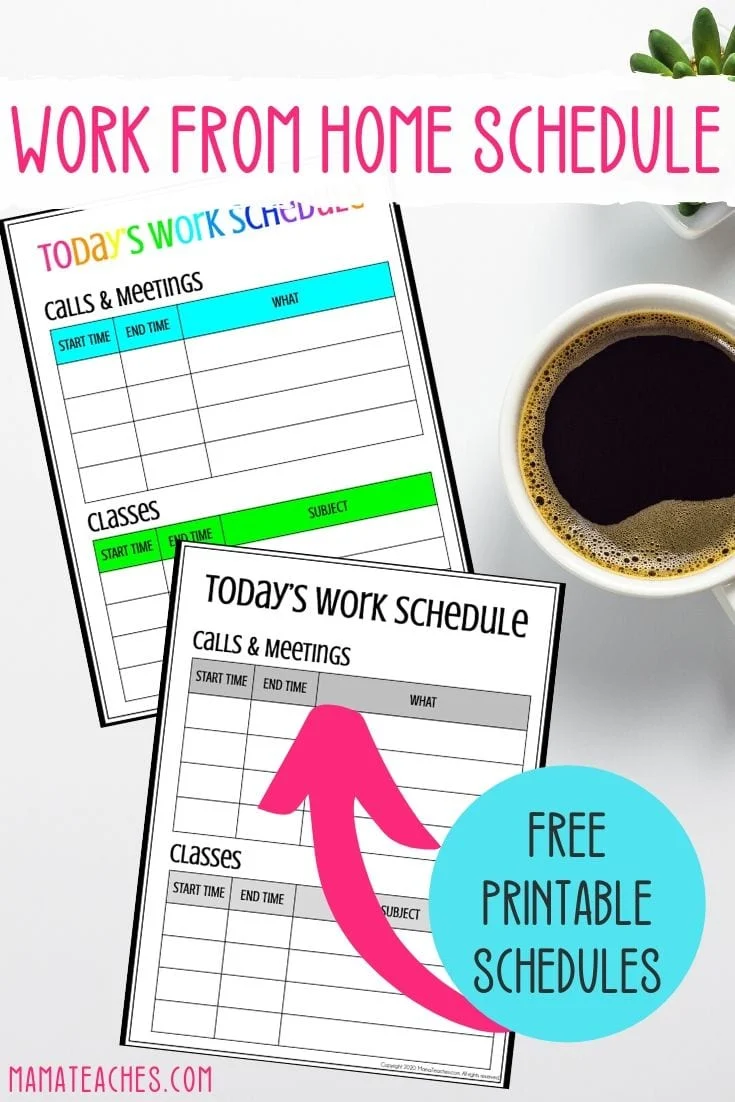 One of the things that I started doing that helped me manage both homeschooling and working from home was creating a daily schedule.
The schedule lists all of my conference calls and meetings, as well as any online classes the kids needed to attend.
Each morning I fill out the schedule and post it on the fridge.
Not only does it help keep me focused and on task, but it also helps my kids know when the "quiet times" are throughout the day.
There's nothing worse than having your home office door flung open and fighting children barging in than when you're on a video conference call.
Using the Work Schedule with Your Family
I created a much fancier version of the "Today's Work Schedule" that we use for you to download and print out to use with your own family.
It's free and in the Freebies Library – just sign up below!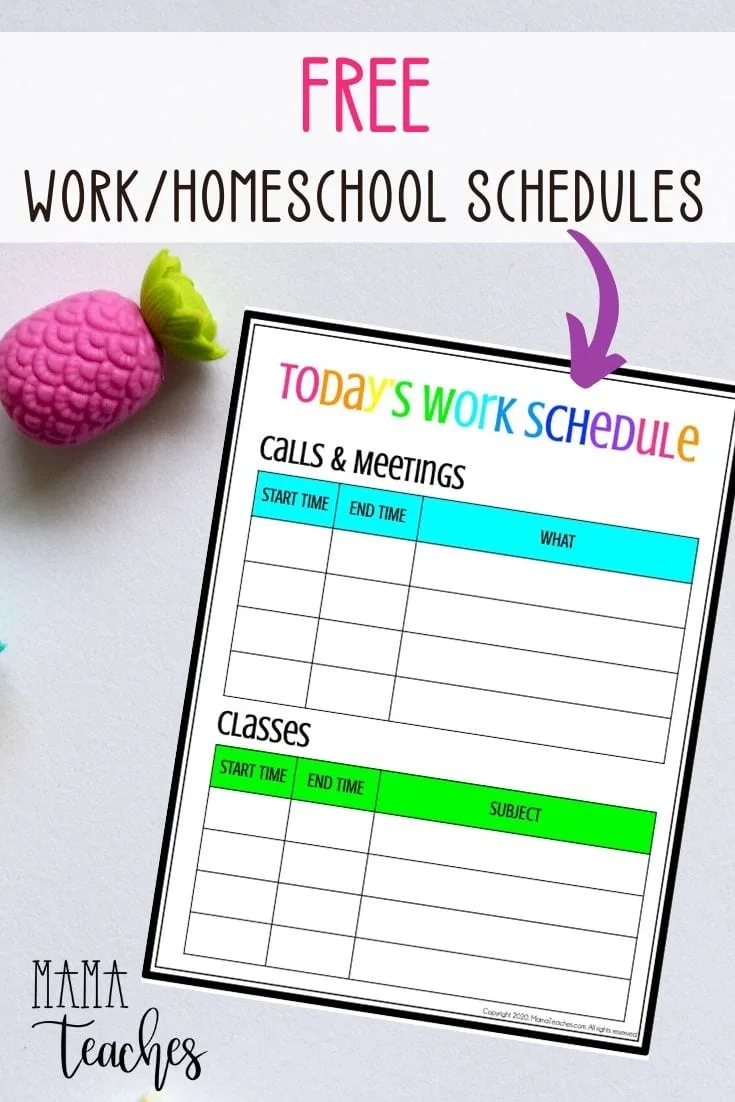 I recommend printing out one per day OR printing one out and laminating it or sticking it in a clear page protector for use with dry-erase markers.
It's totally up to you and really depends on what works best for your family.
There are two different versions of the printable – one in color and one in black and white.
I know not everyone has color printers (or wants to use color ink!) so the black and white one is all for you.
Juggling Homeschooling and Working from Home
As I write this article the country is dealing with a pandemic.
It's scary and uncertain times and it's putting a lot of strain on families and schools.
If you find yourself suddenly teaching your children at home PLUS working from home, you may be feeling overwhelmed.
As a long-time homeschooling mom, my advice is to take a deep breath.
You're going to get through this.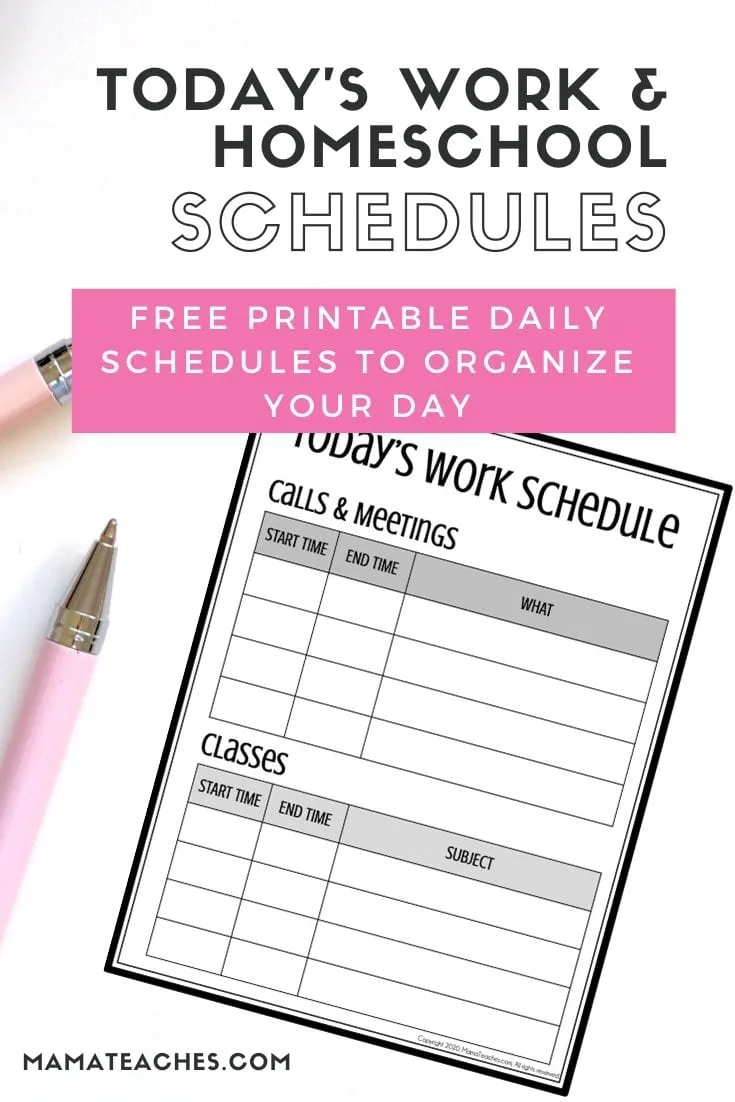 Take some time to put systems in place – like this schedule printable – so that you and your children can navigate the day and respect each other's needs.
And, if you need help, reach out.
I'm happy to help however I can!
Get Access to the Freebies Library for the Work Schedule Printable!