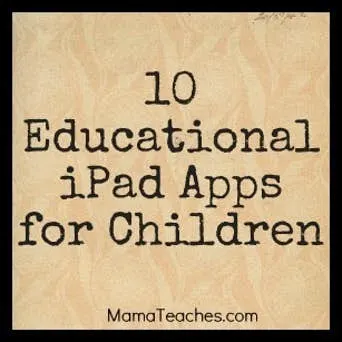 Occupy and engage their curious minds with some of the educational iPad apps below. They are sure to keep your little one learning long after the school day is done.
1. iWriteWords
A handwriting game designed for preschoolers that teaches proper letter formation.
Platforms: iPhone, iPad
Also available: iWriteWords Lite
2. Operation Math
Math practice with a decidedly secret agent feel. The graphics and premise are perfect for boys.
Platform: iPad
3. Learning the States – USA Capital and Geography Fact Learning
Make learning the states and capitals fun with this interactive app from Merge Mobile, Inc.
Platform: iPad
4. Spacecraft 3D
Explore the spacecraft that travel the universe in this app designed by NASA. App requires a camera.
Platforms: iPhone, iPad
Free App
5. BrainPOP
Children will look forward to the new educational video each day. The short videos are informative, entertaining, and presented in such a way that children can easily recall facts.
Platforms: iPhone, iPad, iPod touch (4th generation)
Free App
6. Learn the Orchestra
Find out more about about the orchestra in this fun and interactive game.
Platforms: iPad
7. Jungle Fractions
Makes learning fractions fun with a jungle theme game platform.
Platforms: iPad
8. Nick Jr Draw & Play HD
Encourage creativity with this drawing, coloring, and painting app by Nickelodeon. Includes popular children's television characters in the artwork options.
Platforms: iPad
9. Bugs and Buttons
A combination of a variety of games included in one app. Everything from letter tracing to physics can be used to encourage the development of key skills in learning.
Platforms: iPhone, iPod, iPad
10. Dr. Seuss's The Cat in the Hat Color & Create!
Color and decorate your favorite Dr. Seuss book with this interactive app.
Platforms: iPad
What are some of your favorite educational apps for the iPad? Share them with us below!