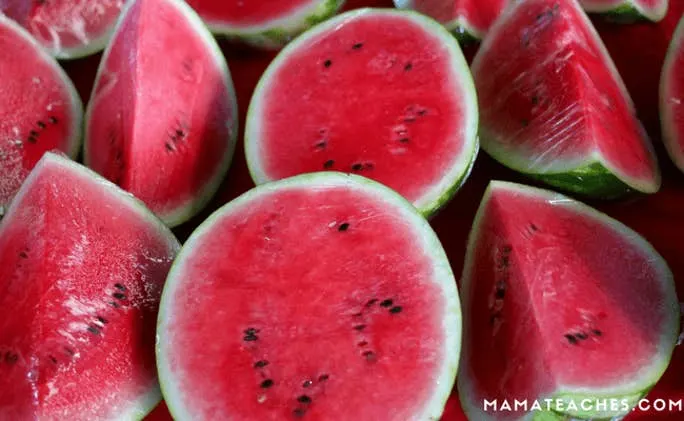 This article contains affiliate links to things that you might like.
Cut up some slices, soak in the sun and dip your feet in the water—it makes for the perfect weekend!
But no matter the season, watermelon is always a treat.
What better way to make the day great than with some fun watermelon crafts for kids.
These preschool activities and elementary crafts will keep kids engaged and having a blast!
Kids' Watermelon Crafts
Decorate the home with this adorable watermelon inspired flower pot!
Make this your centerpiece on your outside table for a summer barbecue with friends.
Are you throwing a summer party or get together with friends?
This delicious Fruit Pizza with watermelon will leave the kids' mouths watering.
Add a fruit dip for some extra YUM.
Paper plate watermelon crafts are already out there, but this one has a special twist that the kids will adore.
It's an easy-peasy craft for most age groups!
This super unique craft will give your kids a chance to recycle the watermelon in a silly and innovative way.
Watermelon house, watermelon furniture––make some watermelon people while you're at it!
Get ready to change everything you know about Rice Krispie Treats.
This exciting twist on the marshmallow goodness will make for a fun summer treat!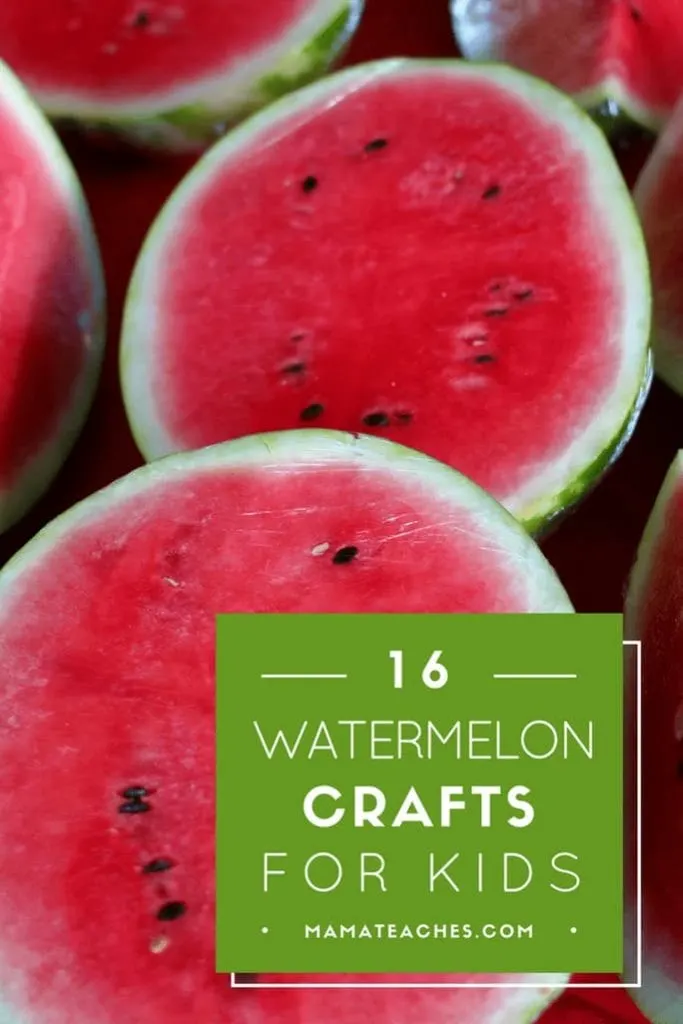 Don't let winter hog up the door with the Christmas wreath! Replace it with a summer wreath, like this DIY Watermelon Wreath.
It'll be great decoration and an easy craft for the kids!
Have your kids create this watermelon postcard to send to relatives that live far away!
Not only is this an easy craft for them to do, they'll love personalizing it for loved ones.
These notecards would make great "Thank You" cards or invitations to a summer bash!
Get them ready for Fourth of July or Labor Day Weekend celebrations.
This bookmark is no ordinary bookmark.
The kids will be raving about their foldable watermelon bookmark every time they read a new book!
All you need for this slushy is a yummy watermelon, some lemonade, a freezer and a blender.
This watermelon craft is easier than pie!
Here is another party treat!
This Watermelon Robot is a healthy twist to decoration and treats.
What a cute way to add some color to your windows, with these simple sun catchers.
Feast your eyes on the best decoration for this summer.
Paint, paper plates, and some watermelon inspiration will create for a beautiful array of watermelon slices!
Mix this watermelon craft into a learning opportunity for younger kids still learning about colors and numbers!
Cool down the summer air with these watermelon fans!
These are adorable and easy… and will definitely come in handy!
Halloween comes up fast, so be ready with this great decoration idea!
Morph your delicious watermelon into a mummy for a Halloween party.
From watermelon paper plates to all sorts of watermelon decorations, these crafts are beyond awesome.
Test them out with your kiddos for some good laughs and fun times!
Don't forget to have a taste of real watermelon though!