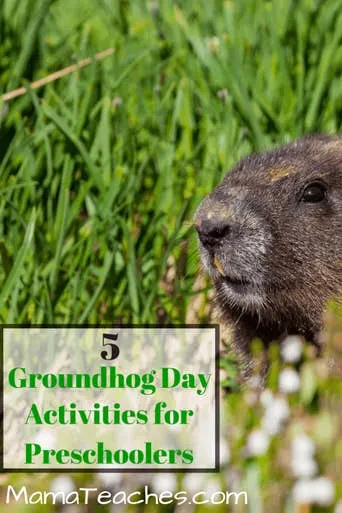 This article contains affiliate links to things that you might like.
Groundhog Day is an annual event where the famous groundhog, Punxsutawney Phil (a fellow Pennsylvanian!) emerges from his burrow on February 2 and predicts the coming weather using only his shadow.
If the groundhog sees his shadow, there will be another 6 weeks of cold winter.
However, if there is no shadow to be seen, spring will soon arrive.
Groundhog Day is great fun for preschoolers who can practice their own hand at predicting what the groundhog will see and learning about this famous animal.
5 Groundhog Day Lessons for Preschool
Watch and Play
Bring nature right into your lesson plan by showing your preschooler a video like the one below of an actual groundhog going through its day in early spring.
Discuss how the animal moves, the different parts of its body, and how each characteristic helps it in some way.
For example, you might point out the whistles, barks, and squeaks it makes to communicate.
Use your observations to enhance a dramatic play activity featuring you and your preschooler as the groundhogs.
Challenge him to move and sound just like a real groundhog.
Will he come out of his burrow and see his shadow?
Groundhog Crafts
Art projects are a fantastic way to help your child practice fine motor skills such as cutting with scissors and the fine finger movements used when writing.
Print out the groundhog craft page from QuickKidsCrafts.com and color it in.
Have your preschooler attach her groundhog cutout to a popsicle stick while you make a small slit in the bottom of a paper or styrofoam cup.
Ask your preschooler to insert the bottom of her popsicle stick through the cup's slit on the inside of the cup.
She can now move the groundhog in and out of its "burrow" using the popsicle stick.
The Science of a Groundhog
It's never too early to explore biology with your preschooler.
Find a fairly realistic picture of a groundhog, and print it out on regular paper.
Share the picture with your preschooler, and make observations about the animal.
Help your preschooler label each part of the groundhog: fur, ears, eyes, teeth, whiskers, tail, and claws.
As your preschooler labels each part of the body, tracing your words if she needs help, tell her a few facts about the animal's body that makes it special.
For example, a groundhog has 2 coats of fur to keep it warm during the winter, its claws are sharp and made for digging burrows into the ground, and its teeth never stop growing.
Did the Groundhog See His Shadow?
Watch the Groundhog Day weather broadcast with your little learner to see what Phil (or your groundhog of choice) sees on February 2nd.
After you know whether or not he sees his shadow, complete this fun activity sheet to record the results.
Celebrate the day with fun and learning to make this Groundhog Day one your child will never forget!